HTC One A9 hands-on: First look
First look
GSMArena team, 20 October, 2015.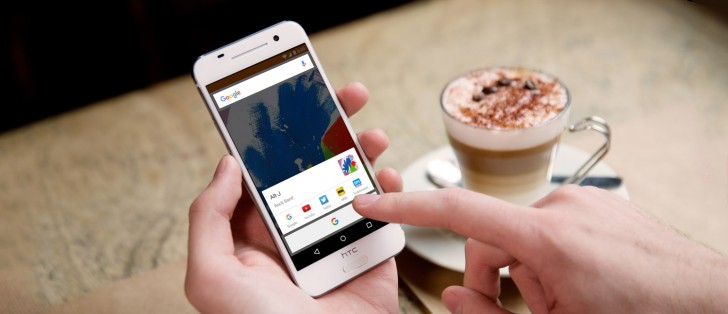 Design
One of HTC One A9's key selling points is its aluminum unibody. It has been dual brushed and bead-blasted to achieve its smooth matte finish. And it really is smooth to the touch, smoother than the iPhone 6s even. Four paintjobs will be available: Opal Silver, Carbon Grey, Deep Garnet and Topaz Gold (ours is the Carbon one).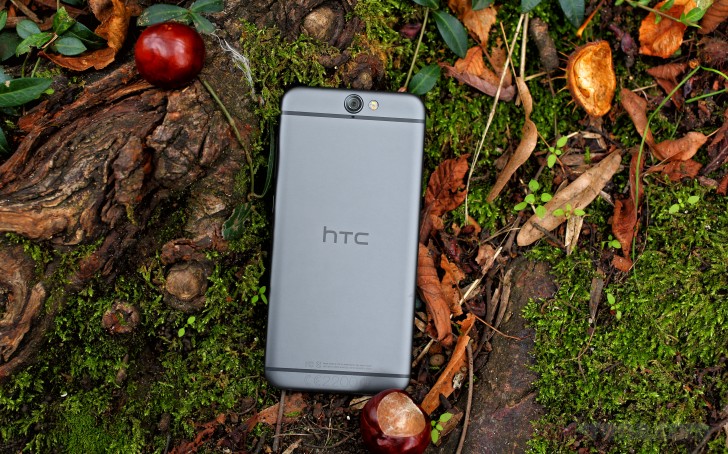 The back is flat rather than curved as with previous One designs, which makes the phone thinner - 7.3mm, which makes it HTC's thinnest. The sides are not squared off, instead both the back and the front curve towards them, but there's a lip that separates them. This contrasts with iPhone's semi-circular sides.





iPhone 6s on top of the One A9 (note the sides) • the One A9's flat back compared to the rounded M9 back
Up on the front there's Gorilla Glass 4, which has been 2.5D shaped to flow into the sides. It's all glass on the front though, unlike previous metal HTCs, which reserved a sliver of metal for the speakers. That makes the phone a bit anonymous, if not for the HTC logo you could mistake it for any other phone with an all-glass front.
Below the glass is a 5" AMOLED display with 1080p resolution. HTC's last fling with AMOLED was back in the One S days, another metal unibody phone. It has been three years since but we're glad to see the company bring back the combo even though HTC LCDs have always been class-leading.



The earpiece above the screen (but no stereo speakers) • the fingerprint reader
You're probably wondering why we haven't mentioned "front-facing Boomsound stereo speakers" yet, HTC's calling card. The reason is simple - there aren't any. Even though the A9 is tall for its 5" screen, there isn't a single loudspeaker on the front, just the earpiece.
The HTC One A9 measures 145.8 x 70.8 7.3mm. Tall as we said, but the width and thickness (which matter most for handling) are fairly standard for a 5" phone. The weight of 143g is what you would expect from a metal phone of this size too.





HTC One A9 with the iPhone 6s • between the Galaxy S6 and HTC One M9
HTC's recent phones have been relatively bulky, the A9 feels much more refined in the hand. It still carries that premium aura, but it also feels compact. The finish on the metal offers some amount of grip (aluminum is usually slippery).
You may want to put a case to protect the pristine finish, HTC designed the second generation Dot View with just that in mind. It has a transparent back so you can still see the metal (unfortunately, not feel it), while the front creates a dot-matrix display for notifications and accepts gestures.
The fingerprint reader is positioned well below the screen. While it may look like a button, it doesn't depress. It is sensitive to touch though, it can be set to wake the phone on touch and unlock it on a longer touch. This ties in nicely with its security functions as it scans your fingerprint and verifies it lightning fast, it just feels like unlocking the phone.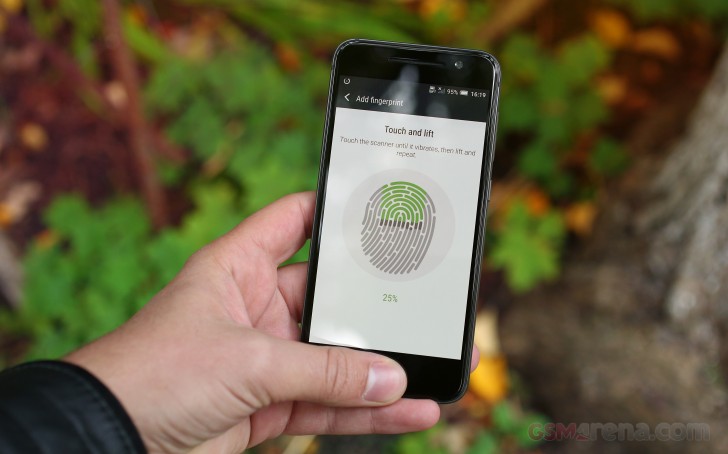 All that speed and it's yet not the fastest way to take a photo. Instead, to get to the camera super-fast you hold the phone up horizontally and press the volume rocker (up or down, doesn't matter). The camera simply flicks on - it launches in 0.6 seconds and it takes just 0.1 seconds more to capture the first shot. This works best if you set the Volume rocker to double as a shutter key.
The final way to wake up the phone is the Power button on the right. It has a ridged texture, making it very distinct from the Volume rocker above it. We really dig this accent key even if it kind of reminds us of the One Plus 2.




The textured Power button and the Volume rocker
The HTC One A9 has expandable storage, the left side of the phone features two cards slots - one nanoSIM and one microSD. You get 16GB or 32GB as base, but this is a great bit of future-proofing, especially if you're going to put that Hi-Fi DAC to good use with lots of lossless audio.



The One A9 comes with a microSD card slot
The bottom of the phone is where the solo loudspeaker is hiding out. Also here is a microUSB port with Quick Charge 3.0 support and a 3.5mm audio jack that is backed by a dedicated headphone amp.




The single loudspeaker, microUSB Port and audio jack
On the top of the A9 there is a plastic "window" though unlike others this one doesn't cover an IR blaster, it's just for radio waves to pass unhindered.


A plastic window above, but no IR blaster this time
HTC has designed a beautiful phone indeed, though we feel it could have been even better. We miss the front-facing stereo speakers and HTC has made them work, even when it included a fingerprint reader on the front (e.g. One M9+).
Another option would be to put it on the back like the One Max. Or at least give us capacitive keys around the fingerprint reader (which doubles as a Home key anyway), so that we don't lose any screen real estate to on-screen buttons. A 5-incher is hardly big enough these days.
Also, the 2,150mAh battery is on the low side, there are plenty of examples of thinner, smaller phones with bigger batteries. Despite the low(ish) capacity, HTC is promising 16 hours of talk time, 9 hours of web browsing and 12 hours of HD video. We'll see about that, come review time.
Your screen size and resolution make me immediate skip.
Origin is price 499 (not 399 which promotion price). This is near close to flagship phone price but pack with middle range spec.
Best Spec that i would design, 1. 4.7inch > 5inch Screen max 2. 720 to 1080 px resolution to save battery life 3. 2500 to 3000mah battery 4. AMOLED Screen 5. IR Blaster 6. USB 3.0 , Quick Charging, Induction Changing 7. 13 MP Camera,...