HTC One (E8) review: Traveling light
Traveling light
GSMArena team, 01 August 2014.
No UltraPixels, no problem
Update August 4: We've updated the below section to reflect our latest findings with the HTC One (E8) camera. The new samples are much closer to what we saw on the HTC One mini 2.
The HTC One (E8) sees a departure from HTC's Ultrapixel sensor technology and comes with a standard 13 MP snapper on the back, sided by a single LED flash. The sensor has a native 4:3 aspect ratio as opposed to the 16:9 wider aspect of its predecessor - photos come out with a resolution of 4224 x 3136px - more than three times the pixel count of the HTC One (M8).
The aperture sits at f/2.2, which isn't as wide as the one on the HTC One (M8) or even as wide as the f/2.0 of the 5 MP front-facing shooter, for that matter.
Here's how it compares to the HTC One (M8). The M8 is upscaled to 13MP: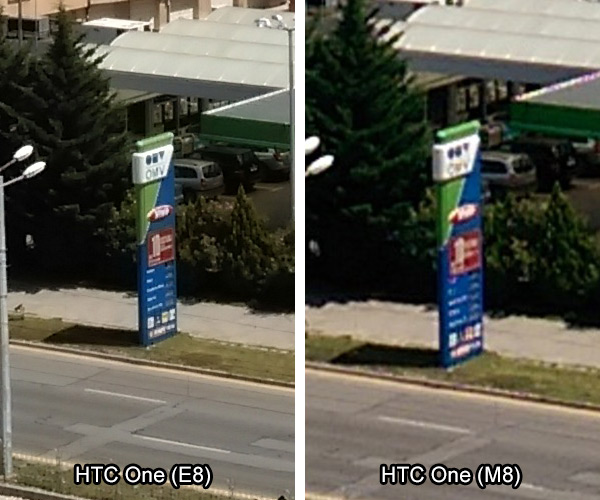 Unlike other 13MP HTC offerings (like those on the Desire 816 and mini 2) in the aftermath of the UltraPixel camera days, the sensor found on the One (E8) comes with the company's proprietary ImageChip technology, so you do get Zoe mode, where the phone will capture a 3sec video along with every photo you make and can later auto create beautiful stories about particular events made out of stills and videos. It also has HDR, Panorama (with a digital horizon level), geo-tagging and image effects. The more advanced settings are hidden by default, but you can also control ISO, exposure compensation, white balance and a few other image adjustments.
Here's how it compares to the 13MP shooter on the HTC One mini 2: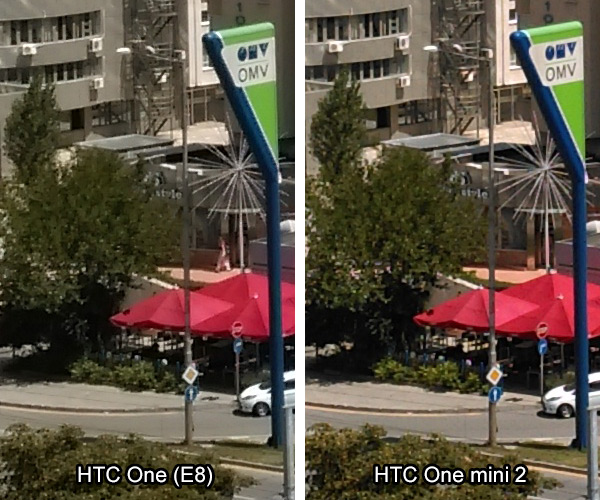 A long press on the screen will enable Auto Exposure and Auto Focus lock. You can set the volume rocker to act as a zoom lever or a shutter key.
The HTC One (E8) has a 5MP front-facing camera with a BSI sensor and a dedicated selfie mode. From the settings you can enable smile shutter and adjust the Make-up level, which tries to digitally pretty you up.
Image quality is very good across the frame, comparable to that of the HTC One mini 2. You get a good balance of fine detail and noise, and while there's no oil-canvas effect up close, there are certain situations where the resolved detail is not as high. White balance seemed to also be a hint better than what we saw on the mini 2, but it tends to lean towards blue.
The E8 also had sharper edge performance than the mini 2 - while that 13MP sensor tended to compress the edges of the frame, the E8 was crisp throughout.
Face detection on the HTC One (E8) is always on and cannot be turned off in the settings. It works really well and can recognize a face immediately and even track it well when it moves across the frame. The downside is that when face detection captures a face it will expose for it, which would sometimes ruin your overall exposure, which is a bummer. This can be fixed by manually locking exposure where you want it to be but then you risk losing focus of your subject.
Let's face it, when you're taking pictures of people you'd want face detection on so we're not taking points away from HTC here. We just wish there was a setting to turn it off at times.
HDR is short for High Dynamic Range and the HDR mode of the HTC One (E8) camera snaps a couple of photos with different exposures and then combines them into a single photo. The HDR mode on the E8 tends to expose for the highlights and then brightens up the shadows in the scene. This in turn produces images with nice and even exposure, and without a nasty overly-contrasted, exaggerated look.
Photo quality comparison
Here's the HTC One (E8) in our photo quality comparison tool. It's designed to allow you the ultimate pixel-peeping experience and the option to challenge the smartphone to any of the many tested shooters we've had.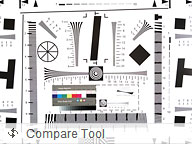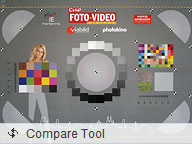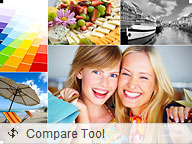 HTC One (E8) in our photo compare tool
1080p video recording
The HTC One (E8) offers 1080p videos at 60fps, though there's also a 30fps mode for fullHD videos, and 120fps mode at 720p. The front-facing camera can also record 1080p videos.
The 1080p videos default at 30fps, and carry a bitrate of just under 20 Mbps. Framerate was a constant 30fps throughout the video. Audio bitrate sits high up with 192 Kbps and offers two channels (read stereo) and has a regular sampling rate of 48 kHz.
The quality of the videos is on par with that of the still images. They come out with comparable sharpness, contrast and saturation that we saw in the still images, and the colors are also accurate.
The 60fps mode is very similar, having the same 20 Mbps bitrate and dual channel audio at 192 Kbps. In this mode there's a slightly wider field of view, however, which means that you'll capture more in the frame, but it won't be as detailed. There's also a yellowish tint to the images.
60fps mode works just as advertised, however, and will result in videos that are much smoother than the standard 30fps ones, and are surprisingly not that much larger either. As YouTube does not yet support 60fps uploads, we've added a direct link to both videos below.
You can download the 1080p@30fps (0:15s, 38MB) and 1080p@60fps (0:30s, 72MB) samples taken directly from the device.
Finally, the 720p slow motion mode has relatively poor video quality, and seems upscaled from an even lower resolution. We say relatively because we've seen even worse attempts at slow motion video. The E8s results are far from optimal in this regard, but they still manage a bitrate of 12 Mbps, so it's better than most.
Video quality comparison
In the video comparison tool you can face the HTC One off against any of the any camcorders we've tested over the years.
HTC was once a big company yet now is facing it's sunset, eclipsed by the other brands' overwhelming marketing superiority and competitive price. Nowadays we hardly see remarkable breakthroughs in any of the HTC flagships in its price range
I Realy like it. It's my first time but I have seen the reality.....HTC company big up.