HTC One (M8) review: One and only
One and only
GSMArena team, 25 March 2014.
HTC Zoe
HTC Sense 6 features Zoe as a standalone multimedia app, which requires you to sign in with your HTC account the first time you open it. Captured photos and videos are automatically compiled into a Zoe video highlight reel.
Creating a Zoe is easy. You simply choose from the available images and rearrange them in order you like. Themes and soundtracks are available in case you want to be truly creative. Once finished editing, you can easily share Zoes.
Zoe also allows you to collaborate with friends on the same project. You can send requests and combine your media content into the same Zoe.
Gallery
Viewing images on the large display is a pleasure. The image gallery stacks photos together in albums which can be organized by the date they were captured or the source they come from. Location-based sorting is also available.
As usual, there is an array of available options at your disposal. You can edit, share, highlight, and delete images. You can also set them as backgrounds, assign them to contacts, add them to a specific album, or print them.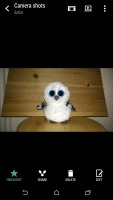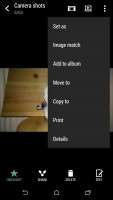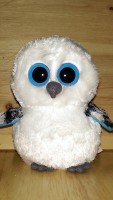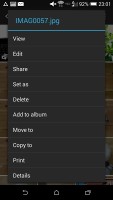 Viewing an image and the available options
Video player
The Video player on the HTC One has a rather simple interface. There isn't a dedicated app - you just pick a video from the gallery.
You get a Play/Pause button and a slider to scrub through the video, a button to capture images from the video, volume slider, and sharing options. All hide automatically after a few seconds.
Supported video file formats include .3gp, .3g2, .mp4, .wmv, and .avi. BoomSound is enabled by default on the video player while on speakers and cannot be turned off.
Music Player
The HTC Sense 6 music player features similar layout as the one in the previous version. The flattened interface design however makes the setup look new.
Your music library is organized by Artist, Album, Songs, Playlists, Genres, Podcasts or Folders (we don't see this option very often). The phone will also easily stream songs over DLNA.
The music player can automatically look for and download Album art and artist photos (you can limit it to Wi-Fi connections only), and search for lyrics.
There's no equalizer on board. You have the option to toggle Boomsound audio on or off with the headphones on. Like we mentioned already, you cannot disable the feature when playing through the speakers.
Strangely enough only one of the HTC One (M8) units we got to play with turned out to have a built-in FM radio. The European version comes with an FM Radio receiver and an FM radio preinstalled, while the Verizon unit lacked an app. It's anyone's guess whether the hardware is still there and has been disabled (meaning that it can be unlocked with some sort of mod) or if it's gone altogether.
Best audio output in business
The HTC One (M8) audio quality is by far the best we've seen a mobile device produce so far - and that's including tablets. Even its impressive predecessor pales in comparison with the latest HTC flagship, which is not only the loudest around, but also delivers perfectly clean output.
The HTC One (M8) did perfectly in the active external amplifier part of the test, posting great scores all over the field. In addition it had volume levels higher than every other mobile device on the market right now.
More impressively, there's virtually no degradation when you plug in a pair of headphones. The stereo crosstalk rises so little that it remains better than what some smartphones deliver without headphones. The rest of the readings remain perfect too, while the volume is as high as they come. What do you know - dropping the Beats logo actually led to even more spectacular performance by the HTC flagship.
And here go the results so you can see for yourselves.
| | | | | | | |
| --- | --- | --- | --- | --- | --- | --- |
| Test | Frequency response | Noise level | Dynamic range | THD | IMD + Noise | Stereo crosstalk |
| HTC One (M8) | +0.04, -0.10 | -95.4 | 93.4 | 0.0012 | 0.010 | -93.2 |
| HTC One (M8) (headphones attached) | +0.04, -0.08 | -94.9 | 93.9 | 0.0014 | 0.018 | -79.7 |
| HTC One | +0.11, -0.14 | -92.4 | 91.2 | 0.0012 | 0.013 | -92.4 |
| HTC One (headphones attached) | +0.16, -0.07 | -92.1 | 90.9 | 0.014 | 0.055 | -70.8 |
| LG G2 | +0.03, -0.28 | -91.9 | 91.9 | 0.0097 | 0.011 | -91.3 |
| LG G2 (headphones attached) | +0.07, -0.03 | -91.5 | 91.8 | 0.037 | 0.041 | -54.3 |
| Samsung Galaxy S4 | +0.03, -0.08 | -95.9 | 93.2 | 0.0030 | 0.0092 | -96.4 |
| Samsung Galaxy S4 (headphones attached) | +0.03, -0.08 | -96.0 | 93.3 | 0.0031 | 0.089 | -77.5 |
| Sony Xperia Z1 | +0.09, -0.01 | -91.8 | 92.0 | 0.0063 | 0.012 | -89.9 |
| Sony Xperia Z1 (headphones attached) | +0.01, -0.15 | -91.7 | 91.7 | 0.098 | 0.049 | -45.6 |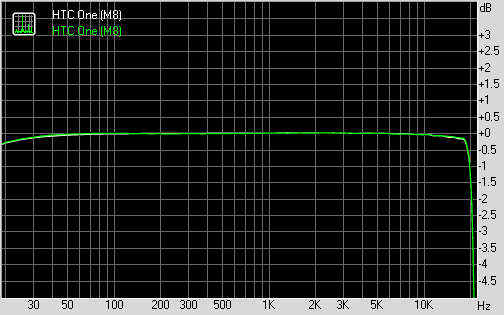 HTC One (M8) frequency response
You can learn more about the whole testing process here.
I m using htc m8 bloothootnot working
How does de second rear camera work or what's it use...
i am using M8 for more than 2 years now its been a while earlier i used htc X1 the thing is i am just addicted to htc brand so i choose htc M8 i actually dont have a laptop with me so most of the time i used watch movies listening many songs the int...