HTC Rhyme review: Pour Femme
Pour Femme
GSMArena team, 13 December 2011.
Synthetic benchmarks
A single-core CPU and Adreno 205 GPU are proven to be enough to power the Gingerbread/Sense UI combo. The 768MB of RAM is enough too.
But the Rhyme wouldn't escape our usual set of benchmarks anyway.
The first one is BenchmarkPi - a CPU-intensive single-core benchmark.
Linpack is a multithreading-enabled benchmark - the Rhyme was tested in single-thread mode, while others (dual-core) were tested in multi-threading mode.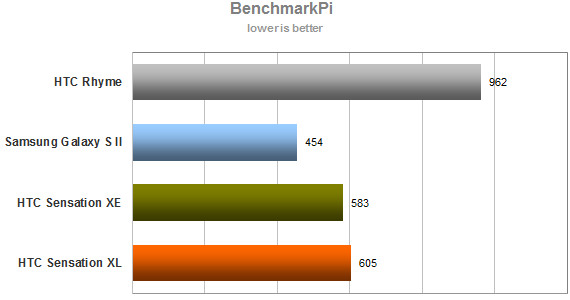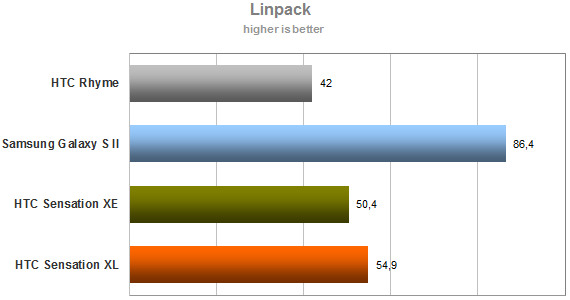 The Adreno 205 graphics however posted dismal performance in NenaMark 2 - while most games aren't as heavy as the benchmark, newer high-end games will be unplayable on the HTC Rhyme.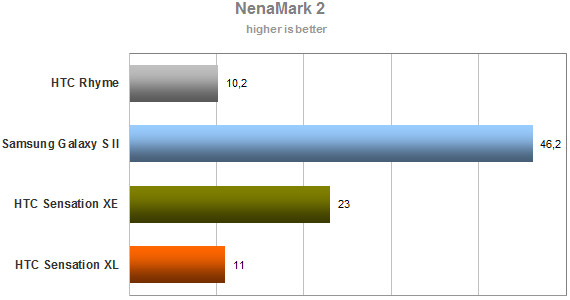 The two in-browser benchmarks results also hit the BrowserMark chart's bottom, while it did pretty good on the SunSpider benchmark. Just so you know though, the actual browser experience is still excellent, so you should have no worries.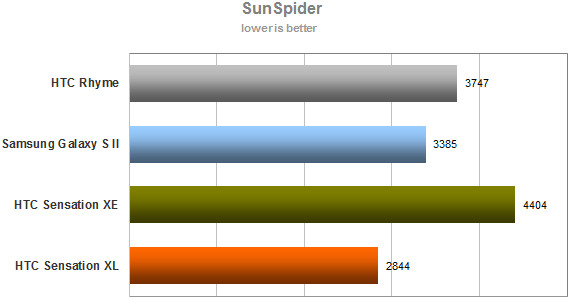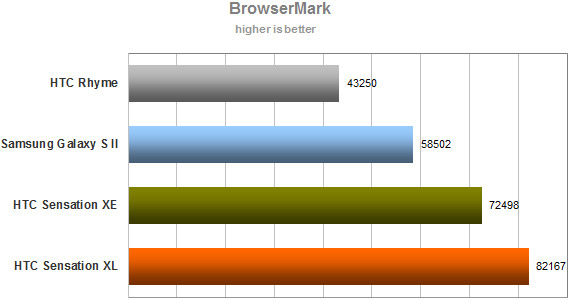 Well-organized phonebook
The Rhyme's phonebook is rich in features and quite good at the social networking stuff. It manages to keep things neatly in order, even though it's juggling everything from SMS to Facebook photo albums.
The entire People app (the phonebook) is tabbed and with more tabs than the stock Android. Version 3.5 of Sense merges the Phone and People apps into one. So, you have the dialer, all contacts, groups (including favorite contacts there), as well as a call log.
From a drop-down menu at the top, you can filter contacts based on where they came from - the phone's address book, Facebook, Twitter or your HTC Sense account.
The list of contacts has two lines per entry, the contact's name and their latest SNS update (with an icon to identify the social network used).
As usual, selecting a contact displays the basic details: name and photo, numbers, emails and such. The interface is tabbed here but it has been reorganized and the new view makes more sense.
The second tab is called Thread - it lists regular messages, email and call history with that contact. It's the next tab, Updates, that handles the social networking side of things - it lists both events from online calendars and SNS status updates.
The fourth final tab holds the online galleries of the contact, including Facebook and Flickr.
When editing a contact, you start off with just one of the essential fields but you can easily add more.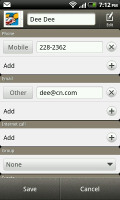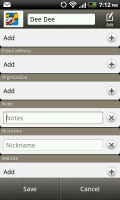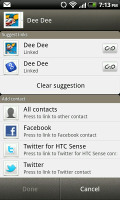 Editing a contact • Linking Dee Dee with his Facebook account
If you're switching from another phone don't worry – you don't even need a computer to pull your contacts, messages and calendar items from the old phone into your new Rhyme. The Transfer app supports many phones from major manufacturers and moves the data over Bluetooth.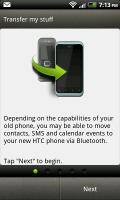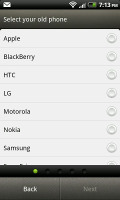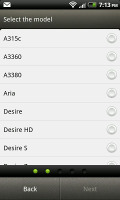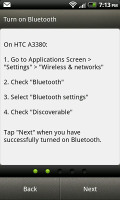 The Transfer app will easily copy your contacts from your old phone
It's an old trick (Symbian-powered Nokias have been doing this for ever) and most people would probably go with syncing the contacts over the cloud, but still it's a handy tool to have.
Excellent telephony
We had no issues with reception and in-call audio with the HTC Rhyme.
The on-screen dialer features a keypad, a shortcut to the call log and a list of contacts beneath (you can hide the numpad). The HTC Rhyme has both Smart Dialing and Voice dialing.
The Rhyme also knows some accelerometer-based tricks – turning the phone over will mute the ringer while placing it down starts the loudspeaker automatically when you are in the middle of a call. The other feature is Quiet ring on pickup – once you move the phone, the ringer will quiet down (but not cancel the call).
Yet another option is pocket mode – the ringer volume will increase if the phone is in your pocket (the proximity sensor takes care of detecting that).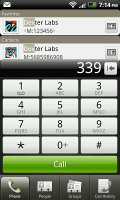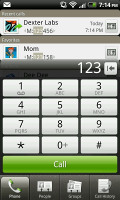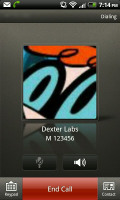 The dialer has smart dialing • calling Dexter
Here's how the HTC Rhyme fares in our traditional loudspeaker performance test. It scored a Good mark, so missed calls are highly unlikely, especially when the Charm is connected.
| | | | | |
| --- | --- | --- | --- | --- |
| Speakerphone test | Voice, dB | Pink noise/ Music, dB | Ringing phone, dB | Overall score |
| Samsung I9000 Galaxy S | 66.6 | 65.9 | 66.6 | Below Average |
| Samsung Galaxy Note N7000 | 62.9 | 61.7 | 68.0 | Below Average |
| HTC Sensation XL | 70.7 | 61.5 | 70.7 | Average |
| HTC Sensation XE | 65.8 | 65.4 | 76.9 | Good |
| Samsung I9100 Galaxy S II | 70.0 | 66.6 | 75.7 | Good |
| HTC Rhyme | 68.6 | 66.6 | 78.5 | Good |
| HTC Titan | 75.8 | 66.2 | 82.7 | Very Good |
| HTC Gratia | 73.2 | 73.6 | 83.5 | Excellent |
I can't find the alarm clock either! Did you ever find out how to find it?
That may just be your carrier or your signal. I have one and see it as a GREAT phone, the only downside to it that I can see is that it's hard to find cases for them in this country
this phone sucks. it drops calls people cant hear you on it save your money for something else.