HTC Salsa review: "Like" it or not
"Like" it or not
GSMArena team, 15 July 2011.
Facebook and Twitter
The HTC Salsa has quite a bit of Facebook branding but so far we haven't really seen anything exclusive to the Salsa in terms of software (aside from the handy functions of the Facebook button, of course).
The Salsa comes with the standard Facebook app preloaded, so nothing exclusive on that front either. Still, the official app handles all the functionality of Facebook and receives regular updates, so it's enough we suppose.
The latest Facebook app is available, which enables things like Facebook Chat (yet another way to talk to your friends) and Facebook Places (which lets you to check into places, like Foursquare).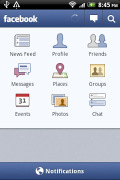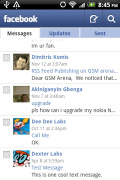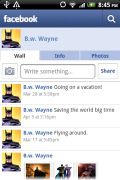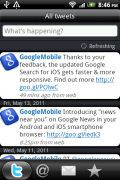 The Facebook apps let you update your Facebook profile • Peep is your Twitter app
HTC has made a new app with a dedicated widget called Facebook Chat that shows your Facebook buddies available for chat. And you can chat with them right here of course. It has very simple interface, does nothing beyond the chat functionality but in the end that's all we need, right?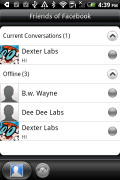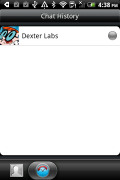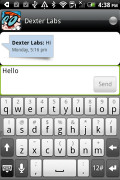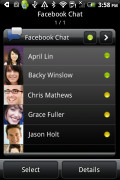 Facebook Chat app • Facebook Chat widget
There is only one Twitter app that comes preinstalled on the Salsa – HTC's Peep. No worries though, it does a very good job, but in case you don't like it, you can always download another app from the Market.
There is one more app worth mentioning - the search app Quick lookup. It lets you enter a query and view the Wikipedia article (formatter for easy reading), search Google, YouTube, use Google Translate or look it up in Google Dictionary.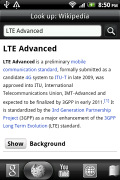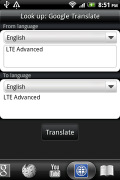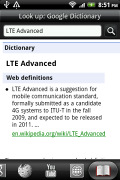 Quick lookup is a handy research too
Android Market, HTC Hub and HTC Likes will make your phone better
The structure of the Android Market is quite simple – featured apps on top and above them, three sections (Applications, Games and Downloads). There is also a shortcut up there for initiating a search.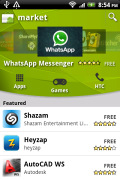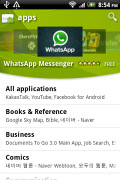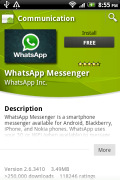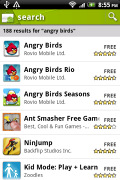 The Android Market will give you access to hundreds of thousands of applications
The Applications and Games sections are divided into subsections (e.g. Communication, Entertainment etc.), so you can filter the apps that are relevant to you. Of course, there is also an option of displaying all apps in bulk, but you'll probably need days to browse them all that way.
There are all kinds of apps in the Android market and the most important ones are covered (file managers, navigation apps, document readers etc.).
HTC Likes is an alternative way to browse the Market, which might prove to be more convenient than the vanilla app. It has tabs for Featured and Popular apps, which are presented as 3D cards.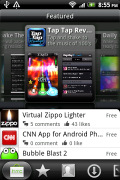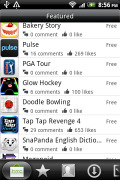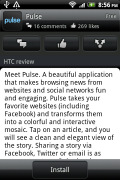 HTC Likes is an alternative to the Android Market
To make finding apps even easier, you can see what apps/games your friends have commented on, which is a great way to find recommended apps. Or you can use the HTCSense.com site to look for apps from the comfort of your computer and mark them. Later, you can find them in the Market items tab.
HTC Likes pulls apps from the Android Market, but each one comes with an HTC review. You can comment on apps, like and share them via texts or email, even over Twitter and Bluetooth (which just sends a text note with a link to the app).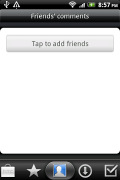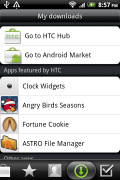 You can check out what your friends have said about the apps
Not quite an app store, but the HTC Hub is a good source of widgets, wallpapers, scenes and skins and also sound customizations – ringtones, alarms and notification sounds and entire sound sets (a set is a whole package that brings together the other three categories).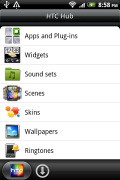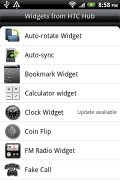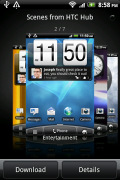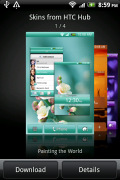 The HTC Hub is your source of customizations
HTCSense.com integration
HTCSense.com offers some premium features for free (a bit like HTC Locations). The Phone locator can be used to locate your phone if it's stolen and you can lock it or even erase all the data from it.
And don't worry – HTCSense.com will back up your Salsa contacts and messages (though contacts should already be safe and sound in the Google cloud).
Some other handy features include ring phone (if you've lost it in your room and can't find it), toggles for call and message forwarding. The site also lets you view and edit contacts and view messages. You can compose SMS and MMS messages too – so you can use the big computer keyboard and you don't even have to have the Salsa in front of you to send a couple of messages.
You can also view your and your friends' Footprints. Finally, HTC Hub lets you browse apps and games on the computer and mark them, which makes them easier to find on the phone later (in HTC Likes). You can't initiate an app download from the site though.
The site is a bit heavy but if you're using an updated browser you should be fine. However, HTCSense.com failed to load properly in Internet Explorer 9 but it worked once we enabled Compatibility Mode.
I am using this phone since last 1.5 years: Pros: 1.Screen secsitivity and touch response is excellent 2.Hardly the phone hangs 3.Fast access to applications 4. Good look and feel 5.Robust( I accidently dropped it from my hand 3-4 tim...
Nice phone I m happy with that phone
worst phone with low internal memory