HTC Sensation review: Front-page stuff
GSMArena team, 10 June 2011.
Organizer (continued)
The HTC Sensation features an alarm clock application, which can handle multiple alarms, each with its own start and repeat time. The Desk clock app turns your Sensation into a… well, Desk clock. It displays the current time and date and allows you to switch off the display backlighting to save battery power or not disturb at night.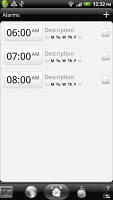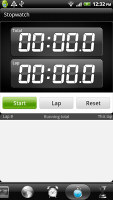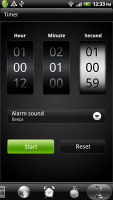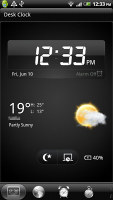 The alarm clock and desk clock apps
The World clock app lets you quickly check the time in different time zones, while the stopwatch and timer apps might come in handy if you plan to take the phone with you when doing sports.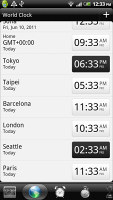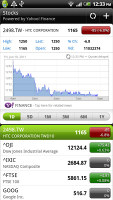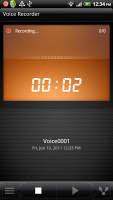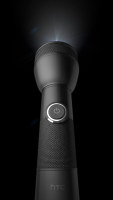 World clock • Stocks app • Voice recorder • Flashlight app
The Stocks application gives you quotes from Yahoo finance. You can use the Stocks lockscreen too. The Voice recorder might be quite useful for making audio notes and the weather app brings Yahoo's weather forecast for your area a click away.
There's an HTC-branded flashlight app too – it uses the LED flash and you can set it to 3 levels of intensity. Nice and all, but the Android Market is full of this kind of apps already.
There are two handy search apps: Quick lookup and Search Anywhere. Quick lookup lets you enter a query and view the Wikipedia article (formatter for easy reading), search Google, YouTube, use Google Translate or look it up in Google Dictionary.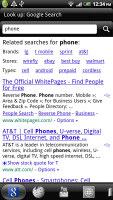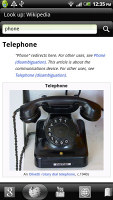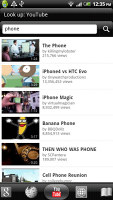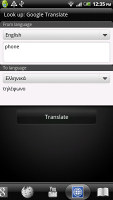 Quick lookup is a handy research too
The Show me app is great for those who are new to HTC Sense or even Android itself. It lets you download How-To articles on various topics, which will help the user if they don't know how to do something.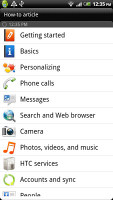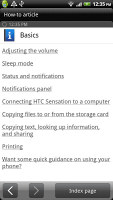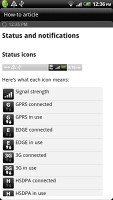 The Show Me app is the go-to help center on the HTC Sensation
Facebook and Twitter on board
Facebook and Twitter fans will appreciate the preinstalled Facebook and Peep apps, which let you post on the world's largest social networks.
The latest Facebook app is available, which enables things like Facebook Chat (yet another way to talk to your friends) and Facebook Places (which lets you to check into the likes of Foursquare).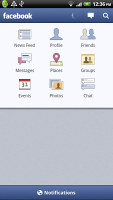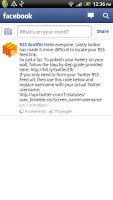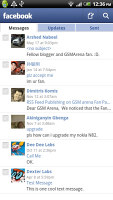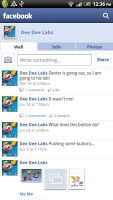 The Facebook apps let you update your Facebook profile
The official Twitter app for Android also comes preinstalled – some might prefer it over Peep (they both integrate with the phonebook so you don't have to actually start the app).
The official Twitter app is the latest version too – tweets can be geotagged, you can snap a photo to include in the tweet straight in the app (uploaded automatically to yfrog or TwitPic) and there are handy buttons to reply to or retweet a message.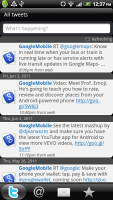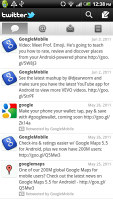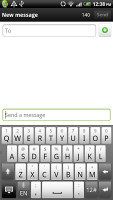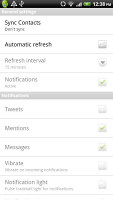 The Peep app • Official Twitter app
It can read eBooks too
The Reader app is an eBook reader provided by Kobo. It comes preloaded with several classics (from A Tale of Two Cities to White Fang) and access to Kobo's eBook store where you can buy new books (the store has free titles too).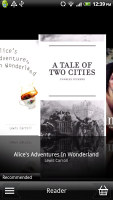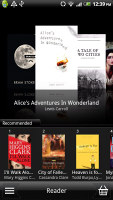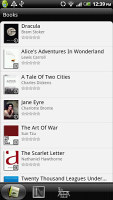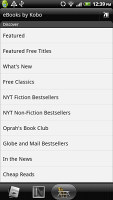 The Reader app comes preloaded with several books
The UI is fairly simple – the library displays as a list of book-cover thumbs or as a simple list. Once you tap on a cover, it opens up the book for you with a nice animation.
The reader formats the book to best fit the screen and you can adjust the font or pinch to zoom. You can add bookmarks, highlight sections of the book with different colors and even jot down notes – you can access those in the context menu while reading the book. Also helpful is the Quick lookup shortcut, which is great if you need to lookup a word in the dictionary.
A nice addition that was missing from earlier versions is the Reading scene - it offers four presets for font color/background color, so you can read more comfortably. The default is black on white, but there's Light orange and Light yellow too, and Night, which is black on white.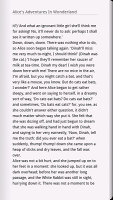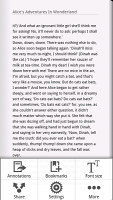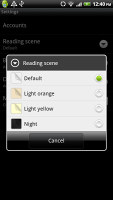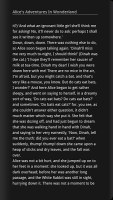 Reading from virtual sheets of paper
One thing we missed is the option to import e-books you already have – like classic books from Project Guttenberg for example.
Anyway, some will find the Reader app useful, others can just grab Kindle for Android from the Market or one of the other free eBook readers.
Dear Users, pls let me know whether this handset supports 4G network.
Battery life is nothing to write about. It is too poor.
I love my phone..but my phone so old i can't even have conversations with people...cause have of the time they can't hear me...