HTC Tattoo review: Your phone, your ink
Your phone, your ink
GSMArena team, 12 March 2010.
Image gallery looks nice
The HTC Tattoo gallery has a new main menu list-with-thumbnail structure to replace the old grid view. The Albums app (that's its given name) automatically locates images and videos, no matter where they are stored. Images and videos stored in different folders appear in different sub-galleries that automatically get the name of the folder - quite effective file management.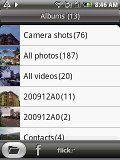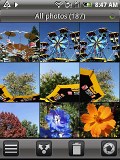 The fine looking Albums app replaces the gallery
Unfortunately, the gallery undertakes reindexing of the content each time you open it and it does so even when you open a file for an instant and then get back to the thumbnail view. It's a bugger really as when your card fills up with content, it takes quite some time to finish.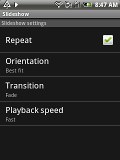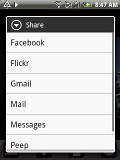 The available gallery settings
Right next to the folder's name is a number indicating the count of images stored. Each sub-album has a thumbnail of the latest image. The contextual menu of the main Album view has only one shortcut to the settings menu. No sign of the camera shortcut that we found so comfortable in the HTC Magic's main gallery. It is only available once you start browsing any of the sub-folders.
At the bottom of the main album there are three virtual buttons - one for the actual folder list, another for Facebook and finally - Flickr. The latter two display images from either account or those posted by your friends.
Anywhere in the gallery except the main Album view you can launch the camera or camcorder to capture new images and share them on Facebook, Flickr, Gmail, HTC Mail, Messages, Peep and Picasa.
Taking an image is possible even while browsing Facebook photos, direct uploading is even easier.
While you cannot copy/paste images from folder to folder (you'd need to download a proper file manager for that), you can still share multiple images from your albums on Facebook, Flickr, Gmail, HTC Mail, Messages, Peep and Picasa.
HTC Tattoo supports a couple of zooming methods – you can use the onscreen virtual controls or you can zoom straight to 100% with a simple double tap on the screen. Unfortunately zooming and panning isn't particularly fast and we are slightly disappointed with that. Even when dealing with 3 megapixel images from its own camera the Tattoo will make you wait for a few seconds now and then.
Video playback capabilities are still pretty limited
Video files can be accessed only from the Albums' subfolder as there is no separate icon for the video player in the main menu. The video files can also be viewed as a grid or filmstrip and can be shared on Gmail, HTC mail, Messages or YouTube.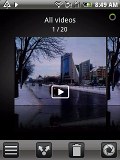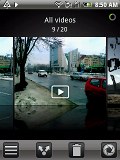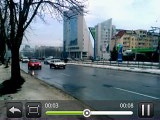 Video playback isn't the Tattoo element
The video player application of HTC Tattoo is identical to the one found on the HTC Hero. That essentially is some pretty basic stuff that doesn't really do a modern smartphone justice.
Quite as expected, the player is capable of playing only 3GP and MP4 videos, which means that you will have to convert most your videos for watching on the HTC Tattoo.
The performance is also pretty choppy with most videos with resolution above QVGA showing the occasional stutter. In general, the Tattoo seems unfit as a portable video player with a lot to be desired in both software and hardware.
Music player needs an update too
As with the rest of the multimedia department, the music player is also totally redesigned by the Sense UI, but this time there are no extra features added.
The standard music library view is the Artists section, but you can easily switch to one of the other six tabs beneath, which are for Albums, All Songs, Playlists, Genres, Composers and Purchased.
The now playing user interface, though very sleek and more comfortable doesn't offer new features.
We were disappointed to find that the contextual search in the music player for songs and related stuff in YouTube and Google is removed.
The other weaknesses of the Android platform music player that still need addressing are no equalizer presets, and no alternative player skins.
Very good audio output
The HTC Tattoo surprised us with its audio output which is slightly better than that of the Hero. The noise level, dynamic range and stereo crosstalk remain strong points of its performance and this time the frequency response is excellent too.
The distortion levels have also been improved and while still not the best in class are still pretty good.
And here go the results so you can see for yourselves.
| | | | | | | |
| --- | --- | --- | --- | --- | --- | --- |
| Test | Frequency response | Noise level | Dynamic range | THD | IMD + Noise | Stereo crosstalk |
| HTC Tattoo | +0.12 -0.63 | -84.8 | 87.2 | 0.018 | 0.156 | -84.8 |
| Sony Ericsson XPERIA X10 mini | +0.18 -1.64 | -86.5 | 88.9 | 0.028 | 0.409 | -83.8 |
| HTC Hero | +1.04 -2.13 | -91.3 | 92.3 | 0.458 | 0.902 | -95.8 |
| HTC Magic | +0.21 -2.20 | -85.6 | 88.8 | 0.025 | 0.220 | -86.0 |
| Samsung S8000 Jet | +1.01 -2.03 | -87.9 | 87.0 | 0.015 | 0.060 | -85.9 |
| LG KM900 Arena | +0.09, -1.61 | -91.6 | 91.7 | 0.0017 | 0.101 | -90.4 |
| Apple iPhone 3GS | +0.01, -0.05 | -92.1 | 92.1 | 0.0035 | 0.011 | -95.0 |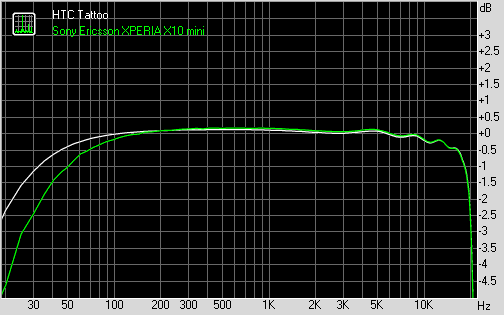 HTC Tattoo vs Sony Ericsson XPERIA X10 mini frequency response graphs
You can learn more about the whole testing process here.
AnonD-646030
19 Feb 2017
rKV
One of my favorite phone I have ever use
hamidreza1338
24 Nov 2014
HIN
Please new software for download .
I want to know if the htc tattoo upgrade is out.