HTC Touch review: Smart to touch the spot
Smart to touch the spot
GSMArena team, 28 November 2007.
Introduced several months ago, the innovative HTC Touch is the device, after which the world of Windows Mobile will probably never be the same. Chic, smart and versatile, the HTC Touch brings together an array of communication, entertainment and business capabilities enabling mobile consumers to balance work and fun. HTC Touch initiates an intriguing line of smartphone devices to feature the innovative TouchFLO technology with finger sweep control, making full use of the HTC Home application add-on. One of the smallest Windows Mobile devices is up to every standard with the package including Wi-Fi, 2.8" touchscreen TFT display, 2 megapixel camera and rich business applications. Since Apple managed to move a cool one million iPhones in some two and a half months, HTC Touch strikes back with officially reported 800,000 units sold in Europe/Asia since the launch of the device on July 5th. The HTC management admits this result beats even their most positive forecasts.





HTC Touch official photos • Home screen and TouchFLO interface
Key features
HTC TouchFLO technology allows smooth finger scrolling and panning
HTC Home application
Wi-Fi 802.11 b/g
2.8" 65K color touchscreen TFT display of QVGA resolution
2 megapixel camera
Sturdy build, quality casing and compact dimensions
Bluetooth v2.0
Large and comfortable D-pad
SIM card accessible without removing the battery
Main disadvantages
No 3G support
Inadequate 201 MHz processor and insufficient 128 MB ROM
No FM radio
Hard to clean casing
Leveraging the good functionality of Windows Mobile 6 Professional, the HTC Touch includes the Outlook Mobile and Office Mobile applications and extended compatibility with third-party applications. HTC Touch, a.k.a. HTC P3450, is based on the HTC Elf 100 platform. HTC Touch also goes by the MDA Touch alias for T-Mobile customers, as well as Vogue for Sprint customers.
At this stage, there are three color versions of the device officially available - the elegant soft black, the alluring wasabi green, and the white version, which is due for Christmas.





HTC Touch soft black version • HTC Touch in wasabi green
Hot information revealed on the Asian HTC site only, showcases a new enhanced version of the Touch that will be available in white or dark red. The difference from the initial HTC Touch is the doubled memory (RAM and ROM) to respectively 128 MB and 256 MB instead of 64 MB and 128 MB. A sticker on the retail box will clearly indicate the enhanced variant of the phone.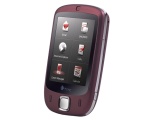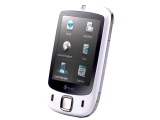 HTC Touch Burgundy and White enhanced versions
A recent HTC announcement of the 3.5G enabled slider HTC Touch Dual with a sliding semi-qwerty keyboard must have made Windows Mobile fans ecstatic. Another hot announcement is the HTC Touch Cruise phone, which is the third member of the HTC Touch product family and the first to feature built-in GPS, with 3G/HSDPA and wireless connectivity also onboard. To sum it up, the HTC devices to offer full TouchFLO support are the HTC Touch, HTC Touch Dual and HTC Touch Cruise. Today we will be reviewing the first of trio - the original HTC Touch.
patsm00re18
16 Nov 2020
vaS
Do your research at Google
Hi I have removed the whole window on my htc touchFLO so I want to know if its possible if I can buy it and replace it, plzz help its working but the whole screen is out
Anonymous
17 Mar 2013
Li3
I want to know how does it match with bluetooth handsfree (model: JABRA BT2046)