HTC Touch review: Smart to touch the spot
Smart to touch the spot
GSMArena team, 28 November 2007.
Touch and go
We find the 2.8" 65K color touchscreen TFT display of the HTC Touch satisfactory. It's on par with most PocketPC screens out there and it has the usual medium legibility under direct sunlight - especially when it has fingerprint smudges all over. Additionally, the small system font of Windows Mobile doesn't do sunlight legibility much good either.


The display in the dark: it looks good in daylight too
Now, there are a lot of people out there grumbling about display colors, since 65K seems rather old school, right? Well, old it is, but it's really not that bad. 262K colors is not a native thing to a 32-bit processor with 8KB data cache and 16 KB instruction cache. Those processors prefer either 65K colors or 16M colors. However, displaying 16 million colors would certainly compromise performance (it's double the bits compared to 65K) - so it's a fair trade-off really. We know that there are some manufacturers claiming their PocketPCs have 262K color displays, but that's all they have - displays. Even if it's a 262K display, it still shows the same 65K colors everybody is grumbling about. And another thing - we really don't think that any of these disgruntled consumers have checked the actual difference between 65K and 262K colors when viewing a photo. There is none whatsoever - at least to the human eye, that is. The only scenario that you may get to spot a difference is with two-color gradients.
Comfort Dial
We need not tell you that HTC Touch is more than a regular PDA. It's a mobile phone too and offers tri-band GSM/GPRS/EDGE support. The Phone application is in charge of all call-related features. Custom-made for HTC, it has large virtual keys that allow easy one-hand operation (other manufacturers have rather similar solutions). In the upper right corner there's the Backspace key, below it is the Calls Log key. The thing we like most about Windows Mobile devices is that you hardly ever need to open your phonebook in order to dial a contact. You just open the Phone and use its built-in Smart Dial feature. As soon as you've punched a few digits, it automatically filters the available contacts by their numbers… and their names. It uses the letters assigned to each number key for that - but unlike a feature phone, it checks all the available combinations (much like T9 when writing). Smart dial even searches in your recent calls list.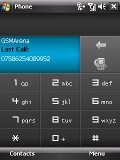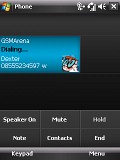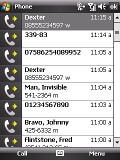 Dialing our friend Dexter • list of recent calls
Here is how HTC Touch stacks against some of the other handsets we've measured in our speakerphone loudness test. As you would see, it's really high in our loudness ladder. Usually this is the case with most PocketPCs. You can find more information about the loudness test itself here.
| | | | | |
| --- | --- | --- | --- | --- |
| Speakerphone test | Voice, dB | Pink noise/ Music, dB | Ringing phone, dB | Overal score |
| HTC Touch | 75.7 | 75.7 | 85.7 | Excellent |
| HTC TyTN II | 76.0 | 75.7 | 82.7 | Excellent |
| Nokia N95 | 77.3 | 66.6 | 78.0 | Very good |
| Sony Ericsson K850 | 71.0 | 75.7 | 75.7 | Very good |
| Samsung G800 | 70.7 | 66.6 | 73.6 | Good |
| Nokia E70 | 69.0 | 66.3 | 70.0 | Average |
| Qtek 8500 | 65.7 | 65.7 | 66.2 | Below average |
Rolling the dice: HTC TouchFLO cube
Microsoft Windows Mobile 6.0 Professional OS has been around enough for everyone interested in Pocket PC to have become familiar with it. To start with, all Windows Mobile devices are pretty much the same software-wise. Essentially, any PocketPC is just a software platform, which you can expand according to your needs - there are so many applications out there and it's a growing business. So we acknowledge that any current PocketPC user would hardly need a review of the default Windows Mobile applications that come preinstalled with the device - they are always the same. The reason why people change their PocketPC with new ones is only the hardware equipment - they simply want snappier and more user-friendly hardware to run their favorite applications on. So as a rule, PocketPC fans and users will only be interested in the hardware part of this review. If perhaps some manufacturer comes up with an innovative preinstalled application of their own, the hard-working PocketPC scene will take care of passing it on to older models. We saw it happen with the HTC TouchFLO technology already. So really, buying your Windows Mobile device is just the start - much like your desktop Windows. You hardly ever think of the built-in functions of your desktop OS, you just use it to run useful applications on it, right? We think that should've made the point. Anyways, we'll still give you something on the software part for people new to PocketPC.
| | |
| --- | --- |
| "... The HTC Touch is the first device to feature TouchFLO and the TouchFLO Cube. Sweeping a finger on the display launches an animated, three-dimensional interface. The HTC Touch Slide promises even more TouchFLO fun as new gestures would allow zooming in and out of photos and other enhancements ..." | <#AdRectangle#> |
The first thing you'll notice when you power up the HTC Touch is the custom HTC home screen. Of course, it's an add-on that simply comes pre-installed - you can install it on your PocketPC no matter what make it is. It's a really handy plug-in, as it offers five separate tabs with frequently used functions. The Home tab displays info about the time and date plus status indicators for unread messages, mail or missed calls. The Weather tab is rather self-explanatory - it even gives you a weekly forecast, but the default screen displays only the current day forecast. The third tab is the Launcher that stores several configurable shortcuts. If you have already noticed, the Home screen of HTC Touch differs from the home application on HTC TyTN II, where the five tabs had Favorites and music functionality. The latter are omitted here as the TouchFLO cube does that job and more.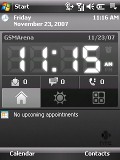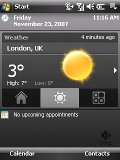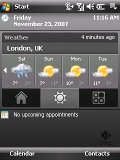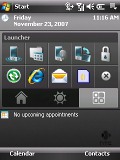 Home tab • Weather Tab • Application Launcher tab
Here is how the Home screen looks when you rotate it in landscape mode.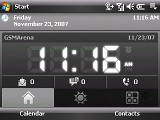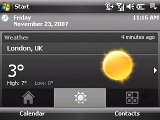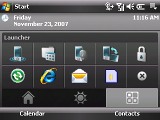 The Home screen in landscape mode
Now, for those of you that are not familiar with PocketPC, we should probably explain that those handsets have no "main menu" the way feature phones or Symbian S60 devices do. Instead, here you have the Programs menu and the Settings menu - they are almost all you need to access the PocketPC features. They are both accessible through the Start menu which, unlike the one in the desktop Windows, is a user configurable list of shortcuts to some favorite applications. Again, unlike the desktop Windows, the Home screen is not necessarily a place for your applications - instead you usually use the Start menu to access them. There is slight difference in the start menu in normal and landscape mode - the recently accessed programs appear as icons on the top, while in normal mode, they are listed as icons with text in the middle of the start menu.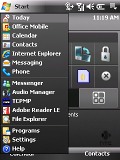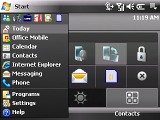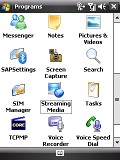 Start menu in normal and landscape mode • some of the applications in the programs section
The HTC TouchFLO technology is at its highest in HTC Touch. Manufacturers are slowly realizing that Windows Mobile Pro devices will lose the user-friendliness battle if stylus is the only way to move around the interface. The HTC TyTN II we reviewed recently, just touched base with TouchFLO, as finger sweep navigation was limited to scrolling only. The HTC Touch is the first device to feature TouchFLO and the TouchFLO Cube. Sweeping a finger on the display launches an animated, three-dimensional interface. The HTC Touch Slide promises even more TouchFLO fun as new gestures would allow zooming in and out of photos and other enhancements.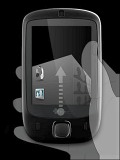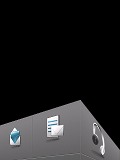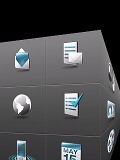 Sweeping a finger on the display will launch the TouchFLO cube - the animated 3D interface
The cube is rotated by sweeping gestures across the display, providing access to frequently used features on three separate desktops, alternating as you roll the cube.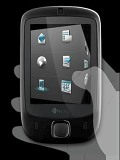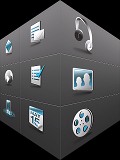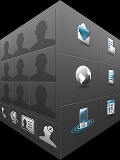 Sliding a finger right or left across the display leafs through the available screens
The three main screens of TouchFLO cube display the Contacts, Media and Applications content. Each of them offers shortcuts to predefined, as well as user configurable entries. The Applications section has 6 square keys: email, SMS/MMS, internet explorer, tasks, comm manager, and calendar. The Media section has the Music, Photos and Videos tabs. The Contacts segment has a 3x3 grid of keys, for assigning your favorite contacts. Under the grid, there are another four buttons: dial pad, call log, contacts, and favoiurite contacts manager. The 3D cube can be launched from within any application or menu location, while exiting the 3D cube will restore the last accessed application.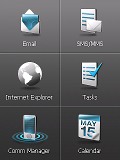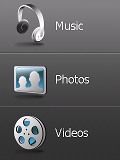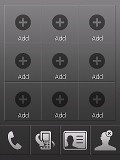 Applications, Media and Contacts screens
TouchFLO also enhances touch scrolling and browsing of web pages, documents, messages and contact lists. To get a better idea of how the TouchFLO works you can watch a full flash tutorial on managing the cube and its functionality at the HTC website.
Undoubtedly a resourceful interface solution, the TouchFLO still needs to break from the shortcut-to-applications shell and offer broader content handling and third-party software management. Besides, adding a native TouchFLO-based keyboard for text input will be highly appreciated. The Comm Manager (short for Communication Manager) is where you turn all the connectivity features on or off, such as Bluetooth, WLAN, Data connection, etc. The HTC Touch has a nice custom skin for the Comm Manager with large keys that cancel the need for a stylus.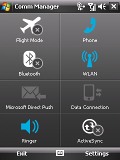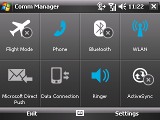 The Windows Mobile Comm Manager in portrait and landscape view
Windows Mobile 6.0 offers full multi-tasking to the extent that it makes it quite hard to shut down open applications. The OS is designed in such a way that it should remain fast and stable without having to close running applications. Those of you with longer experience with this OS however, will surely agree that it does not always work this way, especially in the case of particularly heavy applications when the available memory seems to drain rather fast. The HTC Touch is not a top hardware performer either with the 200 MHz TI OMAP processor or with its 64MB of RAM. The Task manager for the currently running processes is hidden deep in the Settings menu, so you'd be better off installing a third-party application that allows quick access. Luckily, HTC have preinstalled such an application for us. A quick press on the upper right corner on the Home screen opens a list of the currently running applications. No system processes are shown, so you won't get confused by all those enigmatic names you've probably seen in the desktop Windows Task Manager. Unfortunately, the quick access application can only be accessed on the Home screen.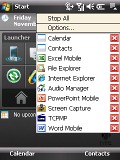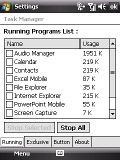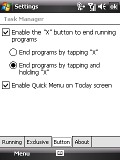 The Task manager is accessible through the right corner at the Home screen only
Windows Mobile traditionally offers customization through themes but they only change the color scheme. You can of course change the wallpaper on the Home screen too, but that's pretty much all you get. In order to apply some more advanced customization, you would need a third party application. Those kinds of applications however usually eat up your RAM.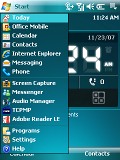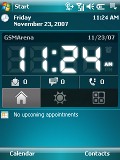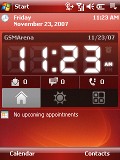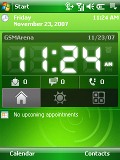 Playing around with themes doesn't really change the interface that much
patsm00re18
16 Nov 2020
vaS
Do your research at Google
Hi I have removed the whole window on my htc touchFLO so I want to know if its possible if I can buy it and replace it, plzz help its working but the whole screen is out
Anonymous
17 Mar 2013
Li3
I want to know how does it match with bluetooth handsfree (model: JABRA BT2046)