HTC Touch Diamond review: Geek's best friend
Geek's best friend
GSMArena team, 15 July 2008.
Making your way around Windows
Once you get past the Home screen and all the finger sweeps and animations though, all you are left with is muddy waters of the not-so-thumbable Microsoft OS. We are not against Windows Mobile by any means, however having to poke about your device with a little stick called stylus is so 1990s.
HTC however have made some efforts to tweak up the core Windows usability too. Some of the most used system settings, contacts management, and the messaging department have all benefited, and so have image and web browsing.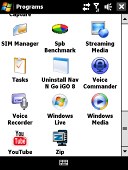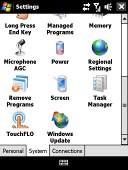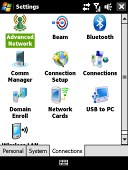 Viewing the standard Programs and Settings menus on the Diamond
Contact management is even easier
Contact management is usually considered one of the strongest points of Windows Mobile. You have unlimited contacts list, unlimited info fields for each contact and brilliant synchronization options. However, the small font and tiny fields make the stylus a must when you are searching a contact or editing its details.
HTC offer the default WinMo contacts list, however they have added thumb scrolling courtesy of TouchFLO (a slower sweep scrolls them gradually, while a fast single sweep scrolls the whole list from top to bottom). Secondly, you can pick a letter of the alphabet by using the letter column placed on the right. Searching by gradual typing is also available.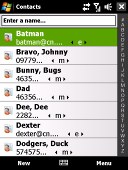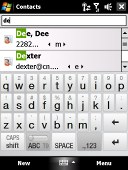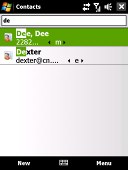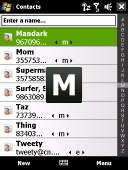 HTC have added thumb scrolling to the phonebook • searching by typing or via the alphabetical list
When editing a contact you have a plethora of available info fields - and if by any rare chance, those are not enough, you can always rename some of the existing ones and use them instead.
Despite the long list of available fields, when viewing a contact's details, only those that are actually filled show up. A really nice feature is the Last call details that appear alongside every contact.
Call management is excellent
Making calls is usually a priority for every cell phone - that still holds true for smart devices such as the HTC Diamond. Some users report sound quality issues during calls with the HTC Diamond. We however didn't experience any, it was flawless.
The Phone application offers smart dialing, so you hardly ever need to go to the Contacts list in order to dial a number.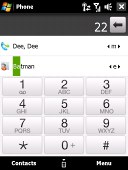 The Diamond Phone app has Smart Dialing, which searches both in your recent calls and your full contact list
When you put the Diamond to your ear, the display automatically switches off to avoid accidental presses. To do so, it doesn't rely on a proximity sensor like the iPhone, but uses the embedded light sensor instead.
The downside to that is you need to press the On/Off key to turn the display back on during the call. But once you do, it stays on until you've finished your conversation. If however you don't like that solution, you are welcome to check out the Tweaks & Modding section of this review for a quick remedy.
The built-in accelerometer gives the HTC Touch Diamond an extra cool feature: you can mute the ringer by simply turning the phone face down on the table. If you turn the handset back up, the ringing won't resume by itself. At least, it's unlikely to get your calls muted accidentally in your pocket - the feature is so set up that it's more likely to not engage at all, rather than engage for no reason.
Bear in mind that if the Diamond is already face down when a call comes in, the feature won't be available.
The HTC Touch Diamond boast two more user-friendly features that make call management even better. First of all, pulling out the active stylus during a call will automatically turn the display on and launch the Notes application. It even puts down the call details (the other party name and the time of call) on the note for you.
And secondly, the HTC Diamond comes with a feature that's available on many feature phones - reject call with SMS. When you reject a call, the handset automatically sends the rejected caller a preset text message. We've never found that particularly useful, since you may have a dozen of different reasons to reject a call and there's hardly a universal message text that can cater to them all.
Anyway, with the HTC Touch Diamond, the SMS is not sent automatically. Instead you are prompted to review and possibly edit the template before dispatch.
The Calls log on Windows Mobile devices offers practically unlimited entries. HTC have pimped the looks of the regular WinMo calls log and have added thumb scrolling.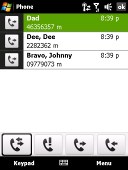 HTC uses the default Calls Log but with a facelift
To conclude the phone part review of the Diamond, we measured the loudspeaker performance as part of our reviewing routine. You surely won't miss any calls with it, as it's loud enough to score the Good mark. Here's how the HTC Touch Diamond ranks along several other smart devices. You can find more details about our test, as well as the results of all other tested handsets here.
| | | | | |
| --- | --- | --- | --- | --- |
| Speakerphone test | Voice, dB | Pink noise/ Music, dB | Ringing phone, dB | Overal score |
| Apple iPhone | 67.2 | 60.2 | 66.6 | Below Average |
| LG KS20 | 66.1 | 70.6 | 64.9 | Average |
| HTC Touch Diamond | 66.7 | 75.9 | 66.0 | Good |
| HTC Touch Cruise | 68.8 | 66.6 | 74.2 | Good |
| Nokia N95 8GB | 75.7 | 66.2 | 70.5 | Good |
| Samsung i900 Omnia | 74.3 | 66.1 | 73.6 | Good |
| HTC TyTN II | 76.0 | 75.7 | 82.7 | Excellent |
Messaging is nice
The HTC Touch Diamond supports SMS, MMS and email. SMS and MMS share an inbox and a message editor. Thanks to TouchFLO you can enjoy thumb scrolling in the inboxes and longer messages. Dynamic font resizing (zooming in/out with the scroll wheel) is also at your disposal.
As of Windows 6.1, users enjoy threaded SMS, so you can be sure you get that feature on the Touch Diamond. Also, contrary to what some users report, the HTC Touch Diamond DOES offer Message delivery reports in its Settings menu.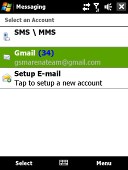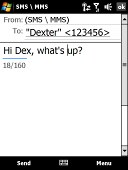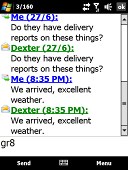 The Messaging department on the Diamond
Another highly debated feature of the Touch Diamond concerns receiving SMS in standby mode. When a message comes in, the handset only produces a tone with no vibration. The SMS alert doesn't wake up the device either - it stays in standby mode. We find that a perfectly usable solution and we don't object at all. Furthermore, the scroll wheel backlight blinks at regular intervals to alert you of an unread message.
The email inbox holds no surprises to experienced WinMo users. A nice upgrade is the dynamic zooming with the scroll wheel, which is available when you are reading an email.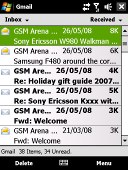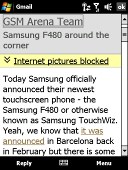 Browsing the email inbox • reading an email
Perhaps now is a good time to mention input options on the Touch Diamond. HTC have equipped the device with a set of home-grown thumbable virtual keyboards. It's a commendable feature since the default Windows Mobile keyboards are fit for stylus use only.
The first keyboard is full QWERTY, the second one is a Blackberryesque QW-ER-TY one and, finally, the third one is a regular 9-key multi-tap keypad.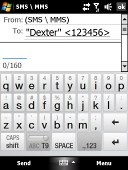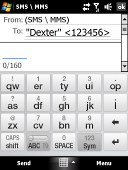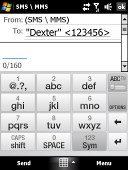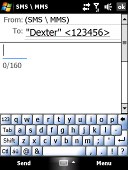 The touch-optimized keyboards on the Diamond
In the applications where screen auto rotation is enabled, you also get larger landscape versions of those keyboards. Unfortunately, the web browser is the only place where screen rotation is available and there's any use of typing. Sorry folks, no landscape typing on the Diamond. It's strange that HTC haven't taken care of that, given it was one of the harshest criticisms of the Apple iPhone. Plus, they had access to almost a year's worth of iPhone user feedback freely available online.
But, thanks again to third-party app developers, users now have more control over the screen rotation feature and that has made landscape typing possible. You can read more about it in the dedicated Tweaks & Modding chapter of this review.
Thanks guys I made up my mind. I'm not buying it, for the fact that battery life is poor that's it for me.
hi anybody plz tell me how to reconnect or switch on data connection in communication manager once it is stopped.plz
HTC Diamond is my biggest nightmare...ever! I hope that this days I will change him with other phone because two years of suffering is enough! (and I've tried everything - put many cocked ROM's from XDA/ evend Android for HTC but in the end I've ...