HTC U11 review: Squeeze U
Squeeze U
GSMArena Team, 09 June 2017.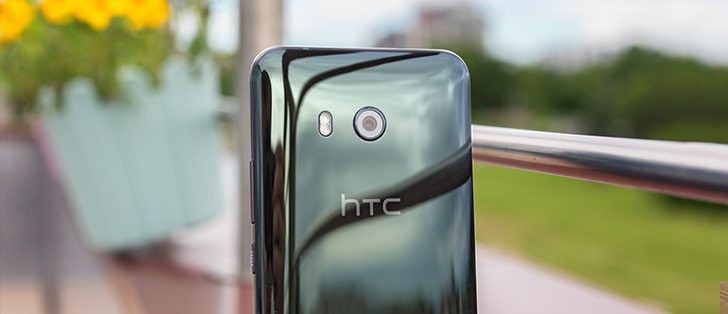 Introduction
For the past four iterations, HTC has been touting an all metal unibody design in its flagships. This year, HTC's arrives with a fresh, new, and more fragile look. Tuned with the latest Qualcomm Snapdragon 835 CPU, top-notch audio experience , and a water resistant glass sandwich design, will the new HTC U11 be able to swoon loyal Samsung or Apple customers to HTC?
The "U" in the phone's name stands for the company's new design language, while the "11" follows the numbering of the HTC One M9, and then last year's HTC 10. The reason for the "U" is thanks in part to the super-reflective surface on the back glass which HTC says "is a reflection of you".
Sappy puns aside, the U11's new 'Liquid surface" design symbolizes (both literally and figuratively) a new image for HTC. Glass is more appealing and stands out better than a metal-clad phone, all without being overly flashy. HTC didn't take a risk with a taller display as LG and Samsung have done, and that's okay. After all, we don't know that non-traditional aspect ratios will stick around for very long.
HTC U11 key features
Body: HTC's design uses Gorilla Glass 5 on the front and back. The "Liquid Surface" design on the rear is curved glass and changes hues under light. It's IP67 water-resistant.
Display: 5.5-inch Super LCD 5 panel, 1440x 2560 resolution, 16:9 aspect ratio, ~534ppi
Rear camera: 12MP f/1.7, dual pixel autofocus, OIS, dual-LED flash, 1.4 micron pixel size, HDR Boost, 3D audio recording, Acoustic Focus, 4K @ 30fps
Front Camera: 16MP fixed-focus, HDR Boost, 1080p @ 30fps.
OS/Software: Android 7.1.1 with HTC Sense - HTC Sense Companion app, Alexa available in UK, US, and Germany
Chipsets: Qualcomm Snapdragon 835: Octa-core (4x2.45 GHz Kryo & 4x1.9 GHz Kryo), Adreno 540
Memory: 4GB RAM/64GB storage in base model (6GB/128GB in select markets), expandable via microSD slot (or SIM2 slot for dualSIM model).
Battery: 3,000 mAh battery with Quick Charge 3.0
Connectivity: Single or Dual SIM; LTE-A Cat 16: 1024/75 Mbps, USB Type-C 3.1, 3.5mm to USB-C adapter included
Audio: Boom Sound speakers, noise-cancelling U Sonic earbuds (via USB-C) included, four on-board mics for 3D audio and always listening for assistant hotword
Misc: Squeeze actions via sensors embedded into frame, front fingerprint scanner; dual speakers (Boom Sound)
Main shortcomings
No analogue headphone jack (an adapter is provided but you can't charge it and listen to the music at the same time)
Battery capacity is not stellar
Questionable durability
Yes, HTC is a little late to the party this year. The Taiwanese company pushed the launch of its 2017 flagship back a couple of months, partly because the U Ultra's release put HTC behind schedule for its flagship phone of the year.
Although the U11 isn't the first smartphone with a Snapdragon 835, HTC is the first company to launch a smartphone with Qualcomm's latest chipset on a global scale. While that won't win HTC any awards or new fans, it has to rely on the phone itself to deliver a product experience worth writing home about.






HTC U11: Amazing Silver • Brilliant Black • Sapphire Blue • Ice White • Solar Red
While the HTC 10 was a great phone with an overly robust exterior design, its presence wasn't enough to stand out amongst Samsung or Apple in the mobile space. HTC hopes that the U11 closes the gap that Samsung and Apple have between the other smartphone makers.
HTC heavily emphasized the U11's squeeze features and noise-cancelling USonic headphones at its launch event in Taipei. Could these new features and its shiny new design be enough to sway customers back? Perhaps, but HTC likely needs a bigger presence to compete with Samsung and Apple's multi-million dollar marketing campaigns.
Some might be upset that HTC shifted from its robust and sturdy all-metal design to a more fragile (more common) glass and metal build. Whether or not the back-glass will hold up like the all-metal HTC 10 will only show over time. Will HTC's new U design win over new customers or will it fall and shatter? Let's find out together starting with the unboxing.
I have a HTC U11 for 3 yrs but put it down last year cause I upgraded to the U12+ and now my U12+ gotten stolen and my u11 not booting up, I'm getting the blinking light and I try every method to get it turn on back, so my question is if I re...
I brought this phone 2yrs back Within a month it fell down while charging due to its slippery smooth back and front glass cracked. Couldnt fix it. But other wise very smooth running and no battery complain .now since month I have trouble with...
Just 6 month back i bought .... gorilla glass???? but it's boricken both the side.....i don't think will get warranty... Not satisfied...in U11