HTC U Ultra review: All that glitters
All that glitters
GSMArena team, 20 March 2017.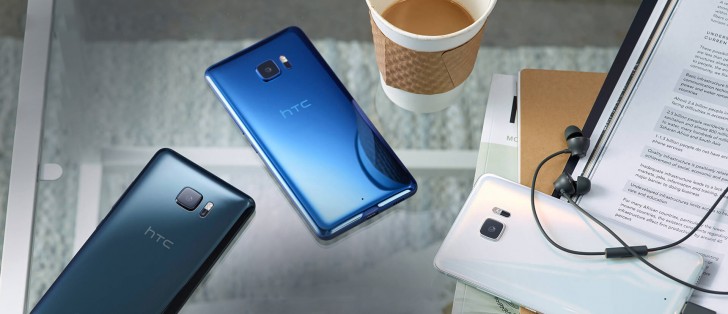 Display
The HTC U Ultra has two screens, the main one being a 5.7" Super LCD5 with QHD resolution (that's 1,440 x 2,560px). The secondary one has 160 x 1,040px resolution, losing 400px of horizontal resolution to make room for the selfie camera.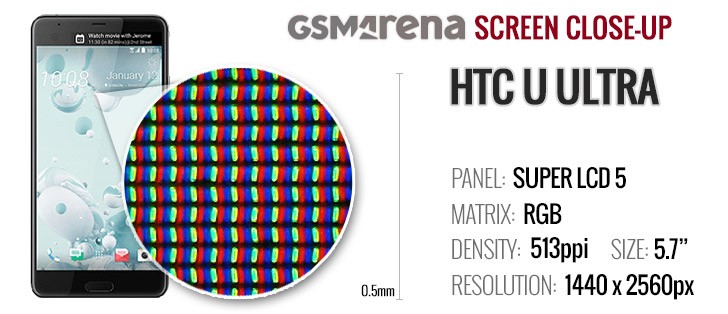 April 5: We retested the screen (since we had issues with the original test) and updated the results below.
Those specs sound very similar to the LG V20 screen, but the U Ultra has a different panel.
Unfortunately, not in a good way. The contrast ratio is below 1,000:1 (while the V20 is a bit over that). Also, the black levels have a noticeable glow compared to the HTC 10 evo at comparable brightness levels.
HTC the top brightness is nothing special either, reaching around 430nits on manual (a bit below the V20) and topping out at a hair over 500nits (while the V20 crossed 600nits).
And finally, the HTC screen had a noticeable color shift when viewed at an angle, something the V20 screen didn't have.
Display test
100% brightness
Black, cd/m2
White, cd/m2
Contrast ratio
HTC U Ultra
0.539
428
794
HTC U Ultra (max auto)
0.564
507
899
HTC 10 evo
0.387
525
1357
Apple iPhone 7 Plus
0.41
573
1398
Apple iPhone 7 Plus (max auto)
0.50
681
1362
Samsung Galaxy S7 edge
0.00
392
∞
Samsung Galaxy S7 edge max auto
0.00
610
∞
LG V20
0.43
475
1097
LG V20 Max auto
0.59
628
1064
Surprisingly, despite its deficit in contrast, the sunlight legibility was on par with the LG screen - a very respectable score, one of the best among both LCD and AMOLED screens.
Sunlight contrast ratio
Samsung Galaxy S6 edge+
4.615
Samsung Galaxy S7 edge
4.439
OnePlus 3
4.424
Samsung Galaxy S7
4.376
HTC One A9
4.274
Samsung Galaxy Note7
4.247
Samsung Galaxy A3
4.241
OnePlus 3T
4.232
Google Pixel XL
4.164
ZTE Axon 7
4.154
Samsung Galaxy A7 (2017)
4.124
Samsung Galaxy S6 edge
4.124
Samsung Galaxy Note5
4.09
Huawei Nexus 6P
4.019
Vivo Xplay5 Elite
3.983
OnePlus X
3.983
Oppo R7s
3.964
Apple iPhone 7
3.964
Huawei P9 Plus
3.956
Meizu Pro 6 Plus
3.935
Lenovo Moto Z
3.931
Samsung Galaxy A7 (2016)
3.918
Samsung Galaxy C5
3.911
Samsung Galaxy C7
3.896
Samsung Galaxy A5
3.895
Samsung Galaxy J7 outdoor
3.879
Samsung Galaxy J2 outdoor
3.873
Samsung Galaxy A8
3.859
Samsung Galaxy A9 (2016)
3.817
Motorola Moto X (2014)
3.816
Samsung Galaxy A5 (2017)
3.804
Samsung Galaxy J7 (2016) outdoor mode
3.802
LG V20 Max auto
3.798
Xiaomi Redmi Pro
3.798
Sony Xperia XZ
3.795
Samsung Galaxy A5 (2016)
3.789
Apple iPhone 6s
3.783
Meizu Pro 5
3.781
Microsoft Lumia 650
3.772
Samsung Galaxy J7 (2016)
3.756
Oppo F1 Plus
3.709
Vivo X5Pro
3.706
Sony Xperia X Compact
3.694
Samsung Galaxy A3 (2017)
3.688
Apple iPhone SE
3.681
Huawei Mate 9
3.68
Samsung Galaxy A7
3.679
Meizu PRO 6
3.659
BlackBerry Priv
3.645
Apple iPhone 7 Plus
3.588
Apple iPhone 6s Plus
3.53
Motorola Moto Z Play
3.526
Samsung Galaxy J3 (2016) outdoor mode
3.523
Samsung Galaxy J3 (2016)
3.523
Acer Jade Primo
3.521
Microsoft Lumia 950
3.512
Oppo R7 Plus
3.499
nubia Z11
3.466
Huawei P10 Plus
3.456
HTC U Ultra
3.453
Samsung Galaxy J7
3.422
Meizu MX5
3.416
LG V20
3.402
Huawei P10
3.379
Oppo R9s
3.352
Oppo R7
3.32
Lenovo P2
3.316
Xiaomi Mi 5s
3.276
Nokia 6 (Chinese version)
3.244
Samsung Galaxy J2
3.235
Sony Xperia X Performance
3.234
Xiaomi Mi Note 2
3.228
Motorola Moto X Play
3.222
Huawei Mate 9 Pro
3.206
Huawei P9
3.195
Lenovo Vibe Shot
3.113
Motorola Moto X Force
3.105
LG Nexus 5X
3.092
Huawei Mate S
3.073
Microsoft Lumia 640 XL
3.065
Sony Xperia X
2.989
Huawei Mate 8
2.949
Xiaomi Redmi 3S
2.913
Sony Xperia XA Ultra
2.906
LG G5
2.905
HTC One S
2.901
Xiaomi Redmi 3s Prime
2.893
Xiaomi Mi 5s Plus
2.884
Sony Xperia Z5
2.876
Microsoft Lumia 550
2.851
Lenovo Moto M
2.813
Xiaomi Redmi 3 Pro
2.803
Sony Xperia Z5 compact
2.784
Meizu MX6
2.751
LG V10
2.744
Xiaomi Redmi 3
2.735
Xiaomi Redmi Note 4 (S625)
2.714
Meizu M5
2.71
Sony Xperia M5
2.69
Huawei P9 Lite
2.679
Xiaomi Redmi 4 Prime
2.679
Vivo V3Max
2.659
Xiaomi Mi Mix
2.658
Xiaomi Mi 4i
2.641
Sony Xperia XA
2.609
Motorola Moto G4 Plus
2.582
Motorola Moto G4 Plus (max auto)
2.582
Meizu M5s
2.58
Xiaomi Mi 4c
2.574
LeEco Le Max 2
2.567
Microsoft Lumia 640
2.563
Asus Zenfone 3 ZE552KL
2.563
Lenovo Moto G4
2.544
Lenovo K6 Note
2.544
Oppo F1
2.528
Sony Xperia Z5 Premium
2.525
Huawei Honor 7 Lite / Honor 5c
2.506
Sony Xperia M4 Aqua
2.503
Oppo F1s
2.481
Motorola Moto G
2.477
Lenovo Vibe K5 Plus
2.473
Huawei G8
2.471
Huawei nova
2.467
Sony Xperia Z
2.462
Lenovo Vibe K5
2.459
Meizu m3 max
2.447
HTC 10 evo
2.407
Huawei Honor 7
2.406
Sony Xperia E5
2.386
ZUK Z1 by Lenovo
2.382
HTC 10
2.378
Samsung Galaxy J5 (2016)
2.378
vivo V5 Plus
2.371
Meizu m1 note
2.362
Huawei nova plus
2.329
HTC One E9+
2.305
Alcatel One Touch Hero
2.272
Apple iPhone 4S
2.269
Lenovo Vibe K4 Note
2.254
Sony Xperia C5 Ultra
2.253
Xiaomi Redmi Note 3 (MediaTek)
2.249
Sony Xperia C4 Dual
2.235
Xiaomi Mi Note
2.234
Motorola Moto G (2014)
2.233
Huawei P8
2.196
Meizu M5 Note
2.189
Huawei Honor 6
2.169
Xiaomi Redmi Note 2
2.166
OnePlus Two
2.165
HTC One X
2.158
Xiaomi Redmi Note 4 (X20)
2.145
LG Aka
2.145
Archos 50 Diamond
2.134
Xiaomi Redmi Note
2.119
Acer Liquid X2
2.084
Huawei P8lite
2.078
vivo V5
2.059
Moto G 3rd gen max manual
2.026
Xiaomi Mi Max
1.996
Sony Xperia E4g
1.972
OnePlus One
1.961
Meizu m3 note
1.923
BlackBerry Leap
1.892
Meizu m2 note
1.892
ZTE Nubia Z9 mini
1.759
Sony Xperia U
1.758
Asus Zenfone Selfie
1.68
Motorola Moto E (2nd Gen)
1.675
ZTE Nubia Z9
1.659
Jolla Jolla
1.605
Motorola Moto E
1.545
Sony Xperia M
1.473
Sony Xperia L
1.351
Xiaomi Redmi 2
1.311
HTC Desire C
1.3
Sony Xperia C
1.283
Sony Xperia E
1.215
Color accuracy is not perfect - the default mode gets 6.1 average deltaE, 10.7 max. We managed to improve that reading by dragging the color temperature slider all the way to Warm (since the white balance is too cool by default). That only got us to 4.6 average and 8.8 max.
Those readings are comparable to the LG V20, but behind the leading phablets in this class. We normally don't worry about color accuracy, but we love having the option.
For late night usage, the HTC U Ultra can drop its screen all the way down to 5nits, and the Settings menu offers a blue light filter that you can toggle on in the late hours of the day when you'd probably prefer the warmer hues.
The second screen can be set to Always on or to be active only when the main screen is on (or the other way around - only when the main screen is off). You don't get much more settings for it; there's no separate brightness slider or a way to schedule the screen to switch off at night.
Connectivity
The HTC U Ultra is available only as a Dual SIM phone with a hybrid card slot - meaning you can put in a microSD card only if you use a single SIM card. A pretty fair trade-off, we think, given that you get 64GB as base storage and can go up to 128GB if you need both dual SIM and plenty of storage.
Anyway, you're looking at 600Mbps of theoretical download speeds thanks to LTE Cat. 11 with 3 Carrier Aggregation. Both VoLTE and Wi-Fi calling are supported, which offer higher quality audio and better reception respectively. Note that there's no CDMA support.
The Wi-Fi connectivity itself covers a/b/g/n/ac and there's Bluetooth 4.2. NFC is available for Android Pay and other uses.
The sole wired connection is the USB-C port, but it is highly capable. It is wired for full USB 3.1 speed and supports DisplayPort connections, meaning you can have TV out with the right adapter.
This USB-C port is also responsible for audio output, good thing that HTC includes a decent pair of buds in the box.
Battery life
The HTC U Ultra comes with a 3,000mAh battery that is sealed inside the body. QuickCharge 3.0 fills up the battery fast, but you may need to do it more often than you would like. The smaller (and cheaper) HTC 10 evo has a bigger battery, 3,200mAh. Even the iPhone 7 Plus is not far behind at 2,900mAh.
The U Ultra does have a more efficient chipset than the 10 evo - Snapdragon 821 features many refinements in power efficiency compared to its predecessors. Still, in a body this size we expected more.
The phone starts off well, we got an 81-hour Endurance rating with the secondary screen off. There are several ways to activate it with movement or tapping so that you may be okay without the Always-On functionality. Still, it's a feature that several flagships offer, and if you leave it on, you're looking at a lower 66-hour Endurance. That's more than the Galaxy S7 edge gets with Always on enabled, so it's a good job by HTC!
The HTC U Ultra should last up to 26 hours in a 3G call according to official numbers, we measured 23 hours, which is still respectable.
Both web browsing and video playback deplete the battery in around 8 hours, give or take half an hour, which is not as ideal. The good news is that the LG V20 gets similar times, actually an hour more in web browsing. A Galaxy S7 edge or iPhone 7 Plus will go for hours more, however.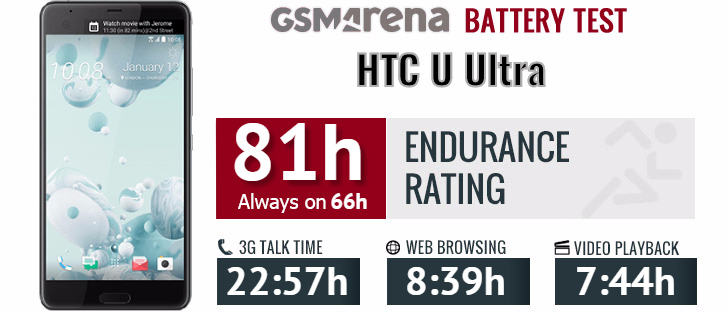 Overall, the U Ultra battery lasted longer than we thought it would - after all, you don't have to look far to find a phablet with a larger battery. Still, HTC made it work, and that's all that matters.
The battery testing procedure is described in detail in case you're interested in the nitty-gritties. You can also check out our complete battery test table, where you can see how all of the smartphones we've tested will compare under your own typical use.
Anonymous
03 Jun 2022
YQL
My htc u ultra have a technical problem in connection with slow battery charge for a long period.now the system is not working ,this mobile parts are unavailable at any shop,how I will solve this problem.?
Anonymous
06 Sep 2021
G6n
only i use it in a year then suddenly not working, not charging battery and only on then off..nobody can repair..
Amirkian1989
31 Aug 2021
a3@
After ten years with HTC, I was very upset, after buying the U Ultra, the phone burned and no one could repair it, and this happened on its own.