HTC U Ultra Sapphire Edition incredible scratch resistance verified
Yordan, 05 May 2017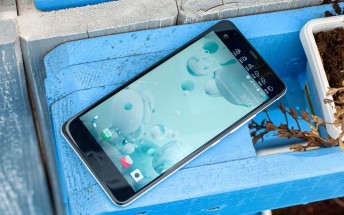 HTC released a special edition its U Ultra flagship with a sapphire screen, and naturally everyone is curious if it's really as great as it sounds. Luckily Zack from the popular YouTube channel JerryRigEverything put the device under the scratch test (along with a luxury Tissot watch) and provides the answer. A hybrid glass $50 screen protector for Galaxy S8 is also thrown into the mix.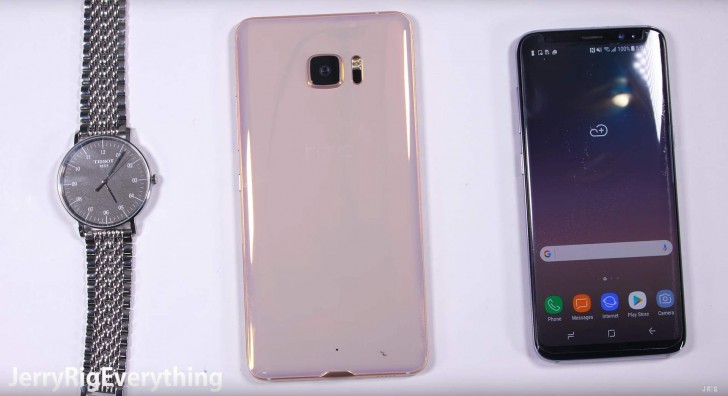 The test consists of attempting to scratch the three panels with objects with increasing hardness. The screen protector fails at the level 3 on the Mohs scale, meaning any gold or silver jewelry might do irreversible damage. The tester even tries to see if he can light it on fire. Surprisingly, the protection catches flame in just seconds, leaving an aftermath of plastic goo on the Galaxy S8 screen.
The scratch test continues with only the Tissot watch and the U Ultra. Level 6 or 7 is where most smartphone screens begin to scratch, but this time neither gadget was damaged. Finally, at level 8, which is equal to topaz or zirconia hardness, slight hairline scratches appeared. Level 9 is the crucial one, where both objects ultimately fall victim to the scratching.
That's that then - the sapphire glass on the HTC U Ultra Limited Edition is no marketing gimmick and it's as good as that on a premium watch.
This edition comes with 128GB storage and costs €849 in Europe, while the regular device with Gorilla Glass 5 has a €699 price tag. Whether or not it's worth the extra cash greatly depends on how much of an issue you have with scratches on your phone.
Related
Yeah well i was only saying that some of their higher end products costed over 1000€.
Ahh,but you had the choice of the claw,mine were "acquired" through work and would gladly rid myself of them,the one in my right middle finger does lots of damage to things and bloody hurts if I catch my finger tip wrongly !!! Will gladly swap my t...
I have a 350$ tissot and I don't think it's a fake