Mate 8, Watch Elegant, Mediapad M2 10.0, and Honor 5X 10.0 hands-on: Huawei at CES 2016
Huawei at CES 2016
GSMArena team, 5 January, 2015.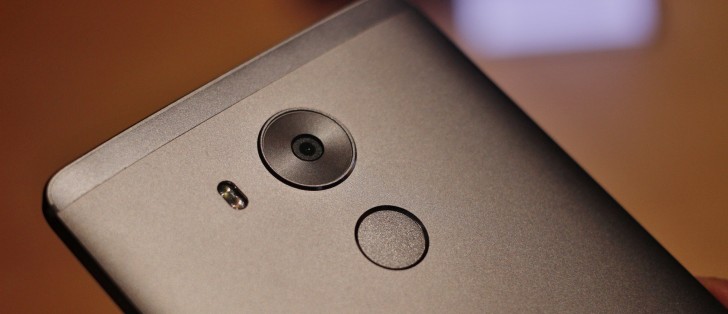 Huawei Mate 8 hands-on
"More! More!" seems to be the right answer to the question "How big is too big?" as far as Huawei is concerned. That's why the Huawei Mate 8 is loaded with a massive 6" display, but you know what? It's about the same size as a 5.7" Nexus 6P or even a 5.5" iPhone 6s Plus.
It's a bit wider than them, but this is as narrow as a phone with a 6" 16:9 screen can be – there's basically no bezel to the side of the screen. The top/bottom bezels are very slim too, the Nexus and iPhone are lacking in this regard, which makes them actually taller than the Mate 8.
In the hand, the Mate 8 felt a lot like the Nexus 6P, in fact, just with a larger screen (that's no coincidence, both phones are made by Huawei).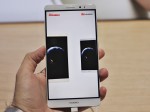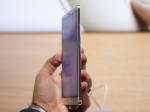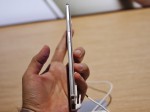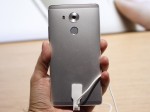 The Mate 8 feels smaller than you expect a 6" phone to be
Besides the screen, the rest of the exterior is wrapped in metal that comes in several hues, including the unique Mocha Brown. The metal has different textures – the sides are micrometer-grade brushed metal while the back is bead-blasted smooth.
We didn't have a chance to put it through its paces, but Huawei tells us three things about the Kirin 950 chipset – it's fast, power efficient and cool.
With the first Cortex-A72 cores in a chipset (four of them, plus 4x Cortex-A53) and Mali-T880, the Mate 8 should double the performance of the Mate 7 (neither Snapdragon nor Exynos chipsets have those yet). The chipset is wrapped in 6 layers of highly conductive DX19 material to distribute the heat away from the chipset.
The new 16nm FinFET manufacturing process allows for 70% better power-efficiency so Huawei is promising over two days of use. The 9V @ 2A charger will give you a full day's worth of battery life in just 30 minutes. Charging is done via regular microUSB 2.0 by the way, no USB Type-C here.
The camera takes a Sony sensor (IMX298) and puts it behind a f/2.0 aperture and arms it with OIS. It can correct up to 1.5° of shakes with its 3-axis motor (with help from famous stabilization gurus at LDS). It also features phase-detection autofocus.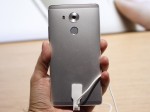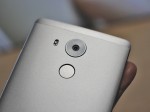 The 16MP camera with OIS and phase-detection AF
Strangely, the camera tops out at 1080p @ 60fps, there's no 4K UHD video capture here.
The Huawei Mate 8 is targeted at business users with some features that will give them peace of mind. The fingerprint reader (which works 100% faster than the previous iteration, by the way) can lock applications away as well as photos, videos and documents.
Additional security is provided by the special Huawei Secure keyboard, which always shows up when typing your passwords. You can install third-party keyboards as usual, but they won't get to see your password.
The Mate 8 runs Android 6.0 Marshmallow with Emotion UI 4.0. The Kirin 950 chipset can be paired with a choice of 3GB RAM / 32GB storage or 4GB RAM with 64GB or 128GB storage. And there's a microSD slot, unlike the Galaxy Note5, Nexus 6P and iPhone 6s Plus.
The screen can detect knocks with your knuckles, the default gesture is to capture a screenshot. You can do "long page" screenshots too, basically scrolling down to capture more than fits on the screen. A new feature is the detection of two-knuckle knocks, which capture a short video instead.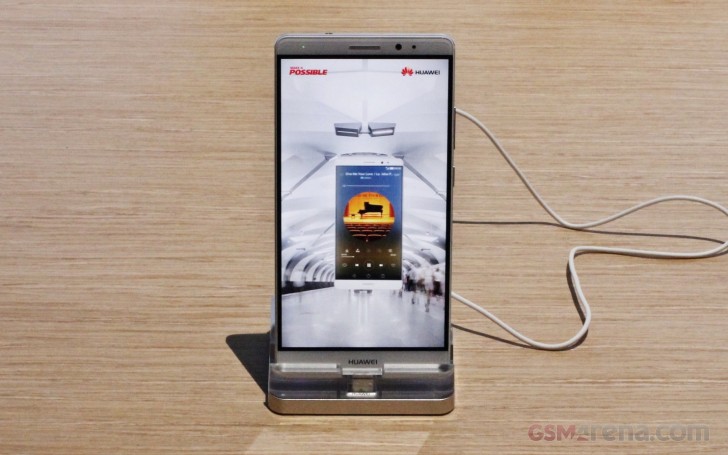 The Huawei Mate 8 is a dual-SIM phone and supports more bands than any other – 9 3G bands and 18 4G bands, covering a total of 217 countries and 1,334 carriers. The software also makes it easy for globetrotters to call home by smartly inserting country codes in phone numbers that don't have them. By the way, the microSD card takes up one of the SIM slots.
We're quite impressed by the Mate 8 and we can't wait to put one through its paces. Oh well, perhaps once CES 2016 is behind our backs.
Join us on the next page for our impressions from the just-announced Huawei Media Pad M2.
I humble to request you to please don't buy honor 5x ... ots totally disgusting Annoying to use Camera clarity like VGA Audio speaker Sound like vibrated voice Heating Please dont buy my advice not worth for money
This is amazing mobile fone by interdous huwei maybe this is the best mobile in the world i want this mobile fone
Dearest gsmArena followers.Frankly and unbiasely speaking,Mate8 is one of the best upper midrange close to the high brands in all specifications mentioned here!One great mistake following some samsung products:Using sim card2 as a substitude for memo...