Mate 8, Watch Elegant, Mediapad M2 10.0, and Honor 5X 10.0 hands-on: Huawei at CES 2016
Huawei at CES 2016
GSMArena team, 5 January, 2015.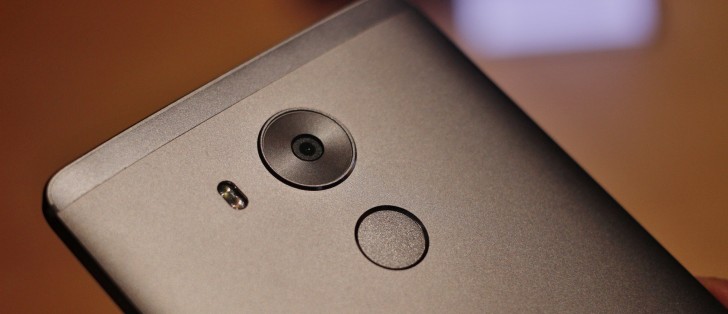 Huawei MediaPad M2 10.0 hands-on
On to the tablet, it's been a while since we've seen a 10-incher with a pen, and some of us are missing the Galaxy Note 10.1 (2014). The 10-inch Huawei MediaPad M2 10.0 (not to be confused with the 8-inch MediaPad M2) is somewhat of a different beast, though.
For one, it has a lower-res display than Samsung's already aging tablet, now more than two years old. The resolution of 1,920 x 1,200 pixels stretched over a 10.1-inch diagonal makes for 226ppi, which is rather uninspiring by today's standards. And spoiled as we are by looking at displays all day long (actually, most nights too), the MediaPad M2 10.0 gives a somewhat coarse first impression. That's not to say the display is bad, no, it just feels a little dated.
Build quality is quite nice, with a solid feel and a premium vibe. The polished metal back is pretty smooth though and you should make sure to hold the tablet in such a way as to not rely on friction. It's not the lightest of tablets, obviously, but going for a 10.1-inch device, you've already decided where your priorities stand.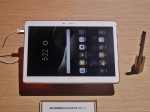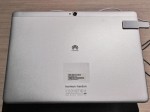 The Huawei MediaPad M2 10.0 has a solid feel
Crowded venue floors are hardly the best place to test sound quality or even volume, but the MediaPad M2 10.0 does make for a properly nice first impression. The Harman/Kardon 4-speaker setup differs in concept from the iPad Pro, where the output gets adjusted depending on orientation.
Here you get two dedicated bass speakers with 4.6 cubic centimeter resonation chambers and two treble speakers, and they sure sound great. Total output power is 4W, which is pretty impressive for a mobile device. The speakers are positioned in such a way that the top ones are almost guaranteed to not get muffled while you'd need to be a little more careful not to block the bass one on the bottom. That's when holding the device in landscape orientation, of course.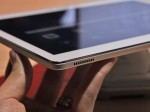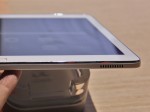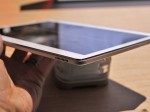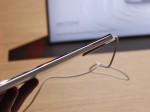 Huawei MediaPad M2 10.0 has a set of four speakers
And landscape's the way to hold it, Huawei assumes if you judge by the fingerprint sensor placement midway on the bottom bezel. It's not quite the same experience as the rear-mounted unit on the Mates, simply because fingerprint recognition on such a large device is inevitably going to be a bit more awkward, but it's just as fast, nonetheless.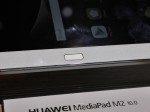 Huawei MediaPad M2 10.0 fingerprint sensor
And then there's the stylus. Dubbed the M-Pen, the pressure sensitive stylus is an active solution like the Apple Pencil.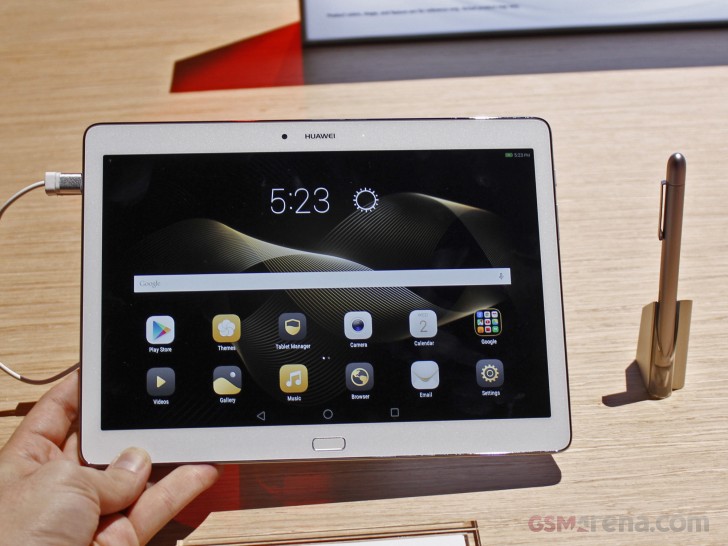 The M-Pen supports 2048 pressure levels and Huawei promises it will deliver the real pen-like experience. It will be available on the higher-spec'd versions of the tablet, and we suppose it has something to do with processing the data from the sensors inside it, that needs the 3GB of RAM to work smoothly.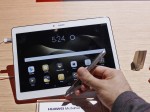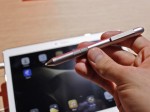 The M-Pen stylus comes bundled with the two top tiers of the Huawei MediaPad M2 10.0
Well, that's all we managed to gather in terms of first impressions from the Huawei MediaPad M2 10.0. Hopefully, we'll get a review unit and we'll try out what exactly it's capable of.
I humble to request you to please don't buy honor 5x ... ots totally disgusting Annoying to use Camera clarity like VGA Audio speaker Sound like vibrated voice Heating Please dont buy my advice not worth for money
This is amazing mobile fone by interdous huwei maybe this is the best mobile in the world i want this mobile fone
Dearest gsmArena followers.Frankly and unbiasely speaking,Mate8 is one of the best upper midrange close to the high brands in all specifications mentioned here!One great mistake following some samsung products:Using sim card2 as a substitude for memo...