Huawei leads Chinese smartphone market as shipments sink 12%
Yordan, 22 August 2018
The analytics company Rising Sun Data has published its report on the smartphone shipments in China in the first half of this year. After crunching the numbers, it appears the market decreased experienced a massive 12% drop of shipments on a yearly basis. Among the chaos of the stagnating market, Huawei is standing on the top spot with a share of over 29%.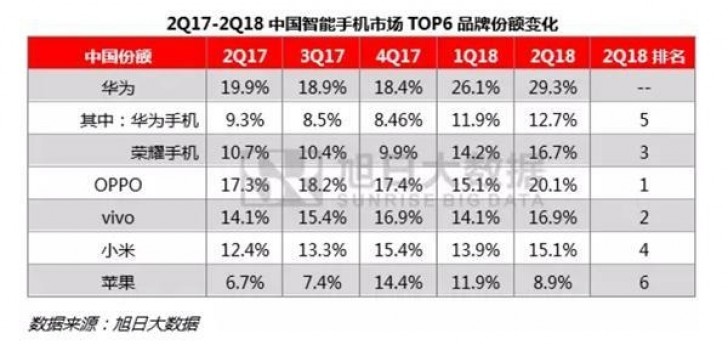 The result of Huawei counts both Huawei-branded and Honor-branded smartphones. Looking at them as separate entities, then Oppo would arise at 1st place with 20.1% share of the shipments, while vivo is second with 16.9%, edging out Honor with 16.7%. Xiaomi comes fourth with 15.1%, Huawei is fifth with 12.7% and eventually at the 6th place we see the first non-Chinese manufacturer - Apple with 8.9% of the total shipments.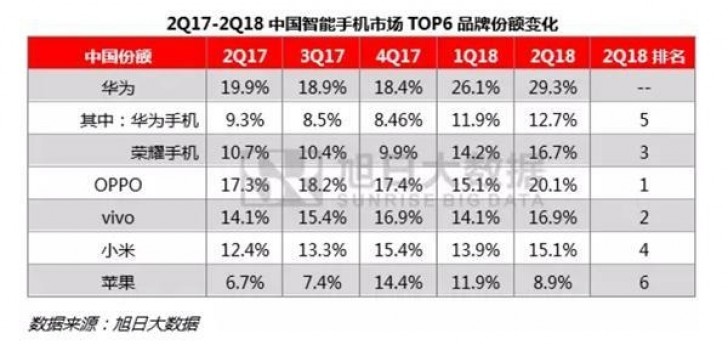 Over 90% of smartphone shipments went to the Top 5 manufacturers which is a direct consequence of the stagnating market in which larger companies are squeezing out the small players. This is seen in the second list of growth on a yearly basis - Honor has shipped 51% more phones than Q2 2018, Huawei increased its shipments by 32% and the rest also improved their numbers by double-digit percentages.
Related
lmao if they're gonna count it that way then OPPO, VIVO and OnePlus should be counted as one, they're all BBK after all.
Making it even more impressive
Popular articles
Popular devices
Electric Vehicles