Huawei Mate 10 Lite review
GSMArena team, 15 December 2017.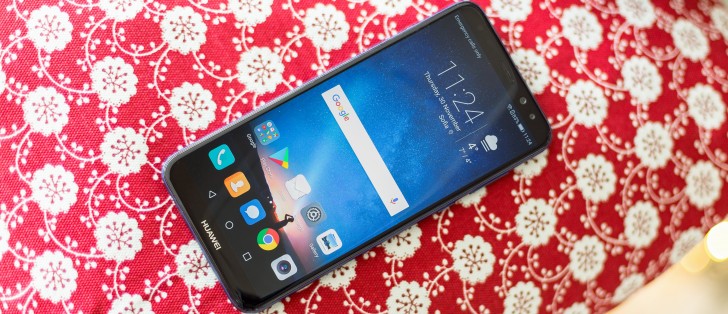 Performance
The Huawei Mate 10 Lite is powered by the Kirin 659 chipset developed in-house by Huawei's HiSilicon subsidiary. It's a minor step over the Kirin 658, obviously. It has an octa-core CPU with eight A53 cores. Four of those take the heavy lifting and work at 2.36GHz, while the other four take care of less power-intensive tasks while ticking at 1.7GHz.
The GPU in charge of graphics is a dual-core Mali-T830, and Huawei also throws in 4 gigs of RAM.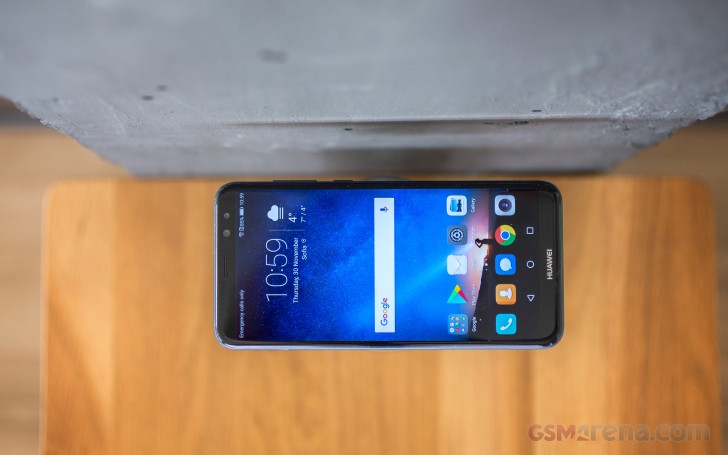 The 659 chip has 10MHz higher clock for the faster CPU quarter and newer Bluetooth 4.2 support when compared to the 658 model. It's dropped the 5GHz Wi-Fi connectivity though.
The chip is built on a 16nm fabrication process, which isn't the most power-efficient process used for mid-range chipsets right now, but not that far behind the widespread 14nm either. So we expect the Kirin 659 to keep the phone rather cool at full throttle.
We kick off our benchmark routine with some processor torture as usual. A single A53 core can't get you very far on Geekbench, but at least its result offers consistent midrange performance results.
GeekBench 4.1 (single-core)
Higher is better
Honor 9
1876
Oppo R11
1596
Huawei Mate 10 Lite
913
Sony Xperia XA1 Plus
901
Xiaomi Mi A1
877
HTC U11 Life
873
Motorola Moto X4
866
Huawei P10 lite
834
vivo V7+
767
LG Q6
584
The consistent score continues with the high-performance quartet on the multi-core Geekbench test - the Mate 10 Lite is on par with the mid-range competition. The Snapdragon 660-powered R11 have an edge thanks to the Cortex-A72 pair.
GeekBench 4.1 (multi-core)
Higher is better
Honor 9
6457
Oppo R11
5777
Xiaomi Mi A1
4292
HTC U11 Life
4140
Motorola Moto X4
4136
vivo V7+
3912
Sony Xperia XA1 Plus
3783
Huawei Mate 10 Lite
3603
Huawei P10 lite
3344
LG Q6
2011
The Mali-T830MP2 isn't a powerful GPU, but the series has proven over the past few months to offer balanced graphic performance for the class - nothing over the top, but enough. And our graphic tests confirm that. All competing Adreno GPUs by Qualcomm are obviously better, while the Mate 10 Lite's Mali offers the bare minimum for the class.
GFX 3.1 Manhattan (onscreen)
Higher is better
Honor 9
33
Oppo R11
15
vivo V7+
13
Motorola Moto X4
11
HTC U11 Life
9.6
Sony Xperia XA1 Plus
6.7
Xiaomi Mi A1
6.3
Xiaomi Redmi Note 4 (S625)
6.2
Huawei P10 lite
5
Huawei Mate 10 Lite
4.6
LG Q6
3.5
GFX 3.1 Car scene (onscreen)
Higher is better
Honor 9
14
Oppo R11
8.6
vivo V7+
6.6
Motorola Moto X4
5.8
HTC U11 Life
5.3
Sony Xperia XA1 Plus
4
Xiaomi Mi A1
3.5
Xiaomi Redmi Note 4 (S625)
3.4
Huawei P10 lite
3
Huawei Mate 10 Lite
2.7
LG Q6
1.9
Basemark X
Higher is better
Honor 9
29398
Oppo R11
20350
Motorola Moto X4
14479
HTC U11 Life
14286
Xiaomi Mi A1
10472
Xiaomi Redmi Note 4 (S625)
10446
vivo V7+
9955
Sony Xperia XA1 Plus
9543
Huawei Mate 10 Lite
8721
Huawei P10 lite
7588
LG Q6
6179
Basemark ES 3.1 / Metal
Higher is better
Honor 9
699
Oppo R11
345
Sony Xperia XA1 Plus
191
Motorola Moto X4
189
HTC U11 Life
183
Huawei Mate 10 Lite
146
Huawei P10 lite
145
Xiaomi Mi A1
136
vivo V7+
131
LG Q6
82
Our performance checkup continues with the compound tests - those gauge GPU, CPU, RAM, Web and OS performance. Here the Mate 10 Lite bested most of its competitors with similar chipsets posting some great all-round scores. The Oppo R11 and Honor 9 are obviously better with their premium chips and slashed prices, though.
AnTuTu 6
Higher is better
Honor 9
143583
Oppo R11
118677
HTC U11 Life
72854
Motorola Moto X4
71224
Huawei Mate 10 Lite
63068
Xiaomi Mi A1
61762
Xiaomi Redmi Note 4 (S625)
61616
Huawei P10 lite
60895
vivo V7+
57791
Sony Xperia XA1 Plus
55657
LG Q6
37276
Basemark OS 2.0
Higher is better
Honor 9
3072
Oppo R11
2386
Motorola Moto X4
1532
Huawei Mate 10 Lite
1408
HTC U11 Life
1342
vivo V7+
1290
Huawei P10 lite
1284
Xiaomi Mi A1
1262
Sony Xperia XA1 Plus
1198
Xiaomi Redmi Note 4 (S625)
1050
LG Q6
275
Huawei Mate 10 Lite is well equipped for the class and won't fail you at any task. It handles organizing tasks hassle-free, and we had no issues playing popular games, though loading takes a while and hiccups do happen. The phone runs cool even at full throttle, so don't expect any heat issues no matter how you use it. It isn't a chart topper, sure, not even next to fellow mid-ranges, but the Mate 10 Lite offers balanced performance, and that's enough.
Anonymous
14 Mar 2023
6PJ
Camera is very ordinary
Smooth phone accrualy... It been like almost 3 years am using it 👍🏽👍🏽👍🏽👍🏽🙂
Anonymous
08 Jan 2022
Nu7
Please where can I buy the screen of Huawei mate 10 lite