Huawei Mate 10 Pro review
GSMArena team, 03 November 2017.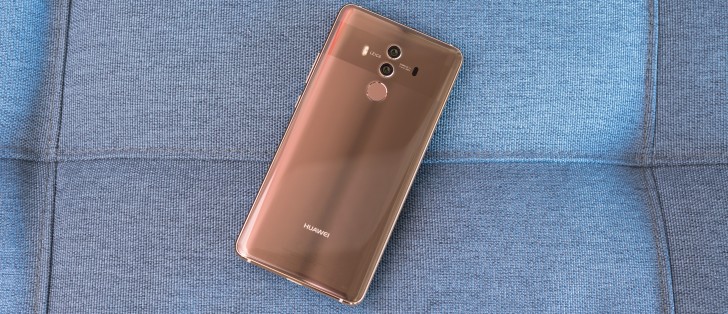 Chipset - the new Kirin 970
The Kirin 970 chip premiered at IFA a couple of months ago, and the Mate 10 family is where it makes its actual sensor. It is manufactured using a high-end 10nm process by Huawei's in-house HiSilicon division and promises faster performance, and great battery-efficiency.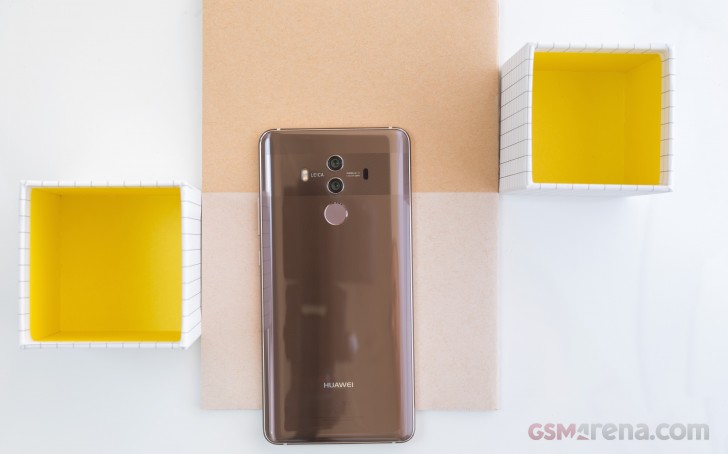 The highlight of the new Kirin 970 isn't the faster CPU or more powerful GPU, but the brand-new Neural-network processor unit (NPU), which provides hardware acceleration to machine learning tasks. These tasks include image recognition, voice recognition, and natural language processing. Huawei has already trained the chip by showing it millions of images, voice samples, and text, so now it's able to recognize new images, voice and data much faster.
Huawei likes to call the whole process artificial intelligence, but it's not the AI from the sci-fi movies we've all seen, so don't get too excited. And it's not even close to thinking, seeing or learning like a human, despite what the ads might tell you. But it does a lot more than what Apple does with their machine learning chip embedded in the latest A11 Bionic chip, and that's not a bad start.
The new Kirin 970 chipset offers an octa-core processor that should be up to 50% more power efficient than the Kirin 960. The CPU still packs the same 4x2.4 GHz Cortex-A73 & 4x1.8 GHz Cortex-A53 cores, but the two clusters can now work simultaneously to deliver 25% faster multi-threaded performance.
The new GPU in charge of graphics is a 12-core Mali-G72MP12. It should provide 4x performance increase over the 8-core Mali-G71MP8 inside the Kirin 960, while its power efficiency is 8x better than the GPU inside old chip.
Benchmark performance
It's time we put the Kirin 970 through the most popular benchmarks. As usual, the octa-core processor is the first to get our attention. Geekbenching the CPU brought no surprises. A single A73 core is a beast, as powerful as the latest Kryo. It's far from Apple's Monsoon core, but it's at the top of the Android game.
GeekBench 4.1 (single-core)
Higher is better
Apple iPhone 8 Plus
4232
Samsung Galaxy Note8
1987
Nokia 8
1925
Huawei Mate 10 Pro
1902
LG V30
1901
Huawei Mate 10
1882
Samsung Galaxy Note8 (SD 835)
1862
Huawei Mate 9
1859
Sony Xperia XZ1
1840
The eight cores of the Kirin 970 processor do a great job, matching the performance of all current leaders - Snapdragon 835 and Exynos 8895. The six-core A11 by Apple is untouchable, yet again.
GeekBench 4.1 (multi-core)
Higher is better
Apple iPhone 8 Plus
10037
Samsung Galaxy Note8
6784
Huawei Mate 10 Pro
6783
Huawei Mate 10
6625
Samsung Galaxy Note8 (SD 835)
6590
Nokia 8
6568
Sony Xperia XZ1
6541
Huawei Mate 9
6407
LG V30
6365
The Kirin 970 finally brings a mighty and cutting-edge GPU - Mali-G72MP12, a massive upgrade over the previous generation. Unlike the Mate 10, the 10 Pro has a lower-res 1080p screen (it's actually 1080 x 2160) so its GPU performance has to be better than any other Mate so far. And the benchmark tests reveal exactly - the Mate 10 Pro is beating all Android smartphones but the Xperia XZ1 when it comes to onscreen graphics.
GFX 3.1 Manhattan (onscreen)
Higher is better
Sony Xperia XZ1
40
Huawei Mate 10 Pro
35
Huawei Mate 9
23
Samsung Galaxy Note8
23
Huawei Mate 10
23
Samsung Galaxy Note8 (SD 835)
20
LG V30
19
Nokia 8
18
Meizu Pro 7 Plus
13
Huawei P10 Plus
12
Huawei Mate 9 Pro
12
GFX 3.1 Car scene (onscreen)
Higher is better
Sony Xperia XZ1
25
Huawei Mate 10 Pro
21
Huawei Mate 9
14
Samsung Galaxy Note8
13
Samsung Galaxy Note8 (SD 835)
13
Huawei Mate 10
13
LG V30
13
Nokia 8
12
Huawei P10 Plus
9
Huawei Mate 9 Pro
8.2
Meizu Pro 7 Plus
4.8
The offscreen tests can reveal the true power of the 12-core Mali-G72. It turned out a lot faster than the 8-core G71 found in Mate 9, and equal to the Adreno 540 (Snapdragon 835) and not that far from the 20-core G71 inside the most recent Galaxies.
GFX 3.1 Manhattan (1080p offscreen)
Higher is better
Samsung Galaxy Note8 (SD 835)
43
Samsung Galaxy Note8
42
LG V30
41
Sony Xperia XZ1
39
Nokia 8
39
Huawei Mate 10
38
Huawei Mate 10 Pro
38
Huawei Mate 9 Pro
22
Huawei Mate 9
22
Meizu Pro 7 Plus
22
Huawei P10 Plus
19
GFX 3.1 Car scene (1080p offscreen)
Higher is better
Nokia 8
32
Samsung Galaxy Note8
25
Samsung Galaxy Note8 (SD 835)
25
Sony Xperia XZ1
24
LG V30
24
Huawei Mate 10 Pro
22
Huawei Mate 10
21
Huawei Mate 9
13
Huawei Mate 9 Pro
12
Huawei P10 Plus
12
Meizu Pro 7 Plus
8.4
Basemark X
Higher is better
Samsung Galaxy Note8
40890
Huawei Mate 10
40809
Huawei Mate 10 Pro
40232
Sony Xperia XZ1
38583
Nokia 8
37593
Samsung Galaxy Note8 (SD 835)
37211
LG V30
36704
Huawei Mate 9
36519
Huawei P10 Plus
30602
Huawei Mate 9 Pro
27600
Meizu Pro 7 Plus
22472
Finally, the BaseMark ES 3.1 GPU test once again shows that the new Mali G72 is nicely powerful.
Basemark ES 3.1 / Metal
Higher is better
Apple iPhone 8 Plus
1644
Samsung Galaxy Note8
1268
Huawei Mate 10 Pro
1183
Huawei Mate 10
1142
Samsung Galaxy Note8 (SD 835)
875
LG V30
860
Nokia 8
855
Sony Xperia XZ1
853
Huawei Mate 9
794
Huawei Mate 9 Pro
616
Meizu Pro 7 Plus
517
Moving on to the popular compound benchmarks such as AnTuTu and BaseMark OS, we see the Mate 10 Pro as one very balanced performer on par with the best of the smartphones right now.
AnTuTu 6
Higher is better
Apple iPhone 8 Plus
188766
Huawei Mate 10 Pro
178510
Nokia 8
175872
Huawei Mate 10
175426
Samsung Galaxy Note8 (SD 835)
175153
LG V30
174330
Samsung Galaxy Note8
172425
Sony Xperia XZ1
144462
Huawei Mate 9 Pro
128719
Meizu Pro 7 Plus
128498
Huawei P10 Plus
126252
Huawei Mate 9
122826
Basemark OS 2.0
Higher is better
Apple iPhone 8 Plus
3601
Nokia 8
3503
Huawei Mate 10 Pro
3425
Samsung Galaxy Note8 (SD 835)
3424
Huawei Mate 10
3415
Samsung Galaxy Note8
3333
Sony Xperia XZ1
2986
Huawei P10 Plus
2940
Huawei Mate 9
2830
LG V30
2705
Huawei Mate 9 Pro
2496
Meizu Pro 7 Plus
2380
Huawei has finally made a flagship chipset with a competitive performance across the board. Previous Kirins were doing well with the CPUs, but lagged in the GPU department. Now, the 970 model has one of the most recent GPUs with all the power you need.
The 10nm manufacturing process makes the Kirin 970 a power-efficient chip, though the large battery surely helped, too. It also allowed the Mate 10 Pro to keep the motherboard temperature rather low under pressure, but unfortunately, that's not the case.
Under continuous load, the Mate 10 Pro, just like the Mate 10, gets hot at one particular spot. Unpleasantly hot even. The switch from metal to glass surely hurt the thermal conductivity, but we just didn't expect the Mate 10 and 10 Pro to become that hot. Naturally, the chip applies performance throttling to prevent overheating. You will very rarely feel this in real life usage, even when playing power-hungry games, but the benchmark scores fell as much as 50% after the first run, especially the GPU ones.
So, yes, the Mate 10 Pro offers flagship performance and smooth Android experience. It will handle everything well, but it may get unpleasantly hot in long gaming sessions.
May be because of some bugs.. I faced the similar issue for a few months.. But after an update it got fixed and since then allmost one year til now its been fantastic through out no lags fast charging long lasting battery. Same as when i brought this...
I can say that this is one of the most beatiful and high performance cellphone I have had, it never gets stuck, nice camera, great battery, in summary excellent for a good price
I compare display and camera betven 10 pro and 10 lite. I can tell you that 10 lite have beter display and camera. Huawei will newer be my coice again