Huawei Mate 30 Pro review
GSMArena team, 02 Oct 2019.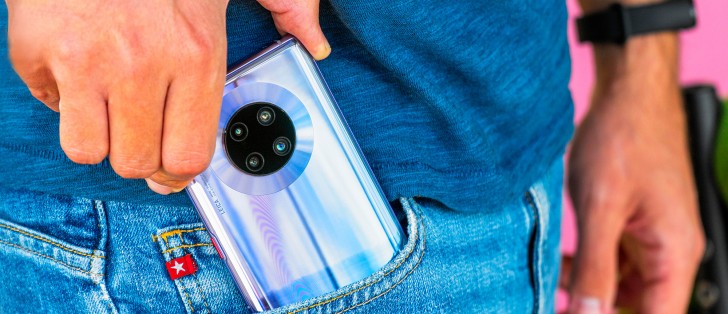 Android 10, but no Google out of the box
The Mate 30 Pro runs Android 10 out of the box - that's the good news. The bad news is that it lacks any Google apps or services, which includes the Play Store and every other app that has Google's name on it. Since it's only being sold in China for the time being, where nobody expects or uses Google's services, it's not a huge deal there. However, it's unclear whether there will be Google services pre-installed when the Mate 30 Pro goes global. Or maybe the 'when' above should be replaced by 'if'?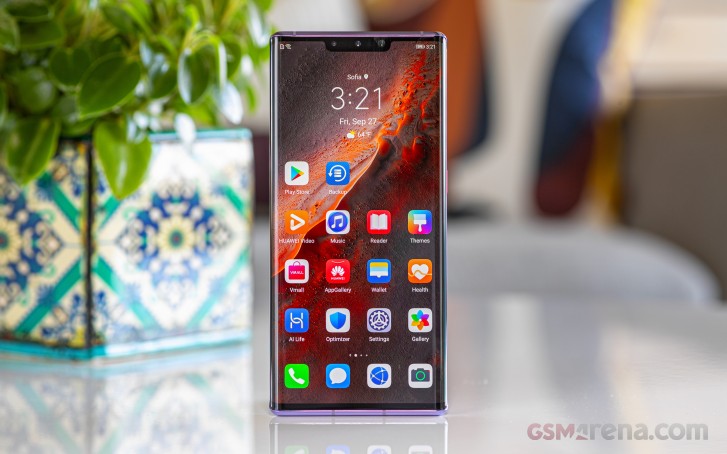 For a brief while there was a (mostly) one-step solution where you downloaded an app off this one Chinese site and it would install the Google framework including Play Services and the Play Store. This was a questionable approach to begin with and the site has since been taken down, together with your ability to install Play services.
We installed the PlayStore on the Mate 30 Pro for our review purposes using this solution, but at the time of publishing this no longer works.
Huawei does not provide Google services pre-installed on this phone, nor have they encouraged or assisted in the side loading of the Google PlayStore. They are just as unhappy with the situation as the users are and there are no easy workarounds.
Aside from Google Play services, we had some success sideloading third-party apps - we had no problem running Chrome and Maps, and Gboard is much better for a western user than Huawei's built-in keyboard. Gmail doesn't work, however, and there's no Play Store - that one requires system-level permissions and a green light from Google, so you're not getting it. Effectively, you're limited to sideloading your apps or using Huawei's AppGallery (which is their app store for the time being).
There is potentially an alternative. It's a more time-consuming approach that requires some extra tinkering, and it's called the microG Project - the XDA-approved open-source framework for getting apps designed for Google Play Services to run on phones without actual Google Play Services. However, this doesn't yet work with Android 10. Tough luck.
Anyway, Google apps or no Google apps, the Mate 30 Pro is one of the first phones to come out with Android 10 and it also has the in-house EMUI 10 bolted on top. It's got redesigned visuals compared to the EMUI 9.1 on the P30 Pro with the most notable change in the notification shade and quick toggles. Overall, the UI elements are more rounded and fluid, and, actually, a lot more pleasing.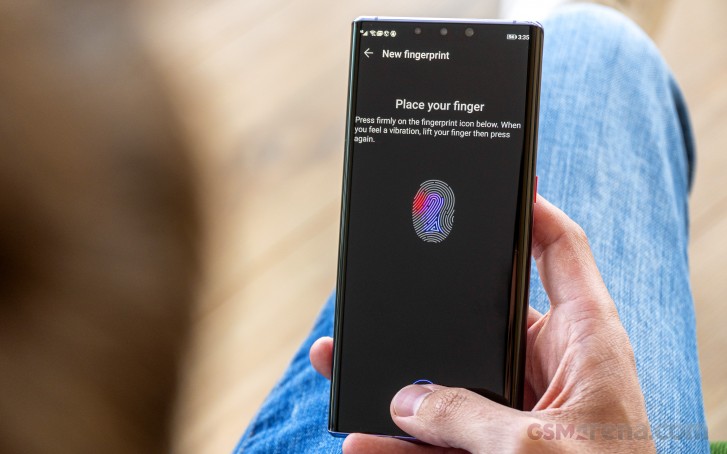 The Mate 30 Pro comes with an optical under-display fingerprint scanner. It's straightforward to set up and the numerous required enrolment taps pay off with fast and reliable recognition afterward.
There's face unlock too, and it works with the ToF camera so it uses 3D scans of your face as opposed to just a picture - that's the Apple FaceID way and is a lot more secure than selfie camera-based implementations. It's super-fast, works in the dark, and can be set up to not require a swipe after recognizing you thus taking you straight to the homescreen.
EMUI has Magazine lock screen, as usual, which cycles through a bunch of wallpapers (covers), so you see a different one every time you fire up the display.
You can either embrace the notch, or you can opt to mask it with a black status bar that extends all the way down to the bottom edge of the notch. It's quite the sizeable notch, so we'd understand the urge, though by this time most folks should probably be fine with all sorts of notches, particularly ones with FaceID... ahem... ToF cameras in them.
Huawei's had some really nice iPhone-style gesture navigation for a while, and that's the default way of going about on the Mate 30 Pro. You know how it is - swipe up for Home, swipe up and stop midway for Task switcher, or swipe from the left or right edge of the screen for Back. You can also have the old-school Android three-button navigation with an optional fourth button to bring down the quick toggles. The pill navigation with Home and Back buttons isn't available.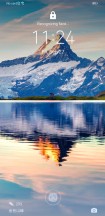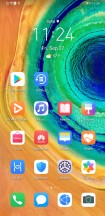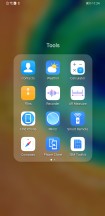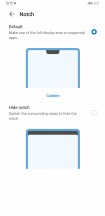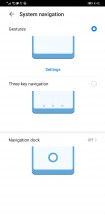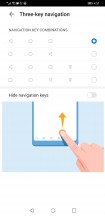 Lockscreen • Homescreen • Folder view • Notch control • Navigation
Out of the box, there is no app drawer on the Mate 30 Pro - all the apps are on your homescreens. However, if you prefer Android's usual two-tier layout with an app drawer and homescreens, you can enable it in settings.
The notification shade is the most heavily redesigned UI element with the toggles now adopting a more conventional circular shape and a blue color for the On state, very much like on Samsung's OneUI and sort of like Google's own Android 10 design. There's a brightness slider and a row of toggles upon the first pull and you pull down again for more toggles.
Multitasking when having the gesture navigation can be accessed in one of two ways - either through the icons in the top right corner in the Task Manager or by swiping across the middle of the screen with a knuckle.
Speaking of, knuckle gestures have become essential on the Mate 30 Pro. A double-tap with a knuckle on the screen is the default way to grab a screenshot, now that you don't have the power + volume down key combo on account of not having volume keys at all.
Back to multi-window. If you're sticking to the three-button navigation, holding the Recent key in a supported app will let you activate the split-screen mode.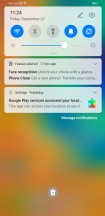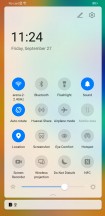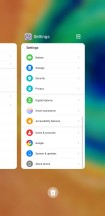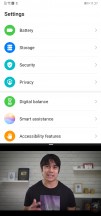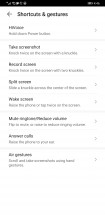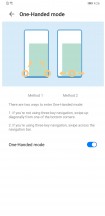 Notifications • Quick toggles • Task switcher • Multi window • Knuckles come in handy • One-handed mode
There are phone utilities for keeping things in order, and they're grouped in the Optimizer app. Here you can access shortcuts to storage cleanup, battery settings, blocked numbers, Virus scan, and mobile data usage.
Huawei's own Music app offers a way to listen to stored MP3s, the in-house Gallery has an AI-powered Highlight reel and powerful editor, while Huawei's Health app offers Google Fit syncing and step counting. There's a file manager app and a note-taking app.
Few and far between phones these days, most of them Huaweis, have IR blasters, and so does the Mate 30 Pro. Thanks to its Smart Remote companion app, you can control all of your legacy non-connected appliances with your phone.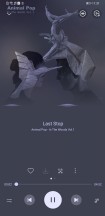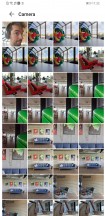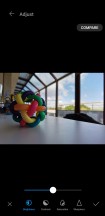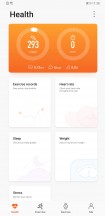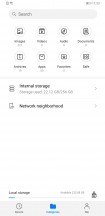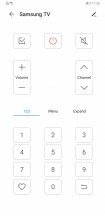 Music • Gallery • Image editor • Huawei Health • File Manager • Smart Remote
A couple of points that sort of relate to the Mate 30 Pro's software but don't quite fit the usual narrative are due. The main one is the Mate 30 Pro's software optimization for dealing with the unconventional display's curves.
While the UI and the in-house apps have been designed to account for the curves and thus offer generous margins on the sides, third-party software doesn't necessarily observe this, potentially leaving UI elements in the curves. For those occasions you have the Edges entry in the Display settings, where you can set to 'Hide edges' on a per-app basis, thus forcing the apps to display in the flat section of the panel only. On most apps, that leads to a 1128x2400px viewport for the app with black bars covering the rest of the display.
There are some oddities, however, like being able to see what's underneath Gboard on the sides when it's set to 'Hide edges' and the other app isn't. Not that we really had issues with Gboard when set to 'Show edges' and thus stretching the entire width of the display. Once again, it's more of a peculiarity than an actual problem.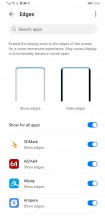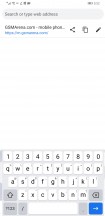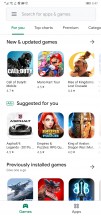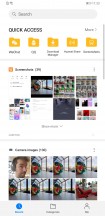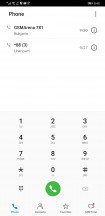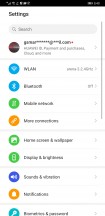 Edges settings • Gboard with edges hidden • Play Store with edges hidden • Native apps steer clear of the edges
An issue we encountered is that despite our best efforts, we couldn't get the Netflix app to run - not the one from the Play Store, not by side-loading, not the current version, and not old ones either. Whether that's a consequence of the trade dispute or not, whether it's fixable with a software update on the Mate or a Netflix app update, we can't know - the point is you can't have Netflix on the Mate 30 Pro as of publishing this review.
Synthetic benchmarks
The Mate 30 Pro runs on the Kirin 990 chipset - not to be confused with the Kirin 990 5G, which ticks inside the Mate 30 Pro 5G and is quite different. Nope, not confusing at all.
Each chip has an octa-core CPU with the same set of Cortex CPUs - 2xA76 + 2xA76 + 4xA55, only the Kirin 990 non-5G has the maximum clock rates at 2.86GHz, 2.09GHz and 1.86GHz for the three respective clusters, while the 5G ups the mid-cluster to 2.36GHz and the little one to 1.95GHz.
Then there's the matter of the GPU - it's the same 16-core Mali-G76 in both chipsets, but it's clocked at 600MHz on the Mate 30 Pro, and goes up to 700MHz on the 5G model.
Finally, the neural processing unit (NPU) of the plain Kirin 990 is made up of one 'big' core and one 'tiny' one, whereas the Kirin 990 5G's NPU gets an additional big core on top of that.
These academic differences are nice and all, but we have the non-5G Mate 30 Pro here anyway and that's what we've tested. We don't have the 5G model to compare against, but we do have a few others.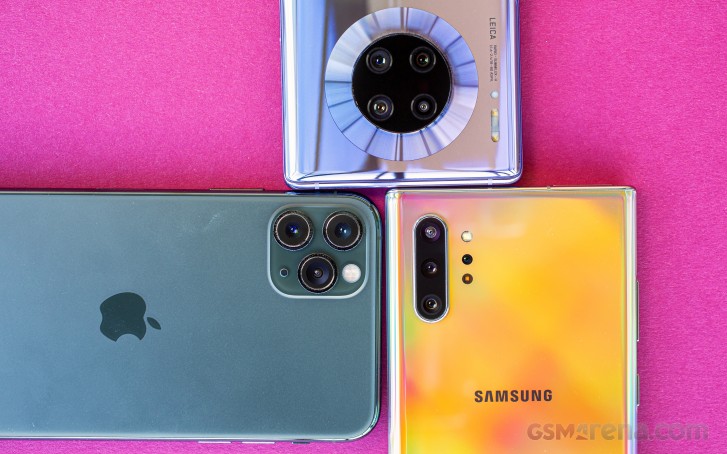 As has been the case with recent Huaweis, the Mate 30 Pro has a Performance mode where it won't be as conservative about heat and battery consumption and will offer, well, higher performance. We found that to be the most prominent in graphics benchmarks, while the effect on CPU scores was minimal.
Single-core CPU results of the Mate 30 Pro in GeekBench 4 are a noticeable step up from the Snapdragon 855 devices though the Exynos's oversized custom cores are still unrivaled in the Android world. However, even last year's iPhones outperform them, not to mention the iPhone 11 Pro.
Under multi-core loads the situation changes significantly. The iPhone 11 Pro is still unmatched, but the Mate 30 Pro comes out on top of all droids.
GeekBench 4.1 (single-core)
Higher is better
Apple iPhone 11 Pro Max
5476
Apple iPhone XS Max
4777
Samsung Galaxy Note10+
4541
Samsung Galaxy S10+
4522
Huawei Mate 30 Pro
3869
Huawei Mate 30 Pro (Perf mode)
3864
Asus ROG Phone II (X Mode)
3527
Xiaomi Mi 9
3503
Sony Xperia 1
3447
OnePlus 7 Pro
3402
Huawei P30 Pro (perf. mode)
3323
Huawei P30 Pro
3270
GeekBench 4.1 (multi-core)
Higher is better
Apple iPhone 11 Pro Max
13870
Huawei Mate 30 Pro (Perf mode)
11936
Huawei Mate 30 Pro
11733
Apple iPhone XS Max
11432
Xiaomi Mi 9
11181
Sony Xperia 1
10985
OnePlus 7 Pro
10943
Asus ROG Phone II (X Mode)
10933
Samsung Galaxy Note10+
10403
Samsung Galaxy S10+
10387
Huawei P30 Pro (perf. mode)
10014
Huawei P30 Pro
9649
It's a similar story in GeekBench 5 only the numbers are different, and there's a OnePlus 7T thrown in for comparison (the 7T wouldn't run GeekBench 4 among others).
GeekBench 5 (single-core)
Higher is better
Apple iPhone 11 Pro Max
1334
Apple iPhone XS Max
1115
Samsung Galaxy Note10+
822
OnePlus 7T
788
Huawei Mate 30 Pro (Perf mode)
779
Huawei Mate 30 Pro
754
OnePlus 7 Pro
744
Asus ROG Phone II (X Mode)
739
GeekBench 5 (multi-core)
Higher is better
Apple iPhone 11 Pro Max
3544
Huawei Mate 30 Pro (Perf mode)
2972
OnePlus 7T
2932
Huawei Mate 30 Pro
2847
OnePlus 7 Pro
2763
Asus ROG Phone II (X Mode)
2743
Apple iPhone XS Max
2739
Samsung Galaxy Note10+
2300
It's in 3DMark where we observed the greatest differences between the Mate's performance mode and regular mode, both in the OpenGL ES 3.1 and Vulkan-based tests. The improvement ranges between 30% and 40% and the Mate 30 Pro rivals the ROG Phone II and even the iPhone 11 Pro.
3DMark SSE 3.1 Unlimited
Higher is better
Asus ROG Phone II (X Mode)
6860
Apple iPhone 11 Pro Max
6475
Huawei Mate 30 Pro (Perf mode)
6322
OnePlus 7 Pro
6093
Xiaomi Mi 9
5816
Sony Xperia 1
5792
Samsung Galaxy Note10+
5287
Samsung Galaxy S10+
4632
Huawei Mate 30 Pro
4481
Huawei P30 Pro (perf. mode)
4315
Apple iPhone XS Max
4102
Huawei P30 Pro
3522
3DMark SSE Vulkan
Higher is better
Huawei Mate 30 Pro (Perf mode)
5489
Asus ROG Phone II (X Mode)
5412
OnePlus 7 Pro
4833
Samsung Galaxy Note10+
4763
Sony Xperia 1
4505
Samsung Galaxy S10+
4295
Huawei Mate 30 Pro
4233
Huawei P30 Pro (perf. mode)
4231
Xiaomi Mi 9
4068
It's this difference in GPU performance that then translates in improved scores in compound benchmarks such as Antutu 7. In Performance mode the Mate 30 Pro beats all droids, even though it's a narrow win against the Mi 9 and OnePlus 7 Pro. Under regular heat and power management it's not as potent, placing behind the S10+ in Exynos trim.
AnTuTu 7
Higher is better
Apple iPhone 11 Pro Max
459713
Huawei Mate 30 Pro (Perf mode)
378950
Xiaomi Mi 9
372006
OnePlus 7 Pro
364025
Sony Xperia 1
356734
Apple iPhone XS Max
353210
Samsung Galaxy Note10+
342208
Samsung Galaxy S10+
333736
Huawei Mate 30 Pro
323423
Huawei P30 Pro (perf. mode)
316156
Huawei P30 Pro
290189
Predictably, the Mate 30 Pro aces benchmarks, offering performance on par or better than the competition. Additionally, it doesn't get as hot as some rivals in the process, be it in Performance mode or otherwise. It's also super fluid in operation with speedy animations and quick app-loading times.
Mate 30 pro or oneplus 7t pro mclaren ?
Wtf...just watch youtube and you will be learning fast how to put gapps on huawei smartphone, great with no concerns!!!
Use Vanced Youtube It's premium and without ads with 0 cost