Huawei Mate 40 Pro goes up on Amazon Germany, will cost €1,200
Peter, 21 October 2020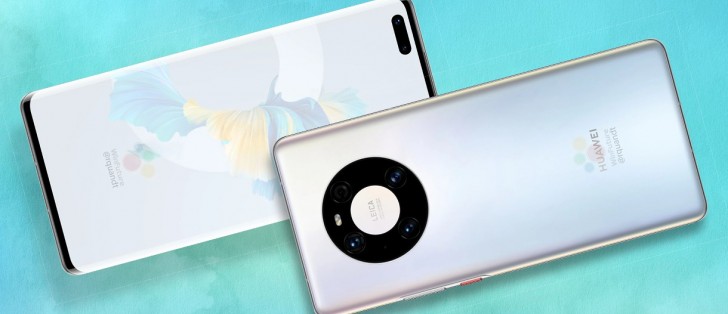 Not yet, Amazon – the German branch of the retail giant published the Huawei Mate 40 Pro page a day early. It has since taken down the price and release date, €1,200 and November 9, specifically. We know because the eagle-eyed Roland Quandt spotted the slip up and captured a screenshot before Amazon removed the info.
And notice that the phone is sold by Amazon itself, this is not some random third-party retailer posting a fake listing to stir things up. At the time of writing, the specs are still available (note: the image shows last year's model, the Mate 30 Pro).
The specs start off with the battery – a 4,400 mAh power cell that can be charged at 66W over USB-C and 50W wirelessly. For comparison, the Mate 30 Pro managed 40W and 27W, respectively.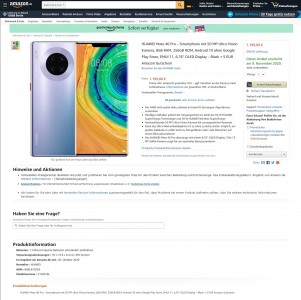 A screen grab of Amazon DE's Huawei Mate 40 Pro page
The new model will be equipped with a 6.76" OLED display (no mention of refresh rate, unfortunately), a 50 MP Ultra Vision main camera and an ultra wide lens, plus a 13 MP selfie cam. There's no word on the zoom camera.
For Europe, the Huawei Mate 40 Pro will come with 8 GB of RAM and 256 GB storage, if Amazon's info is to be believed. It will run EMUI 11 based on Android 10 (without the Google stuff).
The official Mate 40 event is tomorrow, we'll have a post up so you can watch the live stream.
Source (in German, now removed, archived page) | Via
Related
Your arguments are pretty solid. Ignore him. He can keep equating himself to the average buyers all he likes, but anyone with at least half a brain should know that most regular buyers even find it difficult to use 2FA authentication apps. And that...
Anonymous
22 Oct 2020
0Tu
The way You insult me ("kiddo", "anonymous goon", "keyboard warrior ", "stop your crap..."), shows how weak your arguments are. It's very amusing. ;) Not even one with Huawei Shares would be so obsessed ...
Anonymous
22 Oct 2020
tAJ
Lol Huawei definitely(non bias) has the best sensors and tech there is on mobile devices such as a heat sensor which is insane and I don't know what the hell its gonna be used for lmao. And damn I do like that camera design though
Popular articles
Popular devices
Electric Vehicles