Huawei Mate 8 review: Checkmate
Checkmate
Chavdar Sirakov, 27 January, 2016.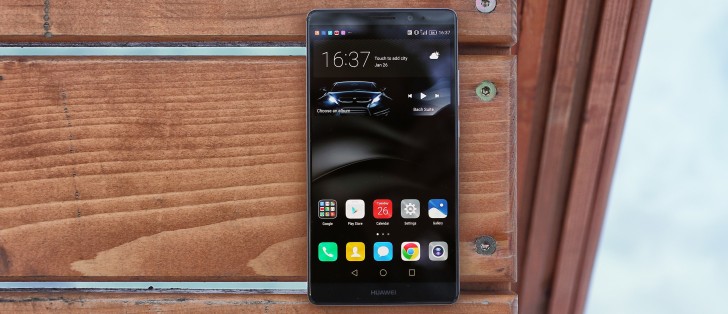 Synthetic benchmarks
The Huawei Mate 8 is powered by the Kirin 950 chipset, made by HiSilicon, a Huawei subsidiary. It's not the first in-house chip the company uses, it's been an ongoing Huawei effort to produce its own SoC's.
Previous iterations include the Kirin 935 in the Mate S and the Kirin 930 in the P8, the two differing in CPU frequency. The Ascend Mate7, on the other hand, had a Kirin 925 inside. For all the numbering differences, the chips have all traditionally had a common issue and that's been GPU performance.
Huawei has made the necessary steps in that department and fitted the Mali-T880 GPU in MP4 configuration. Coupled with the conservative 1080p resolution, the Mate 8 should have no issues on the graphics front.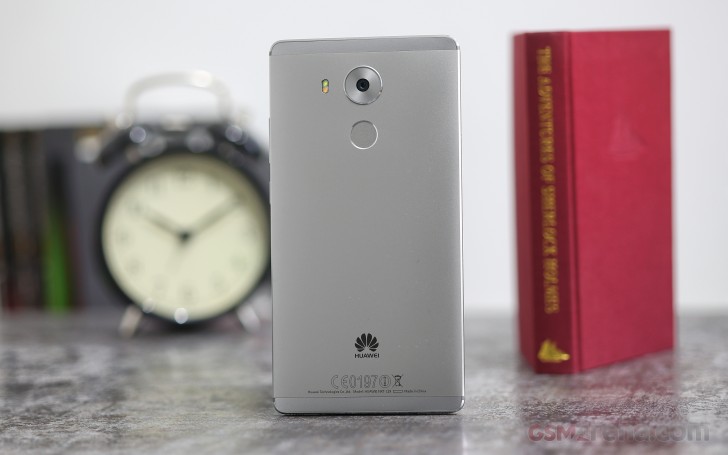 That's definitely not where all the effort has gone, though. The Kirin 950 chipset comes with a dual quad-core CPU setup, utilizing four of the latest Cortex-A72 cores in its performance cluster and that makes it the first processor with such cores that we get to test. Neither member of the Snapdragon 65x line has shown up on our doorstep just yet, and Mediatek's Helio X20 is yet to make it to a production device.
Additionally, the chip is built on a 16nm production line, as opposed to the 28nm of older generations with the resulting benefits in power efficiency.
One aspect of the Mate8's hardware, which we're no fans of, is the fact that 3GB of RAM are paired with 32GB of storage, and 4GB come with 64GB. If you insist on the larger operating memory, but don't have heaps of multimedia to store, you'd still need to pay for those 64GB. For the record, our review unit is the 32GB variety so it has 3GB RAM.
The Mate 8 stormed through GeekBench, its score miles ahead of anything before it. Our previous champ in the multi-core test, the Meizu Pro 5 with an Exynos 7420 inside, couldn't keep up with the Kirin's powerful A72 cores. The Nexus 6P is among the highest-ranked Snapdragon 810 models, and its score is about two-thirds of the Mate's.
GeekBench 3
Higher is better
Huawei Mate 8
6323
Meizu Pro 5
5578
Samsung Galaxy Note5
5124
HTC One E9+
4796
Huawei Nexus 6P
4539
Apple iPhone 6s Plus
4413
Sony Xperia C5 Ultra
4226
Sony Xperia Z5 Premium
4194
LG V10
3607
Huawei Mate S
3475
Moto X Pure Edition
3433
Samsung Galaxy A8
3375
Oppo R7 Plus
3204
Huawei Ascend Mate7
3165
BlackBerry Priv
2963
The assorted Antutu benchmarks also put the Mate 8 in a leading position. In Antutu 5 it's only slightly ahead of the Meizu Pro 5, but comfortably outpacing the Galaxy Note5. Here, the Snapdragon 810 does best inside the Xperia Z5 Premium, and the Nexus 6P is further down, on par with the iPhone 6s Plus.
In Antutu 6 Huawei's flagship pair scores similarly though the Mate 8 has the upper hand again. The Galaxy Note5 is little behind, but not as much as the Snapdragon 808-powered LG V10. Oddly, in this benchmark, the significantly more powerful chip of the Pro 5 posts an identical result to Qualcomm's second-best of the year.
AnTuTu 5
Higher is better
Huawei Mate 8
76785
Meizu Pro 5
74655
Samsung Galaxy Note5
69465
Sony Xperia Z5 Premium
62652
Huawei Nexus 6P
58610
Apple iPhone 6s Plus
58582
LG V10
52713
HTC One E9+
50753
Moto X Pure Edition
50629
Samsung Galaxy A8
49554
Sony Xperia C5 Ultra
46502
BlackBerry Priv
45725
Huawei Mate S
44393
Huawei Ascend Mate7
41510
Oppo R7 Plus
37750
AnTuTu 6
Higher is better
Huawei Mate 8
91609
Huawei Nexus 6P
89345
Samsung Galaxy Note5
81615
LG V10
67547
Meizu Pro 5
67531
The Mate 8 surrenders the benchmark lead in Basemark OS II 2.0, another compound benchmark. An inch behind the Nexus 6P, the Mate 8 is outpaced by the iPhone 6s Plus in the overall score. The Exynos-powered Note5 and Pro 5 are still not a match for Huawei's 6-incher.
However, the Mate's processor shows its strength in the CPU-specific parts of the benchmark. Its single-core result is the highest of the bunch, with only the Note5 coming close. There's absolutely no contest in the multi-core test, where the Mate 8 wipes the floor with the current crop of high-end phablets.
Basemark OS 2.0
Higher is better
Apple iPhone 6s Plus
2261
Huawei Nexus 6P
2040
Huawei Mate 8
2017
Samsung Galaxy Note5
1880
Meizu Pro 5
1837
Sony Xperia Z5 Premium
1687
Microsoft Lumia 950 XL
1472
BlackBerry Priv
1393
LG V10
1383
HTC One E9+
1227
Samsung Galaxy A8
1089
Oppo R7 Plus
968
Sony Xperia C5 Ultra
931
Huawei Mate S
914
Huawei Ascend Mate7
849
Basemark OS 2.0 (single-core)
Higher is better
Huawei Mate 8
7332
Samsung Galaxy Note5
6745
Sony Xperia Z5 Premium
6205
Huawei Nexus 6P
6014
Meizu Pro 5
5760
Huawei Ascend Mate7
4365
Samsung Galaxy A8
4338
LG V10
4261
BlackBerry Priv
3941
HTC One E9+
3444
Huawei Mate S
3000
Sony Xperia C5 Ultra
2872
Oppo R7 Plus
2707
Basemark OS 2.0 (multi-core)
Higher is better
Huawei Mate 8
41897
Samsung Galaxy Note5
28360
HTC One E9+
28201
Huawei Mate S
22817
Huawei Ascend Mate7
22387
Sony Xperia C5 Ultra
21809
Samsung Galaxy A8
21753
Meizu Pro 5
21416
Sony Xperia Z5 Premium
18336
Huawei Nexus 6P
17661
LG V10
17127
Oppo R7 Plus
16784
BlackBerry Priv
11388
Which brings us to graphics performance. While the Mate 8 is no slouch here either, it's also not in the leading position. Its Basemark X results are only slightly ahead of the LG V10, BlackBerry Priv, and Moto X Style (a.k.a. Pure Edition). Those all come with an S808 chipset, which features a rather modest Adreno 418 GPU.
The Note5's score is some 70% higher though the Pro 5 isn't as convincing. It's the Xperia Z5 Premium that leads the way for S810, with the Nexus 6P behind, but still much better than the Mate.
Basemark X
Higher is better
Samsung Galaxy Note5
26281
Sony Xperia Z5 Premium
24281
Huawei Nexus 6P
22825
Meizu Pro 5
20038
Huawei Mate 8
15593
LG V10
15161
BlackBerry Priv
15072
Moto X Pure Edition
14598
HTC One E9+
9639
Samsung Galaxy A8
8838
Huawei Ascend Mate7
6501
Sony Xperia C5 Ultra
5695
Huawei Mate S
5368
Oppo R7 Plus
5349
In GFXBench, the Mate 8 posts some respectable scores, but is again no chart-topper. In the offscreen tests, which are run at a standard 1080p resolution regardless of the specific smartphone's actual display setup, the Mate 8 achieves higher frame rates than the S808 bunch, but not quite on par with the S810 or Exynos 7420.
In the onscreen tests, at actual display resolution, the Mate 8 is favored by the lower number of pixels it needs to render, compared to most of its rivals and climbs up the chart. That doesn't help it against the iPhone 6s Plus, Pro 5 and Xperia Z5 Premium, which run the test in FullHD, too. The Nexus 6P, however, gives the Mate 8 a solid run for its money, despite having a QHD screen - owing to the S810's Adreno 430.
It's probably worth noting that the Mate 8 runs the onscreen tests at a slightly lower 1,740 x 1,080-pixel resolution (1,920 x 1,080 pixels, minus the strip of onscreen buttons). This small difference made for slightly better scores in the Mate's onscreen tests compared to the 1080p ones, but the difference is marginal at best.
GFX 3.0 Manhattan (1080p offscreen)
Higher is better
Apple iPhone 6s Plus
39.5
Sony Xperia Z5 Premium
26
Huawei Nexus 6P
25
Meizu Pro 5
25
Samsung Galaxy Note5
21
Huawei Mate 8
18
LG V10
15
Moto X Pure Edition
15
Samsung Galaxy A8
13
BlackBerry Priv
12
Huawei Ascend Mate7
8
HTC One E9+
6.6
Sony Xperia C5 Ultra
6
Oppo R7 Plus
6
Huawei Mate S
5.4
GFX 3.0 Manhattan (onscreen)
Higher is better
Apple iPhone 6s Plus
38.6
Sony Xperia Z5 Premium
27
Meizu Pro 5
25
Huawei Mate 8
18
Huawei Nexus 6P
17
Samsung Galaxy Note5
15
Samsung Galaxy A8
14
LG V10
9.5
Moto X Pure Edition
9.3
Huawei Ascend Mate7
8.5
BlackBerry Priv
7.6
Sony Xperia C5 Ultra
6.4
Oppo R7 Plus
6.3
Huawei Mate S
5.8
HTC One E9+
5.4
GFX 3.1 Manhattan (1080p offscreen)
Higher is better
Sony Xperia Z5 Premium
18
Huawei Nexus 6P
17
Samsung Galaxy Note5
15
Meizu Pro 5
14
Huawei Mate 8
10
LG V10
10
Moto X Pure Edition
10
BlackBerry Priv
7.8
Huawei Mate S
3
Sony Xperia C5 Ultra
2.9
GFX 3.1 Manhattan (onscreen)
Higher is better
Sony Xperia Z5 Premium
19
Meizu Pro 5
14
Huawei Mate 8
11
Huawei Nexus 6P
11
Samsung Galaxy Note5
6.7
LG V10
5.7
Moto X Pure Edition
5.6
BlackBerry Priv
5.4
Huawei Mate S
3.4
Sony Xperia C5 Ultra
3.1
The bottom line is that the Huawei Mate 8 has tons of raw processing power in both single- and multi-core applications. Its GPU performs adequately (unlike the Mate7 before it), but is not quite up to par with the CPU's performance.
We'd say Huawei made some very well-calculated choices on this one. On the one hand, the Mali-T880 MP4 would have definitely choked with a higher-res screen. However, a QHD display with a GPU to match would have meant a much more serious strain on the battery, and that wasn't a compromise the company was willing to make.
That said, Samsung's Exynos 8890 has a Mali-T880 MP12 GPU with three times as many cores, so the Mate 8 won't have it easy once the Galaxy S7 bunch and the Note 6 come next.
How do I roll back to Marshmallow, Andriod 6, from Nougat 7.0 I bought HUAWEI Mate 8 on Andriod 6, however I upgrade to 7.0, which I regretted. My region is UK. Assistance is urgently needed.
Any 3rd party app were I can get more options for the apps available in Multi window?
my mate 8 is now 1 year and 4 months old but still performs just like before and recieved an update for android 7 nougat hooray,but it's battery drains 15% overnight due to battery wear and tear sad,but still a great phone :)