Huawei Mate 9 review: Mighty Mate
Mighty Mate
GSMArena team, 14 November 2016.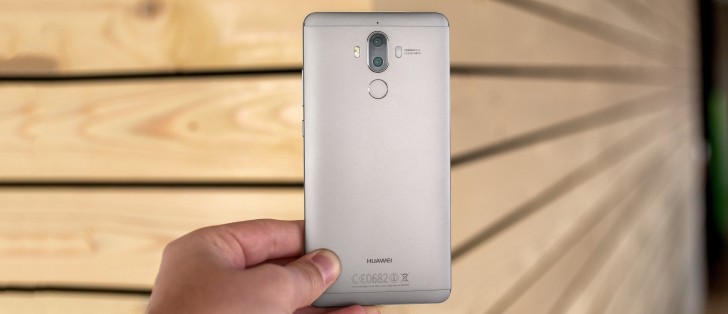 Telephony
The Mate 9's dialer shares a common interface with the contacts app. There are no groundbreaking features here, and nothing really missing. A nice touch is the ability to tell the device only to pick up sounds from a 120-degree arc around the primary mic when on speakerphone, useful in loud environments.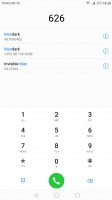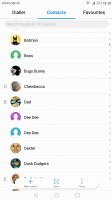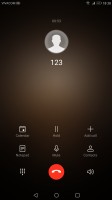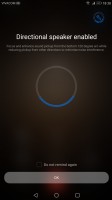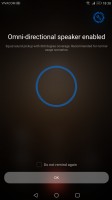 Smart dialling • contacts • in-call interface • directional speaker • omni-directional speaker
The dual-SIM settings menu lets you rename cards, disable them from software and select which one does calls or data by default. The interface leads us to believe that while 4G may be limited to just one card, both get 3G connectivity in addition to 2G, which the specs don't indicate.
The interface is not ideal in that dual SIM settings is in one menu, while the mobile networks are in a different one, and you may need to do a little back-and-forth to set things up precisely to your liking - say limit the primary card to 3G. 'Primary' as in the default card that gets 4G connectivity - you choose that in dual SIM settings. Then in the mobile networks section you get to pick the preferred network type, but only for this primary card - the other one makes do with the rest of the available radios.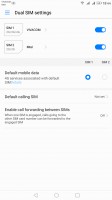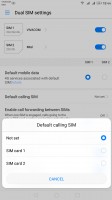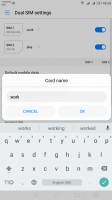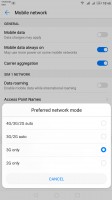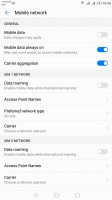 Dual-SIM settings • mobile networks settings
Loudspeaker
Knowing the Mate 8, we knew not to expect much from the Mate 9 regarding loudness. Boy, were we in for a surprise.
The Mate 9 exceeded our expectations and posted very high numbers in all three of our tests, securing an Excellent mark. Not only that, but it sounded clear and distortion free even at maximum volume.
The Mate 9 actually has stereo speakers, sort of. The earpiece doubles as left channel, when the phone is held in landscape, and it does create a stereo effect even though the earpiece is quite a bit more quiet. When in portrait, there is no such channel separation. There's also an annoying pause in playback while the phone switches modes.
| | | | | |
| --- | --- | --- | --- | --- |
| Speakerphone test | Voice, dB | Pink noise/ Music, dB | Ringing phone, dB | Overall score |
| Sony Xperia XZ | 61.6 | 65.5 | 67.6 | Below Average |
| Huawei Mate 8 | 67.8 | 65.8 | 66.6 | Below Average |
| Xiaomi Mi Max | 67.1 | 66.2 | 68.1 | Average |
| Xiaomi Mi 5s Plus | 65.0 | 68.2 | 70.8 | Average |
| Samsung Galaxy S7 edge | 70.0 | 69.1 | 71.8 | Good |
| Apple iPhone 7 Plus | 68.3 | 72.2 | 72.9 | Good |
| LG V20 | 68.2 | 68.6 | 80.9 | Good |
| Huawei Nexus 6P | 74.7 | 77.8 | 72.1 | Very Good |
| Huawei P9 Plus (regular) | 71.7 | 73.7 | 81.3 | Very Good |
| Google Pixel XL | 73.4 | 72.1 | 84.1 | Excellent |
| Huawei Mate 9 | 83.1 | 74.5 | 85.0 | Excellent |
Text input
You get a choice of two keyboards on the Mate 9 - one is courtesy of SwiftKey (which replaces the Swype solution on the previous Mate), while the other is the stock Android one.
Pre-installed apps
The Mate 9 ships with WPS office, which can be used for some basic document editing on the go. It can handle text documents, spreadsheets and presentations as well as PDF files. It can also export to PDF.
Huawei has bundled the Mate 9 with its Health app, which tracks steps and calculates calories burnt, but can also supposedly count the number of floors you've climbed. A file manager is also present, and it supports batch actions.
You also have a ton of basic tools preloaded, including a proper file manager, compass, sound recorder (with pre-sets for directional recording taking advantage of the multiple mics), and flashlight.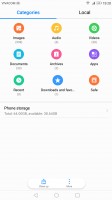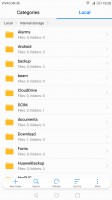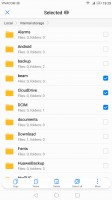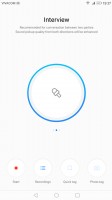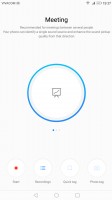 Very good file manager • voice recorder
The bundled Smart controller app has a large database of devices with pre-loaded IR commands and in less than a minute we had a TV and a set-top box set up and operational via the smartphone.
Bought on April 2017, still using till now. Its been 5 years to be exact. Long lasting.
Anthonhio
17 Nov 2018
F0x
The silver color is very nice in short Huawei mate there all nice
Huawei User
25 Apr 2018
u7Z
Please suggest, will I buy Mate 9 or not? I have to buy during this month. All suggestion repect