Huawei Mate X2 review
GSMArena Team, 05 April 2021.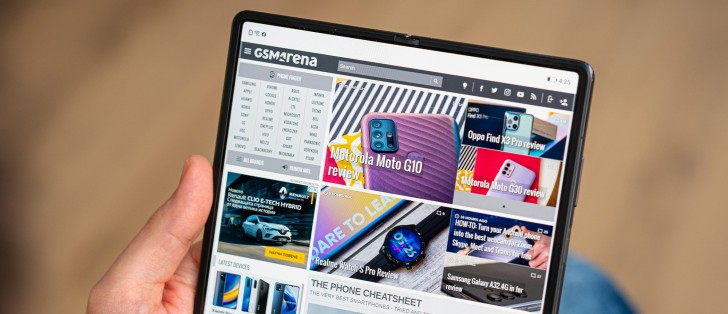 Design
Design is unquestionably a cornerstone for a foldable display handset. Perhaps doubly so on the Mate X2, since it represents a major shift in Huawei's foldable design - moving away from the outside display concept and diving head-first into the more-traditional inside-folding design. And what a majestic dive it is.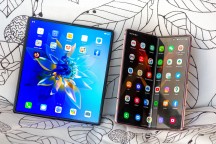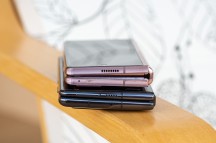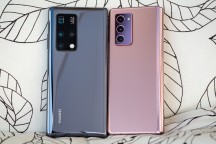 Huawei Mate X2 next to Samsung Galaxy Z Fold2
Huawei managed to actually find a solution to the air-gap issue, intrinsic to current flexible display tech. Until some major advancement in the field comes along, we are basically stuck with at least some minimum for a curvature radius. Hence, when you go down the straight-forward route, like Samsung has been doing with devices like the Z Fold2 and have two basically symmetrical parts, you inevitably end up with an air gap. Huawei's novel approach consists of a few bits. First off, the two halves of the Mate X2 are not symmetrical in any way. Well, that is to say in terms of depth. Their footprint is pretty identical, but vertically both are wedge-shaped. Like two slices of cheese, fitting one over the other. It is an ingenious, even if particular solution.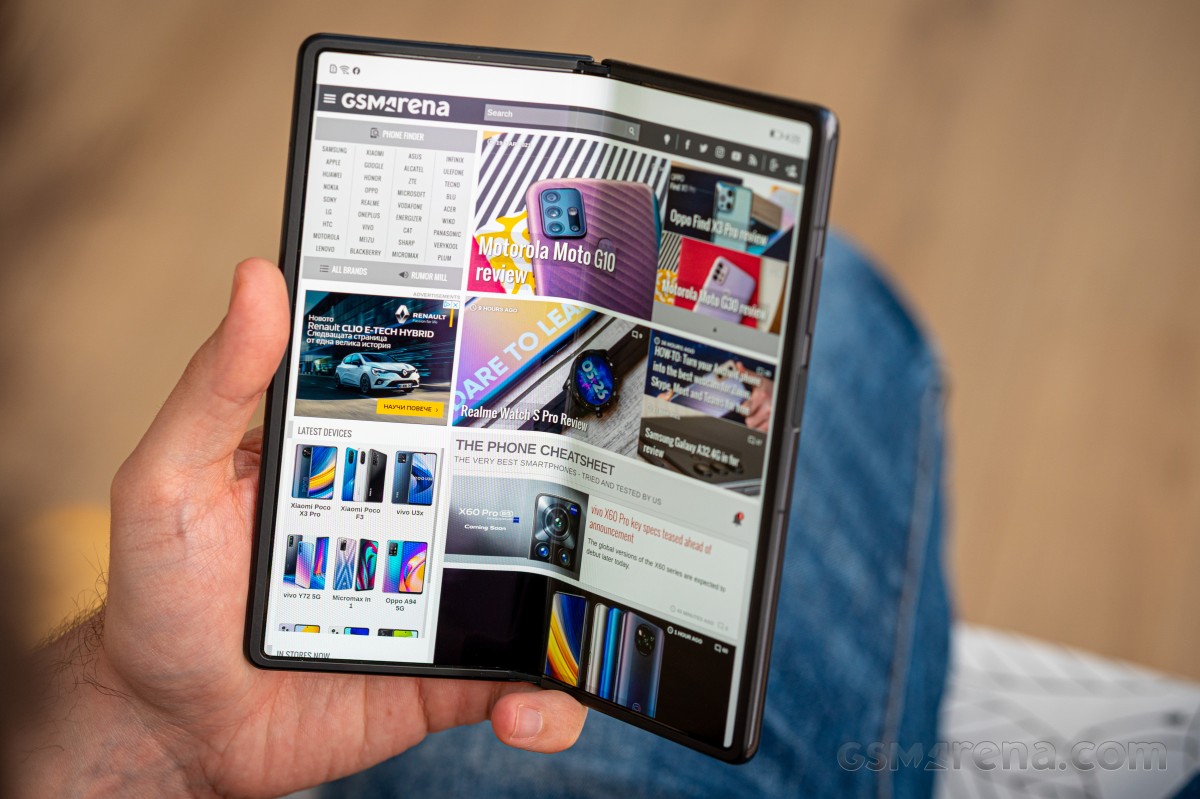 Let's talk about the new hingem which is a major part of the puzzle here. The Falcon Wing hinge of the past models has been replaced with a new design called Teardrop as this is the shape the screen is curved into inide the hinge to avoid creasing. Anyway, the hinge's internals employ zirconium-based liquid metal. Huawei claims that the construction is now 2 times stronger than on the Mate Xs.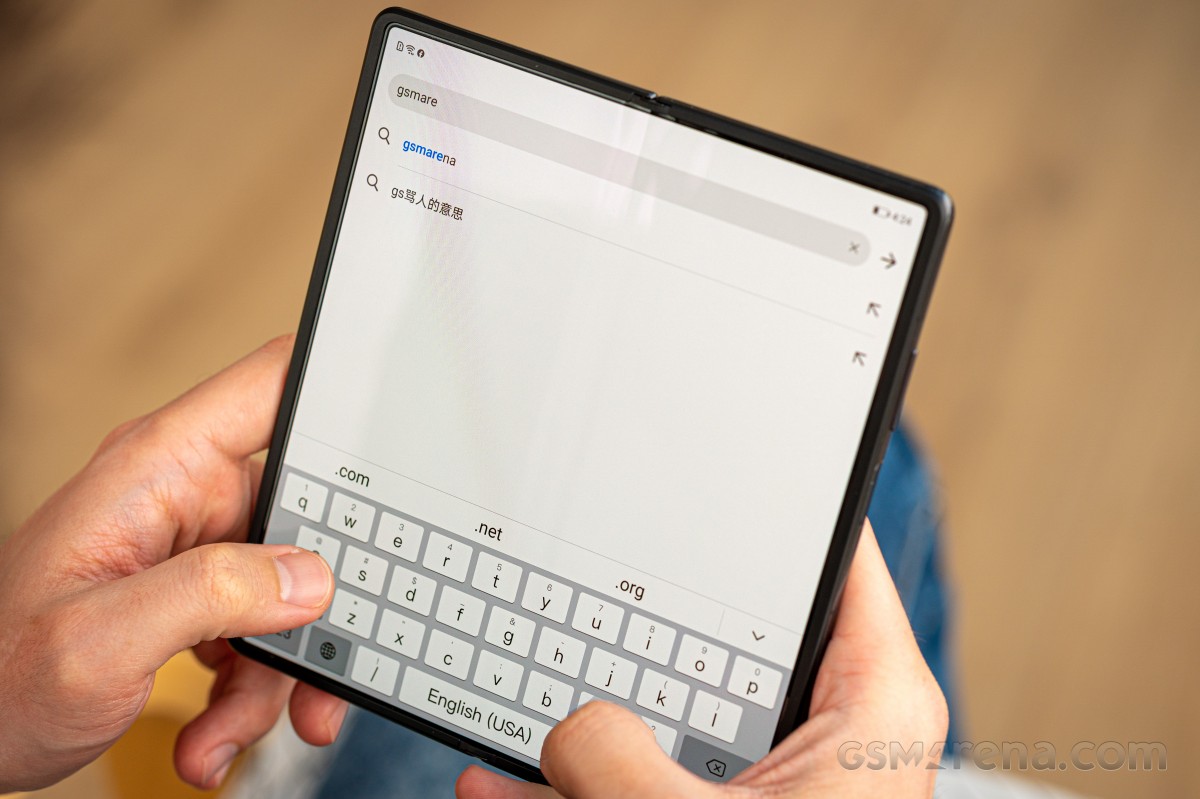 The hinge motion feels confident, with little flex. However, it isn't a smooth linear action. Circling back to a comparison with the Samsung Galaxy Z Fold2, which will likely come up often, we would say that the hinge is not as sophisticated. Unlike the Z Fold2, which has a smooth motion hinge that can stay fixed at any angle, the one on the Mate X2 has an anchor point in a fully-folded position and a fully-open stable position, with spring-like tension at every other middle state. The hinge is designed to always snap in one of the two positions if left alone. That means that you cannot use the Mate X2 in a propped-up "laptop" style position, nor can it be its own camera stand. Not gracefully, anyway. The kickstand on the case kind of makes it possible.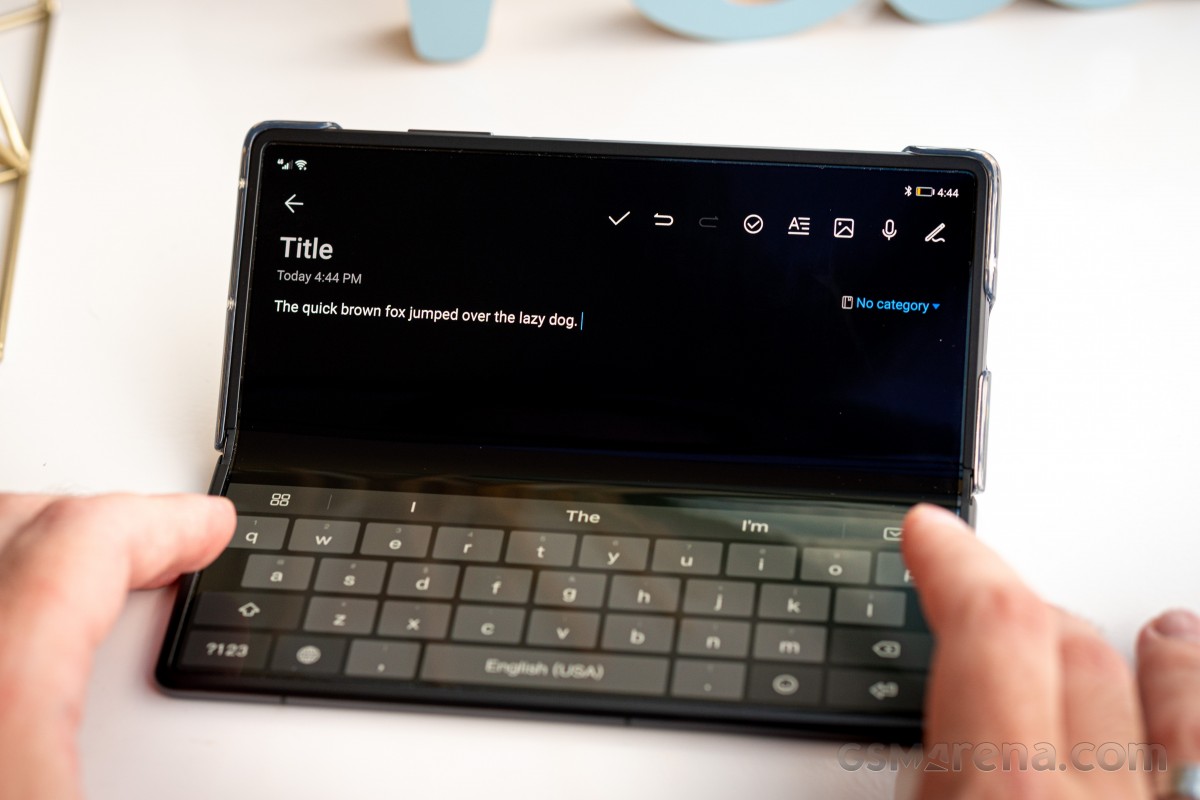 Another consequence of the magnets holding the two parts closed is that you can't easily open the Mate X2 with one hand. It is possible and, with enough practice, should be doable. Perhaps the hinge tension will eventually decrease with use as well. For what it's worth, everything feels tight and robust out of the box.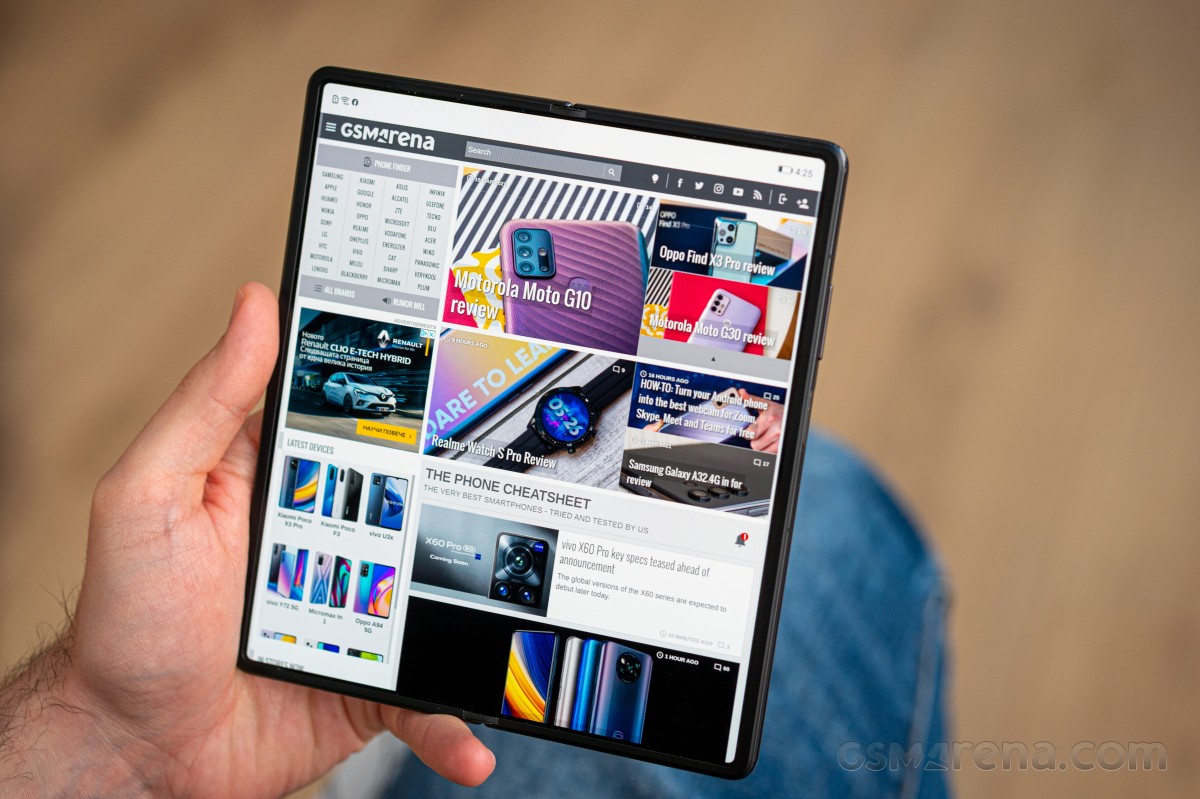 Samsung might have the hinge motion down, but Huawei clearly has the advantage in terms of wedge design, as well as panel flatness. At least for now, that is. Once fully opened, the 8-inch foldable display on the Mate X2 is impressively flat. More so than any other foldable panel we have ever experienced, in fact.
This is definitely not a function of the hinge alone, though. The materials and design of the panel itself definitely help. The end result is a crease that you can barely feel with your finger and one that is nearly invisible in most viewing situations.
Very, very impressive engineering work from Huawei all around. The fact that nothing is interrupting the main display also contributes towards its impressive looks.
Materials, handling and ergonomics
If there was any doubt in your mind that the Mate X2 is a truly premium device, you would be happy to learn that its construction is basically entirely of metal. That includes the frame, as well as the hinge.
The back and front are glass. Huawei is not disclosing what kind of scratch and shatter protection it is using.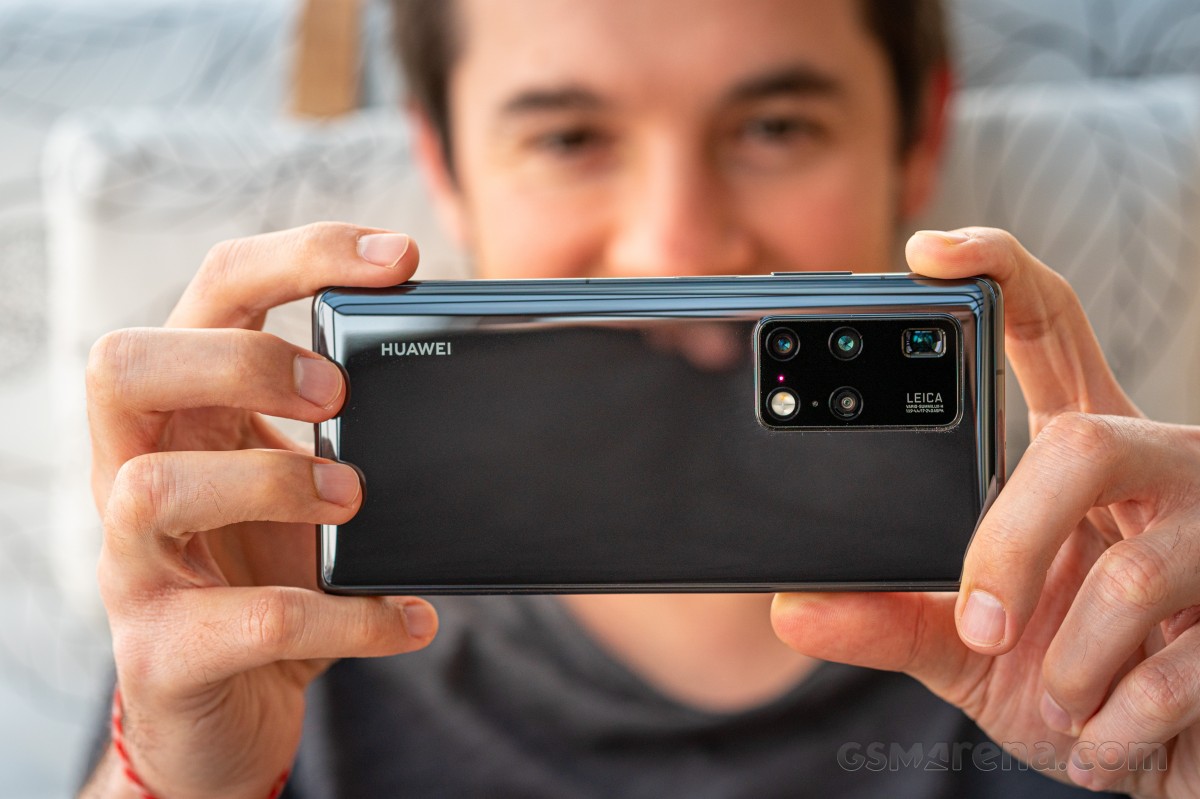 The back glass is extremely slippery and also a huge fingerprint magnet. Keeping it clean is basically impossible, frankly. Still, it looks nice and also feels good in the hand. Of course, with the obvious caveat of having to handle a 295g device.
Speaking of finishes, the surface of the large foldable display is also impressively smooth. It is still not glass-like. The technology still isn't quite there yet. Even so, traction is good. Swiping on the surface is smooth and fluent. The plastic frame surrounding the foldable display comes off a bit tacky relative to the test of the premium build on the phone.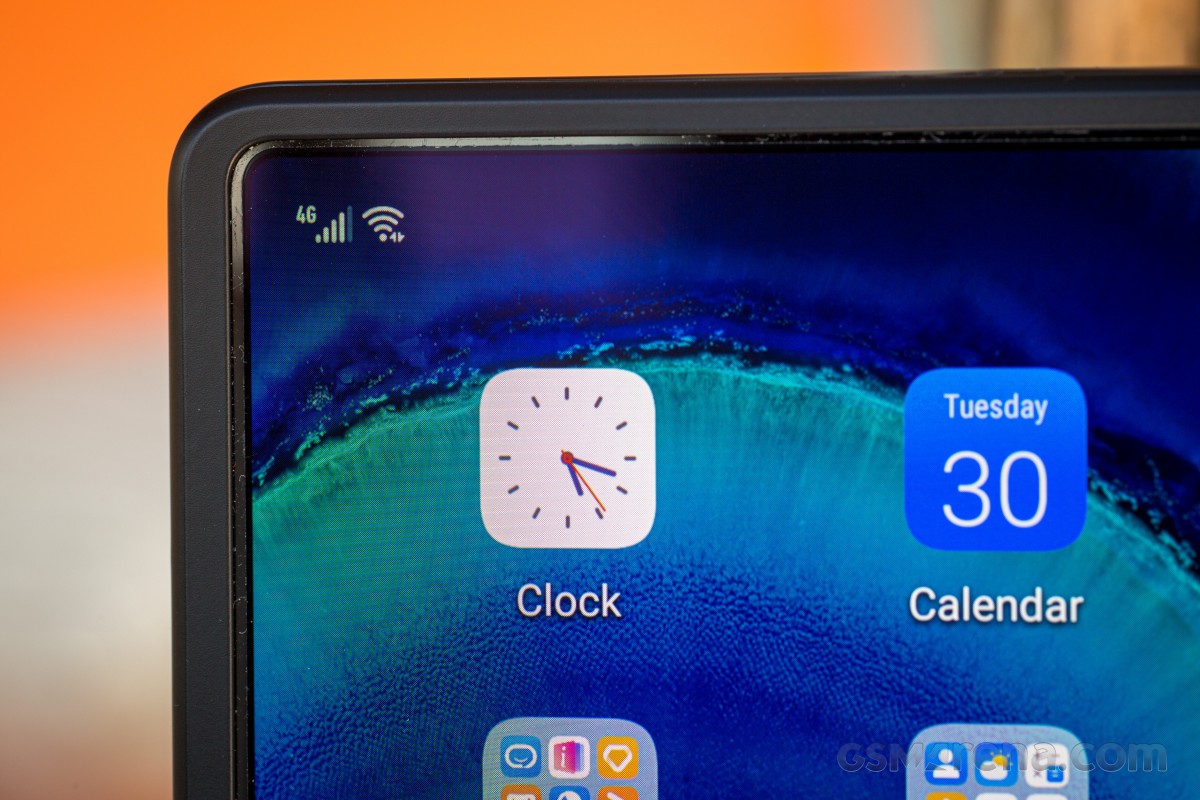 We aren't sure why nobody is doing said frame in any other material, but since that is the current status quo, we can't complain too much about it either.
Ergonomics on the Huawei Mate X2 are a mixed affair. We really appreciate the asymmetrical wedged design for a few reasons. Chief among these being the eradication of the pocket lint accumulation problem, we've always had with Samsung's foldable and their hinge gaps. However, having two unevenly sized and different weighing parts has its downsides. If you tend to hold your phone with the left hand, you're going to have a bad time. Using the Mate X2 on a flat surface unfolded is also a no-go for a number of reasons.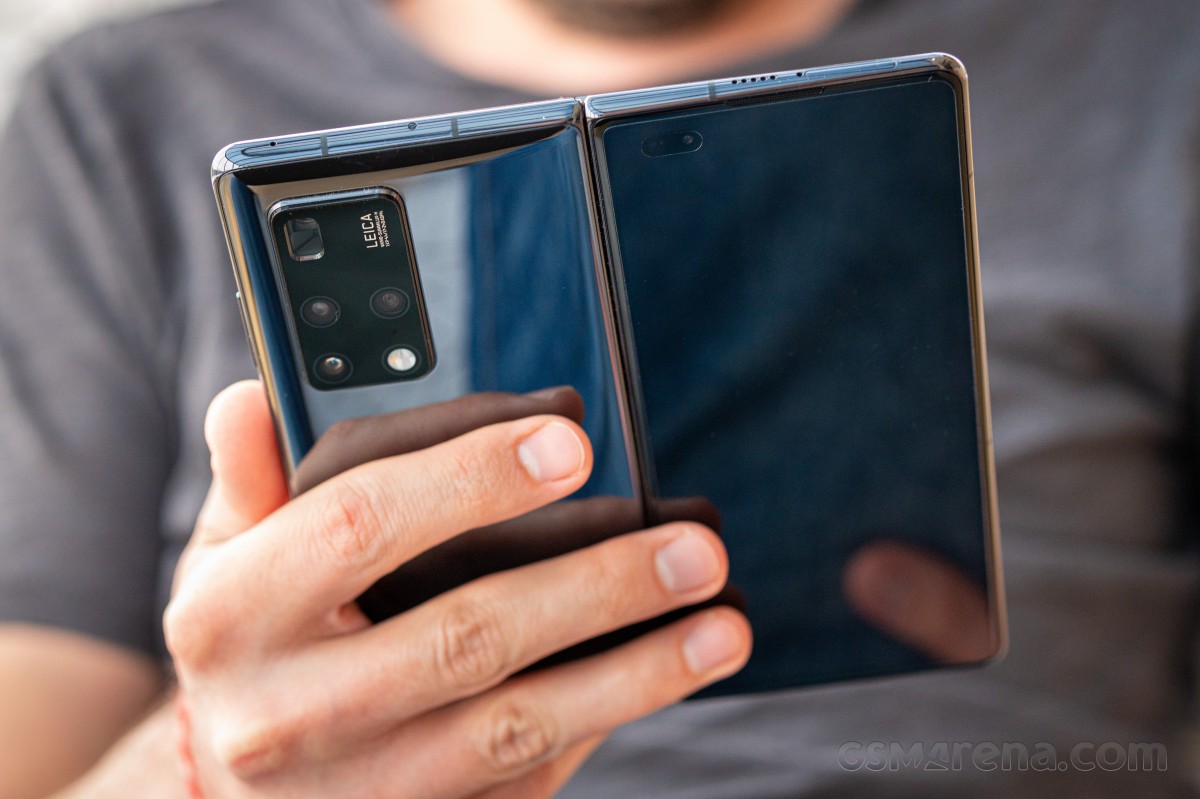 To Huawei's credit, though, holding the Mate X2 with your right hand feels good. There is no proper handle or leverage point, which would have made the experience even better, but handling is way better than on the Samsung Galaxy Z Fold2 with its symmetrical halves. Again, we kind of wish there was a way to prop the phone up in a half-open state.
In the "horizontal" orientation, for lack of a better term, you can get an even tighter grip on the bigger side of the Mate X2. Holding it the other way around is kind of scary since the Mate X2 is top-heavy in that orientation.
Controls
The Mate X2 has a surprisingly standard control layout in its folded state. Let's get the basics out of the way first - a speaker and Type-C port, as well as the main microphone on the bottom side.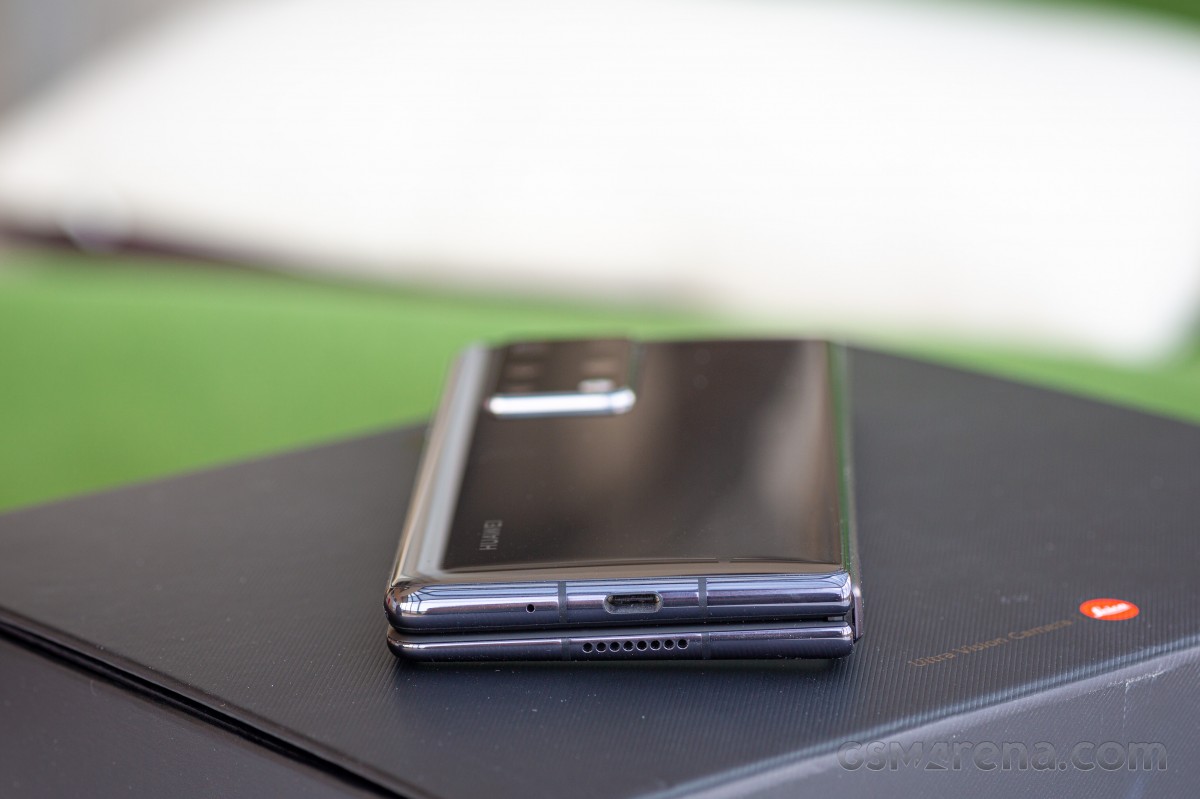 On the opposite end - an IR blaster, secondary mic and the hybrid Dual Nano SIM tray. Against what we would say is common sense at this point, Huawei still insists on pushing its proprietary NM (Nano Memory) storage expansion format, and that's what you get here, as well, as an option instead of a second nano-SIM card. No standard microSD.
The second speaker on the Mate X2 is also here and seems to be sharing at least its chamber with the earpiece. Perhaps there is only one driver, as well, though we can't be sure.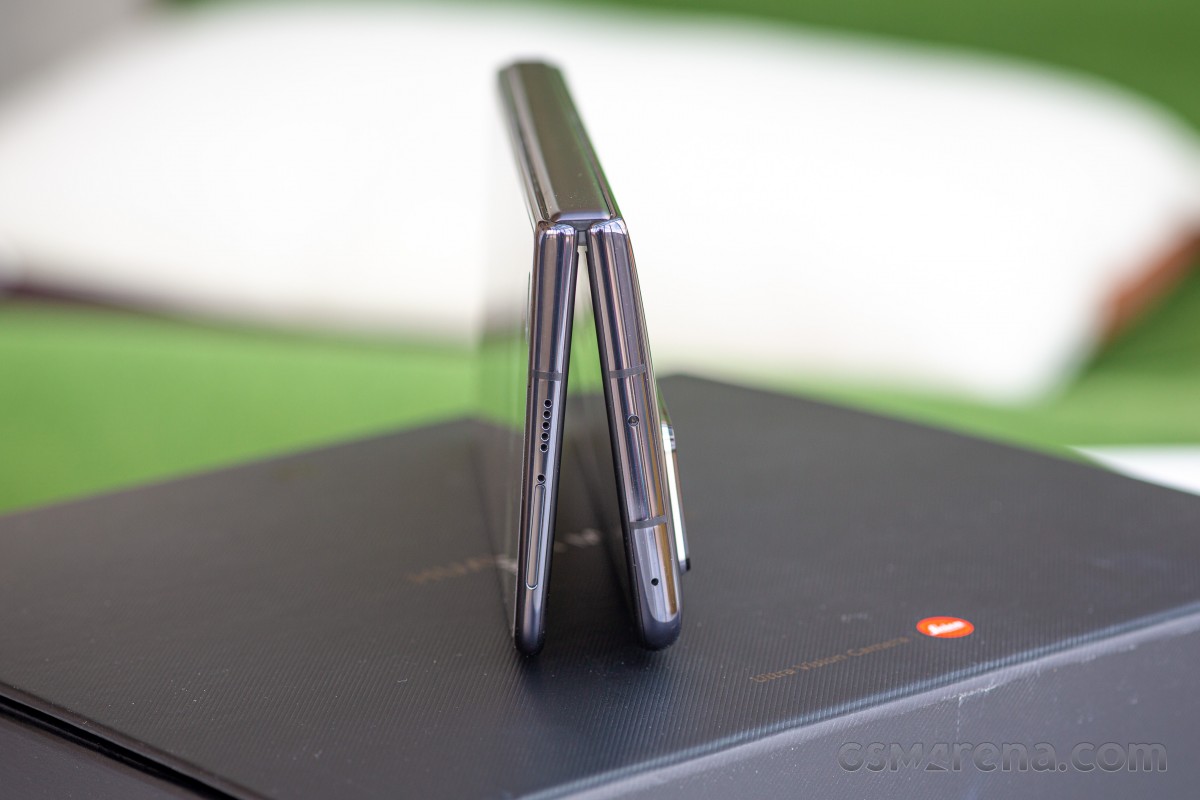 Both the top and bottom speaker are mounted on the same "half" of the Mate X2, which means that if you use it unfolded in its "vertical" orientation, sound comes out from the top and bottom. The audio is good enough for casual use, and for any actual multimedia playback, you should probably have the Mate X2 in a horizontal layout, which puts the two speakers on the left and right.
Huawei says that it is using a pair of "ultra-thin large amplitude" speakers on the Mate X2, which should deliver 180% more bass and 40% better high-frequency response performance. We can only assume that these numbers are based off the Mate Xs. We have proper loudspeaker tests later on in the review, but, spoiler alert, the speakers are really, really good.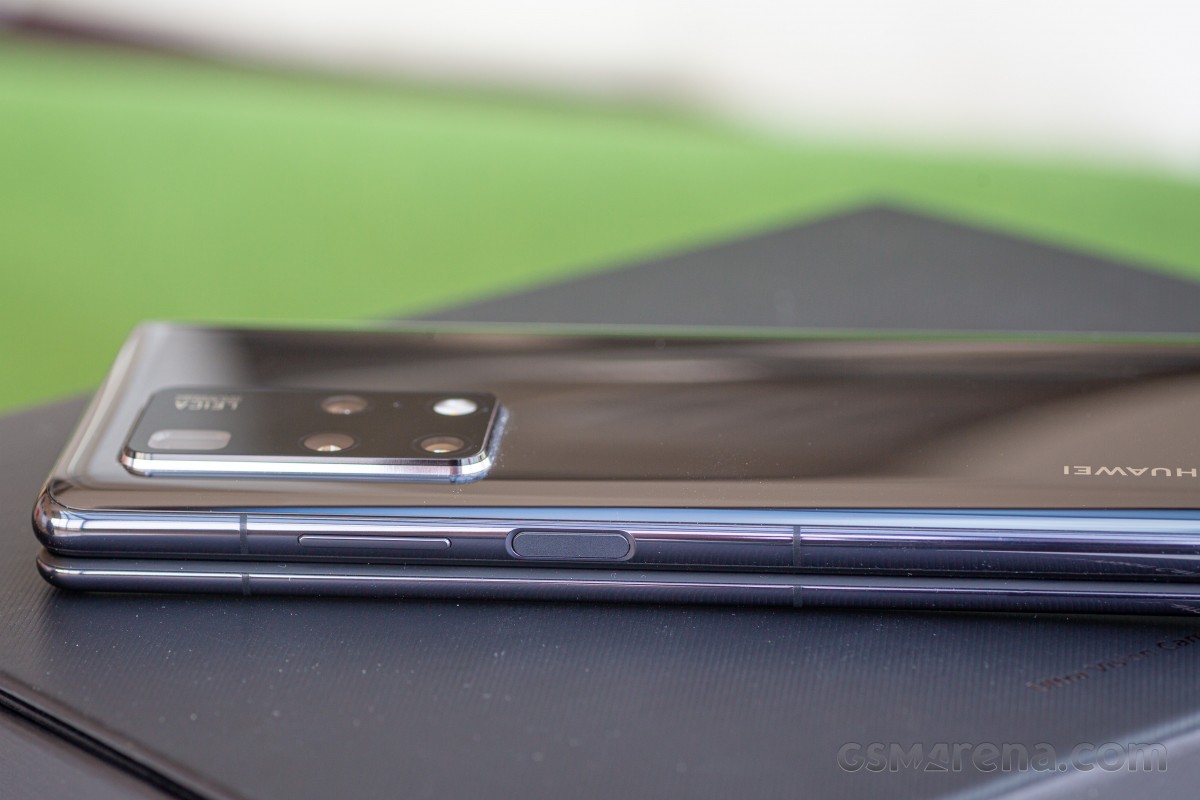 The volume rocker and power button on the Mate X2 feel great and provide plenty of tactile feedback, and are positioned comfortably for using one-handed when the phone is closed. The power button also doubles as a fingerprint reader. The reader itself works great. It is both snappy and very reliable.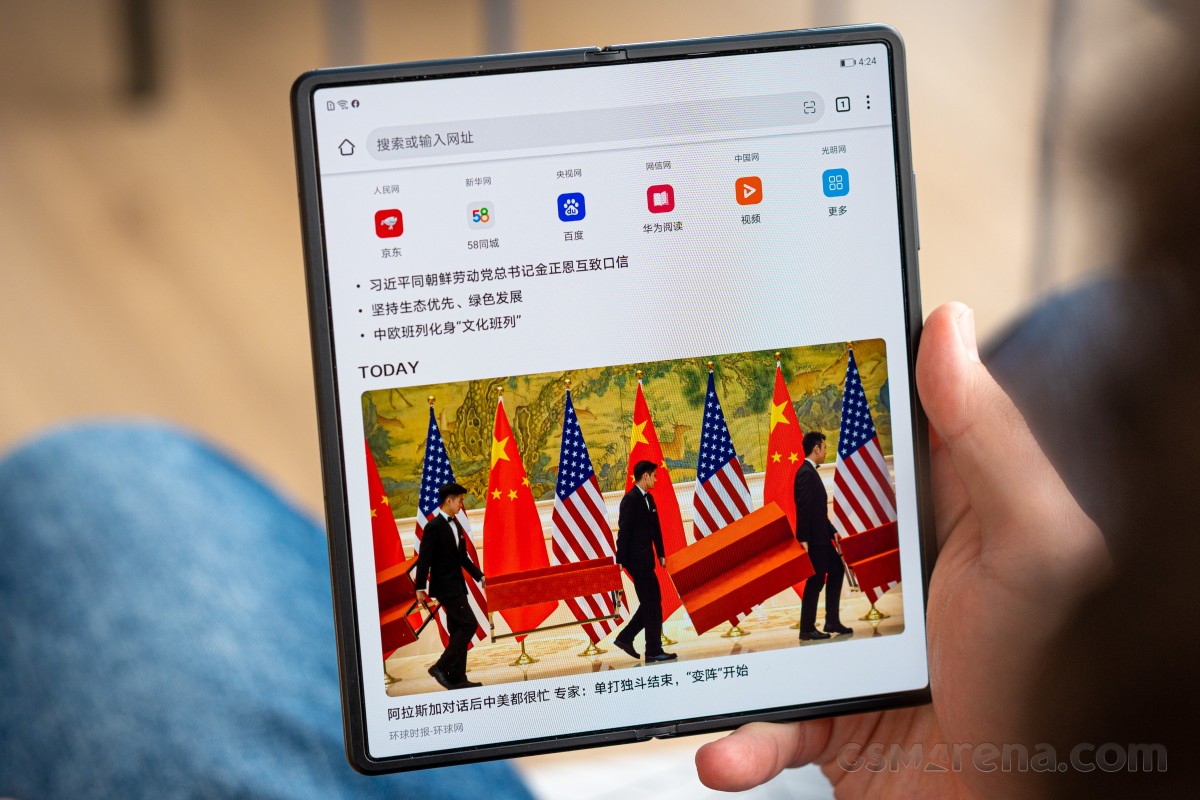 It is worth noting that there is only one selfie camera on the Mate X2, and it is in a quite large and frankly obtrusive punch hole on the cover display. That means no video calls on the big main display.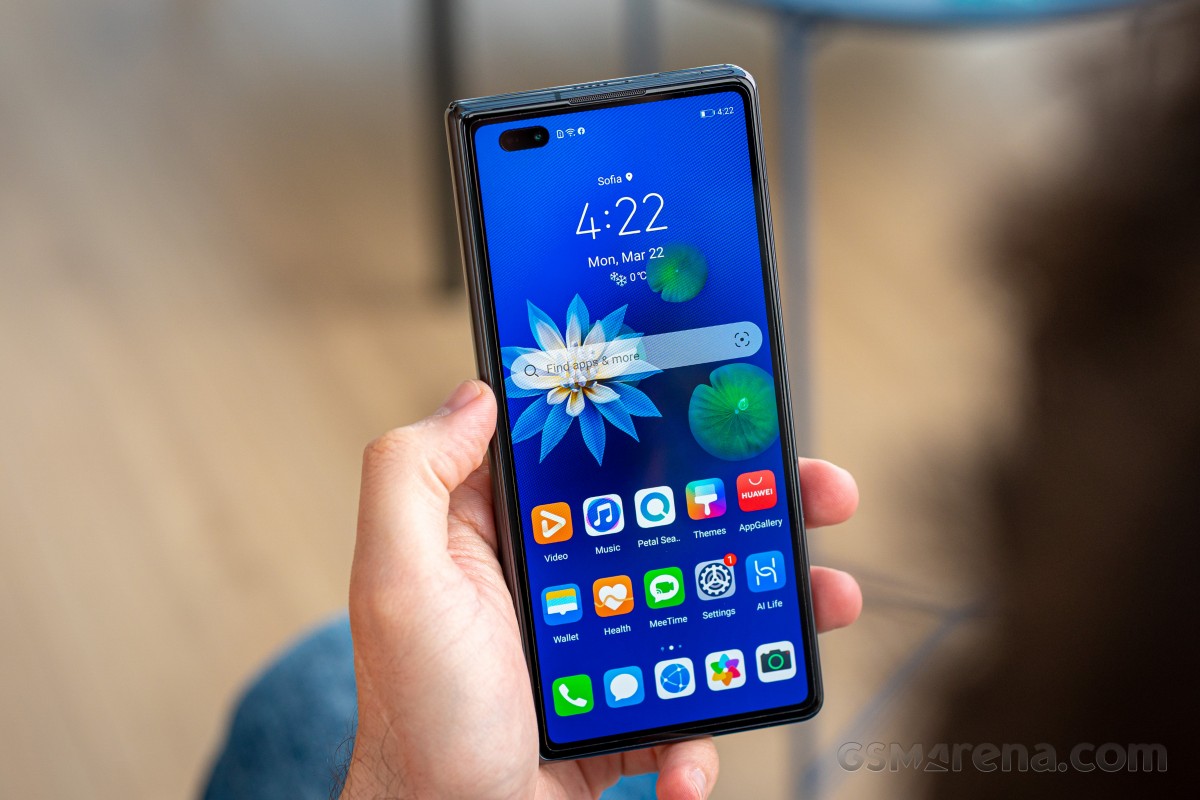 On the flip side, we do appreciate the lack of any interruption on the glorious 8-inch main display. We are certain that some of you out there might have different priorities in this regard. But, it is what it is.
As for the punch-hole situation, it is a bit of an eye-sore, but we do appreciate that Huawei has still managed to fit a big 6.45-inch display on the cover of the Mate X2, as well as an earpiece.
There is no notification LED, and the Mate X2 also lacks wireless charging. Both apparently didn't fit in either the design or the budget. Just thought we would mention them.
Based on my experience with Mate Xs , the screen was really solid , it had 2 layers of expensive polymer film that were protecting and holding it tight, in my opinion this is better than glass , yes scratches is always an issue with any plastic scre...
Anonymous
23 Apr 2021
7k0
The mate x/xs was way better than anything samsung had made till then but the technology was not there yet. The screen folded outwards and was made from plastic, which meant it scratched easily and was not that durable. But as soon as foldable glass ...
Anonymous
12 Apr 2021
JFi
Apart from the extra ram I can't see what are the pros of a Z fold from a hawardware point view. Possibly (and hopefully) Z fold 3 solves those, but until then Mate X2 is a no brainer (as long as you can find it that is, because -practicall...