Huawei Mate Xs review
GSMArena team, 13 May 2020.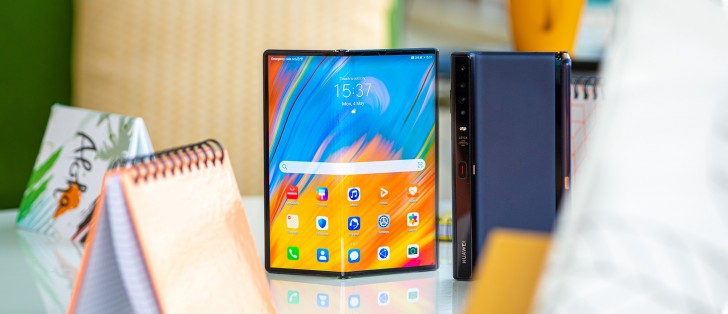 Futuristic folding display
The display on the Huawei Mate Xs is unlike anything else we've seen on a smartphone.
We already praised the Mate Xs for its impressive screen surface uniformity when folded and ability to maintain a very flat 180-degree surface when unfolded. We also didn't glance over some of its less-favorable physical characteristics, like the look and feel of its topmost layer and its affinity towards both grease and dust.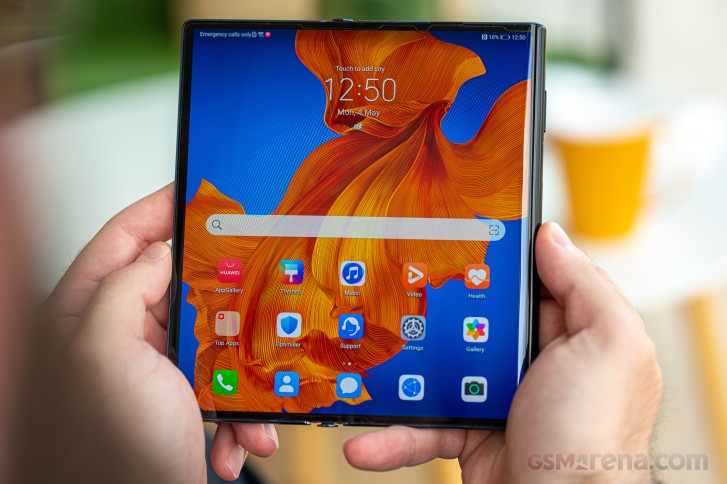 It's now time to see how brightness and contrast are doing. The Mate Xs' FullView display has a massive 8-inch diagonal when unfolded. It also sports a 2480 x 2200px resolution, which is considerably higher than that of the Galaxy Fold's 7.3-inch screen.
In terms of max brigthtness, the Mate Xs behaves rather differently, depending on whether you are using it folded, with its 6.6-inch, 19.5:9, 2480 x 1148-pixel display or fully unfolded at 8 inches, 8:7.1 and 2480 x 2200 pixels.
Since we use a white pattern filling up 75% of the available screen real estate in our brightness measurement tests, we expected different peak white levels in the two modes.
A reading of 448 nits when folded is not amazing, but definitely good enough for indoor use. The measured brightness dropped only to 413 nits with the screen unfolded, so honestly, it's not a huge difference. In either case, we get brightness which is not stellar but perfectly usable.
Display test
100% brightness
Black,cd/m2
White,cd/m2
Contrast ratio
Samsung Galaxy S20 Ultra 5G (Max Auto)
0
894
∞
OnePlus 8 Pro (Max Auto)
0
888
∞
Oppo Find X2 Pro (Max Auto)
0
871
∞
Apple iPhone 11 Pro Max
0
820
∞
Samsung Galaxy Note10+ (Max Auto)
0
794
∞
Huawei Mate 30 Pro (Max Auto)
0.028
683
24393:1
Asus ROG Phone II (Max Auto)
0
626
∞
Samsung Galaxy Fold (cover) (Max Auto)
0
623
∞
LG V60 ThinQ 5G (Max Auto)
0
622
∞
Apple iPad Pro 12.9 (2018)
0.37
610
1649:1
Samsung Galaxy Z Flip (Max Auto)
0
596
∞
Samsung Galaxy Fold (Max Auto)
0.006
557
92833:1
OnePlus 8 Pro
0
538
∞
Oppo Find X2 Pro
0
536
∞
Huawei P40 Pro (Max Auto)
0
531
∞
LG V60 ThinQ 5G (Dual Screen)
0
513
∞
LG V60 ThinQ 5G
0
511
∞
Asus ROG Phone II
0
479
∞
Huawei Mate 30 Pro
0
464
∞
Huawei Mate Xs
0
448
∞
Huawei P40 Pro
0
425
∞
Huawei Mate Xs (Unfolded)
0
413
∞
Samsung Galaxy S20 Ultra 5G
0
398
∞
Samsung Galaxy Note10+
0
381
∞
Samsung Galaxy Fold (cover)
0
380
∞
Samsung Galaxy Z Flip
0
377
∞
Samsung Galaxy Fold
0.002
370
185000:1
Outdoors, under direct sunlight, is where things get a little bit rougher since the Mate Xs has no max auto mode. It definitely has a proper light meter, hidden-away underneath the panel, and we confirmed it's registering ambient light correctly. However, despite our best efforts, our review unit never managed to shine beyond the 448 nits figure, mentioned above.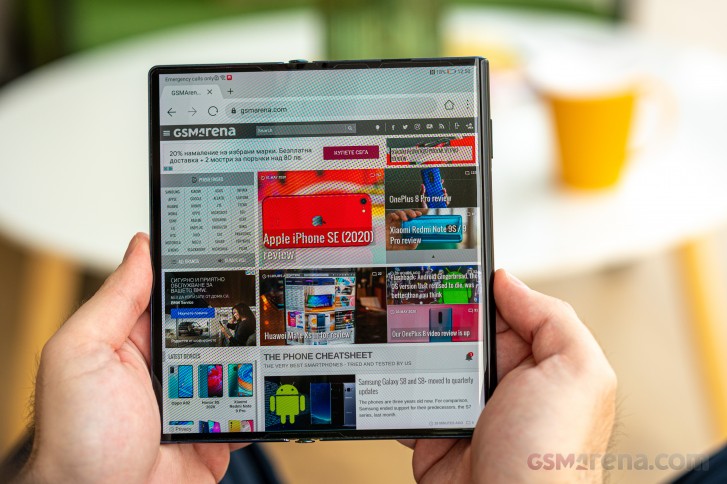 Looking at the comparative results table, that's clearly not on a proper flagship level. Both the Samsung Galaxy Fold and the Z Flip beat it in max brightness, thanks to their temporary overdrive modes.
Even so, it is important to stress that the display on the Mate Xs is still perfectly usable in real-life - only slightly struggling in direct sunlight.
It is also good to note that the panel on the Mate Xs has very little light-bleed. Blasting at max brightness, its black level remained at a solid 0. A lot of this might be due to the impressive uniformity of the display surface, achieved by Huawei. This all adds up to perfect blacks and infinite contrast on the Mate Xs. Just like we are used to seeing from conventional OLED panels.
One thing that is noticeably missing from the Mate Xs is HDR playback support. We can only assume that's due to it not hitting the required peak brightness levels. A task Samsung did manage with the Galaxy Fold. It's a shame, really, since the Mate Xs otherwise does rather well with color rendition.
There are two color presets in the display settings menu - the default 'Vivid', which offers a more typical, saturated OLED look, with average deltaE values of 5.4 when folded and 5.8 when unfolded.
Then there is the 'Natural' mode, which brings colors a lot closer to the DCI-P3 color space, with average deltaE values of 3.1 and 3.4 for folded and unfolded respectively.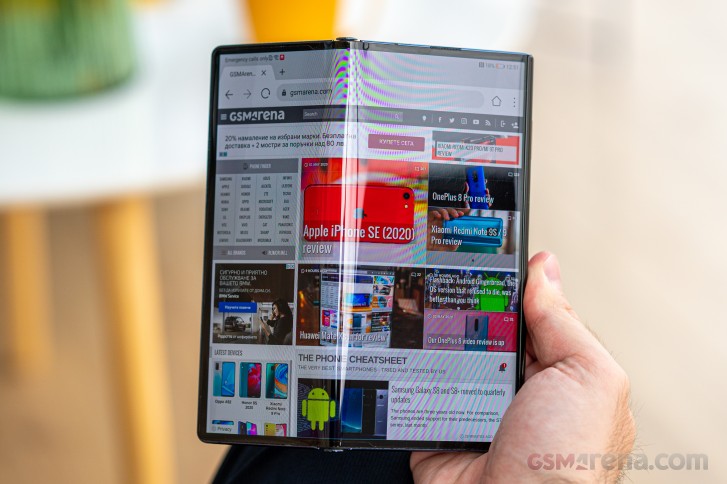 By using of the included white point adjustment sliders, you can definitely make the Mate Xs' panel very close to calibrated. Unfortunately, there is no way to save two different custom color profiles - one for folded and the other for unfolded. And as we said, the color output in the two modes is distinctly different.
Battery life
Due to its unique physical design, the Huawei Mate Xs actually has its 4,500 mAh of total battery capacity split between two packs. This dual design probably has a lot to do with the quick charging implementation.
As expected, battery endurance varies substantially based on the portion of the flexible OLED display which is lit. Hence, we ran our browser and offline video playback on-screen tests with both the Mate Xs folded and unfolded.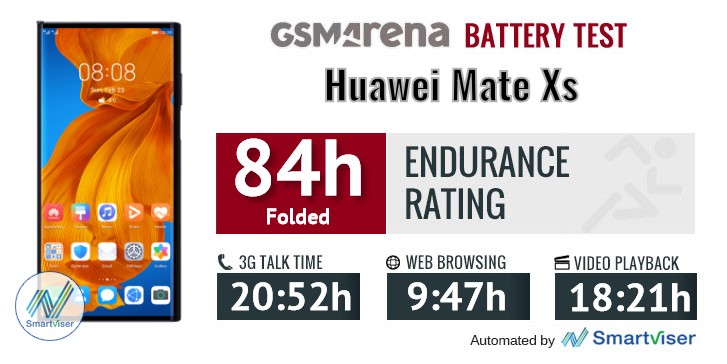 Our battery tests were automated thanks to SmartViser, using its viSerDevice app. The endurance rating above denotes how long a single battery charge will last you if you use the Huawei Mate Xs for an hour each of telephony, web browsing, and video playback daily. We've established this usage pattern so that our battery results are comparable across devices in the most common day-to-day tasks. The battery testing procedure is described in detail in case you're interested in the nitty-gritty. You can check out our complete battery test table, where you can see how all of the smartphones we've tested will compare under your own typical use.
Back when we tested the Samsung Galaxy Fold, we didn't really bother to see what kind of endurance we could get out of the tiny front display. That didn't really make much sense, since it was not a realistic way of using the phone. So for the Fold, we only have the battery life numbers with the 7.3-inch screen unfolded.
In stark contrast to the Galaxy Fold, the Huawei Mate Xs remains perfectly usable when folded. In fact, we would go as far as to say that for many of its users, the 6.6-inch folded-mode OLED experience will likely be the "daily" one.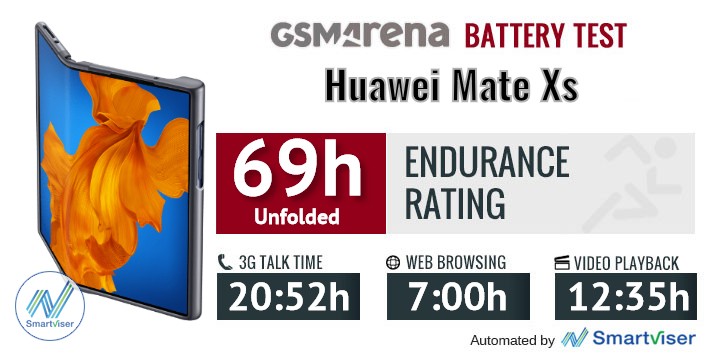 Offline video playback actually managed surprisingly lengthy run sessions. Over 12 hours on the full 8-inch OLED is admirable. Plus, it should be noted that despite our best efforts to force it back to 16:9, our test always stretched the video to fullscreen. That's not really the most likely way of consuming typical video content on the Mate Xs, so this number is actually a "worst case" scenario for the OLED, which had all of its pixels engaged all the time.
Same goes for the browser test. However, browsing on the full width and height of the panel is, in contrast, the preferred way of doing things. This is where the endurance of the Mate Xs really plummeted to surprisingly low levels. So much so, that we ran upwards of 10 individual browser tests, between the folded and unfolded states. The numbers are consistently disappointing.
The Huawei Mate Xs can charge at up to 55W, using Huawei's SuperCharge tech. You get a 65W PD wall charger in the box, alongside a nice quality Type-C to Type-C cable, rated at 3.3A. That combo can even charge larger devices like laptops, at up to 65W. We do have to wonder whether Huawei is staying within PD spec to pull-off its 55W SuperCharge, or there is something proprietary going on behind the scenes. That is an investigation for a different time, though. But, do leave a comment if it's something you would be interested in.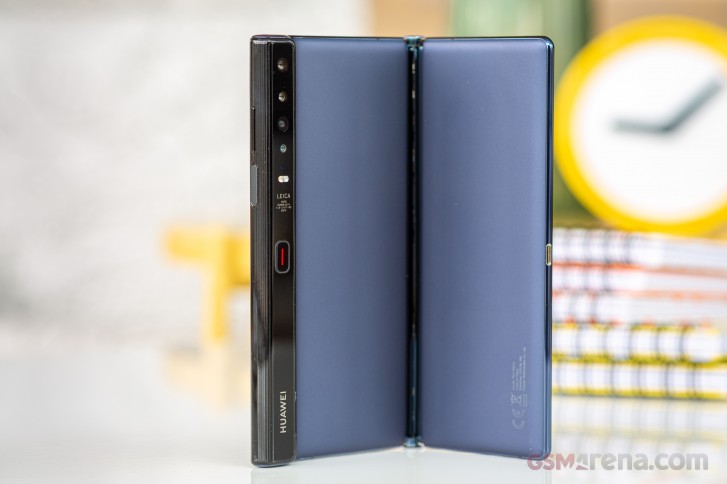 Anyway, using the included charger and cable, we got from a dead battery to 42% in just 15 minutes. Then 80% at the 30 minute mark. A full charge took right around 57 minutes. Excellent in our book, even if just a bit short of the advertised 85% in 30 minutes.
While we're on the topic of charging, though, one thing we have to note is the lack of wireless or reverse wireless charging capabilities on the Mate Xs. We get that it would cost a lot of internal space in the already crammed design on the Mate Xs. Yet, it still feels like a justified complaint to make, seeing how the Samsung Galaxy Fold is fully Qi charging capable, in both directions.
Speakers
The Huawei Mate Xs only has one full-fledged speaker at its disposal but the earpiece can serve as a second speaker to provide what we call a hybrid stereo setup.
One thing worth noting about this stereo setup is that it only works in landscape orientation. In portrait orientation, the speaker and earpiece work as one without any stereo separation.
The quality of the overall loudspeaker experience on the Mate Xs is good but in no way great. Honestly, that's more than we initially expected of it. Anything better from this space-starved form factor would have been properly surprising. Plus, even if the speakers are not particularly loud, with only a Good rating in our tests, nor particularly accurate, even having a stereo setup goes a long way in complementing the excellent multimedia experience offered by the 8-inch FullView display.
Use the Playback controls to listen to the phone sample recordings (best use headphones). We measure the average loudness of the speakers in LUFS. A lower absolute value means a louder sound. A look at the frequency response chart will tell you how far off the ideal "0db" flat line is the reproduction of the bass, treble, and mid frequencies. You can add more phones to compare how they differ. The scores and ratings are not comparable with our older loudspeaker test. Learn more about how we test here.
I can't help but think that LG or any other brand can use this phone as an inspiration for their rollable screen smartphone. I mean, the camera and the power+volume button is placed on one side with no bezel or notch or even punch-hole interrupt...
It comes with a pre installed screen protector. I've had mine 9 months it's still on there.
I've had mine for about a year, like 9 months, and I haven't had any issues with failure yet.