Huawei MateBook X Pro 2021 review
Ivan, 11 April 2021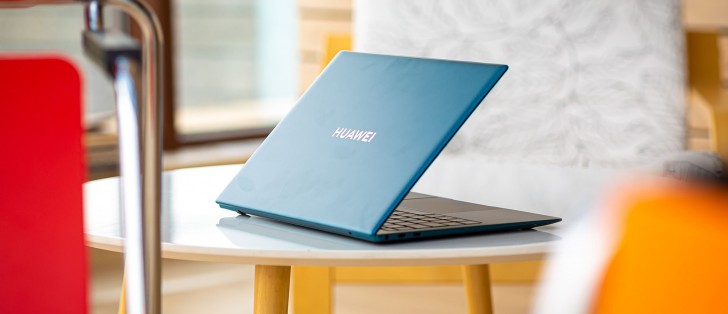 Introduction, Unboxing
Huawei's MateBook X lineup is the company's most premium - spanning the fanless MateBook X, that weighs just 1.0kg and is Huawei's most-portable machine and the laptop we have here - the Huawei MateBook X Pro, which combines portability with power.
The MateBook X Pro 2021 was originally launched in China and is now on pre-order in Europe and going on sale soon. The 16GB/1TB model is CNY 12,000/€1.899/£1.599, which isn't cheap, but actually pretty competitive when you consider the package you are getting.
Our unit comes in the Emerald Green color and there's also a Space Gray one, but Huawei has seemingly discontinued the lighter Mystic Silver it offered for the MateBook X Pro 2020. The laptop comes in a small carboard box with a 65W charger and a single USB-C cable.
The charger is a standard Power Delivery brick which can also charge your tablet or phone (or even drone) with variable power of 10W, 18W, 24W, 45W and 65W, making this combination a very convenient one.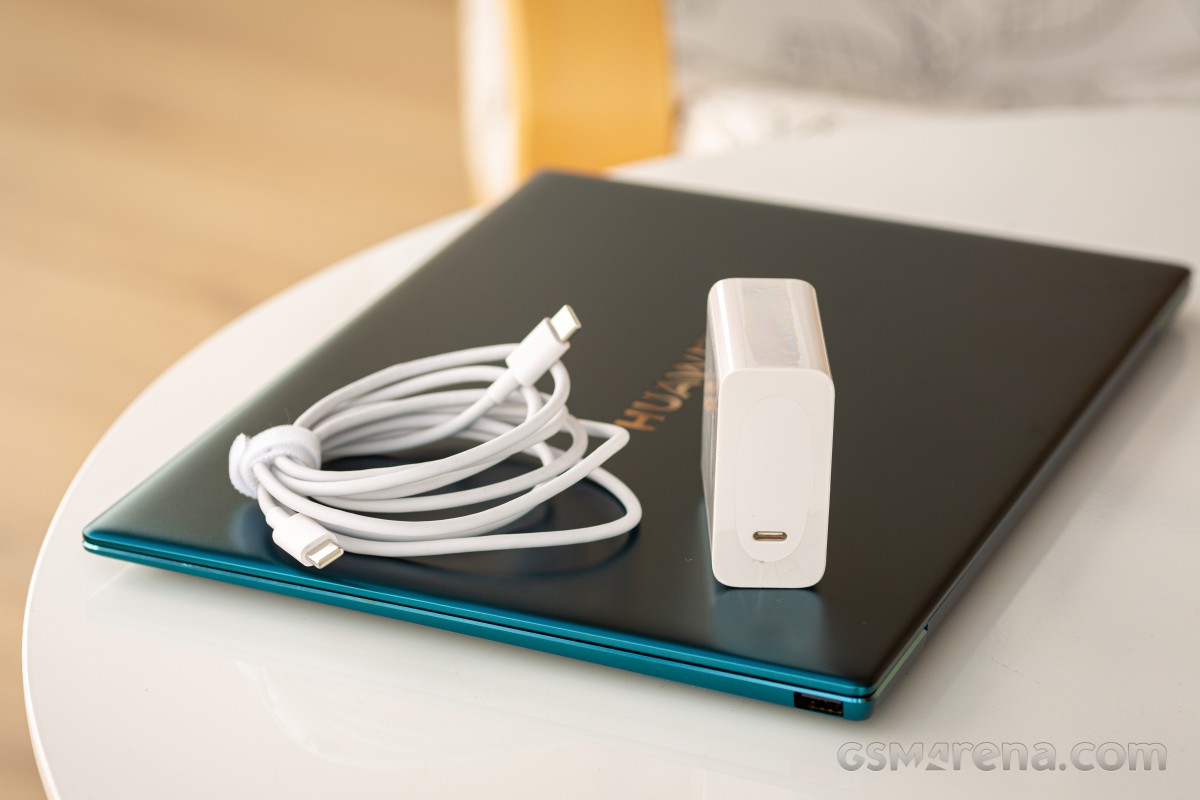 One of the main appeals of the Huawei MateBook X Pro 2021 is its design. It's a thin and light machine with skinny bezels and tightly packed internals.
It's freakish to think that Huawei has kept more or less the same design for its MateBook X Pro lineup for four years and yet this machine looks at least as good as any of its competitors in 2021.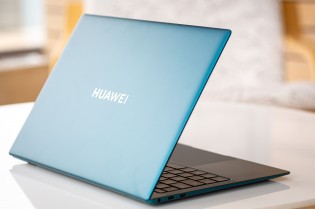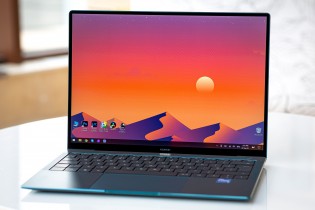 The Huawei MateBook X Pro 2021, front and rear
Complete with Intel's 11th gen Tiger Lake CPUs, the fastest RAM around, Wi-Fi 6 support, a 3:2 touchscreen display and a premium construction, the Huawei MateBook X Pro 2021 is a serious ultraportable.
The 2021 model also brings some subtle improvements over its predecessor. There's a second fan under the hood and Intel's 11th gen processor brings more performance and Thunderbolt 4, the aforementioned faster Wi-Fi 6 and a solid-state touchpad.
Display, keyboard, touchpad, I/O
The display of the MateBook X Pro 2021 appears identical to last year's model. It's a 3:2 LTPS LCD of 3000x2000px resolution, with tack-sharp 260ppi and 178-degree viewing angles. The bezels around the machine are nicely trimmed, resulting in a claimed 91% screen to body ratio.
Huawei claims a typical brightness of 450 nits, which we even found conservative. We measured a maximum of 480 nits at the center. The display supports 100% of the sRGB color gamut and came with excellent color reproduction from the box.
The only weakness of the display is its glossy glass cover, which is quite reflective.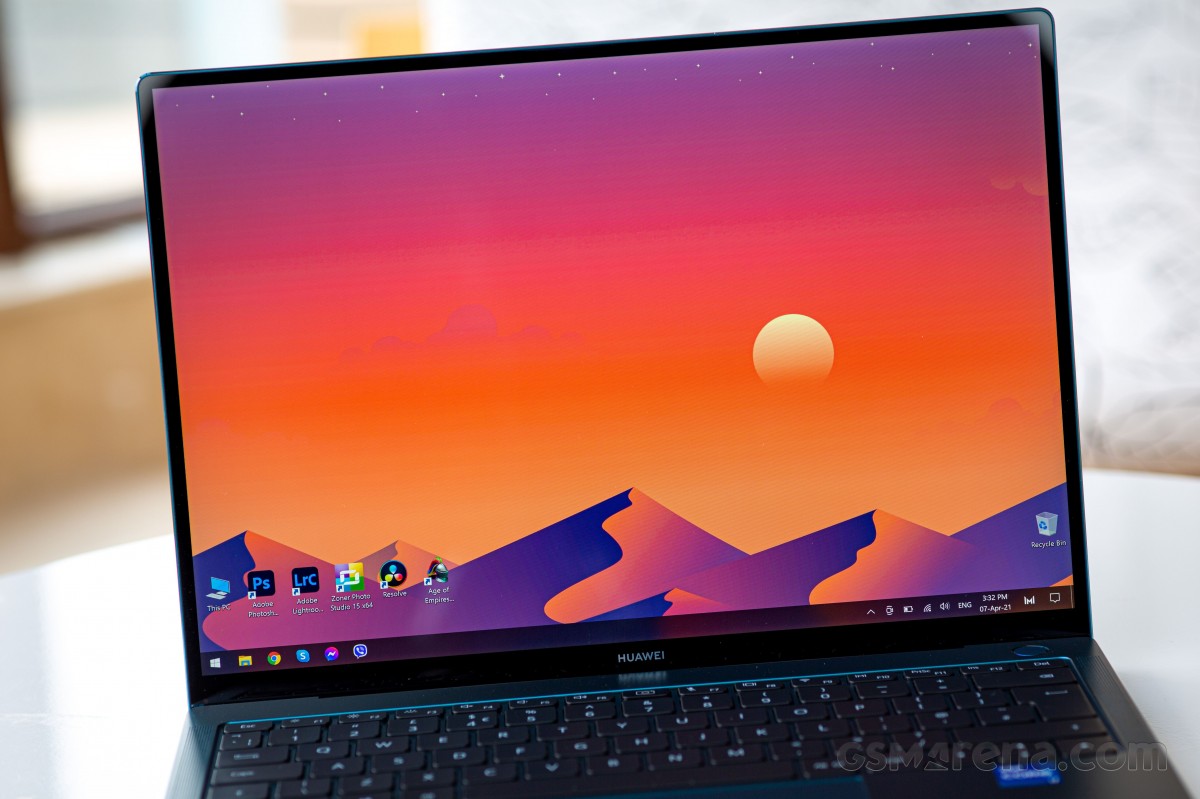 The display's aspect ratio is in this reviewer's opinion the best for a laptop. At 13.9-inches and 3:2, it strikes the perfect balance between video, photo and web browsing/productivity. You get more vertical space for websites and documents and don't lose any horizontal space for viewing 16:9 videos, compared to the typical 13.3-14.0-inch 16:9 or 16:10 laptop.
Plus the 3:2 aspect is perfect for editing photos.
Naturally, the MateBook X Pro 2021's display is a touchscreen. It supports up to 10 point input, is very responsive and supports multi-touch gestures for zooming. It adds a whole new level to scrolling websites and viewing images.
You can drag on the screen with three fingers to access Huawei's intuitive screenshot tool. It lets you select with a finger just what part of the screen you want to capture.
The quad speakers on the MateBook X Pro 2021 include a woofer and a tweeter on each side for richer sound. The grilles on the side of the keyboard aren't the source of the sound, however. There are vents underneath them that give the strongest sound. They're side-facing, and not bottom facing too so if the laptop is on a desk, the sound bounces off the flat surface, making for rich listening experience.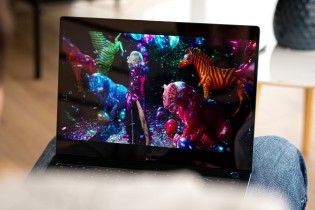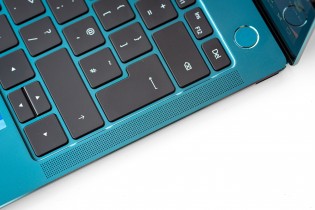 Watching videos on the MateBook is lovely
The keyboard is full-sized with just over a centimeter on each side reserved for the speakers. This is a short-travel keyboard, which is par for the course with thin-and-light laptops, but is one of the best I've used.
Key travel is short but the tactile response is pleasing. Each key is nicely-balanced and the layout is very easy to get used to. The enter key is big and easy to find.
The only issues are the small up and down keys and the lack of any Home, End, Page Up and Page Down buttons, which may be a deal-breaker for some.
I wrote this entire review of the MateBook X Pro 2021's keyboard and didn't experience any issues. This is a machine you can comfortably type all day on, once you've spent the time to get used to its idiosyncrasies.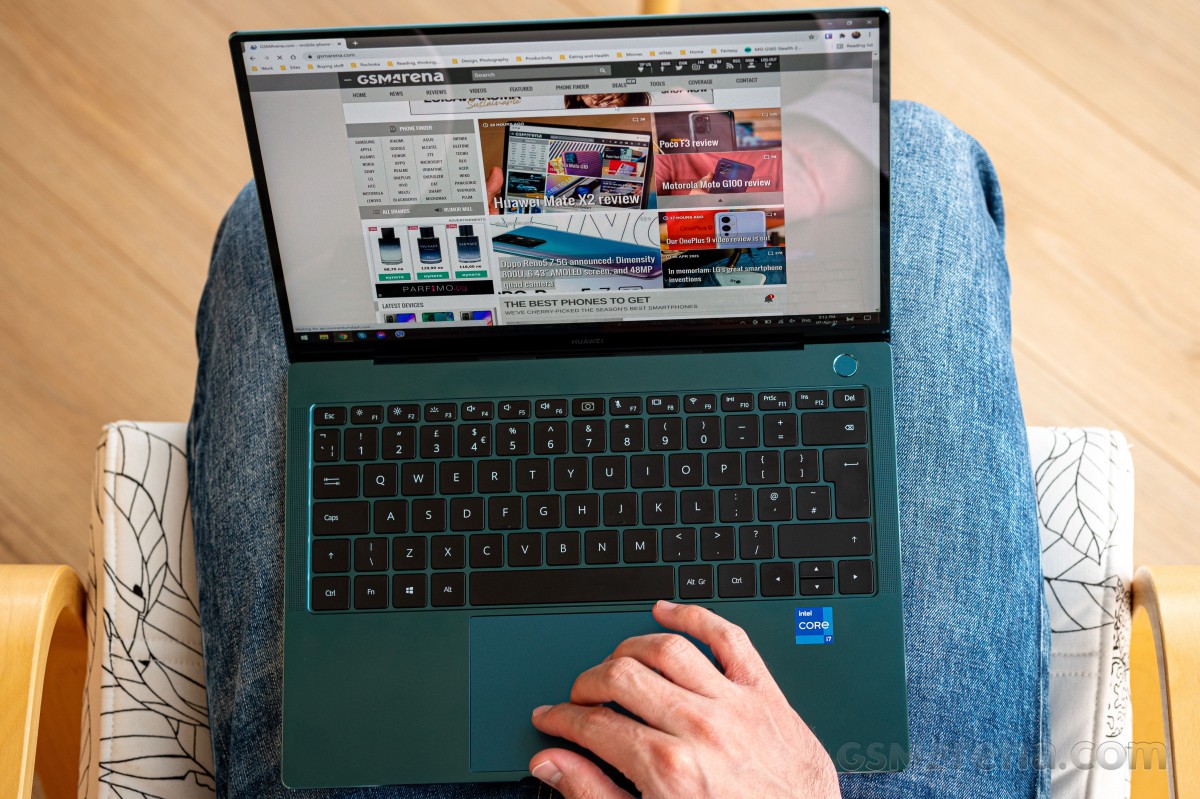 The touchpad is very big. It takes more than a third of the bottom of the MateBook X Pro 2021's deck. The glass surface is perfectly smooth for scrolling and multi-fingered gestures.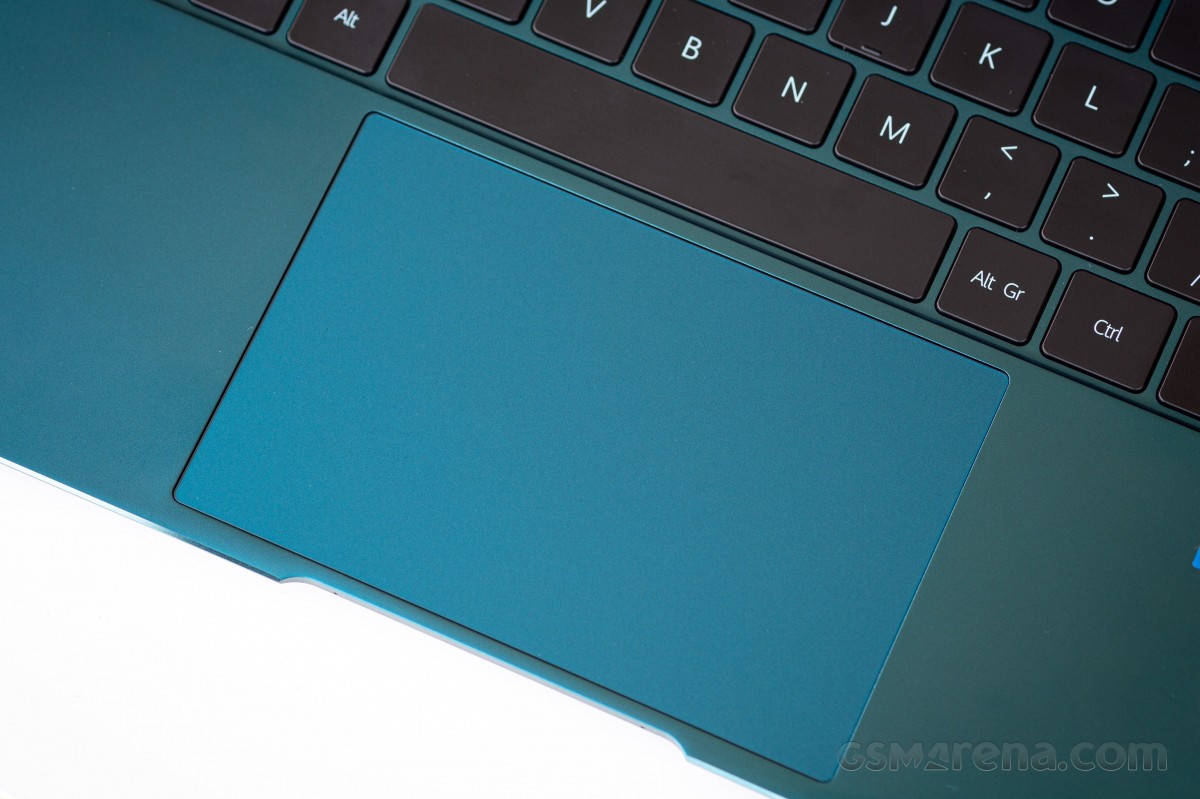 This is a solid-state glass touchpad. Huawei calls it Free Touch and it can register clicks anywhere on the surface. The Huawei Free Touch app allows you to customize the click sensitivity and the vibration intensity to your liking. You can even turn off the click, which is a bit jarring.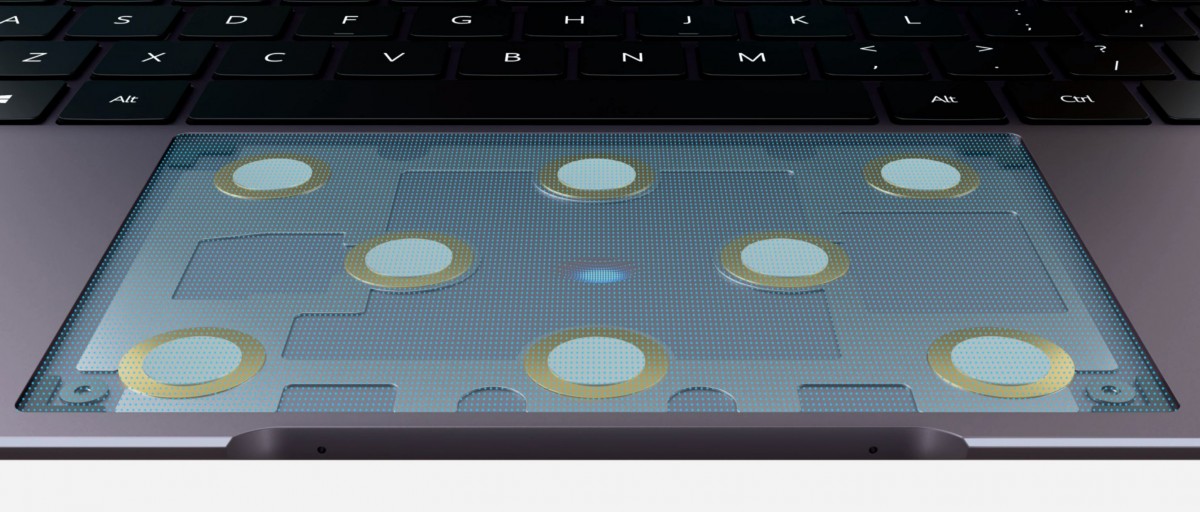 If you have a supported Huawei smartphone, you can connect it using Huawei Share. You just tap the phone's NFC to the touchpad to initialize the connection. Huawei Share allows you to control your phone from the laptop and share files between the two devices.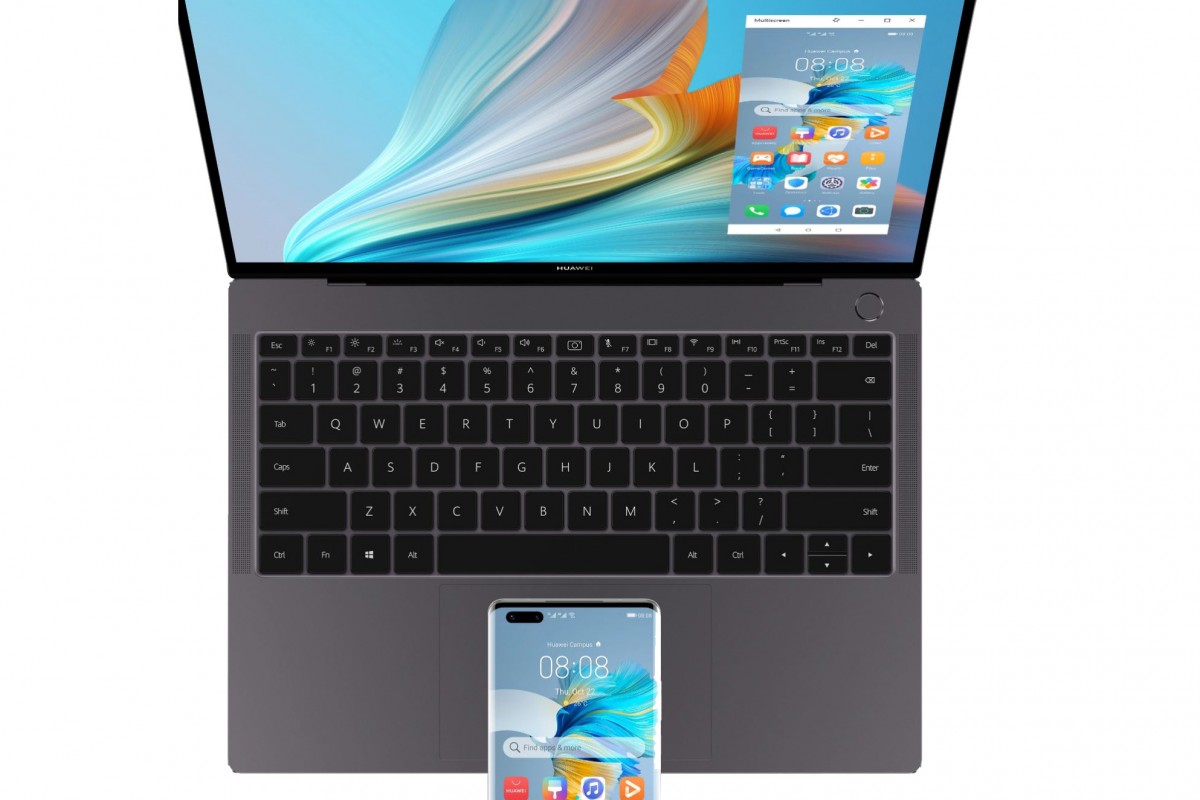 Something that hasn't changed from previous Huawei and Honor laptops and hasn't aged well is the webcam hidden in the f-row of the keyboard. It's an up-the-nose cam which is easily blocked if you're typing. Plus it's an HD camera with poor quality all-around.
On the upside the dual-microphones on the front of the laptop offer excellent clarity for calls.
The fingerprint scanner is embedded into the power button. It supports cashing, which means a single press is enough to turn on the laptop and log you into Windows. There's no Windows Hello-supported camera, though.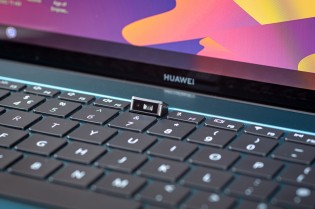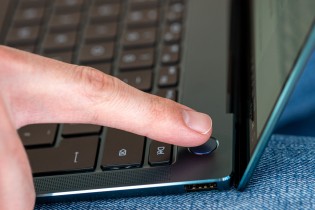 Nose-cam and fingerprint power button
There's decent port selection for such a thin and light device. You get two USB-C ports and 3.5mm audio jack on the left side and a single full-sized USB-A on the right.
Both USB-C's are 40Gbps Thunderbolt 4 ports that support 4K@60Hz and 3840x2160px output.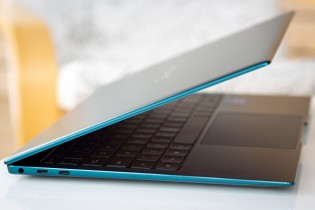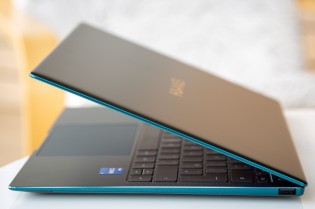 Three USB ports and a 3.5mm jack
If we had to point a finger at something in the Huawei MateBook X Pro 2021's build, it's the smudge-proneness of the chassis. The sleek metal surface eagerly collects and retains fingerprints and grime and is a bit difficult to wipe down.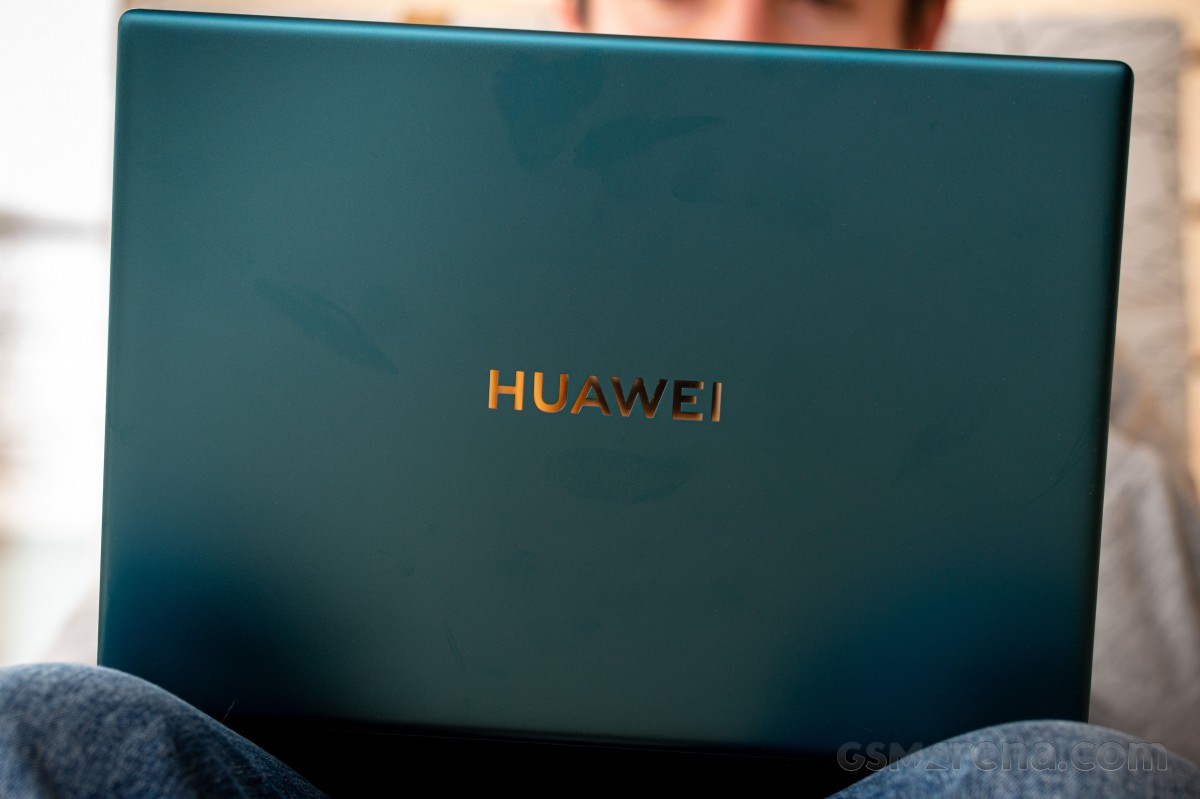 Performance and battery life
Our Huawei MateBook X Pro 2021 is powered by the 11th gen Intel Core-i7-1165G7 - a chip with 4 cores and 8 threads, built on a 10nm process with a 12MB L3 cache and a TDP of up to 28W.
Mated to the chipset is Intel's 11th gen Iris Xe GPU, which is said to be around 20% faster than Intel's 10th gen integrated graphics and faster than the NVIDIA MX250 GPU in last year's MateBook X Pro.
Huawei has equipped the MateBook X Pro 2021 with 16GB of the current-fastest LPDDR4x RAM, running at 4266 MHz.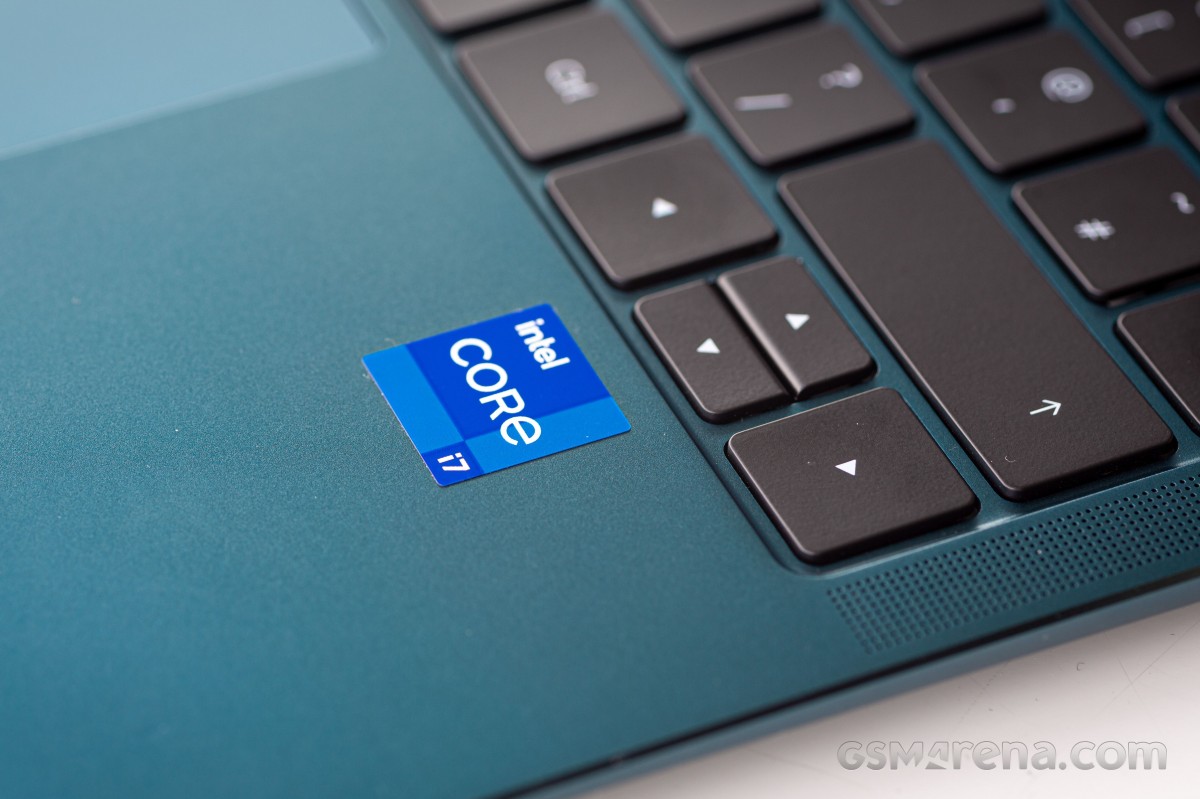 When in Performance mode, the CPU idles around 1200MHz with spikes to 4100MHz. Temperatures at idle sit around 37°C to 40°C. During a stress test the CPU jumps to nearly 90°C and a clock speed of about 4100MHz, then quickly throttles down to around 2400MHz and just under 80°C.
This year's MateBook X Pro 2021 has added a second fan, which is connected to the first one via a thin vapor cooling chamber.
Huawei tuned the MateBook X Pro 2021 to run quiet and to not get very hot. Each time the machine passes 80°C the CPU quickly throttles down to allow it cool down. Fans rarely kick in unless the system is stressed, but even then got as loud as 45dB at arms length. The chassis never got really hot - we registered a peak temperature of 42°C at the center of the keyboard.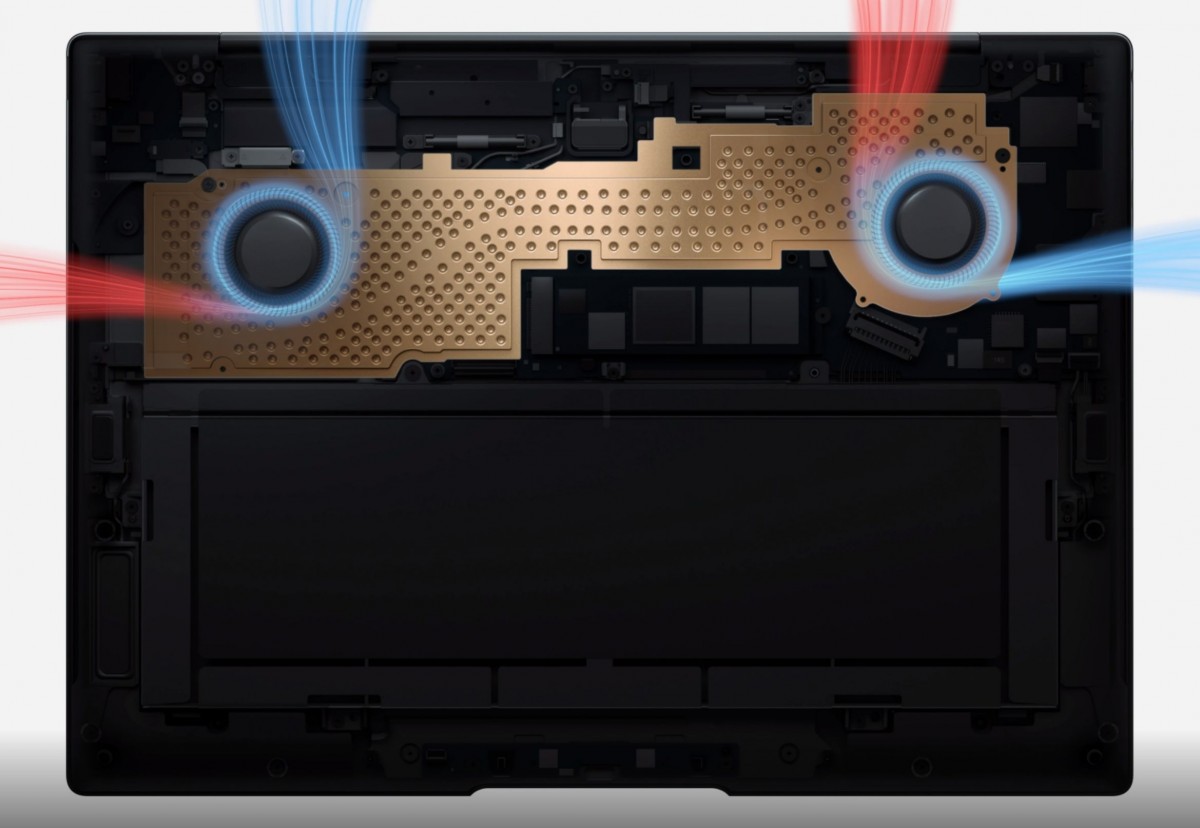 The combination of Intel's 11th gen CPU and integrated graphics results in a quiet and cool machine that can tackle most workflows without issue. Photo editing on the MateBook X Pro 2021 is a breeze and you can even do video editing with the right settings - optimized media, for instance.

The storage drive in our Huawei MateBook X Pro 2021 is the Samsung PM981a - an excellent drive with excellent performance.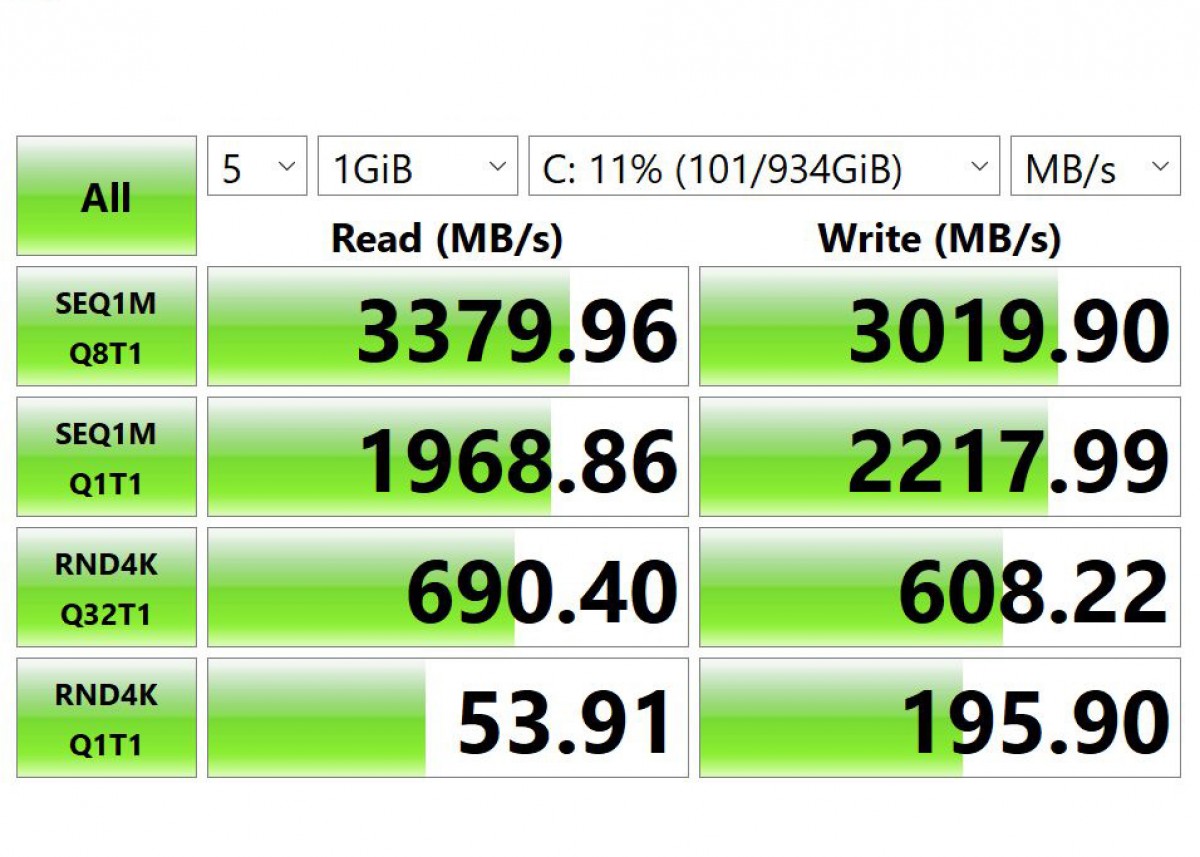 Battery life was very good from the MateBook X Pro 2021. It managed just under 8 hours of continuous web browsing at 100% brightness and 12:30 hours at 50% brightness.
Charging the machine from 0 to 100% took 90 minutes. Huawei says you can achieve 4 hours of battery life with just 30 minutes on the charger.
Should you buy it?
The Huawei MateBook X Pro 2021 offers amazing value for money. It is expensive and there are a few laptops with similar specs for less, but one matching the entire package will cost more. And when you consider that the real-life performance is as good as the specs promise there are no real downsides.
No other device blends together a 3:2 touchscreen with 480 nits of brightness, such a beautiful design, great speakers, keyboard, touchpad and battery life.
But again, it is quite an expensive laptop. You could get this level of performance, if not at this level of portability and craftsmanship, at a lower price.
And there's a certain Apple laptop (or two) that has an edge in performance and battery life for a lower price, but you'd need to forgo Windows and a touchscreen.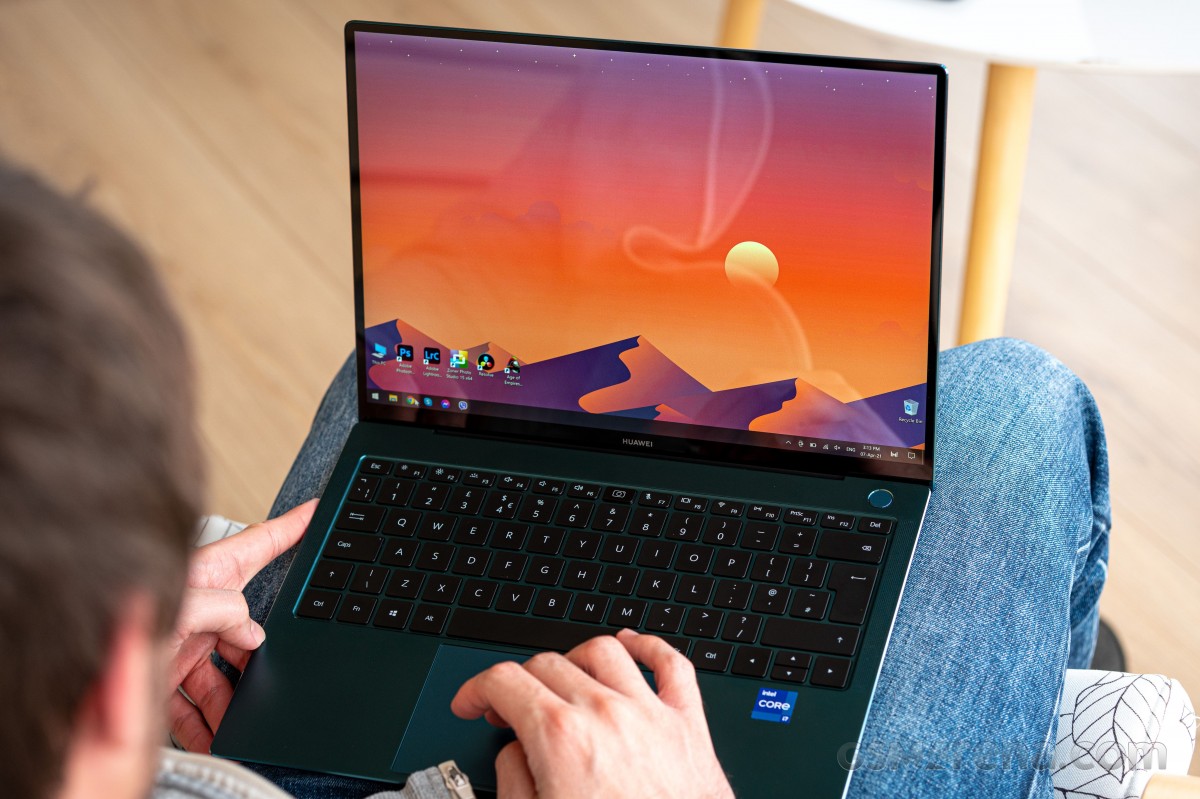 The Huawei MateBook X Pro 2021 can do it all, is lovely to use, doesn't compromise and feels special. We first saw this machine in 2018 and it was mind-blowing then and it's still impressive today. Certainly one of the easier recommendations we can make.
Pros
Big, bright, color-accurate touchscreen.
3:2 aspect ratio is perfect for browsing the web, document work, photo editing.
Great keyboard, trackpad, speakers.
Excellent build quality and craftsmanship.
Good battery life.
Fast, convenient USB-C charging.
Very good performance from Intel 11th gen platform.
Very fast SSD.
Cons
Expensive.
No USB-C (and no charging) on the right side.
Poor webcam placement and quality.
Display is very reflective.
Body easily smudges.
Related
>>> The only issues are the small up and down keys and the lack of any Home, End, Page Up and Page Down buttons, which may be a deal-breaker for some. Very much agree on that! Another drawback for me is a combining Insert with F12...
On top of that, Huawei's one of the main streams of profit is a mobile phone segment. US is aiming to cut off the R&D Huawei can spend on the development of 5G-related technologies, so naturally they will try to ban anything related to their...
Because this trade-war is bullshit. USA is not consistent at all, their only aim was to kill the competition because they couldn't compete anymore. In the laptop space Huawei doesn't have any meaningful market share so they didn't both...
Popular articles
Popular devices
Electric Vehicles