Huawei MatePad Pro 12.6 review
GSMArena Team, 9 June 2021.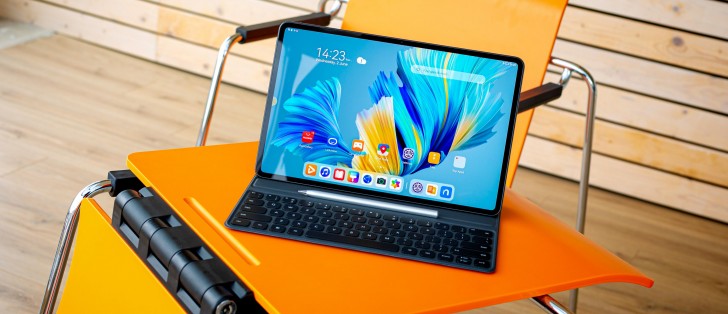 HarmonyOS 2.0 replaces Android, but Android is not gone
The Huawei MatePad Pro 12.8 is the first device we meet running on Huawei's own HarmonyOS out of the box - replacing Android OS. Its first public release, v.2.0, premieres on the new MatePad series, but we are going to see it on plenty of upcoming Huawei smartphones. A HarmonyOS update will be seeded to many compatible devices this year, too. For now, only phones in China are getting updated to Harmony.
The international HarmonyOS was unveiled in 2019 as a microkernel-based operating system for Internet of Things devices. It was based on LiteOS microkernel - the OS behind Huawei's smart wearables. The Chinese version of Harmony is called Hóngméng - its literal meaning is Vast Mist, while the metaphorical one is described as 'the primordial chaos before the world's creation'.
Fast-forward to 2021 and Huawei decided to break free from Android as we know it and create a version of its own.
We are now witnessing the release of HarmonyOS 2.0 for devices with more than 128MB RAM - read smartphones and tablets. Huawei's description of Harmony 2.0 core is rather vague, but some poking and prodding revealed that it's a forked version of Android 10 - one with deep-running EMUI layers, new features, UI advancements and services. Android is dead, long live Android?
A Huawei spokesperson said that indeed there is a Linux kernel inside HarmonyOS, among others. We suspect Huawei used Android 10 AOSP version, but because it cannot officially license it for obvious reasons, it has no right to use the word "Android" in any capacity (as per the AOSP terms). If you dig through the licenses in the About section, you can see a ton of hints about that.
Long story short - HarmonyOS 2.0 is based on Android 10, and you can install and run Android apps (APKs) that are not dependent on Google services. AppGallery is your default app store, but whatever is not in there, its Petal-powered search engine will redirect you to other APK repositories such as APKPure, Aptoide, among others. You can even install these app stores and make things even easier.
Speaking of Petal, HarmonyOS relies heavily on Huawei's own HMS services. These include now include Huawei location services with Petal Maps (powered by TomTom), Petal Search and Celia virtual assistant.
And now that we cleared that HarmonyOS is still Android-based with EMUI, we can move to explore its features. Those familiar with the latest EMUI developments should feel right at home, of course.
HarmonyOS for tablets looks familiar - it has a dock at the bottom, homescreens you can populate with shortcuts and widgets, there is an optional app drawer, too. Separate Notification and Control centers are available as well. Huawei offers plenty of new services like Cross-OS Multi-Device collaboration, Super Device hub, Snippets, pop-up previews, intuitive multi-tasking, among many other things.
The MediaPad Pro 12.6 does not offer Always-on screen or lockscreen widgets. There is no biometric security either. You can use PIN, password or pattern for best protection. There is also 2D face recognition via the selfie camera, but that's not as secure as it can be fooled in multiple ways. Unlocking by a nearby Bluetooth device is also an option.
The interface is fairly familiar and looks a lot like the latest EMUI on Huawei smartphones. You populate homescreen pages with apps, folders, and widgets.
There is an app dock at the bottom that's shared between all homescreens. Next to this dock, in a separate space displaying up to three shortcuts (depending on the tablet's orientation) for the apps you've closed last.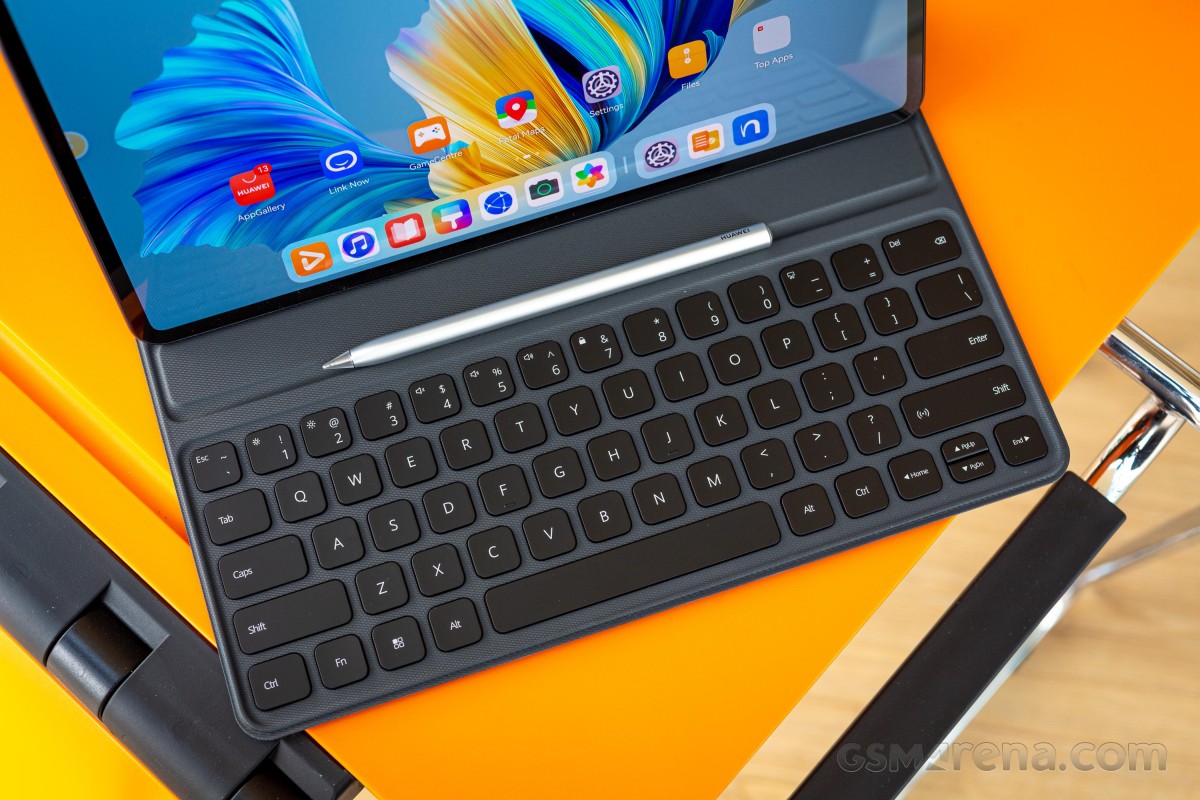 The leftmost homescreen page, if enabled, is Assistant Today - the usual infotainment place. It houses a newsfeed tailored for you, weather reports, smart suggestions for apps, health info, battery info, AppGallery suggestions, among other things. You can customize this page - there are a lot of information services available by Huawei partners, you can also add game info, scores, and whatnot. This page looks like it's filled with ads at first, we admit that, but you can really make it yours and fill it with interesting stuff.
The tablet supports gesture navigation and virtual shortcuts, whichever you prefer.
The Notification Center and Control Center are handled the Apple way - you swipe from the top for both. Imagine that there is an invisible top bar divided into three parts - swiping from the first two invokes the Notification Center, while swiping from the last third brings down the Control Center and its quick toggles.
Meanwhile, swiping down anywhere on the homescreen takes you to the system-wide Search page, just like on iOS and iPadOS.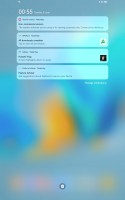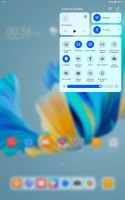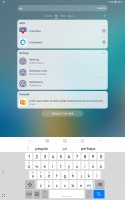 Notification Center • Control Center • Search
There is also a Theme Store, so you can completely change the look of HarmonyOS whenever you feel it.
Tap and hold on any of the system apps will pop up a menu with quick shortcuts. If you pair a mouse with the tablet, you can use it to hover to get various previews - photos, links, text, documents.
Huawei came up with something cool, expanding on these shortcuts and previews, though. If you see an underlined app icon, you can swipe on it, and a snippet with the most popular shortcuts/functions will appear. You can either use one of the shortcuts or choose to pin this widget on your homescreen. Clever!
A tap and hold on the newly pinned widget gives you Edit and More Snippets options. In More Snippets you can choose different versions of the same widgets - larger size and/or more shortcuts.
These Snippets are not available in the regular Widget menu, which is a bit weird and not very user-friendly.
Multi-tasking on the Huawei MatePad Pro 12.6 and its HarmonyOS is one of the aspects we loved. The Task Switcher is nothing out of the ordinary - it shows app cards, and there is a Close All button. Apps that support Pop-up Window have such shortcuts above their card.
The MatePad Pro 12.6 supports Multi-Window (Split Screen) multi-tasking and Pop-up Window multi-tasking. You need to swipe and hold from either left or right side to reveal the Multi-Window sidebar. Here you can see all apps that support multi-tasking. Tap in an icon to open the app in pop-up (floating) window, or drag and drop for split-screen view.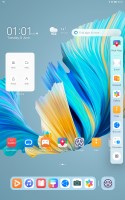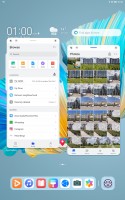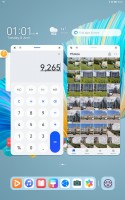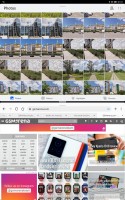 Multi-Window sidebar • Apps in floating windows • Minimized apps go on the side • Split screen
You can have two active apps, no matter which multi-tasking view you are using. If you've chosen to work with pop-up windows, the ones that are minimized when you open a new pop-up go on your left side as small floating icons. Neat.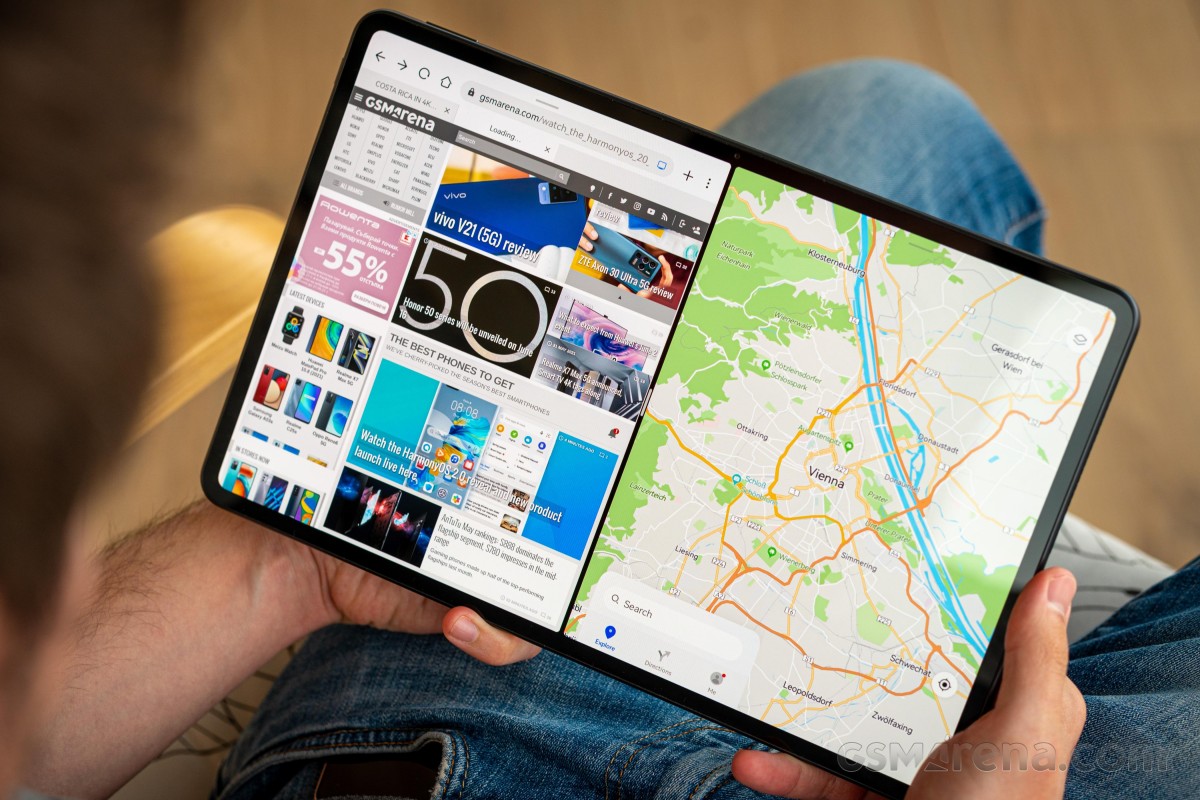 HarmonyOS offers a peculiar feature known as App Multiplier. It can run two different instances of a single app in two separate windows. Currently, only Health and Petal Search support this (and it needs to be enabled from Settings), but support for more apps will be added later on.
Huawei offers a lot of default apps to get you started. There is Huawei's Gallery, Music, Video, and Health apps. A File manager is available, as well.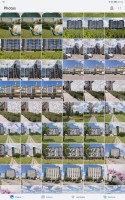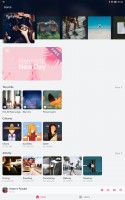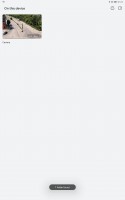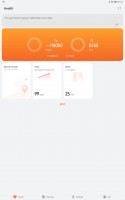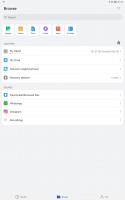 Gallery • Music • Video • Health • File manager
You also get WPS Office, Petal Maps, Petal Search and Huawei Browser.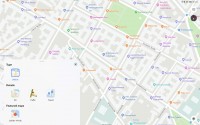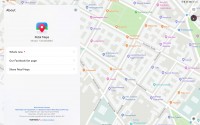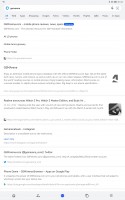 Petal Maps • Petal Maps • Petal Search
Huawei ships the MatePad Pro 12.6 with three apps made to be used with the M-Pencil - the default Notepad (now optimized for the M-Pencil, too), Nebu for Huawei, and My Script Calculator 2. These apps fully utilize the stylus, and 9ms low-latency is available here, and you can feel it.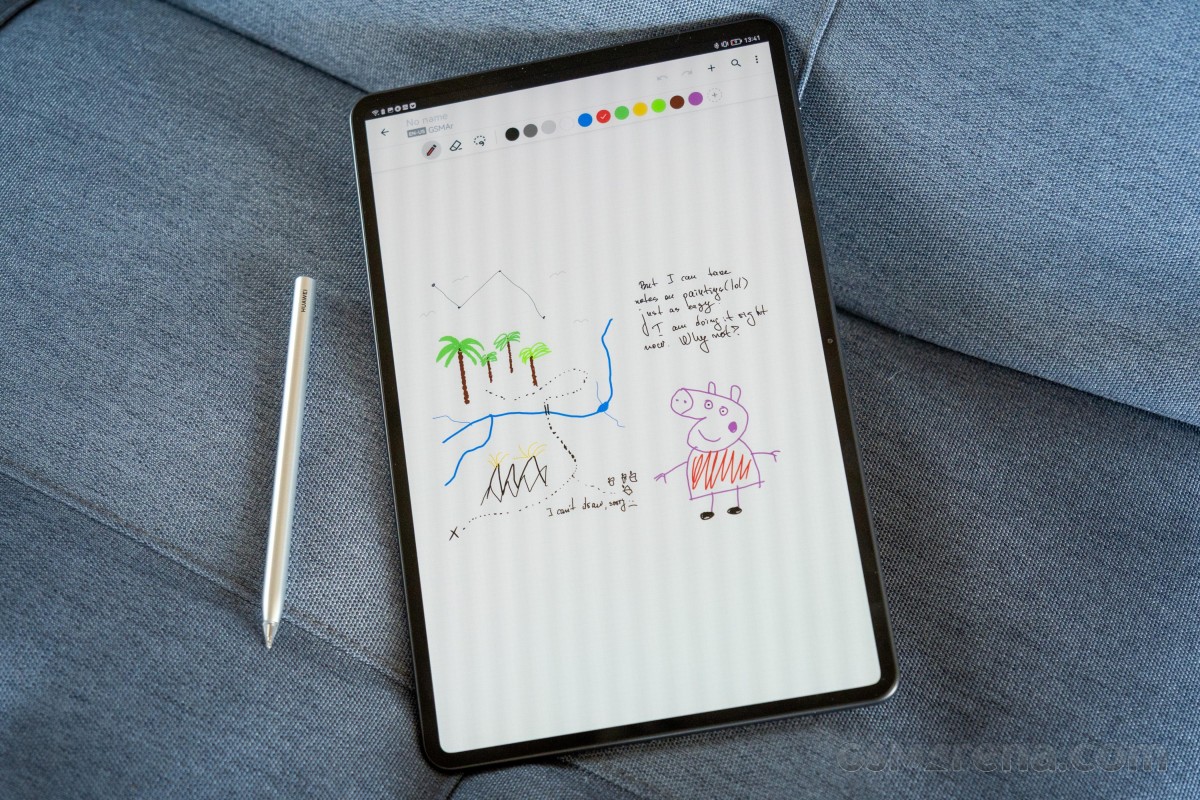 The Notepad is pretty self-explanatory; you take notes. In Nebu, you can take better notes on simulated paper, or draw beautiful pictures, or, well, both?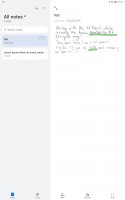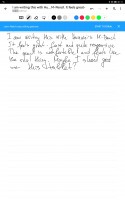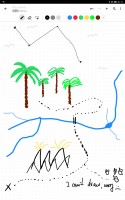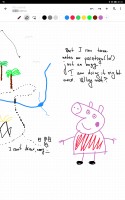 Notepad • Notepad • Nebu • Nebu • Nebu
The My Script Calculator 2 is pretty cool - you write different math tasks with the Pencil, and the app returns the answer.
Huawei's AppGallery handles the default app installations, but we hate that it shows a 3s ad almost every time you open it. We don't find thsi solution user-friendly - but we guess the focus with this feature has been to help developers promote their apps.
Anyway, you can install more app stores like APKPure and Aptoide, or even Amazon's Appstore. This way, you can download apps like Facebook and Google Chrome (no sync though), and plenty of other games and office apps. You can install pretty much any APK file, but those relying on Google Services won't run.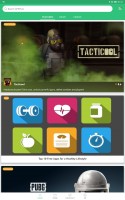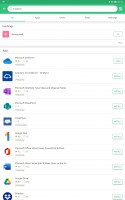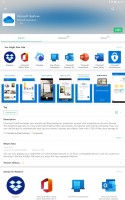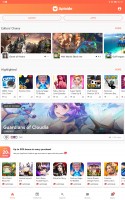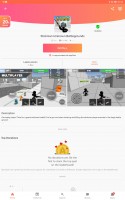 APKPure • APKPure • APKPure • Aptoide • Aptoide
The MatePad Pro 12.6 supports Multi-Screen Collaboration. It's a mode you activate from the Control Center. Here you have three choices - Mirror Mode, Extend Mode, and Collaborate Mode.
Mirror Mode mirrors your Huawei laptop screen on your tablet, and you can use the M-Pencil and the touchscreen for drawing, writing and sketches. Basically, you upgrade your laptop screen with touch and pen support.

Extend Mode makes your tablet screen an extension to your Windows desktop on your Huawei laptop. Like having a second monitor.

Finally, the most interesting one is the Collaborate Mode. It is a cross-platform collaboration - you can drag and drop content (files, texts, links) between both devices in both directions with your mouse.

Or you can connect a Huawei phone and have its screen appear on your tablet display. Drag and drop file exchange works flawlessly; you can also use the tablet to make calls or write texts, no need to unlock and use your smartphone. It's a handy feature, but you'd need a Huawei smartphone running EMUI 10 or later for that feature to work.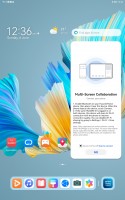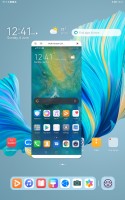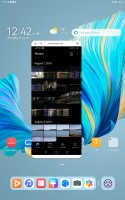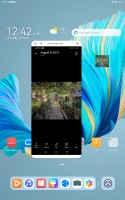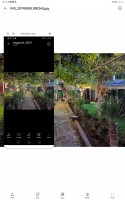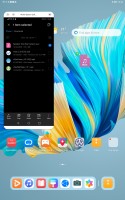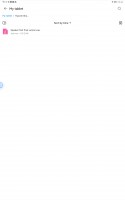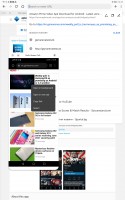 Multi-Screen Collaboration with Mate 20 Pro
HarmonyOS has one more interesting feature known as Super Device - it aims to strengthen Huawei's new ecosystem further. Super Device turns your Huawei MatePad into the ultimate controller for your other Huawei smart devices - TVs, Smart Speakers, FreeBuds, Watch. Super Device offers a unified control panel to manage all connections and send audio and/or pictures to any connected devices.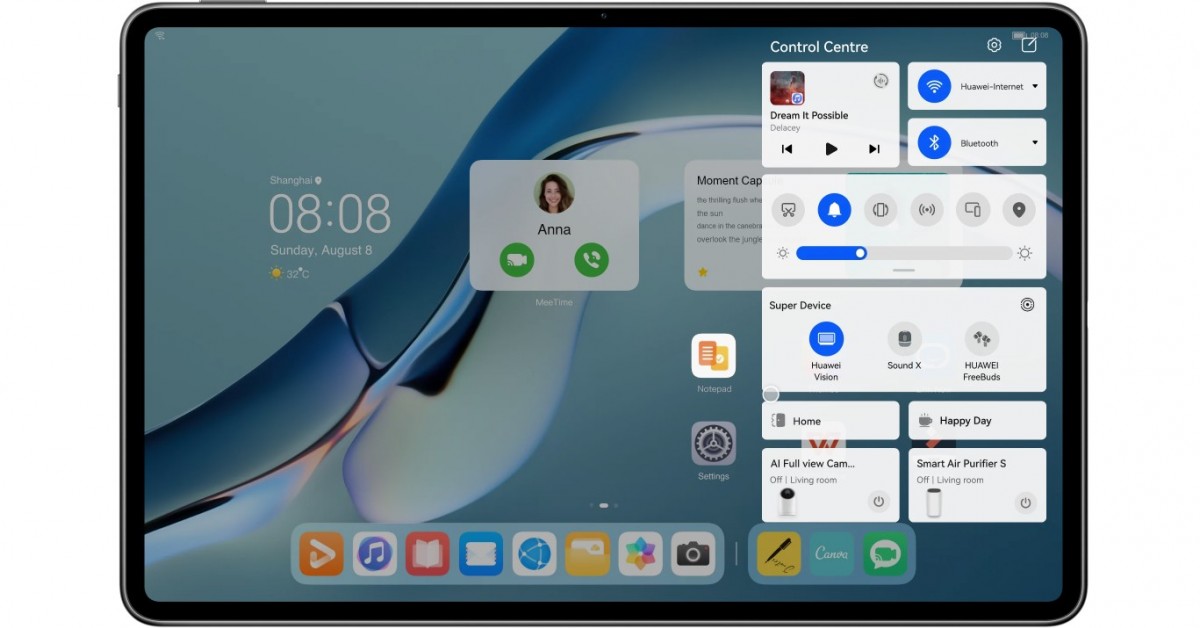 Say you are wearing your Freebuds, currently connected to your P40 Pro smartphone. With the Super Device's control panel, you can immediately shift your Huawei TV audio to your Freebuds - no pairing, no additional tweaking - something that's usually a Bluetooth/Wi-Fi nightmare is done by tapping on a single button. HarmonyOS handles everything.
Some final bits we want to share with you - first, HarmonyOS 2.0 supports Dark Mode. And second, the tablet works flawlessly in landscape mode - we shot most of the screenshots in portrait orientation to save some space on this page.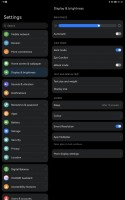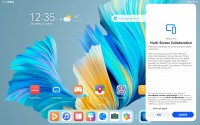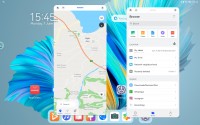 Dark Mode • Landscape orientation
Performance
Huawei MatePad Pro 12.6 runs on the Kirin 9000E 5G chipset, which has 2 GPU cores less than the Kirin 9000 5G chip we've met on the Mate 40 Pro. We don't know why Huawei chose to use this E version instead of the more powerful one, but this won't make much of a difference to end users anyway.
The Kirin 9000E 5G has an octa-core processor with a familiar 1+3+4 set of Cortex CPUs. There is one A77 core clocked at 3.13GHz, three more A77s @2.54GHz, and four A55s @2.04GHz. There are more powerful Cortex CPUs right now as the A78 and X1, but Huawei is yet to introduce a successor to the Kirin 9000 this Fall.
The GPU is a 22-core Mali-G78, and these should be plenty enough for gaming. The non-E version of the chip has 24 cores.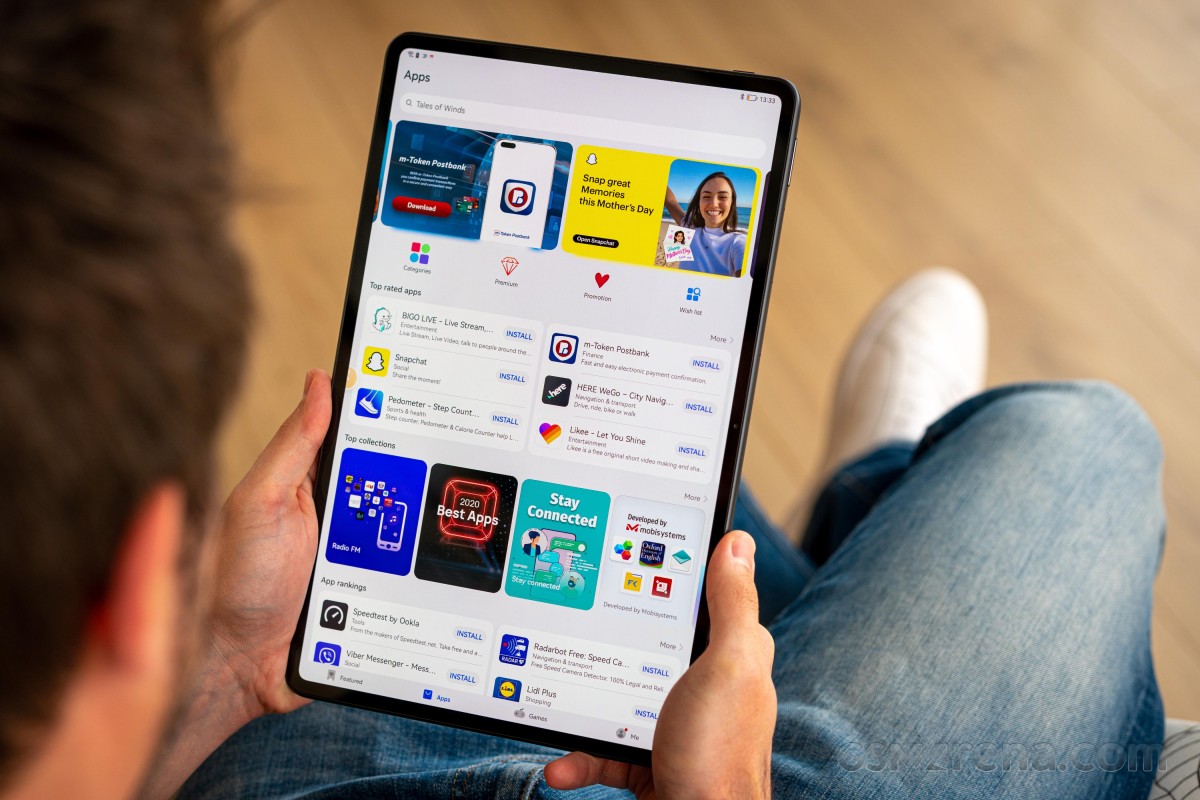 You can choose between 5G and Wi-Fi only version of the MatePad Pro 12.6. Naturally, the 5G one will include a 5G modem and a nano-SIM slot next to the Nano Memory one.
The tablet will come in two memory configurations 128GB and 256GB UFS3.1 storage. Both models offer 8GB of RAM.
The MatePad Pro has a Performance mode in the battery settings, which unlocks the chipset's full potential - otherwise, it's a more modest performer.
Unfortunately, our Huawei MatePad Pro 12.6 review unit came with a ROM version that has all benchmark apps banned, and we couldn't run even a single performance test. Still, we've seen pretty much the same chip on the Huawei Mate 40 Pro, working behind a high-resolution OLED screen, and we know what to expect from this particular piece of hardware - flagship-grade performance with pretty good sustained performance.
Anonymous
07 Aug 2022
iFX
can I install windows on this tablet ? to operate like matebook E?
Does it have daul sim card
Normalguy
02 Aug 2021
fFA
Harmonyos will get better with time. You can't compare adult [ios,ipados/android] with a baby [harmonyos]. Whether that baby will survive or not it depend on demand.