Huawei MatePad Pro 12.6 review
GSMArena Team, 9 June 2021.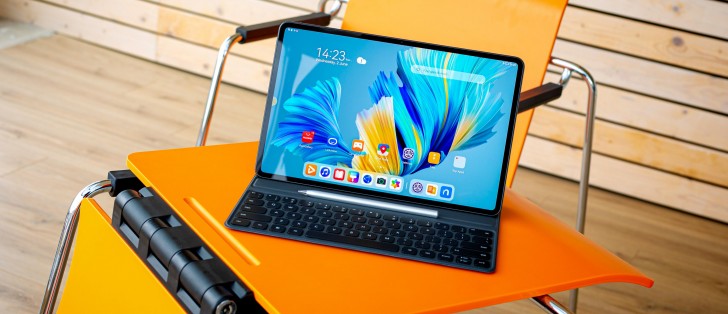 Alternatives
The Huawei MediaPad Pro 12.6 is shaping like a great launch platform for the global version of HarmonyOS. It has the hardware needed to demonstrate its full potential, but it's also a great multi-purpose tablet.
We can't miss mentioning the Samsung Galaxy Tab S7+ as the closest competitor and alternative. It is also the smarter choice - the Tab S7+ is €100 cheaper (€700 vs. €800), the S-Pen is included, and it runs on Android with One UI with DeX capabilities.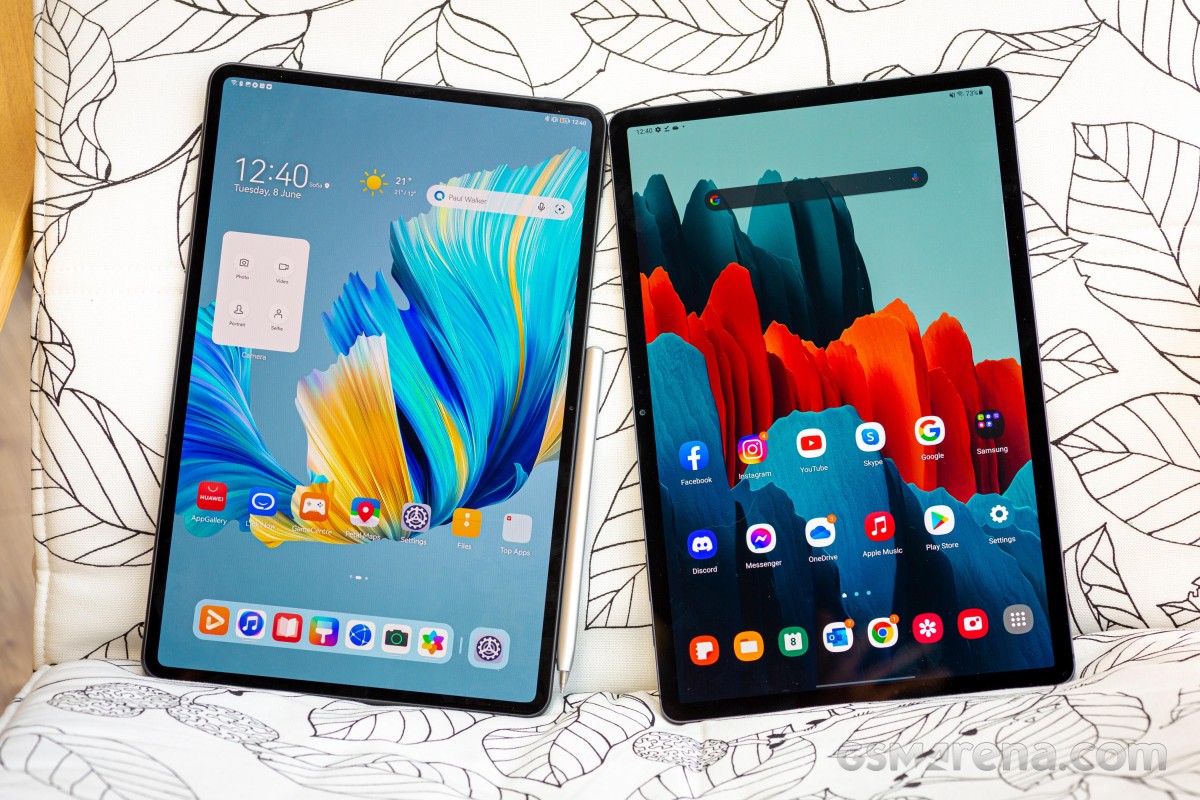 MatePad Pro 12.6 next to the Galaxy Tab S7+
The Galaxy Tab S7+ has a 120Hz AMOLED screen with HDR10+, and it can stream in maximum quality from any popular video service. The S-Pen is more powerful, too, and there are plenty of apps utilizing its low-latency and high-precision mode. And the four AKG speakers are equally impressive.
But what's more important is the future-proofed software. The Galaxy runs on Android with OneUI, and Samsung promises at least three years of major updates. Then there is the DeX mode, which converts the tablet into a PC with a desktop and windows-based multi-tasking. Huawei cannot offer this just yet, though we've liked its Collaboration features.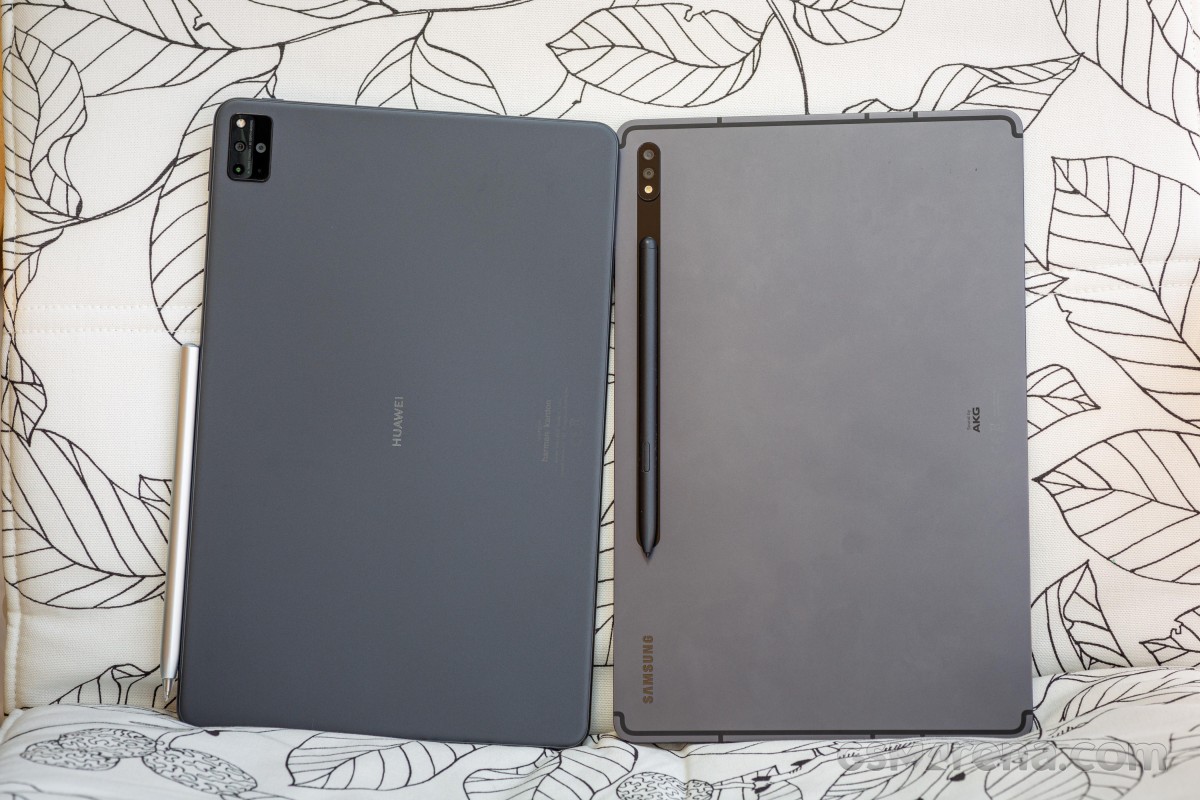 MatePad Pro 12.6 next to the Galaxy Tab S7+
The Galaxy Tab S7+ is not perfect, of course. The S-Pen magnet dock is absurdly uncomfortable, the battery life is uninspiring, and if you want faster charging, then you'll need to ditch the 15W bundled charger and buy yourself a 45W separately. But even with these flaws, it's still the better tablet with more functions, has a fingerprint scanner, and it's the smarter choice due to its more clear software upgrade path.
Apple is the tablet king, so you should consider its iPad Pro models, too. The large 12.9" iPad Pro is more powerful than either slate here, it has a 4:3 120Hz LCD screen and supports Apple Pen, though this one is sold separately like the Huawei's M-Pencil.
The iPad OS has seen major improvements the last couple of years, and it's already offering a macOS-like experience. The file management is not intuitive, and it may trouble hardcore Android and Windows users, though.
If you are going to use the tablet more for multimedia and infotainment purposes and less for work, we'd suggest the iPad Pro. If work will be the top use for your tablet and you are not an Apple user (iPhone, Mac), then the MatePad or the Galaxy Tab would be better for you.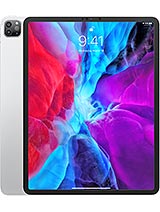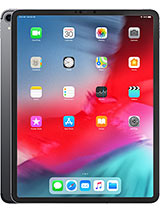 Apple iPad Pro 12.9 (2020) • Apple iPad Pro 12.9 (2018)
The verdict
The Huawei MatePad Pro 12.6 is one easily likable tablet for its attractive design, great OLED screen, fast performance, powerful speakers, incredible battery life and capable HarmonyOS. Huawei is definitely on the right track with the Android-based operating system and has spruced it up with enough features to make it tablet-worthy. M-Pencil works great, too, and if you like drawing, you'll like it how it's done on the MatePad Pro.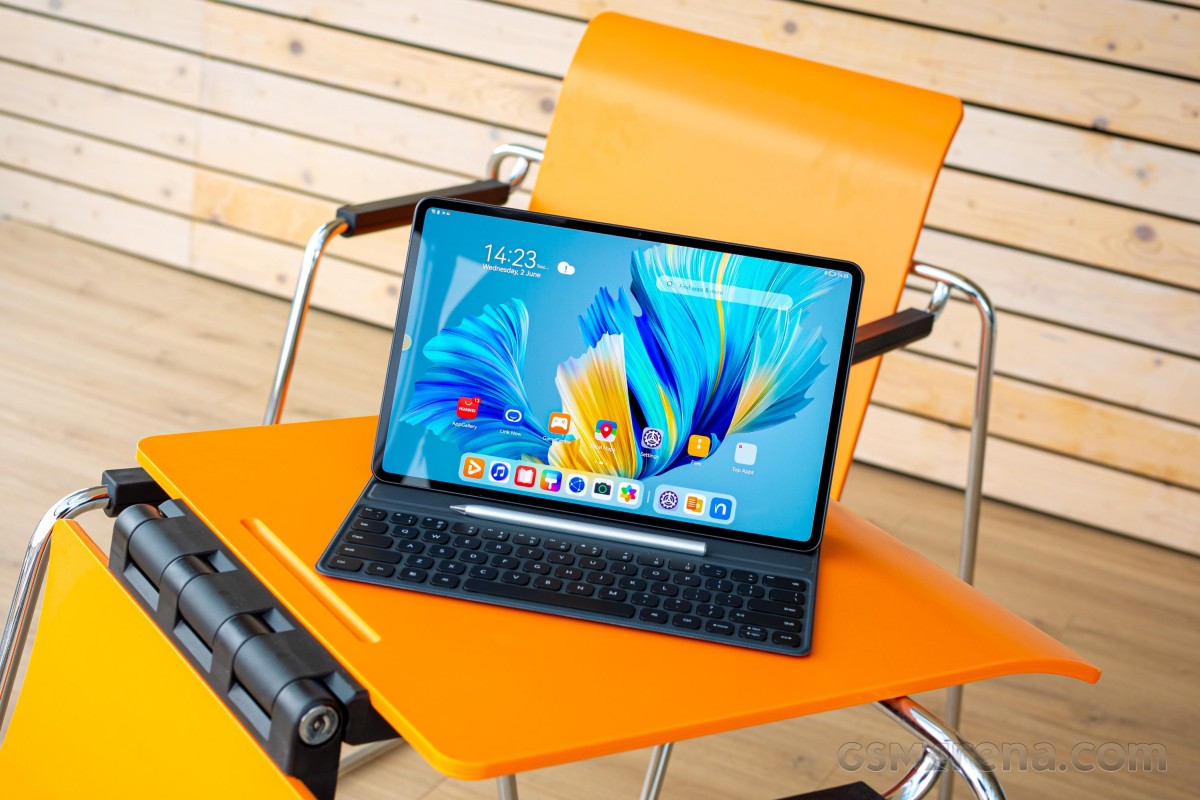 We've gathered mostly positive impressions from our week spent with the MatePad Pro 12.6. Sure, it can't play Netflix in HD, and the AppGallery has the nagging habit of showing ads, but we had no problems using the full tablet power and installing and updating apps from the third-party app repositories.
The issue with Huawei's future still stands, though, and it's not for the lack of trying. Huawei has been fighting the US ban in every way possible, but things are getting worse instead of better. And this uncertainty, no matter how good HarmonyOS turns out, will be a massive 'no buy' reason for many.
Yet, if you put down the second-guessing for a while, you'll enjoy one great tablet and user experience, almost as good as the best in class. And we like that Huawei is pushing heavily its own ecosystem - TVs, smart speakers, smartphones and headphones - connecting all these together is probably what will save the day for Huawei. It's happened before, and we can't see why it can't happen again.
Pros
Large OLED screen, high resolution, HDR10.
Beautiful design with matte finish, olive color is great.
Excellent battery life, fast to charge.
Outstanding speaker setup.
Dependable cameras on both sides.
HarmonyOS is better than expected, Android based, and runs most apps.
Huawei Collaboration feature is very promising.
M-Pencil works great, clicks lovely, and is S-Pen-competitive.
Optional 5G modem, Nano Memory slot, Wi-Fi 6+
Cons
Screen lacks a high-refresh rate.
No fingerprint scanner.
M-Pencil sold separately.
No Desktop mode like on past EMUI devices.
No 3.5mm jack (adapter provided).
HarmonyOS has uncertain future.
AppGallery has full-screen ads!
I do want to correct this comment of mine. I only found out that this isn't the only HarmonyOS-powered Huawei tablet that exists to date*. This is the only HarmonyOS-powered Huawei tablet with a flagship Kirin SoC. Newer MatePad models now use S...
I think I'm safe to say that this tablet remains the only HarmonyOS-powered Huawei device to be officially available for the Global market as of December 2022. Even the latest Mate 50 series runs on EMUI for the Global market.
Anonymous
07 Aug 2022
iFX
can I install windows on this tablet ? to operate like matebook E?