Huawei MateStation X review
Ivan, 22 May 2022
Introduction
PCs and monitors have enjoyed a resurgence in the past couple of years, thanks to people having to work from home. So it made sense that all-in-ones would also enjoy more attention. More and more manufacturers are giving the form factor attention - computers that package a display, keyboard, and mouse and simplify your life while doing it.
A few companies have enjoyed great success in the all-in-one market. Popular models include the Pavilion 24 from HP, and the 24-inch M1-powered iMac from Apple, while Lenovo and Microsoft have upmarket options in the Surface Studio 2, and the IdeaCentre Yoga, respectively. There's no lack of choice, especially in the midrange segment of the all-in-one market.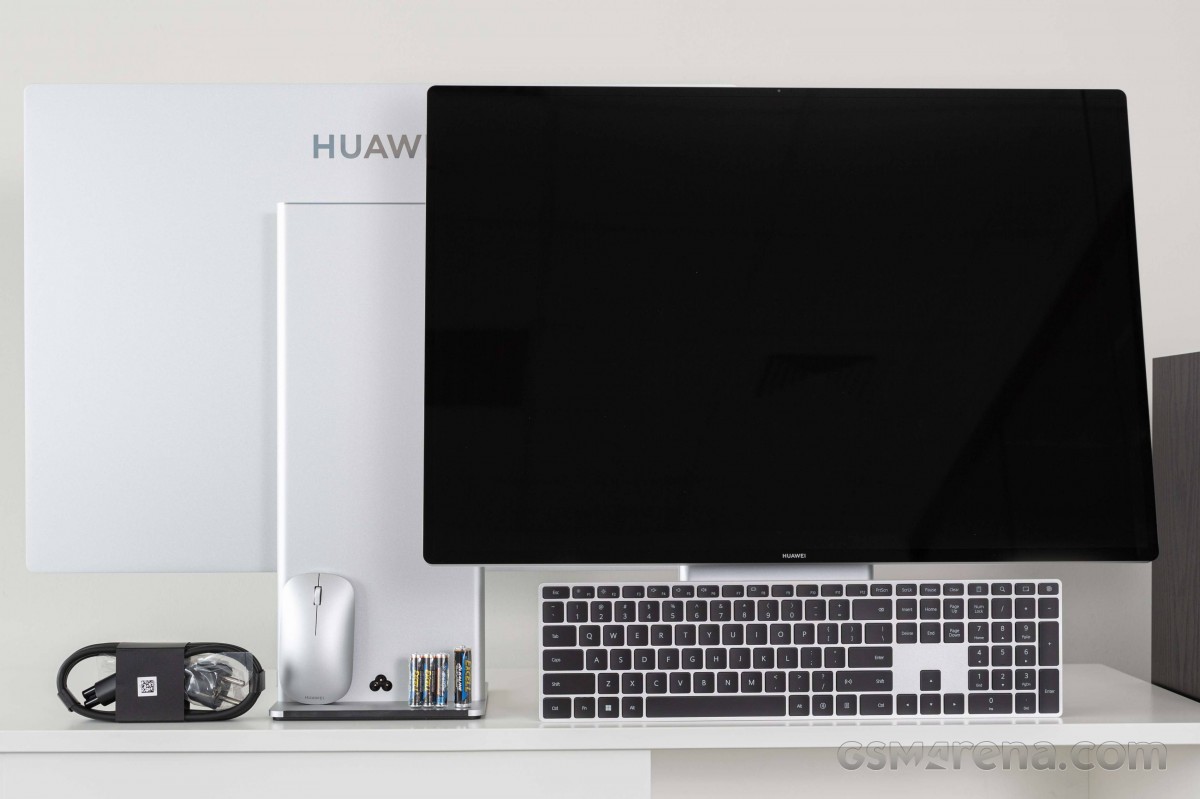 Huawei's MateStation X is the company's first attempt and it lands squarely in the expensive part of the market. It starts at £1,800 with a Ryzen 5 5600H processor, though the unit we're testing is the top of the range Ryzen 7 5800H.
Processors-aside, the MateStation X justifies its price tag with a premium viewing experience. It has a 28.2-inch IPS display with Huawei's often favored 3:2 aspect, a 4K+ (3840x2560px) resolution, 500 nits, HDR400 certification, and touch support.
Even better, you get a premium thin metal design, 512GB of storage, 16GB of RAM, and a wireless set mouse and keyboard, the latter with a dedicated fingerprint button, and an NFC-enabled Shift key.
Design and hardware
Design is a key aspect of any all-in-one. It's meant to be the centerpiece of your desk - the object you'll be looking at for hours at a time each day. And we think Huawei has nailed the design of the MateStation X. It's both traditional and minimalist.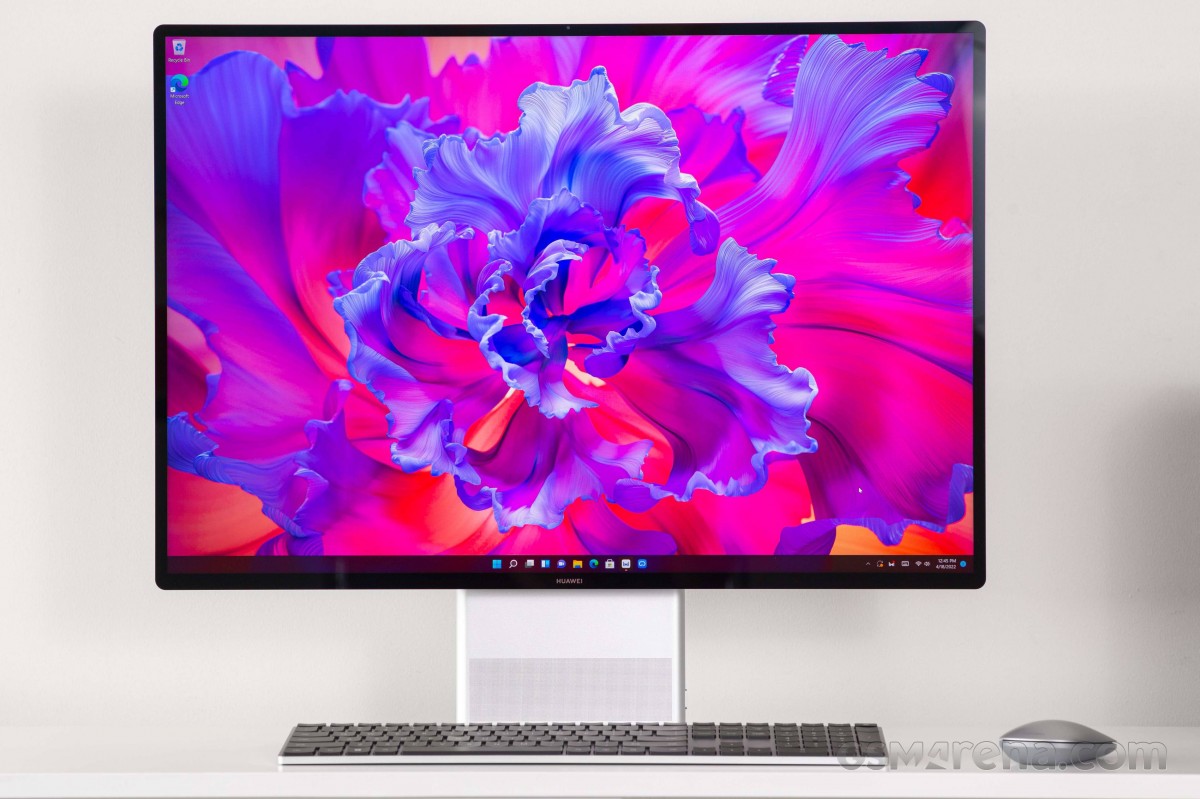 We have the Mystic Silver model, though there is a Spay Gray version as well. Not exactly the youthful aesthetic Samsung has gone for with its line of smart monitors, but one that will not offend everyone.
The base is a solid piece of metal, while the back of the display is made of CNC-machined, sandblasted aluminum. The center column, which houses the computer hardware is a mix of aluminum and plastic with grilles for airflow on each side. The three-speaker array is placed, front-facing, just above the base under an elegant machine-etched grille. There are two 2W full-frequency speakers and one 10W subwoofer. The MateStation X features 4 microphones.
The sound quality is very good. Compared to most monitors or laptops, the MateStation X is bassier. Sound is fuller and rumbling, in fact at its loudest, music from the MateStation X would cause the desk to slightly vibrate. This is more than satisfactory for an all-in-one device.
All the ports are located on the side of the column - there are two USB-A (USB 3.2 Gen 1,  5V/2A max. charging) and a power button on the right side, and two USB-C (USB 3.2 Gen 1,  5V/2A max. charging, DP1.2 (HBR2) IN/OUT), and 3.5mm headphone jack on the left.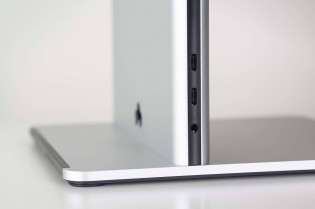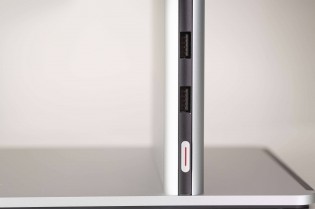 The ports on the Huawei MateStation X
Huawei has put its name on the back of the MateStation X and on the front just under the screen. Speaking of the front, there are 8mm bezels all-round the lovely panel - pretty minimal, though not quite on Dell's level. Above the display, there's a 1MP 720p camera. It's fine for the occasional video call, but at this resolution, you should know better than to expect anything but mediocrity.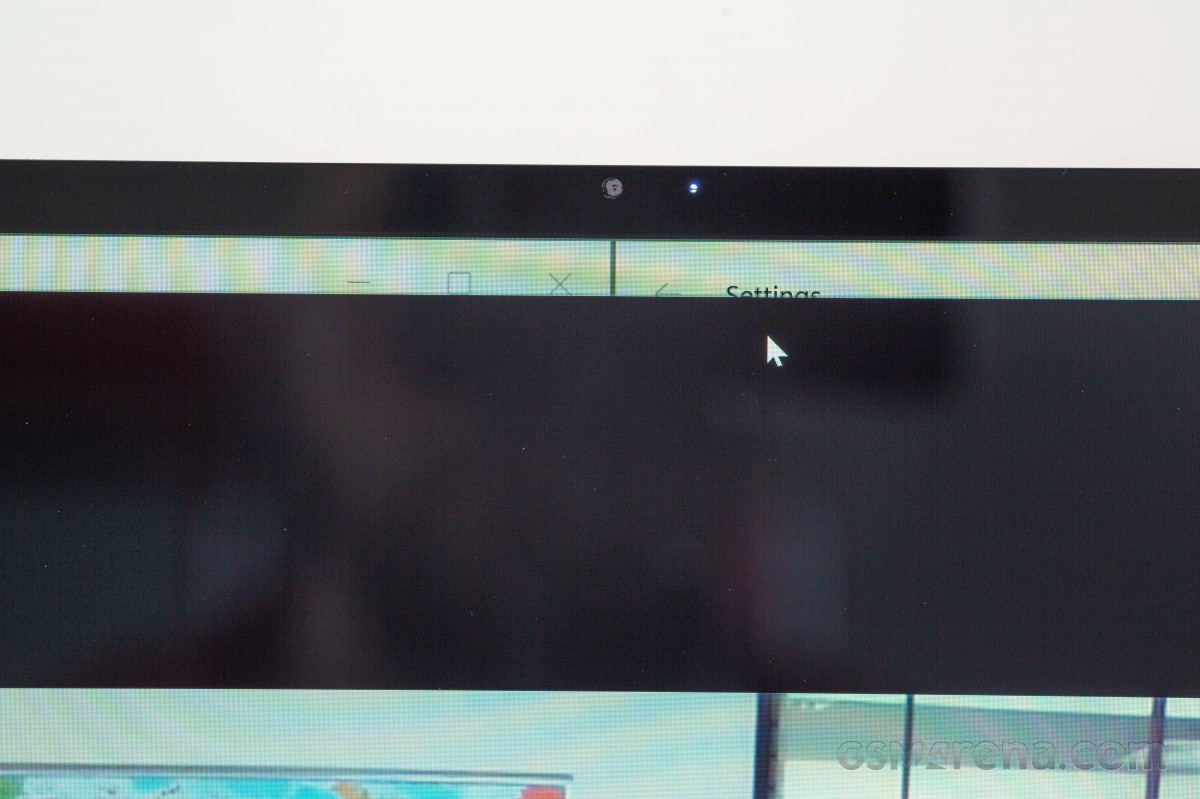 You get a wireless keyboard and mouse set in the package. Both have magnetized compartments for the batteries (which come included), which are very convenient to use. The mouse is okay if nothing special. Its click isn't dampened but isn't very loud. The mouse lacks any sort of contour to aid comfort in daily use.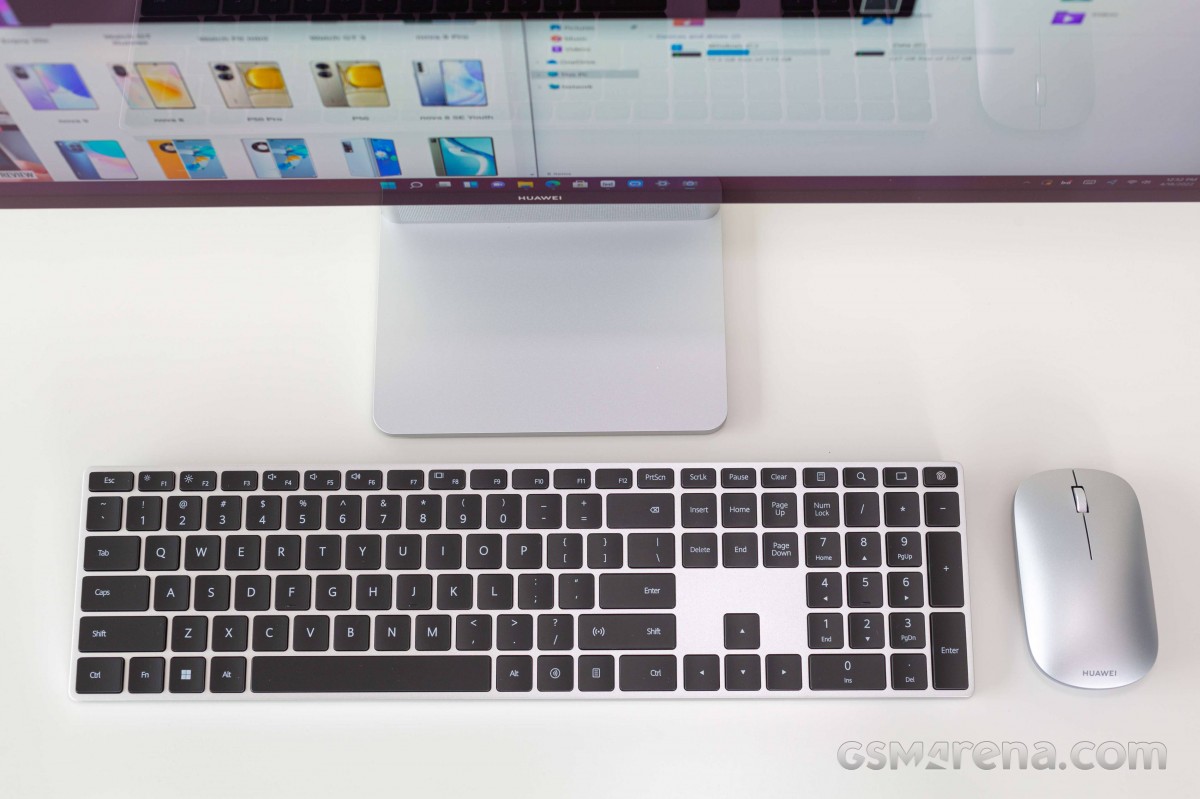 The keyboard, on the other hand, is superb. It has 104 keys, each with a pronounced concave shape (save for the space button, cuz duh), which makes it a joy to type on. It's chiclet-style with the key shape of a mechanical keyboard. The single complaint we have is that the arrow keys ideally sized themselves, have little to no space on either side, which resulted in unwanted clicks on the Ctrl and 0 Numpad keys.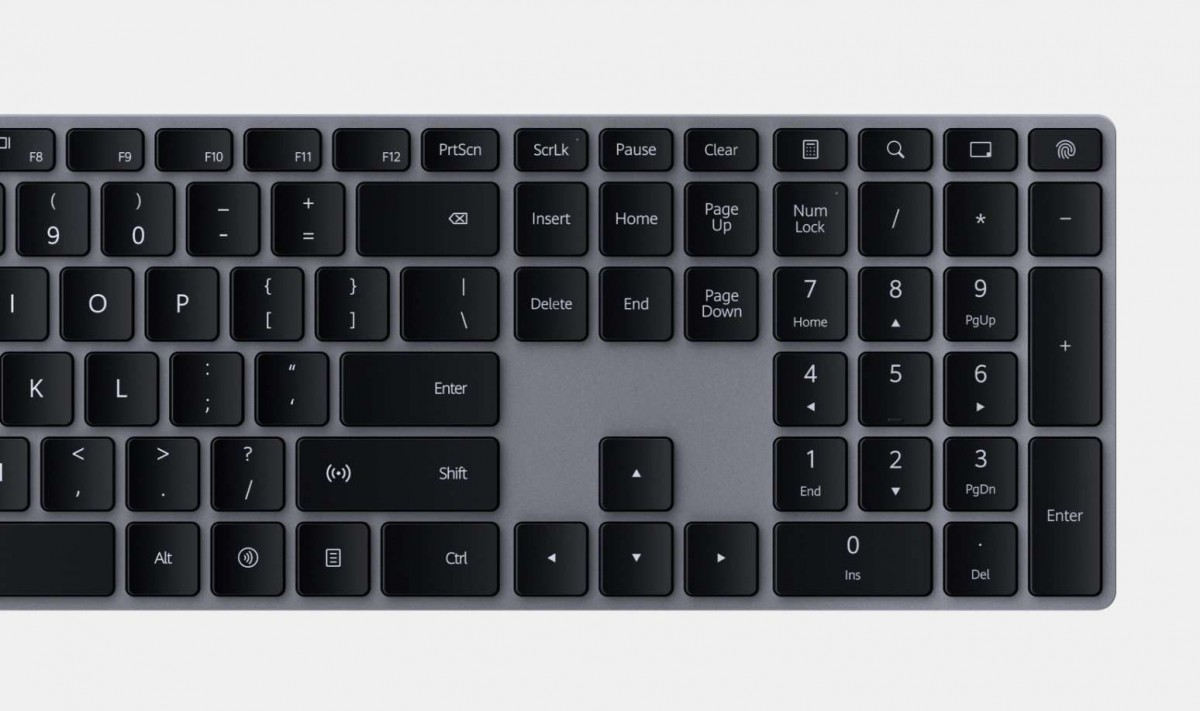 The fingerprint support is excellent. Setting the print up was a breeze and we had no issues with recognition or responsiveness. It's also Windows Hello-compliant.
You only get a single power cable - no additional USB-C or HDMI cables. That's a bit of a shame because, theoretically, you can use the MateStation X as a standalone monitor. On the other hand, that's not a common use case with all-in-ones?
Huawei offers the display of the MateStation X as a standalone monitor in the MateView 28.2. The monitor has a different array of ports, including a 65W-capable USB-C that can be used to connect to a USB-C device and provide it with charging. We would've loved such a port on the MateStation X.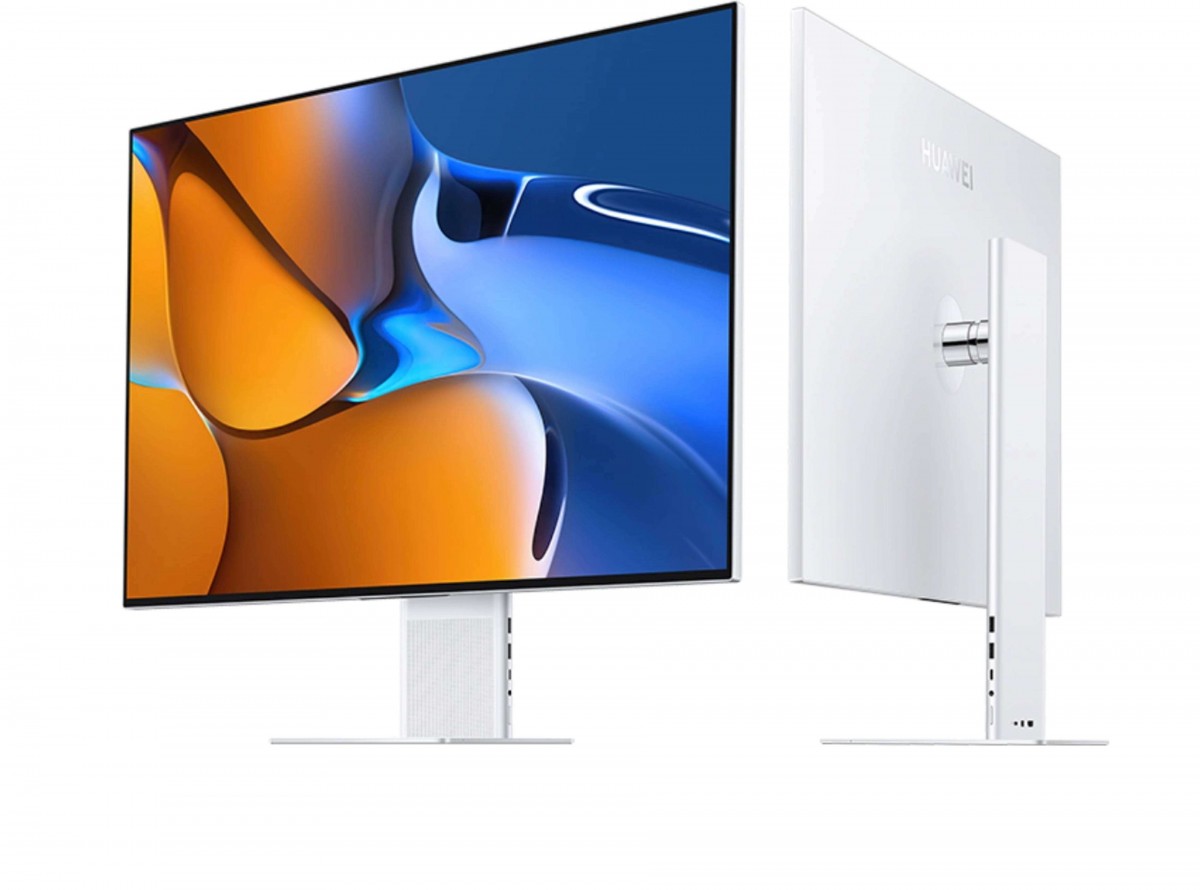 Huawei MateView monitor
We also would've liked to see a few other ports - there's no SD card slot, nor an Ethernet port, which forced us to use a USB dongle. But that opens up another problem - neither of the USB-C ports is Thunderbolt. Just USB 3.2 Gen 1, they max out at just 5Gbps, which is a long way from USB 3.2 Gen 2's 10Gbps, USB Gen 2x2's 20Gbps, or Thunderbolt's 40Gbps. Lacking Thunderbolt limits the MateStation X's access speed to external SSD drives, external monitors, faster SD cards, etc.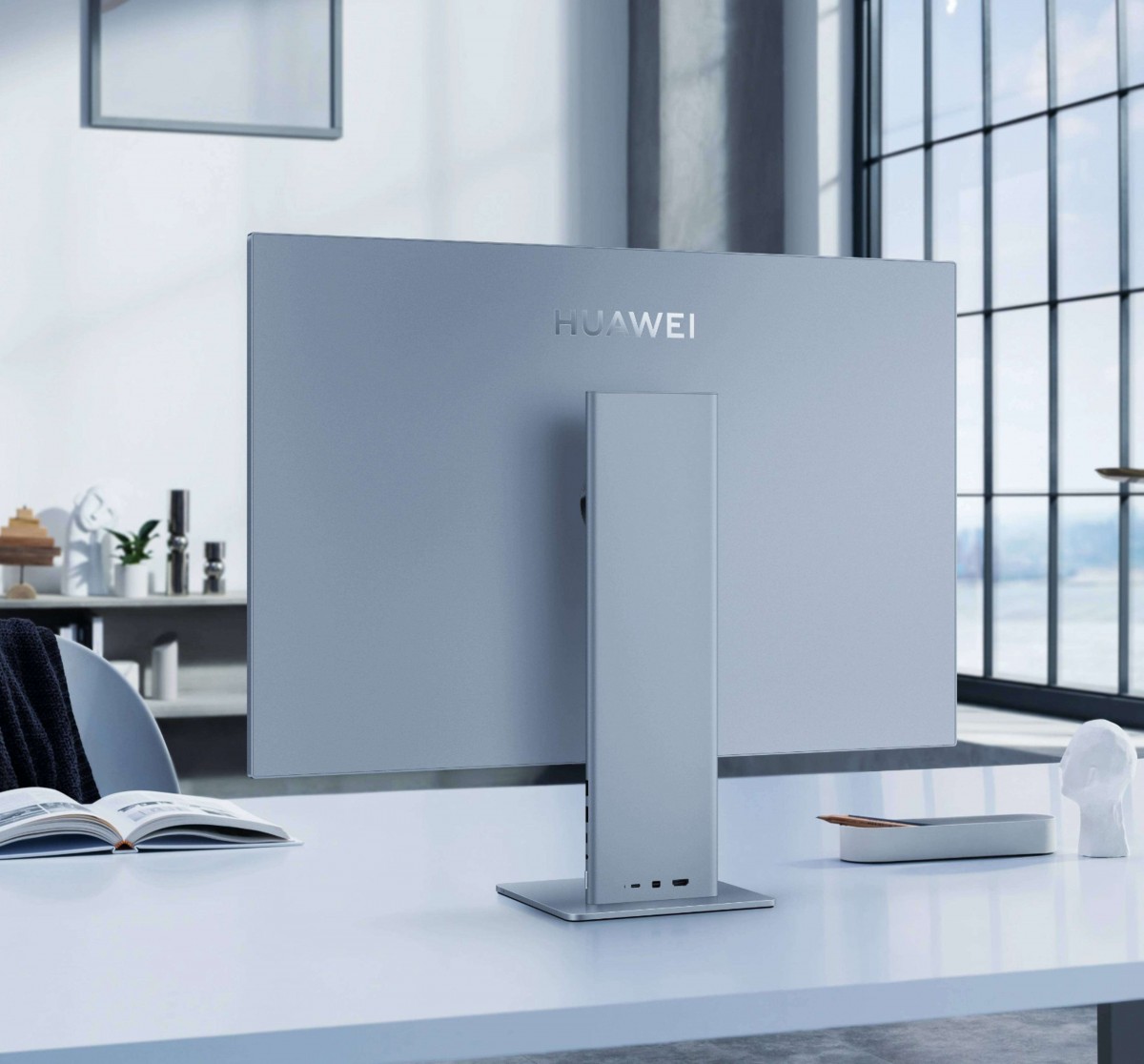 Huawei MateView monitor
Another key difference between the monitor and the all-in-one is the display stand. The monitor has a height adjustment of 110mm and can tilt from -5° to 18°, the all-in-one can only tilt by 20°. The lack of height adjustment is a huge oversight as you need to adjust your chair height in order to sit level with the display - a must if you want to avoid a bad posture.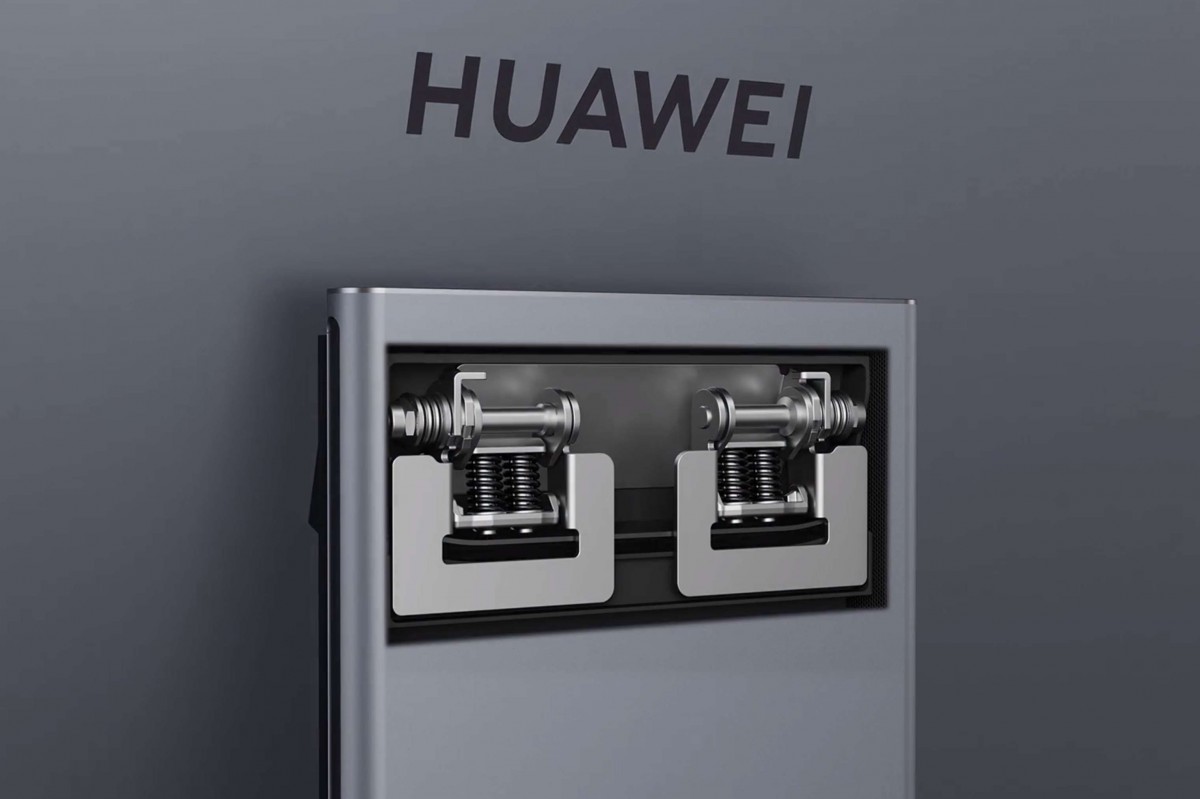 The other difference between the all-in-one and the monitor is touch functionality - the MateStation X has it, but the MateView monitor doesn't. Usually, we view having a touchscreen as a huge plus, but in this case, we're not so sure. It's not really convenient to reach out and touch the giant monitor when it's at the proper arms' length distance from us.
Display
The 28.2-inch IPS LCD has a resolution of 3840x2560px and a resulting pixel density of 164ppi. A key selling point is the display's 3:2 aspect ratio, which is a rarity in the world of monitors. It has more vertical space than a standard 16:9 display. When overlaid to a 16:9 27-inch monitor, the Huawei has more or less the same horizontal area, but way more vertical area.
The panel has a standard 60Hz refresh rate, making it suitable for office or creator work, but not ideal for gaming (its resolution would also put a strain on the hardware). It covers 100% of the sRGB color gamut and 98% of the P3 space. The display can reach a maximum of 500 nits and has HDR400 certification. Contrast is rated at 1200:1. The panel is glossy and quite reflective, despite the 5-layer AR coating Huawei has applied.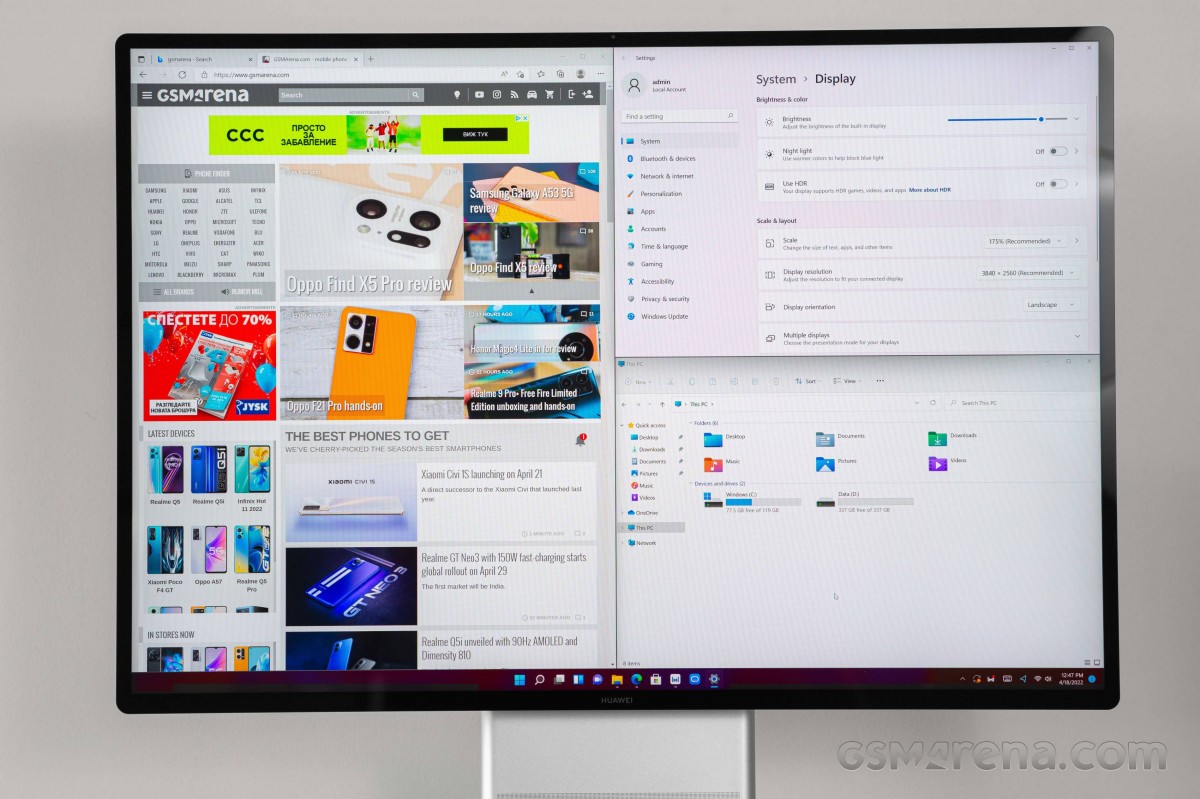 Huawei has preloaded a Display Manager app that's easy to use. It allows you to toggle between P3 and sRGB modes, as well as play with the screen temperature - there are three options, Default, Warm and Cool.
When P3 is enabled the screen becomes noticeably more vibrant and contrast is boosted. In sRGB mode, colors get toned down and the contrast is reduced. Huawei claims a Delta E of below 1. In our testing, we found the average Delta E in sRGB to be a very accurate 0.7, while in P3 it was 1.7 - everything under 2 is accepted as superb.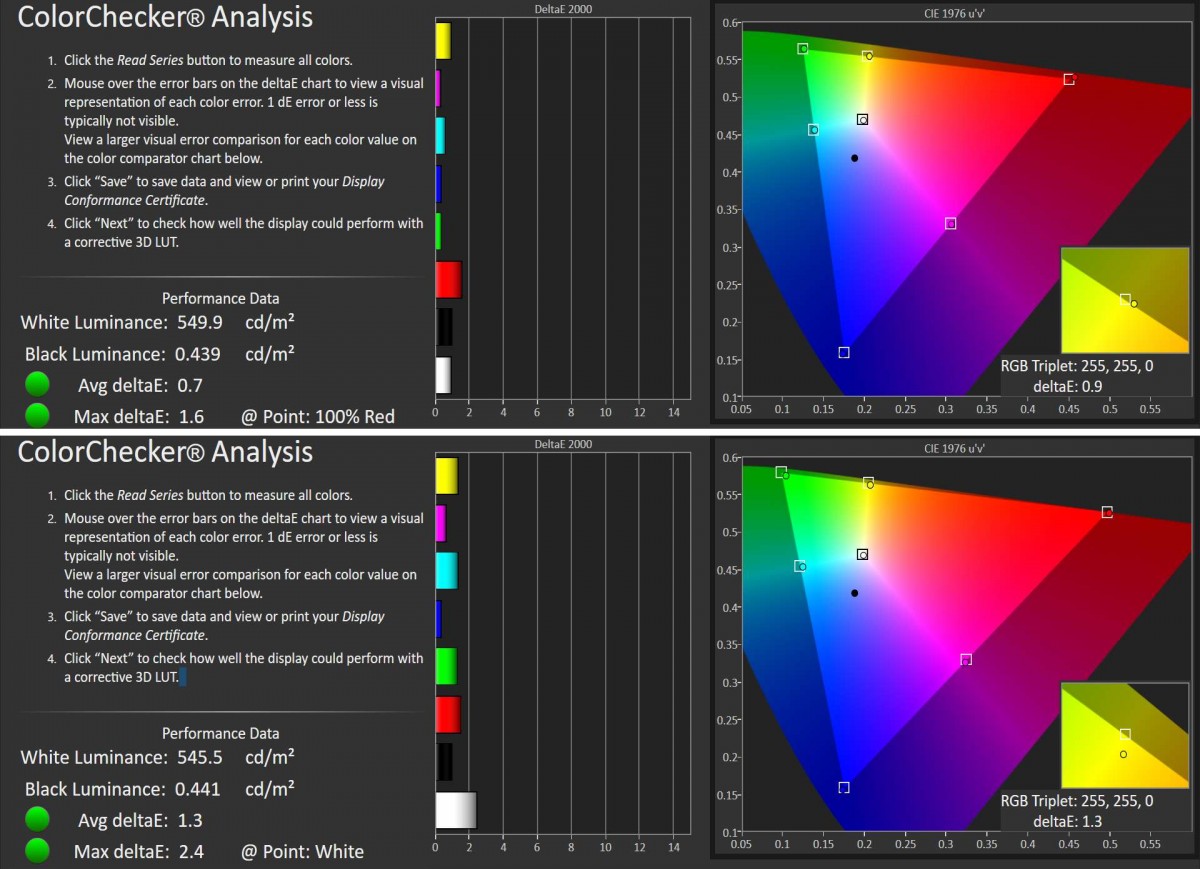 Brightness is excellent. We measured a high of 551 nits at the center, well above the advertised 500 nits. However, uniformity isn't great. Towards the edges, the brightness slipped by around 15%. That's not something you'll likely notice but pros will frown at it.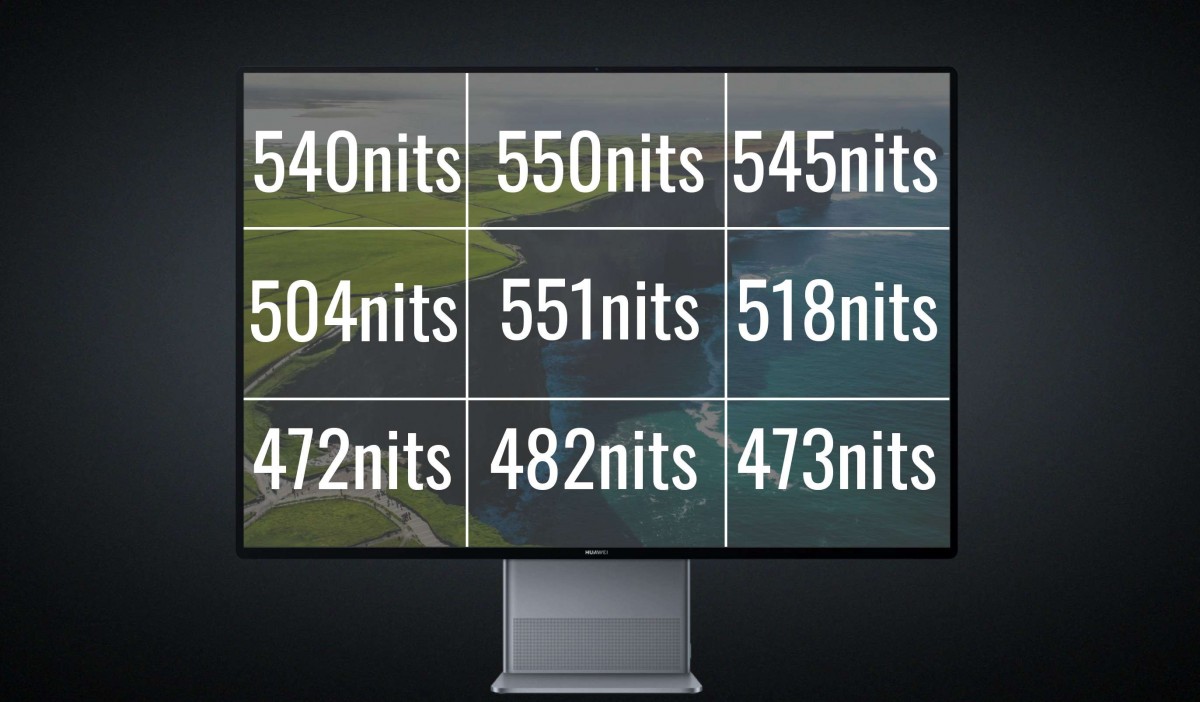 As for HDR handling, it's not perfect. First, you'd need to enable HDR from the Windows settings. Then when you open up an HDR video that Windows supports you'll be greeted by a bad-looking image. Blown-out highlights and extreme contrast. This happens when you're over the 400-nit limit of the display's HDR support. Bringing the brightness manually to 400 nits or below produced the wanted result, but the area outside the video is dimmer.
So we ended up turning off HDR in the settings and just watching the same videos in SDR, which in the bright office we used the MateStation X in made little to no visual difference. However, if you're going to use the Huawei MateStation X in a dimmer room, you'll be able to enjoy HDR to a much higher extent.
Performance
We have the topmost MateStation X for testing. That means AMD Ryzen 7 5800H processor, which is a 7nm chip with 8 physical cores, 16 threads, a base clock of 3.2GHz, a boost up to 4.4GHz, and a default TDP of 45W. There's no discrete GPU and graphics are handled by the integrated AMD Radeon Graphics with an 8-core 2.0GHz unit.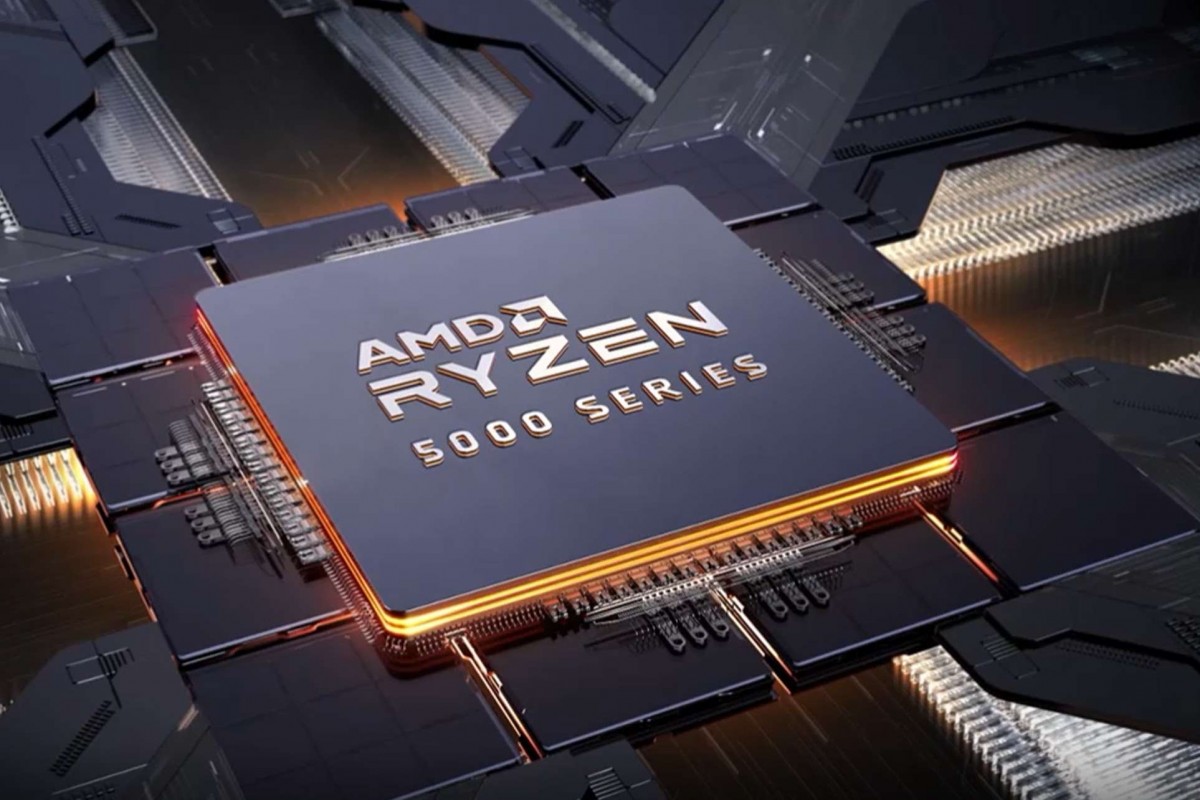 The processor is paired with 16GB of DDR4 3.2GHz RAM, and a 512GB SSD. AMD's latest 6000 series processors are now beginning to enter the market on a select few laptops, but it would be later on in 2022 before we see their desktop counterparts.
We ran a few CPU tests to gauge the Ryzen 5800H performance. This is a capable chip, especially in multi-core tasks. Single-core results are not on par with Intel's 12th gen or Apple's M1 line of processors, but in multi-core, the Ryzen chip is more than able to perform.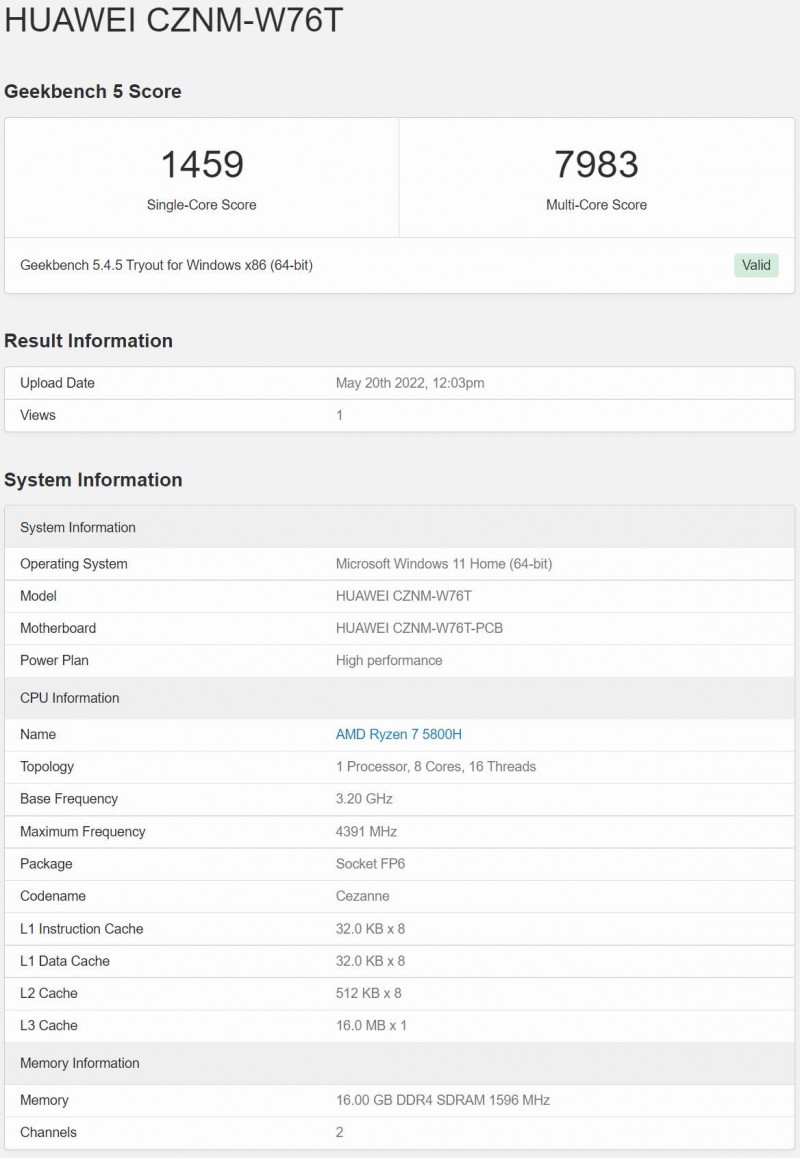 Even more impressive, the MateStation X was barely audible under load and its thermal design seems to be quite good. We ran a stress test on the machine for about 30 minutes to see how the MateStation X would handle it. The fans were on all the time but they were not very audible - below 40 dB.
A minute into the stress test, the CPU dropped to around 3.3GHz and stayed there throughout the test. The column, which holds all the computer parts and the cooling fans got hot, but since it's hidden behind the display, we can't really say the heat was felt.
Sitting at the normal arm's length distance from the MateStation X and you'd never feel the computer is under load.
The NVME drive is plenty fast, even if it doesn't push the boundaries of PCIe 3.0.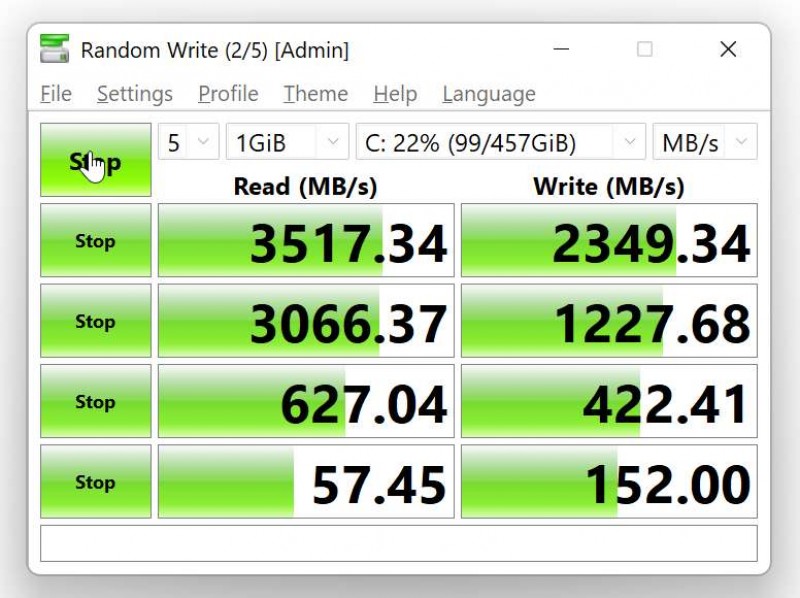 A thing we noticed, and expect to be some sort of issue with our unit is the difference in speed between the two USB-A drives and the two USB-C drives. Huawei reports the ports as identical on its website - USB 3.2 Gen 1,  5V/2A max. charging - but when we tested a 95MB/s SD Card through a USB 3.0 card reader and a Samsung T7 external SSD we got faster results with the USB-A ports. When connected to USB-C we got a maximum sequential write and read of around 40MB/s and 38MB/s, when connected to USB-A it was more than double that at 94MB/s and 88MB/s. We tried each of the pair of USB-C and USB-A ports and got consistent results. We also tried updating the drivers.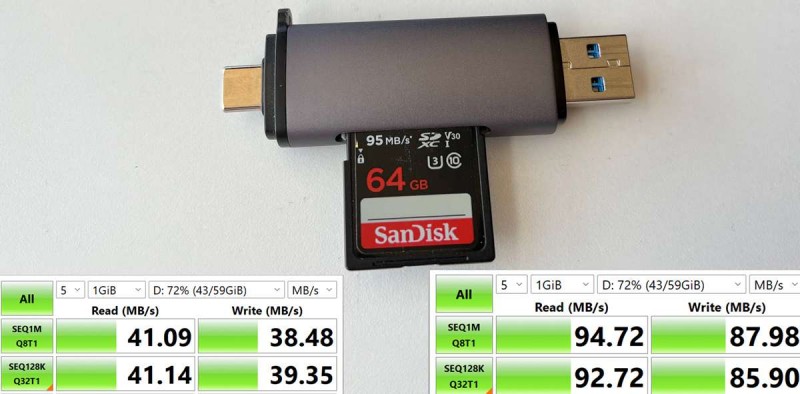 For connectivity, the MateStation X relies on Wi-Fi a/b/g/n/ac/ax with 2 x 2 MIMO antennas and Bluetooth 5.1. We had no signal issues and reliability was great. We only wished the MateStation X had a built-in ethernet port.
Software-wise, the MateStation X comes with Windows 11 out of the box and Huawei's excellent PC manager app. It integrates driver updates with added features like a handy reset, which really augment the Windows experience.
Huawei has always had great integration between its devices. The MateStation X can connect to your Huawei phone or tablet and control that device from the desktop. You can transfer files between the phone and the computer, but not all files were supported and you can't use the phone while the transfer is happening.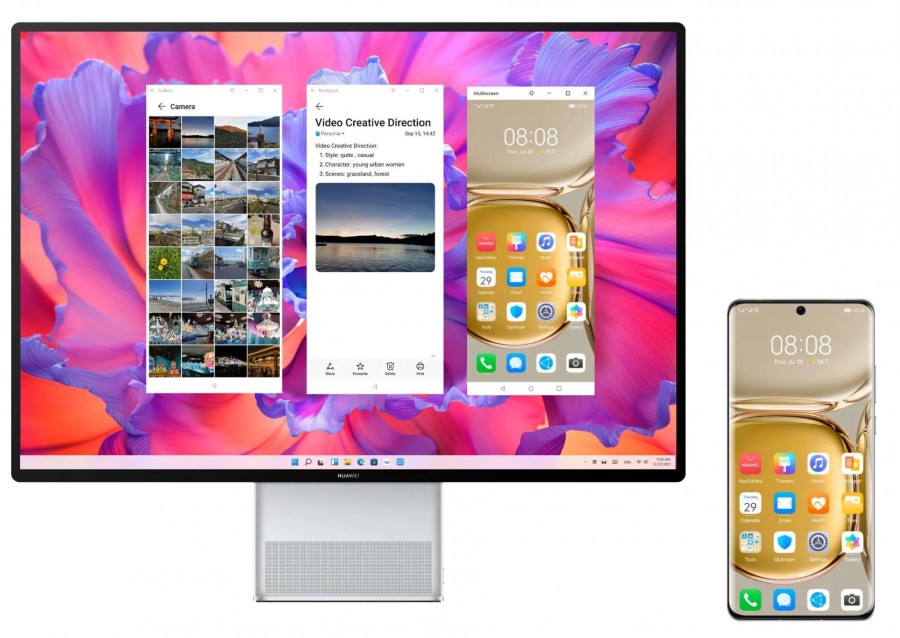 A great way to use the all-in-one with another Huawei device is as a screen extension to a tablet or laptop. Pairing is easy enough - if the other device has NFC, you just tap it to the right Shift key on the MateView X' keyboard and follow the instructions.
But as these features work only between Huawei devices, we'd call them niche and move on.
To sum up performance, the Huawei MateStation X is a powerful and issue-free computer. It easily handles day-to-day tasks and can go a bit further with professional photo editing, and even prosumer-level video editing, when you take the proper precautions - making proxies, or scaling down the footage to 1080p while editing.
Should you buy it?
The Huawei MateStation X is £1,800 for the Ryzen 5 5600H and £1,900/€2,200 for the Ryzen 7 5800H model. That's an expensive proposition in a market that's already populated by less-flashy but more affordable devices. To pay this kind of price, you're looking for the absolute best all-in-one there is, and money is no object. If you're looking for an all-in-one with a superb display and capable hardware, and you value design more than being reasonable with money - by all means buy the MateStation X.
But we'd argue that a better proposition would be to either build your own computer or buy a capable laptop, and pair that with Huawei's excellent MateView monitor. It's basically the same display as on the MateStation X, sans the touchscreen functionality, but with the all-important height adjustment.
Pros
Big touchscreen display
Wonderful 500 nit brightness, HDR-ready at 400 nits
3:2 aspect allows for better usability in the same footprint as a 27-inch monitor
Good color accuracy out of the gate
Excellent performance, fans were inaudible most of the time, heat is kept in check
Good speakers with solid bass, for the form factor
Great design, quality keyboard with fingerprint support
Cons
Expensive
Port selection could be better - no SD or Ethernet, lack of Thunderbolt
HDR support is fiddly, unintuitive
Mouse is mediocre
Webcam is only 720p
Very reflective display
Huawei's monitor is €530 at the time of writing, leaving you with a lot of room to configure a PC or get a laptop.
We loved the MateStation X for its design, its display aspect and quality, and its quiet and thermally-efficient performance. But the limitations such as the port selection, lack of Thunderbolt, an Ethernet or an SD card slot, and the price tag ultimately make this a tough buy.
Related
Mine was delivered with a French/Belgium AZERTY keyboard. Contacted customer service who escalated my case to the e-commerce department. You cannot contact them and they do not do anything. I just wanted a Qwerty keyboard. After weeks of waiting f...
Eh the radeon 680m already performs really nice so dgpu is optional, the ryzen 6800h does support usb 4 so you can use an external gpu
Anonymous
24 May 2022
Q%m
Who said anything about roaming around with a monitor? It wasn't even the topic. The point was downplaying TDPs "bEcAuSe No OnE cArEs AbOuT iT oN a Pc LiKe ThIs" is outright stupid. Why would CPU makers chase efficiency if TDP "is...
Popular articles
Popular devices
Electric Vehicles