Huawei MediaPad review: On the rise
On the rise
GSMArena team, 21 February 2012.
Connectivity gets the thumbs up
The Huawei MediaPad has a full set of connectivity options. You get quad-band GSM plus tri-band 3G speeds of up to 14.4 Mbps HSDPA and 5.76 Mbps HSUPA. Those connections can be used for data and for calls/texts too.
The Wi-Fi support includes b/g/n and hotspot internet sharing. There's Bluetooth 2.1 too (no fancy stuff like Bluetooth 3.0 or Wi-Fi direct though).
There is a microSD card slot as well to expand the built-in memory.
The Huawei MediaPad supports USB-on-the-go, but you will need to buy the right cable for that. The other wired port - microHDMI - makes playing 1080p videos on an HDTV a cinch.
Desktop-like browser
The web browser is another key app as far as tablets are concerned. There is full Flash 11 support and tabbed browsing. The tabs are kept in a bar on top, much like on a desktop browser.
The address bar and search bar are incorporated in a single field a la Chrome. This bar hides when you scroll down, but the tabs remain visible (along with a small down arrow that brings the address bar back out).
Another cool feature borrowed from Chrome is Incognito Mode. This means you can browse without worrying about leaving traces in the history or data in the form auto-fill feature (so you can borrow the tablet and browse without worrying about exposing your login info).
Bookmarks and History have their own screen with a split-screen interface. In History you can check the pages browsed today, yesterday or over the past week. There're also Most Visited and Today tabs.
A neat feature allows you to access quick page controls (back, forward, refresh, bookmark etc.) by a swiping gesture performed near the right edge of the screen. You cannot have that and the classical interface though so you have to pick your priorities.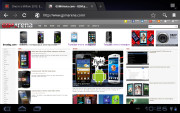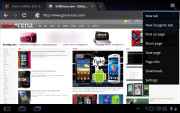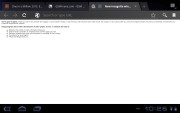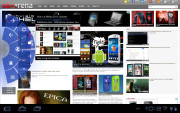 Browsing GSMArena.com on the Huawei MediaPad
At first, we had big problems with Flash performance. Luckily, it turned out that the fault lies with the pre-installed Flash plugin. We installed the official Flash Player 11 and 720p videos worked without a hitch (but 1080p wouldn't play) and so did Flash games.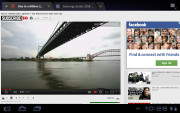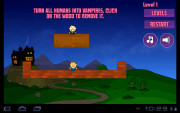 Watching a Flash video • Playing a Flash game
So, if you're having Flash issues on the Huawei MediaPad, you should head straight to the Market and install the official Flash Player.
Organizer and capable doc editor
A good set of organizer apps are available on the Huawei MediaPad, including the Yozo Office that can both view and edit documents.
A cool thing that Yozo does is when you try to create a new document - it will present you with several templates (for example, Blank, Letter, Balance sheet, etc.).
The editor itself is fully featured - it has extensive text styling options, it will create tables (a commonly missing feature in such editors) and even let you pick several bullet styles for lists and so on. There's a function editor for Excel docs too.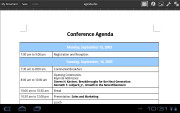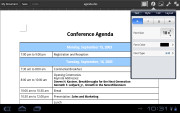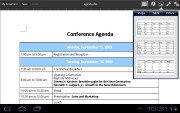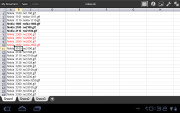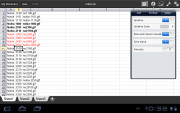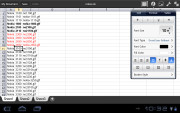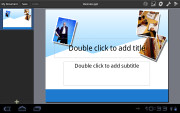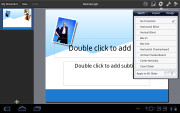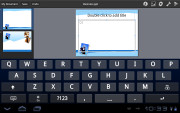 Editing a Word document • Excel spreadsheet • PowerPoint presentation
All this is pretty impressive, but performance could have been better - panning and zooming is very laggy, even in simple docs.
There's Foxit Reader available for viewing PDF files. Performance here is much better.
When you think of organizer features on a smartphone (or tablet) the first app that comes to mind is the calendar. It has five different types of view: daily, weekly and monthly.
Adding a new event is quite straightforward and you can also set an alarm to serve as a reminder. It can easily handle multiple online calendars too.
The calculator app is nicely touch optimized with huge, easy to hit buttons. Unlike the phone version of the app, this one makes use of the full screen by making the advanced functions always visible.
The Huawei MediaPad also comes with a very basic clock app. It displays the current time full screen and has a shortcut for setting alarms. Alarms can individually be toggled on and off and can have custom repeat patterns, ringtones and notes.
Please send me settings for my Huawei Mediapad T3 so that I can use it as a normal phone e.g being able to call,receive calls, sms. I can see all names in my contact but I can't call! Facebook, WhatsApp is OK.
I have a question, during charging why its become hot the charger and also the unit? Im afraid one day if I will leave a house for a while it will be burn...pls reply whatto do
can we use ms office & pdf, quick reply please wanna buy one? , thanks