Huawei nova review: Life of a Star
Life of a Star
GSMArena team, 3 October 2016.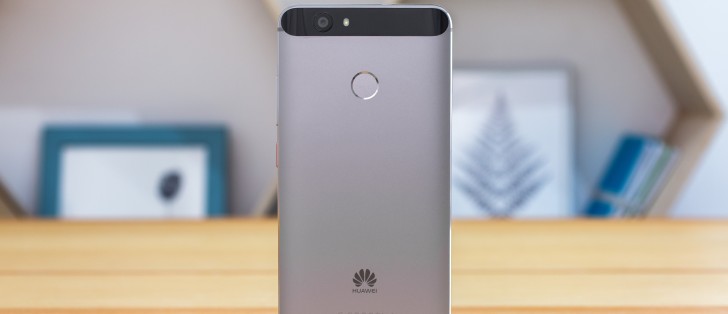 Telephony
The Huawei nova handles voice calls with ease and sound quality doesn't disappoint. The phone offers powerful dual-SIM manager in case you opt for the dual-SIM flavor, too.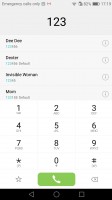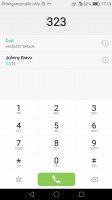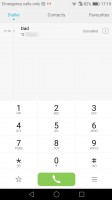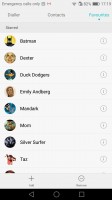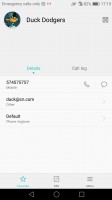 Smart dialing • recent calls • call log • the phonebook • a single contact
The stock dialer app is a trinity of tabs bundled together - these include the Dialer, Contacts, and Favorites. The phonebook offers all the usual sorting and display options, it supports multiple accounts, and there are lots of fields available for each contact.
The Huawei nova scored a Very Good mark in our standardized loudspeaker test. Our impressions from the speaker's sound quality are mostly positive though its audio output is less pleasant as it was on the nova plus. The sound is a bit shallow and lacks bass, but it's loud enough to be heard.
| | | | | |
| --- | --- | --- | --- | --- |
| Speakerphone test | Voice, dB | Pink noise/ Music, dB | Ringing phone, dB | Overall score |
| Sony Xperia X | 61.3 | 61.1 | 65.7 | Below Average |
| Samsung Galaxy C7 | 67.3 | 67.8 | 72.8 | Average |
| OnePlus 3 | 62.4 | 71.0 | 77.8 | Good |
| Huawei nova plus | 68.3 | 68.0 | 76.9 | Good |
| Huawei P9 | 72.1 | 66.6 | 75.6 | Good |
| Huawei P9 lite | 66.0 | 71.5 | 83.2 | Very Good |
| Huawei nova | 69.2 | 71.9 | 80.6 | Very Good |
| Meizu MX5 | 75.7 | 73.5 | 79.5 | Excellent |
App package
The Huawei nova ships with WPS office, which can be used for some basic document editing on the go. It can handle text documents, spreadsheets and presentations as well as PDF files. It can also export to PDF.
Phone Manager is Huawei's do-it-all app for keeping control over your phone. It lets you control all sorts of features from call/message privacy and Do Not Disturb settings to phone optimization and app permissions, to network and battery usage.
The app features a one-touch optimization feature that frees up memory space and gives you settings recommendations for maximum battery performance. It's a hell of a slick feature that few manufacturers offer.
Battery Manager is part of Phone Manager and includes a selection of three power plans with varying degrees of feature limitations. From here you can also control which apps can remain active after you send the phone to sleep.
A file manager is also present, and it even supports batch operations.
It says here that up to 256 GB of memory is allowed and in the support center they told me that it is allowed up to 128 GB. What is right?
The Huawei Nova was the very first Hauwei I have used. I LOVE the device! It is smooth to operate and hasn't given my any hassles. I am definitely sticking to Huawei from here on out...
FYI - not sure about the version above here but any of the ones I've seen on Aliexpress (Chinese ones anyway) DO NOT have NFC! I bought 2nd hand based on stats above and got caught out - maybe worth flagging in the stats.