Huawei nova 9 review
GSMArena Team, 6 November 2021.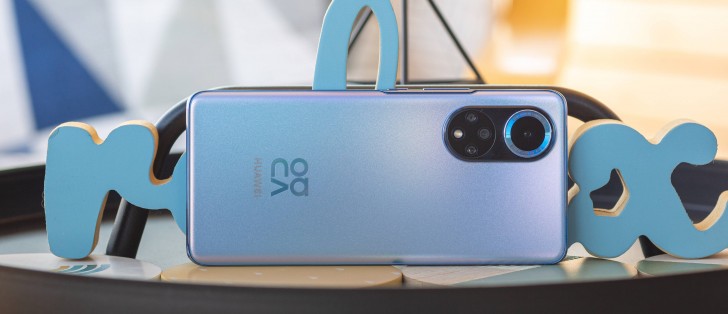 EMUI 12, Android 11
It's evident that the Huawei-US relationship is still haunting the company, and perhaps that's why you won't find much info about what runs under the EMUI 12, which powers the nova 9. Looking through the menus, you won't find the word Android, but we can confirm that it's actually Android 11. For now, HarmonyOS remains exclusive to the Chinese versions of Huawei's handsets, whereas EMUI 12 is being distributed to the global versions.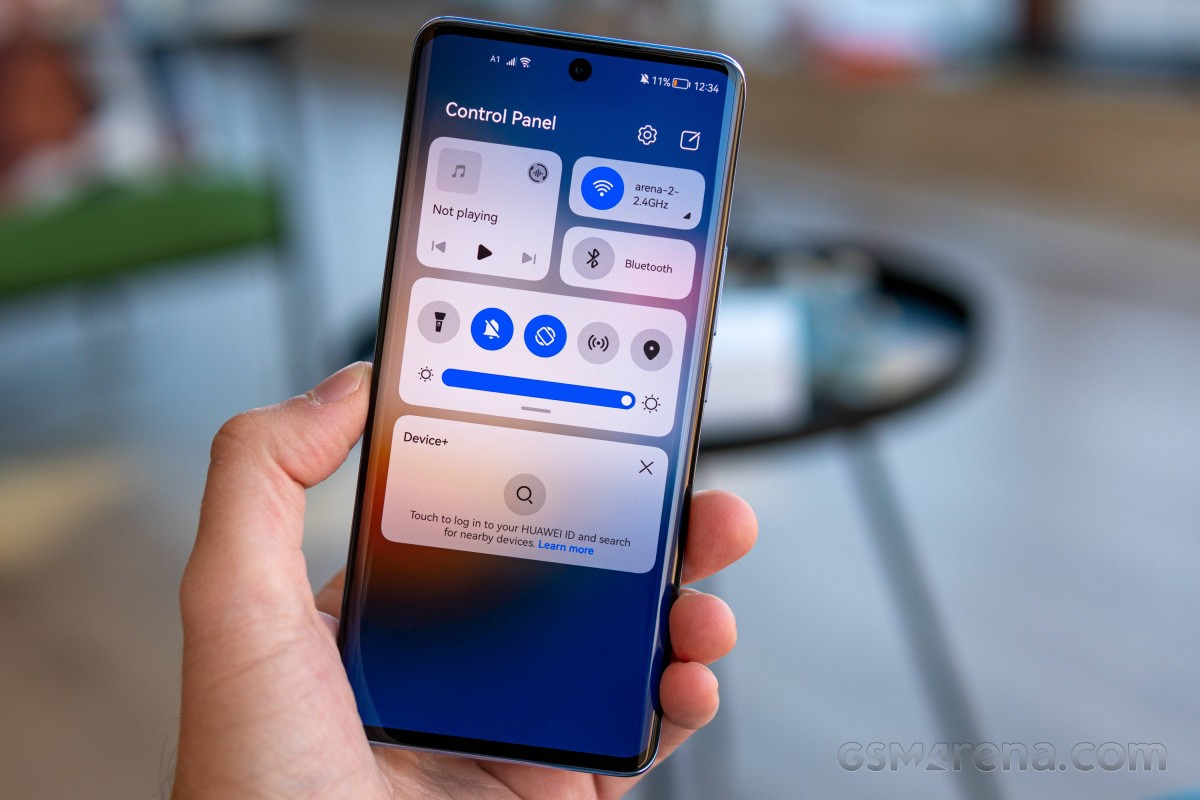 There's little difference between EMUI 12 and HarmonyOS 2.0, at least as far as our limited experience with Huawei's tablets running the said software.
The home screen and recent apps menu are business as usual. Once you boot the device for the first time, you will be presented with Huawei's default simple Home screen arrangement, but you can always opt for the app drawer if you wish. The most notable change with this version of the software is the notification shade.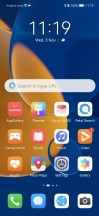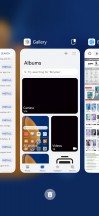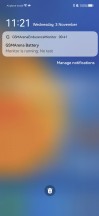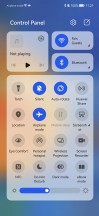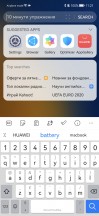 Home screen, recent apps, notification shade, Control Panel
Swiping down on the left side of the selfie camera opens up the dedicated notification panel and displays the notifications with EMUI's custom cards. Doing the same on the right side of the selfie camera pulls down the quick toggles, media control and brightness slider. To our surprise, there's no switch for the screen's auto mode, so you have to dig deep into the Settings menu every time you want to switch on or off the automatic brightness control of the display.
Additionally, we didn't find a setting for the rather popular pull-down gesture on the Home screen, which is supposed to bring down the notification shade or the so-called Control Panel. This one seems reserved for the global search, so you have to perform some finger gymnastics to reach the status bar and pull down one of the two panels.
Anyway, we found most of the multi-tasking options we tried on HarmonyOS to be available here as well. Swiping from the left or right side of the screen and holding it for a second brings out the so-called Multi-window dock. You can arrange apps to your liking or search for a specific one and open it in a small window. You can keep multiple apps opened at the same time, but only one remains in the foreground. The others are docked and can be summoned from there.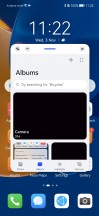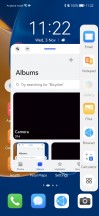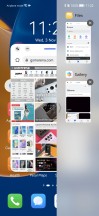 Multi-window and floating window features
Speaking of apps, we found Huawei's efforts to serve regional software admirable. Once you set up the phone for the first time and create a Huawei account, you will be asked for your region and based on that, EMUI will suggest popular apps in your country. Some of the app suggestions are even placed on the Home screen alongside the pre-installed ones, which are quite a bit. Most of them can be uninstalled, of course, and the suggestions can be turned off if you find them annoying. Oh, we liked the expanded folders feature - you can put various apps in one folder and enlarge the said folder. Similar to Apple's iOS.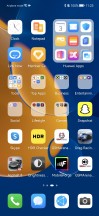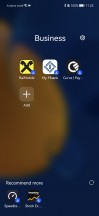 Expandable folders, pre-installed apps and regional suggestions
Customizing the UI is also an option. There's a wide selection of pre-installed themes and the option to download more. The same sub-menu allows you to tinker with the icons and the Always-on display, which offers a wide selection of images and clock styles. You can make one of your own as well.
Last, but not least, EMUI 12 employs the neat productivity and connectivity options HarmonyOS has to offer, namely the Device+ feature. It can be found in the Control Panel by default and offers easy connection and file sharing with your MatePad and MateBook. Multi-screen setup mirrors the screen of the phone on your tablet or notebook for uninterrupted workflow without touching the handset. You can use the latter to cast content on compatible TVs as well.
Now to address the elephant in the room - the lack of Google Mobile Services and app support. The former is going to be more problematic for most as a lot of apps use Google's Services to operate. That's why we couldn't run the standalone YouTube app, Google Maps or the Chrome browser.
If you can't find an app on the Huawei AppGallery, you can sideload it from APKPure, APKMirror and Amazon's app store, to name a few alternative app repositories. AppGallery's so-called Petal search can search across those websites automatically. Sure, it's a bit cumbersome, but it's the best we got.
There are tons of ads promoting apps inside the AppGallery app, but that's rather understandable - developers need wider adoption of their software, and Huawei is offering ways to get exposure.
However, we can't say we're fans of the full-screen ads that appear when launching AppGallery.
Despite all of these workarounds, the missing Google Mobile Services are something that's hard to swallow in Western Markets. Everyone is already used to using Google Play Store's apps, and many apps rely on GMS to begin with.
So Huawei is in a rather tight spot, having to battle user habits on one hand and then trying to entice developers to adopt their Huawei Mobile Services on the other hand. It's a tall task, especially amidst the US limitations on using 5G technology and the general chipset shortages.
Performance
The Snapdragon 778G used inside the nova 9 is based on the TSMC's 6nm N6 manufacturing process and employs an octa-core CPU and an Adreno 642L GPU for graphically intensive tasks. The CPU consists of three clusters 1x 2.4 GHz Kryo 670 Prime (Cortex-A78), 3x 2.4 GHz Kryo 670 Gold (Cortex-A78) and 4x 1.8 GHz Kryo 670 Silver (Cortex-A55).
The Huawei nova 9 comes in two flavors - 8GB/128GB and 8GB/256GB with no microSD card slot for expansion. Of course, we ran the usual set of synthetic benchmarks to see how it ranks against competitors and if there are any significant deviations from the already tested Snapdragon 778G-powered devices in our database.
GeekBench 5 (multi-core)
Higher is better
Xiaomi Mi 11i
3641
Realme GT 5G
3555
Huawei nova 9
2973
Motorola Moto G100
2860
Xiaomi 11T
2834
Xiaomi 11 Lite 5G NE
2832
OnePlus Nord CE 5G
1812
Samsung Galaxy A72
1627
Google Pixel 5a 5G
1337
GeekBench 5 (single-core)
Higher is better
Realme GT 5G
1139
Xiaomi Mi 11i
1114
Motorola Moto G100
950
Xiaomi 11 Lite 5G NE
787
Huawei nova 9
784
Xiaomi 11T
742
OnePlus Nord CE 5G
641
Google Pixel 5a 5G
574
Samsung Galaxy A72
537
AnTuTu 9
Higher is better
Realme GT 5G
810433
Xiaomi Mi 11i
779481
Motorola Moto G100
681559
Xiaomi 11T
590837
Xiaomi 11 Lite 5G NE
527663
Huawei nova 9
469798
OnePlus Nord CE 5G
391770
Google Pixel 5a 5G
373168
Samsung Galaxy A72
333668
GFX Car Chase ES 3.1 (offscreen 1080p)
Higher is better
Realme GT 5G
65
Motorola Moto G100
56
Xiaomi 11T
47
Huawei nova 9
33
Xiaomi 11 Lite 5G NE
33
Google Pixel 5a 5G
21
OnePlus Nord CE 5G
19
Samsung Galaxy A72
17
GFX Car Chase ES 3.1 (onscreen)
Higher is better
Realme GT 5G
55
Motorola Moto G100
47
Xiaomi 11T
40
Huawei nova 9
28
Xiaomi 11 Lite 5G NE
28
Google Pixel 5a 5G
19
OnePlus Nord CE 5G
17
Samsung Galaxy A72
15
3DMark Wild Life Vulkan 1.1 (offscreen 1440p)
Higher is better
Realme GT 5G
5872
Xiaomi 11T
4172
Motorola Moto G100
4114
Huawei nova 9
2503
Xiaomi 11 Lite 5G NE
2477
Google Pixel 5a 5G
1674
OnePlus Nord CE 5G
1103
Samsung Galaxy A72
1031
As expected, there are no major differences between other Snapdragon 778G handsets but the phone struggles against the majority of the competition. In this price range, it's rather easy to find phones running Dimensity 1200 SoC or a Snapdragon 888/870, and as you can see, the Snapdragon 778G is no match for those.
Anonymous
17 May 2022
D7x
After buying this mobile I am really disappointed. It is not user friendly at all. Important apps are not available on Huawei store, searching apps should have the exact name! and I have no idea what « search » means to them in 2022!! Gspace is tra...
I have Huawei Nova 9 as my daily phone, and i have complaints about it. Not having playstore is not an issue... I had all app that i wanted... Camera is and performance is great, i love the design... Small battery but can last me a full day because o...
Good choice it's a bit strange using a Google-less phone for the first time, but the phone is great and you'll get used to it