Huawei P10 Plus review: Eyes wide open
Eyes wide open
GSMArena team, 06 April 2017.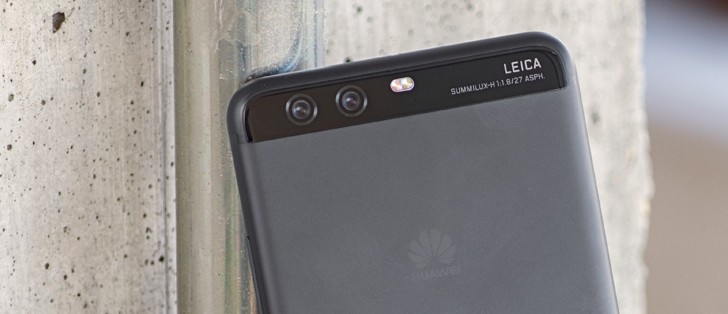 Unboxing
The Huawei P10 Plus arrives in style. Its rectangular box looks simple enough, but when you try to open it, you quickly realize the clamshell top actually folds away like an old-school toolbox. There are magnets to lock the lid flaps in place. The whole thing has a pleasant, soft-touch finish and makes a solid first impression.
As for contents, you get the phone cradle on top of the usual manuals, leaflets and a SIM ejector. A pair of boxes is stacked at the bottom. One has a Huawei SuperCharger unit, rated at 5V@2A, 4.5V@5A and 5V@4.5A. Sounds pretty good for snappy top-offs. However, despite the Type-C port on the phone itself, the P10 Plus still uses USB 2.0.
Huawei has opted for a custom fast-charging solution with its own dedicated pins. That means you must use the included custom cable to get fast charging. It is housed in the other box along with a fairly decent set of Apple-style earbuds.
Last, but not least, you also get a starter transparent plastic case to protect the phone. However, it has a frosty finish that masks the handset's color to some extent, so you might consider getting another one down the line.
Huawei P10 Plus 360-degree spin
The basic Huawei P10 is pretty similar in size to its predecessor, the P9, and this relationship extends to the Plus versions. The P9 Plus measures exactly 153.5 x 74.2 x 7mm tipping the scales at 165g. The new generation P10 Plus is pretty close at 152.3 x 75.3 x 7mm, but not as wide. This is a more important dimension for a handheld device, and we don't really mind the added height as long as the width is manageable.
Design
High quality design is pretty much an integral part of Huawei's image nowadays. It is hard to pinpoint exactly when it all started, but ever since it shed the "Ascend" moniker, the P-series' has been all about perfecting and promoting smartphone craftsmanship and sophisticated elegance. The same goes for some of the company's other offers as well, and we're not only referring to the exclusive collaborations with Porsche Design.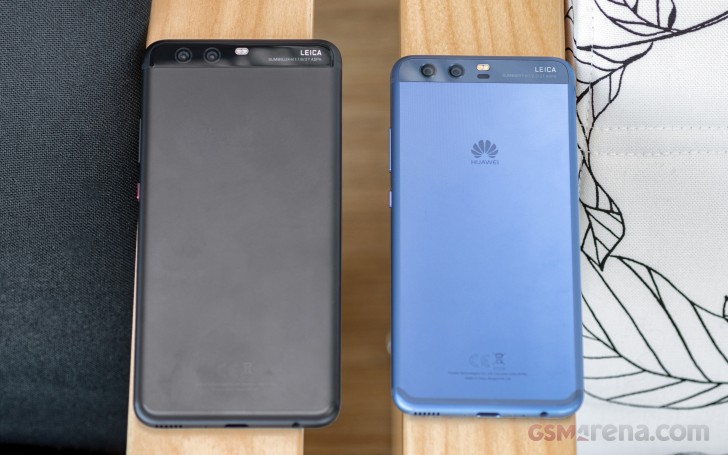 With the P10 pair, it's all about options. The P10 Plus can be picked up in three distinct finishes. And that doesn't only refer to color either. To elaborate a bit, we currently know of eight distinct options for the P10. These include Ceramic White, Dazzling Blue, Dazzling Gold, Prestige Gold, Graphite Black, Mystic Silver, Rose Gold, and Greenery. It is worth noting, though, that not all of them may be available where you are.
The dazzling colors (Blue and Gold) have a hyper-diamond cut finish on the back which mimics the surface of a vinyl record, but coarser. This is the finish we got on our P10 unit, so you can head over to its review for some close-up shots. The texture is a bit unusual to the touch, so it might be an acquired taste. On the plus side, though, it does not smudge all that easily - or at least, not as easily as the sandblasted matte black version we got for review.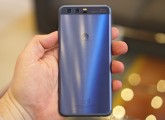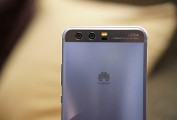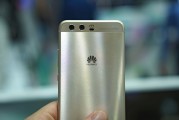 Huawei P10 in Dazzling Blue • P10 in Dazzling Blue • P10 in Dazzling Gold
Yes, there are sandblasted options, too. These look quite a bit more traditional, and also feel that way. Fingerprints and smudges are truly an issue here, but we do have to note the P10 Plus means business in Graphite Black, the paintjob of our review unit. That may actually be true about Mystic Silver and Prestige Gold, too.





P10 in Greenery • P10 in Graphite Black • P10 in Mystic Silver • P10 in Prestige Gold
Greenery, on the other hand, is a whole different story. Along with Dazzling Blue, it comes straight from the Pantone Color Institute's palette, where Greenery is the Color of the Year. It is an exclusive option you are probably not going to see on another smartphone any time soon.
This is what we mean when we talk about options. The Huawei P10 Plus has such a clean and refined profile that it can simply work in both a subdued and a really out-there color palette. It's like the perfect chameleon, really. This point is only further proven by the Ceramic White option. It is all glossy and pretty striking at first; then come the smudges, and you realize it might not be such a good idea to have a shiny finish on your phone.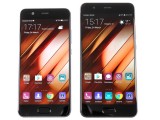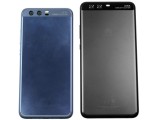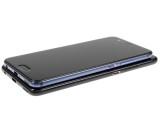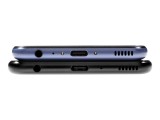 Huawei P10 and P10 Plus compared
One thing we should mention, though, is that we have been getting reports that the sandblasted options are pretty prone to scratches. We did notice a few little chips of paint around the SIM tray just a few days into the review, so there might actually be some cause for concern regarding the toughness of the finish.
Finishing off the back is a large camera plate - but no hump whatsoever. The high-end Leica dual-camera setup provides a nice color accent on the back and really brings attention where it is due. To put your mind at ease, it is not covered by just a piece of plastic, but with Gorilla Glass 5.
Moving on to the front of the P10 Plus, we find a clean and subtle 2.5D shaped piece of Gorilla Glass 5. Yes, that includes the fingerprint reader. We definitely have to say we prefer it in black, but white is also an option with some of the above finishes.
Huawei chose a rounded shape for the P10 Plus' frame, but it also improved the antenna bands. The top strip runs above the Leica camera setup, while the bottom one follows the frame - neither of them spoil a near seamless design.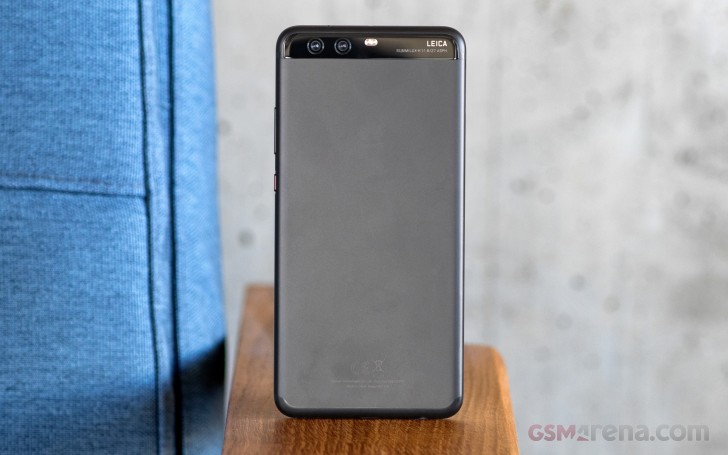 The unibody, coupled with all that Gorilla Glass, also qualifies for an IPX3 rating, something the regular Huawei P10 lacks. This essentially makes the P10 Plus splash-proof. We wouldn't take any risks around water though. The Huawei P10 Plus is not protected against immersion or even running water.
Hardware overview
We may have gotten a bit carried away with the aesthetics of the P10 Plus, and should probably get back to the point. Up front and center is a 5.5-inch IPS-NEO display. It sports QHD resolution, making it sharper than the FullHD panel on the regular P10. More on that later.
There are a few sensors above the display, along with the 8MP selfie camera and a LED notification light - increasingly rare to find, even in this price range. We are also happy to report that unlike the P10, which lacked the feature, here the earpiece also doubles as a speaker, essentially making the P10 Plus a stereo device.
There is only a single control under the display, and it's not even a real button. As previously mentioned, it is actually hidden away under the Gorilla Glass finish, which is a feat in itself. Huawei is calling it a multi-functional Home key. It houses an always-on (and blazing-fast!) fingerprint sensor and supports swiping gestures. While the key isn't clickable, you can still use it as a three-way Android control - hold for Home, tap for Back, swipe for Tasks.
If that isn't your thing, you can always use Android's on-screen navigation. The fingerprint reader is also PayPal-certified so you can clear your PayPal payments authenticating with that instead of a password.
A lonely SIM tray occupies the left-hand side of the device. On the dual model, it can take two Nano SIMs, but one does share a slot with the microSD card. We find that quite irritating and will definitely hold it against the P10 Plus, considering that an increasing number of manufacturers have already recognized the issue and started switching to a dedicated slot.
The right side houses both the volume rocker and power button. Both are positioned quite comfortably and are easy to operate with one hand. The power button features a red color accent and a different texture that make it impossible to miss. It's a nice design touch as well.
The secondary mic only shares the top of the P10 Plus with the infrared emitter. Yes, the IR blaster is one of the other features that the P10 Plus has over the regular P10.
The bottom of the phone has the primary mic, the USB Type-C port, the loudspeaker grille, and the audio jack.
Germanjuice
23 May 2020
r3H
Hello guyz,am using Huawei 6x for uber as a driver,it works very well fast in Google map no signal lost for once and has fast charging 3gb ram/32gb but now the Ram is getting full and disturbing Google map. What kind of Huawei good in Google map like...
AnonD-933812
16 May 2020
Nvx
Hello guys, been using P8 for two years nw...which one would you recommend between Honor 10 and P10 plus....Help guys!!
the selfie cam has AF, your review is wrong