Huawei P20 review
GSMArena team, 17 April 2018.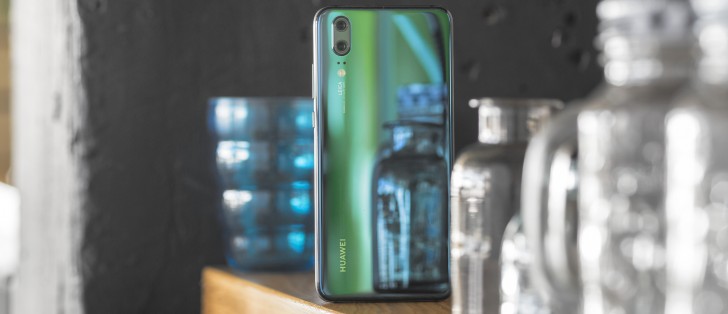 Android 8.1 with EMUI on top
Huawei synchronized the version number of its Android overlay with the release of the Mate 10, and now on the P20, it's Android 8.1 Oreo and EMUI 8.1. Not that it's radically different or anything, but there are some fresh bits.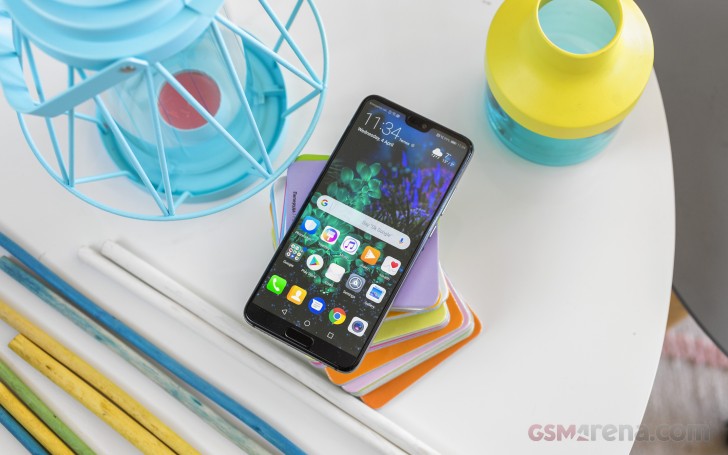 First up, the notch. You can embrace it, or you can opt to mask it with a black status bar that extends all the way down to the bottom edge of the notch. Hiding it doesn't really work too well with an LCD panel. The corners of the active display area will be rounded too, to match the actual corners on the bottom of the display. The size of this software bezel on the top ends up being symmetrical to the physical bottom bezel all while showing your status information white on black. This reminds us of what the LG V10 and V20 did with their extra displays, but this implementation is quite different, of course.
Then there's the navigation bar. Or, rather, the navigation bar is one of the numerous options for navigation you can set up on the Huawei P20, most of them available on the Mate 10s too. The most straightforward method seems to be with on-screen Back/Home/Recents buttons (or the other way around) with an optional notification pulldown button. In this scenario, the fingerprint reader is also Home.
Alternatively, you can use the fingerprint reader only (Off-screen navigation button in the menu) - tap to go back, tap and hold for Home, and swipe in either direction for Recents. Or, you could do the same, only not with the fingerprint reader, but instead, with an onscreen key down at the bottom - that's the new addition this time around.
Whichever of the above three options you choose, you can complement it with a 'Navigation dock' - a floating button you can place anywhere on the screen. The actions are the same and will yield the same results.
One issue we have with the alternative methods for navigation is that you can't double-tap the Recents key to switch back and forth between apps - simply because there isn't a Recents key, but it's a gesture instead.
If you would rather stick to the traditional on-screen button navigation scheme of AOSP, Huawei even offers a few button arrangement options. We appreciate it since the back button positioning is a deeply subjective preference to long-term Android users.
But, taking a few steps back from navigation schemes, the first thing you'll be greeted by on the Huawei P20 is a lockscreen. It is the familiar custom Magazine style only now called Covers. Or covers are the wallpapers for Magazine Lock? We're confused. In any case, it displays a different wallpaper every time you wake up the device. Or you can pin a single one there, if that is more to your liking. Shortcuts for some quick actions are available on the lockscreen but are non-configurable.
You could be skipping the lockscreen entirely, however, if you opt for fingerprint unlock - it's the most natural way to unlock the P20 in our opinion and no Face unlock will change our mind. After all, the front-mounted reader setup is becoming increasingly rare. The setup process is straightforward, and the phone will even give you pointers which part of your fingertip to scan next.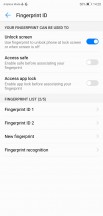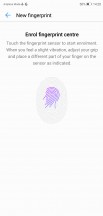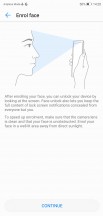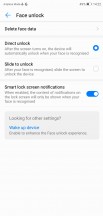 Fingerprint settings • Fingerprint settings • Face unlock
By default, EMUI uses a homescreen only UI scheme, as is the preference in most Asian markets. Still, there is an option to get the app drawer back. If you do opt for the drawer, be prepared to have an Apps button instead of a swipe action to get to the drawer.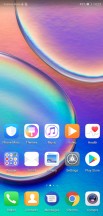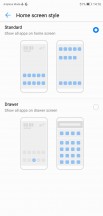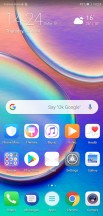 No app drawer by default • You can opt for app drawer • Apps button like it's 2016
App twins for multiple instances of a single application is available on the P20 in case you need to manage two social accounts. Other security features include App lock, which will only allow you to run an app if you provide a password or a fingerprint, and PrivateSpace, which takes the App twin concept to the next level and lets you have an entire separate desktop.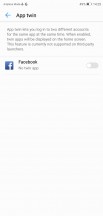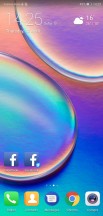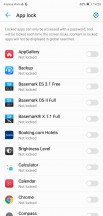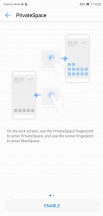 App twin • Twin Facebooks • App lock • PrivateSpace
The rich Theme support has always been a popular EMUI feature. The theme store offers a wide selection and some artsy options that fit in well with the general high-design image of the P20. There are different static and live wallpapers, transition animations, and icon packs. Most every aspect of the UI is customizable.
The notification area is a 50/50 mix of stock Android and EMUI. There are (expandable) quick toggles and a brightness bar, but the auto brightness switch is gone, for some reason.
The task switcher is the usual rolodex of apps with a 'kill all' shortcut. From here you can also use split-screen mode - tap the icon to the left of the padlock.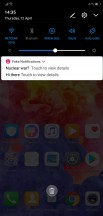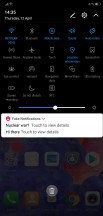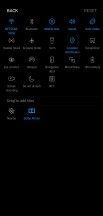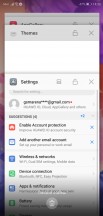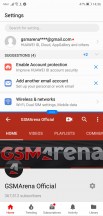 Notification shade • More toggles • Toggle settings • Task switcher • Split screen
Huawei's Phone Manager app for granular battery, permission, and mobile data control is available, of course. There is a one-key memory cleaner and a virus scanner powered by Avast.
Assorted apps
Huawei is still persisting with its own multimedia apps and has a custom Gallery, Music player and Video player. There is even a Huawei app store - all part of the company's own ecosystem efforts, necessary on it's home Google-free market and some form of experience independence from the web titan elsewhere. In addition to your camera roll, the Gallery offers sorting by albums, or smart sorting by subject, places, events, among others. It has its own image editor, if needed, and it also works with variable aperture shots for adjusting the bokeh effects post shot.
The built-in image editor is actually quite powerful and in-depth, with a wide selection of adjustment options and effects.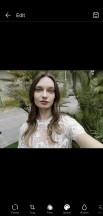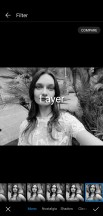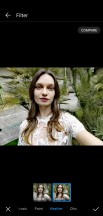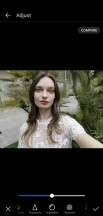 Powerful built-in image editor
The EMUI's Music app changes background dynamically to match the album art. Lyrics are available and downloaded automatically. There is a Dulby Atmos mode selector in the setting menu, with some basic equalizers available in one of the modes.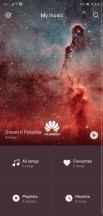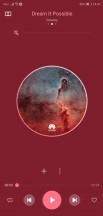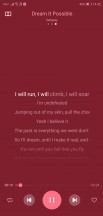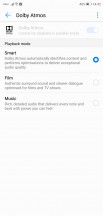 Music app: Home page • Now Playing • Lyrics • Dolby Atmos settings
There's a ton of useful pre-installed apps on the P20. Among the more notable ones is the Health app, which tracks steps and calculates calories, but can also count the number of floors you've climbed.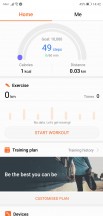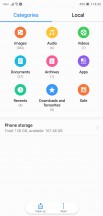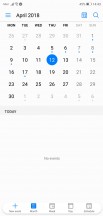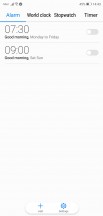 Health app • File manager • Calendar • Clock
The list of tools includes a proper file manager, calendar , notes, weather, compass, sound recorder, flashlight and a few more pre-loaded utilities. The remote control app is a notable omission, compared to the P20 Pro, but the regular P20 simply lacks an IR blaster.
I own this phone for almost 3 years now. Its incredible Im really bummed Huawei got blocked from Google services because i really wanna buy only Huawei phones from now, its durable, doesn't lag, battery charges incredibly fast, haven't ha...
So like every modern phone battery ever ?
Not recommended Need to take the phone to a service centre to replace the battery. Deliberate design to charge for Labour as well as the battery.