Huawei P30 Pro review
GSMArena team, 26 March 2019.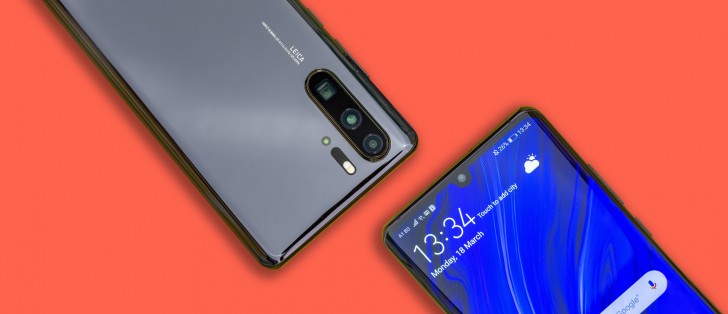 Android Pie with EMUI 9.1 on top of a new file system
The Huawei P30 Pro runs Android 9 Pie under its custom EMUI launcher, which got a new 9.1 version to mark the launch of the new flagship. Huawei has been working on its custom UI for years and it has polished it quite well.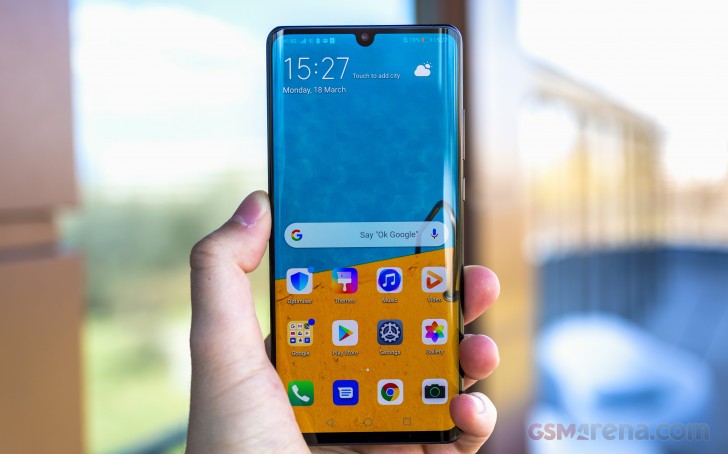 Despite the small increase in the version number, EMUI 9.1 actually brings a major change under the hood. Every phone to come or be updated to this version will get a new file system called EROFS.
The ERO file system is supposed to offer 3x increase in Random reads, 10% improvement in app startup, and also has freed the storage taken by system files by 20%. So, while there are no visible changes from the Mate 20 series EMUI, the P30 Pro should be snappier in certain scenarios and its OS should have a smaller storage footprint than before.
The rest of the EMUI is the same as on the Mate 20/Pro/X meaning a streamlined general interface and a simplified settings panel where the rarely used options go under "advanced" sub-menus.
Other key features of EMUI 9.1 include GPU Turbo 2.0 support and a new Password vault. There is a better Huawei Share too, which can share files with a PC and print documents wirelessly.
The further highlights include a travel assistant by HiVision and an in-house developed Digital balance app that tells you how much time you are spending on your phone and gives you the option to limit yourself or your kid (the screen will go monochrome after the allowed usage time is up and most apps will be blocked).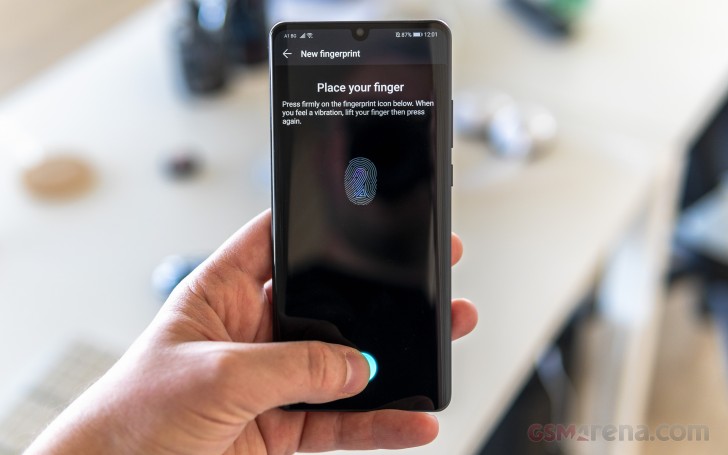 The P30 Pro has an upgraded under-display fingerprint scanner. The reader is very easy to set up and requires less pressure than on Mate 20 Pro's. The accuracy is superb, while the recognition is even faster than on the Mate. And while the sensor is not as fast as the latest conventional sensors, it's close enough so the difference doesn't matter in real life usage.
Face Unlock is available, but it just uses the front camera, which means it's less secure and can potentially be fooled by a picture. So, if privacy is of utmost importance, you may want to avoid this option.
You can either embrace the notch, or you can opt to mask it with a black status bar that extends all the way down to the bottom edge of the notch. The P30 Pro has one of the smallest notches around, so we'd imagine few people would choose to hide it.
Huawei has also implemented its version of the iPhone's gesture navigation - swipe up for Home, swipe up and stop midway for Task switcher, or swipe from the left or right edge of the screen for Back. The phone does come by default with Android's virtual navigation keys though, so you are free to chose which method you prefer.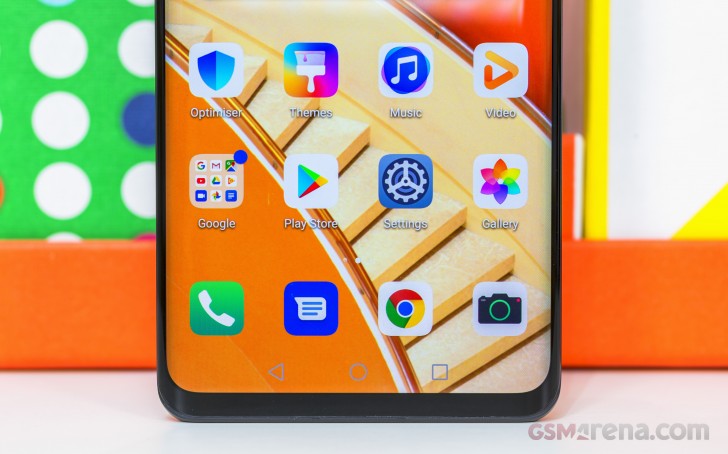 Out of the box, there is no app drawer on the EMUI 9 - it's a single tier interface akin to iOS. However, if you prefer Android's usual two-tier layout, you can enable it from the Display settings.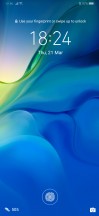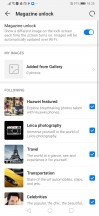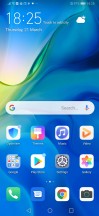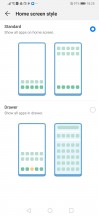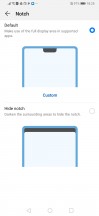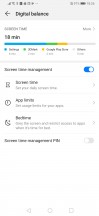 Lockscreen • Covers • Homescreen • Homescreen styles • Notch options • Digital Balance
EMUI has Magazine lock screen, as usual, which cycles through a bunch of wallpapers (covers), so you see a different one every time you fire up the display.
Huawei's EMUI offers plenty of customization and features, smart rotation, and lift to wake. Themes are supported, too, and there are a lot to choose from.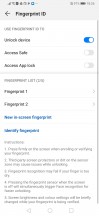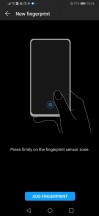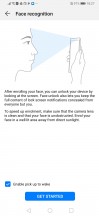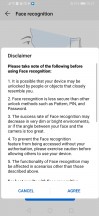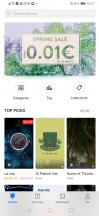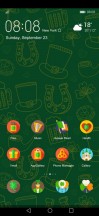 Fingerprint • fingerprint enrolment • Face recognition • Face recognition • Themes • Themes
The notification shade is a standard affair, with the usual Huawei take on the graphics. There's a brightness slider and a row of toggles, and you pull down again for more toggles.
Multitasking is a familiar affair. Holding the Recent key will let you activate the split screen mode. You could even have a video playing on top of the two windows if for some reason you find that useful.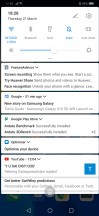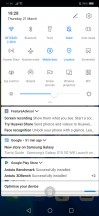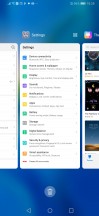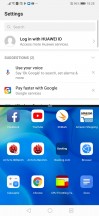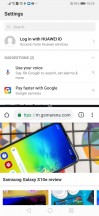 Notification area • Toggles • Recent apps • Split screen • Split screen
From the Optimiser app (previously known as Phone Manager), you can access shortcuts to storage cleanup, battery settings, blocked numbers, Virus scan powered by Avast, and mobile data usage.
Huawei's own Music app offers a way to listen to stored MP3s, while Huawei's Health app offers Google Fit syncing and step counting. There's a file manager app and a note-taking app. And if you don't like any of those - there is an abundance of alternatives in the Play Store.
There is an improved AI-powered gallery with EMUI 9. In addition to the automatic sorting with highlights, you will get an automatic but editable Spotlight Reel.
There is no FM radio on the P30 Pro, though.
Finally, Huawei P30 Pro features an IR blaster on its top side. Thanks to its Smart Remote companion app, you can control all of your appliances with your phone.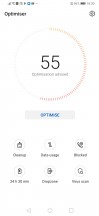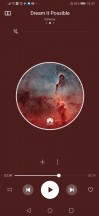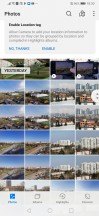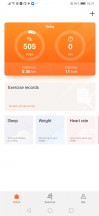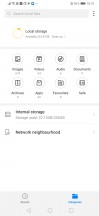 Optimizer • Music Player • Gallery • Huawei Health • Files • Smart Remote
But of course! Although each brand has its own photographic processing, nothing compares to the photographic treatment Huawei allows on its Leica lenses smartphones.
I just bought the Samsung Note 20 Ultra 5G and still have my P30 PRO, it still holds it's own with the camera quality even 2 years later
Seems like Huawei has tweaked high res mode. Used it today after long time and outcome was impressive (in good lightning, of course). Definitely tons better when I tried it after buying P30 Pro.