Huawei P40 Pro review
GSMArena team, 26 Mar 2020.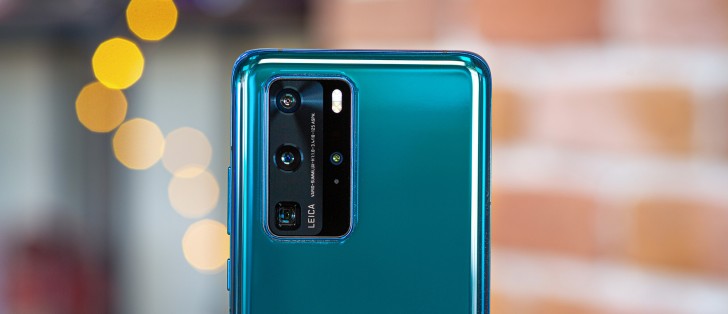 Next-gen Leica camera
The Huawei P40 Pro features the so-called Ultra Vision Leica Quad Camera, the fancy name behind the improved photography gear on the back. It's quite similar to the P30 Pro in terms of experience - there is a regular wide camera, an ultra-wide snapper, a 5x zoom shooter with periscope lens, and a ToF sensor.
This year, Huawei has worked on improving the overall quality, and each of the three cameras has an updated higher-resolution sensor featuring new color filters and improved lenses.
The main 'Ultra Vision' camera now employs a new large 1/1.28" 50MP Quad Bayer sensor, with a RYYB filter. The sensor is physically bigger than the Galaxy S20 Ultra's 1/1.33" 108MP imager. The same applies for the binned pixel size - 2.44µm vs. 2.4µm. The lens has a 23mm equivalent focal length and an f/1.9 aperture and it is stabilized.
The RYYB color filter has the green sub-pixels replaced by yellow ones. Huawei says yellow allows the sensor to collect up to 40% more light than the regular RGGB filters and this change should translate into better image quality in low-light.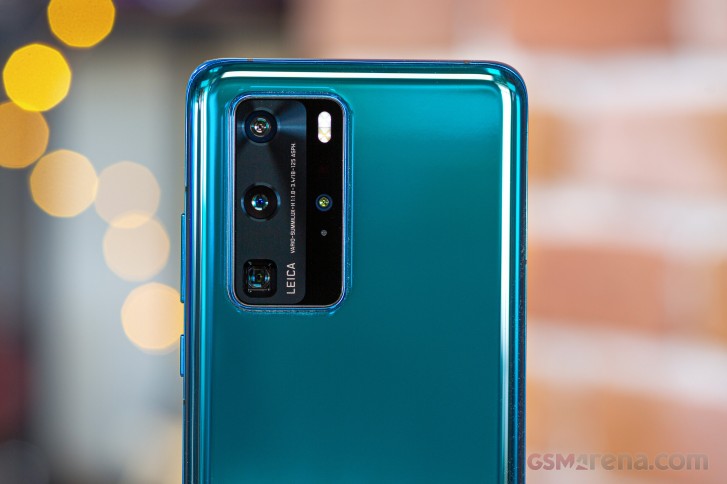 This camera has improved autofocus - now it's an all pixel omnidirectional phase detection autofocus. This means that not only are there autofocus detectors on each pixel but they are 8 of them per pixel. As a result, the camera's autofocus sensing has improved response to horizontal details whereas conventional dual pixel autofocus systems have a hard time with those. This also means autofocusing should also be generally improved in low-light.
By default, this camera outputs 12.5MP shots with a reported focal length of 27mm, which is different compared to the advertised nominal 23mm focal length that the camera is supposed to have. When you switch between 50MP and 12.5MP (default) mode, you can indeed notice that the high-res photos offer wider field-of-view, meaning some cropping is happening before we get those 12-megapixel photos.
The ultra-wide camera is an upgrade compared to the P30 Pro as it was introduced on the Mate 30 Pro. It's a 1/1.54" 40MP imager with a Quad-Bayer RGGB filter. And because of the Quad-Bayer nature, this snapper outputs 10MP images. And just like on the Mate 30 Pro, the photos are in a classic 3:2 aspect ratio as opposed to the usual 4:3 found in phone cameras. Huawei markets this camera as a Cine camera for its wider aspect ratio.
The telephoto camera has a new sensor - it's a 12MP imager but its not visible on the back, you can see only the end of its periscope lens. The refracted light passes through a set of additional optical elements inside until it reaches the sensor, which sits perpendicular to the phone's plane. The system also provides optical image stabilization.
The periscope lens on the P40 Pro is 125mm, and it has f/3.4 aperture, and it should offer 5x optical zoom (125mm) over the 23mm/27mm main camera. Well, if you do the math, the optical zoom isn't exactly 5x as 125/27 equals 4.63 (if shooting in default mode), but then 125/23 equals 5.43x (for when shooting in high-res mode). Yes, 5x seems to be the average of these two but it's another place where the dual FoV of the main camera brings further confusion.
The fourth and final camera is a ToF one. The ToF (time of flight) camera speeds up the autofocus, and it also improves the subject separation and provides a more convincing background defocusing in portrait mode.
And speaking about portraits, the Huawei P40 Pro also features an upgraded multi-spectrum color temperature sensor with support for 8 channels (up from 3) and it has AI AWB (white balance) algorithm for even more accurate color balance when taking portrait shots.
The selfie setup has been upgraded, too, and it now features two cameras and autofocus!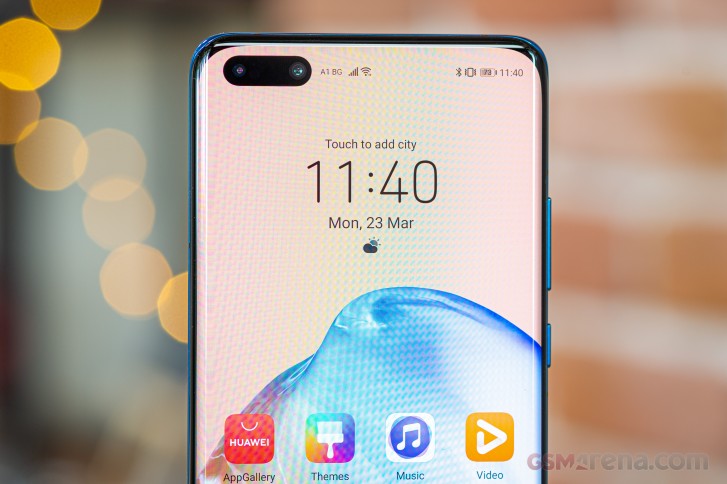 The primary camera uses a 32MP sensor behind an f/2.2 26mm lens. Autofocus is available for the first time - an improvement that is way overdue. Second, comes another ToF camera, which will help for superb bokeh selfies.
Huawei's camera app is pretty functional. You have a Mode selector on the bottom which you can swipe left or right to change modes.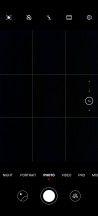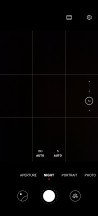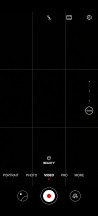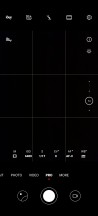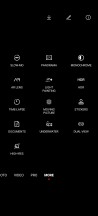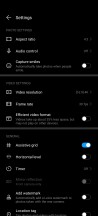 Camera app • Night Mode • Video • Pro mode • All other modes • Settings
Zooming is the other less-than-ideal bit about the P40 Pro's camera UI. While the selector is reasonably accessible with the right thumb when holding the phone in portrait, operating it in landscape requires both hands. So, effectively, it's neither equally well suited to left-hand and right-hand use in portrait, nor is it usable single-handedly in the landscape. None of its competitors has these issues so Huawei can work more on improving the UI.
The camera app is enhanced by Huawei's AI just as before. There is an improved Master AI, which recognizes and tunes settings for up to 1,500 different scenes. There's a toggle in the viewfinder for turning it off and on, so you don't have to go into settings for that. We tend to keep it off, although the recent implementations are nowhere as aggressive as they used to be with phones in the past.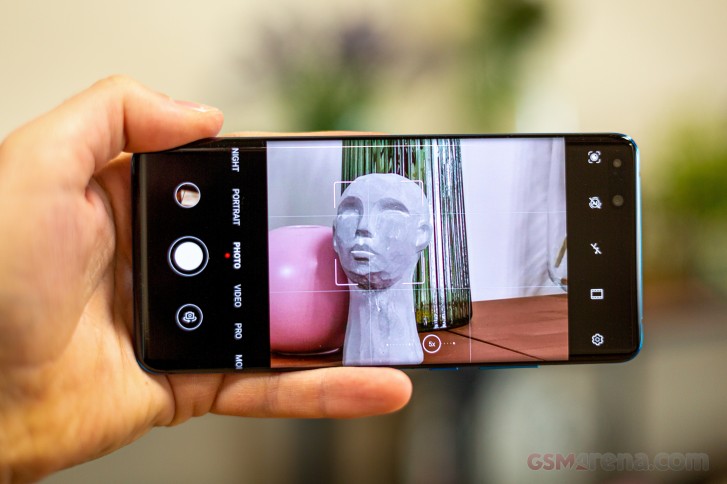 There's a Pro mode too where you can adjust parameters yourself - ISO (50 to 409,600), shutter speed (1/4000s to 30s), exposure compensation (-4 to +4EV in 1/3 stop increments), and white balance (presets and specific light temperature). You can also choose the metering mode (matrix, center-weighted, and spot), and the focus mode (single, continuous, and manual). If the phone thinks you messed up the exposure, an icon will pop up to warn you. Mind you, Pro mode is available on all three cameras, which isn't usually the case with competing phones.
By the way, Pro mode is available for video as well, and the maximum ISO there is 51,200. unfortunately, you can't set a desired shutter speed.
For years now, Huawei phones have had both a Portrait mode and an Aperture mode. In Aperture, you can choose the simulated aperture in the range from f/0.95 to f/16. Post shot, you can change the aperture and the desired focus point within the Gallery.
In Portrait mode, you can enable and disable the background blur, but you can also choose the bokeh shapes - circles, hearts, swirl, or discs. You can also opt for simulated lighting, and you can add some beautification on a scale from 0 to 10.
Super Moon Shot has made it on the new P40 Pro, too. It is now supported on both 10x and 20x zoom modes, but for the first time - you can now use Moon Shot on video, too. It will be interesting to see if this time the Moon is the real one, or one that's shopped on the go on your photos (and now videos).
Finally, there is this new feature called Golden Snap. It works when you enable Live Photo shooting and is basically an AI suggestion in the gallery for when your main photo isn't perfect (say there is a reflection or a blurry passerby), but the Live Photo did manage to capture info that will help improve it (remove said reflections or passerby).
The information from the Live Photo can be used later in the Photo Editior, which offers manual options for improving and/or removing reflections and passerby.
Image quality
Let's look at some daylight photos. The ones we took with the main camera are saved in 4,096 x 3,072 pixels or 12.5MP and turned out of excellent quality. There is plenty of resolved detail even in areas of high complexity, the dynamic range is stellar, no visible noise, and the colors are lively even if somewhat warmer than reality.
We noticed over-sharpening here and there, but not enough to ruin the overly positive impressions we had.
While Huawei offers a dedicated HDR shooting mode, you will not use it, ever. The camera of the P40 Pro has improved Huawei XD Fusion Engine - the PR name behind the multi-stacking process - and Huawei already has a master's degree in this - the photos always excel in dynamic range.
High-res mode is available, and it shoots in full 50MP with the main camera. It is a debayering process that doesn't take more than second and saves a high-res photo with a bit wider field-of-view than the default 12MP mode.
Unfortunately, the high-res mode can't benefit from all software tricks the default mode uses (like multi-stacking) and the 50MP are soft with uninspiring detail level. If these 50MP shots are downscaled to 12.5MP - they won't exhibit more detail compared to the default photos, but you will get wider FoV.
In our experience, it's not worth shooting in 50MP, but the option is there, so we appreciate it.
If you need wider FoV, then you just switch to the ultrawide camera. Granted, it's not as wide as on many of the P40 Pro competitors - the new iPhones and Galaxies have 13mm lenses, while the P40 Pro offers 18mm.
Still, the 10MP ultrawide photos are simply class leading. The resolved detail is extraordinary, the dynamic range is as impressive, there are no soft corners or wrapped buildings, and the colors are absolutely accurate.
A bit excessive sharpening is still noticeable here and there, but despite that - those are still among the best wide photos we've seen from a smartphone.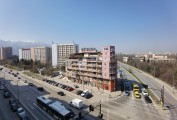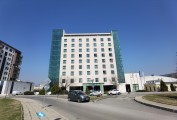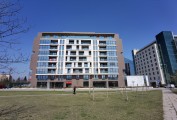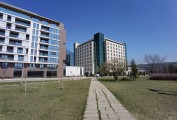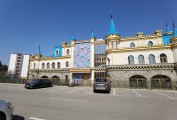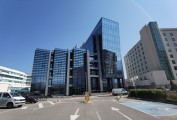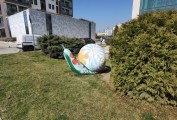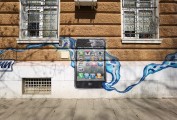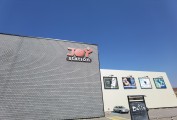 Huawei P40 Pro 10MP ultrawide photos
The 12MP 5x zoomed photos are nothing short of brilliant, too. They are extremely detailed, excel in dynamic range, free of noise, and with the right sharpness.
The colors are punchy though once again a bit warmer than they should be. We'd say Huawei needs to tune its image processing better for when working with sensors with RYYB filters.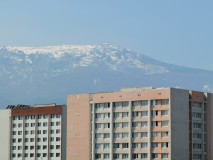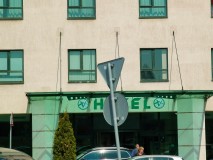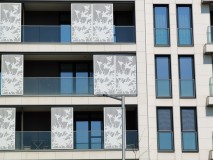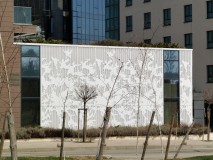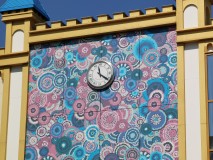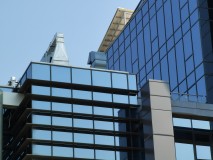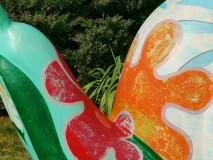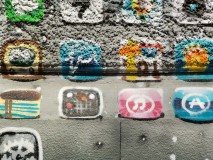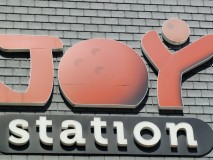 Huawei P40 Pro 12MP telephoto samples (5x)
The so-called hybrid zoom is available beyond 5x up to 50x. The 10x is the next fixed and final step on the zoom slider, you need to pinch for more. We shot some 10x zoomed images - and you can tell those were made by digital zooming only. They do look good on full screen, but at full resolution - we saw nothing hybrid.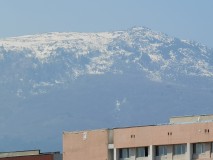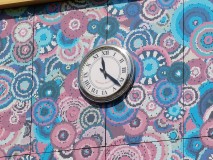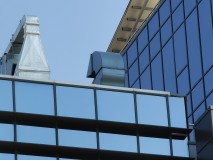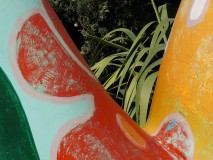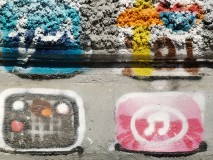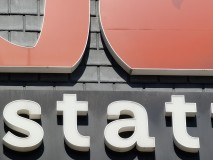 Huawei P40 Pro 12MP photos - 10x hybrid zoom
We chose these two scenes to snap some photos with all fixed zoom levels available on the zoom slider.
And this is a 50x zoom sample, in case you were curious.
We also snapped some close-up shots with the ultrawide camera for you to enjoy. Then last one was taken with the regular snapper and you can clearly see the difference in the color reproduction - the ultrawide shooter got the green leaves just right, the primary - did not.
Let's move to low-light performance.
The photos taken at nighttime with the main camera are flagship-grade. They have great level of detail, balanced exposure, good colors, very low noise, and the perfect sharpness.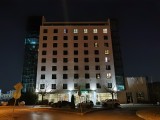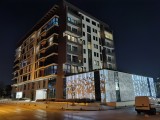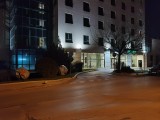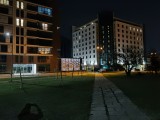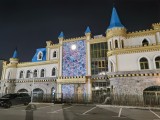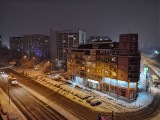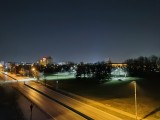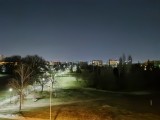 Huawei P40 Pro 12.5MP low-light photos
If you turn on the P40 pro's Night Mode, the main benefit is that more detail is revealed in the shadows but there is no change in the already excellent highlights. There is no benefit to be had in terms of detail or noise - we even had some photos come out softer, so we think the 4-5 second wait for Night mode is hardly worth it.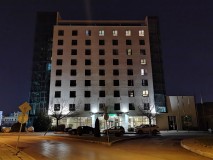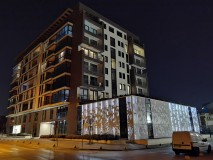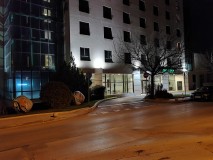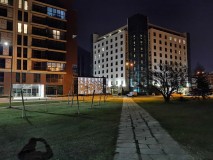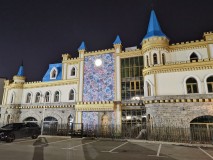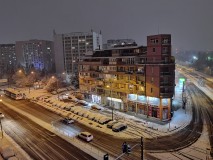 Huawei P40 Pro 12.5MP Night Mode photos
The 10MP snaps from the ultrawide camera are great as the one from the primary snapper - sharp, detailed, noise-free. The colors aren't washed out and we really liked all samples we shot.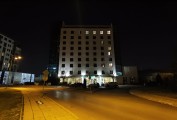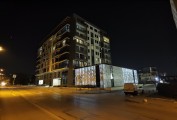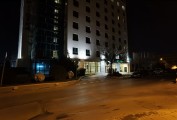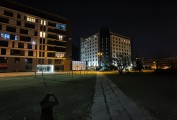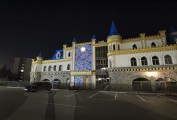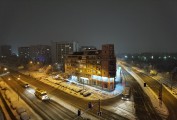 Huawei P40 Pro 10MP ultra-wide low-light photos
Night Mode is available on the ultrawide camera, too, but you should stay away from it. It requires up to 8 seconds of steady holding the phone and then the images will be lacking in detail big time. Some of them are so soft, borderline blurry, and this makes them rather unusable.
For the ultrawide Night shots the tradeoff in quality is even pricier than on the regular camera and best-case scenario - you'd get a bit brighter sky, grass, or pavement. Not worth it.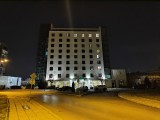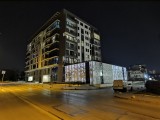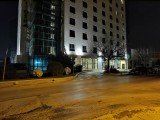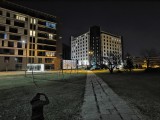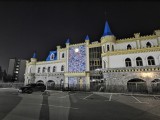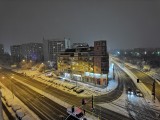 Huawei P40 Pro 10MP ultra-wide Night Mode photos
The phone will automatically decide when to use the 5x zoom camera in low-light. If the app decides it's too dark, it will switch to digital zoom over the main camera and you don't want that. This happens very rare though, say, 1 out of 8 cases.
So, the standard 5x shots are quite usable, they are pretty dark, but it's clearly visible what's at their center, with good detail at that. The colors are a bit off, but it's not that big of an issue.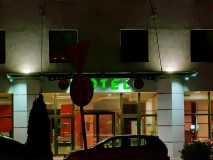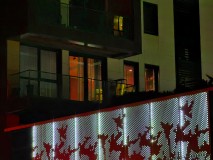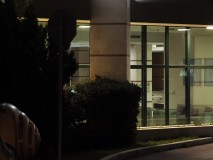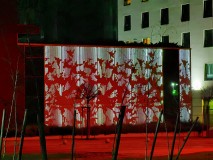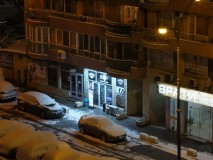 Huawei P40 Pro 12MP 5x zoom low-light photos
The Night Mode works wonders on the telephoto camera. Sure, it takes about 8 seconds and a steady hand, but it brightens up the whole picture, improve the detail, and fixes the colors.
We recommend the Night Mode over the regular mode for zoomed photos, though not too often, as your hand might start aching from the pressure to stay still for a total of 10 seconds.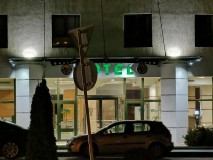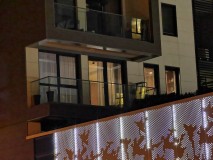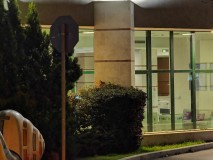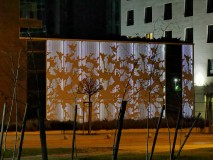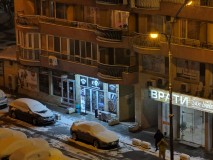 Huawei P40 Pro 12MP 5x zoom Night Mode photos
Now that you're done with the real world samples, head over to our Photo compare tool to see how the Huawei P40 Pro stacks up against other smartphones.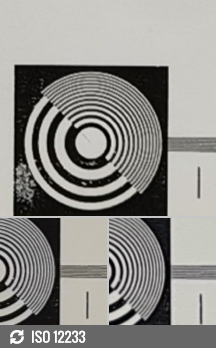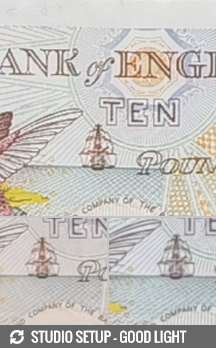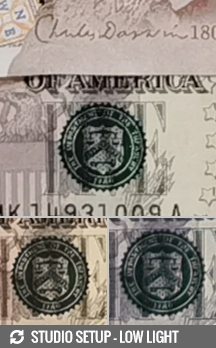 Huawei P40 Pro against the Huawei P30 Pro and the Galaxy S20 Ultra 5G in our Photo compare tool
But we have call recording on Huawei and it runs natively in the phone app.
I bought it in April 2022 and installed GMS
This was launched in the begining of 2020, and you buy it in 2021 and give it bad review because it does not support google? You didn't know that when you bought it? Too fresh information for you? PS: it was launched without google services, d...