Huawei Watch Fit 2 review
Yordan, 17 July 2022
Introduction
Huawei Watch Fit 2 made its global debut in May at a glamorous event in Milano, where we also saw the Watch GT 3 Pro and the foldable smartphone Mate Xs 2. We already reviewed the flagship wearable, and now we also got to spend some time with the Fit.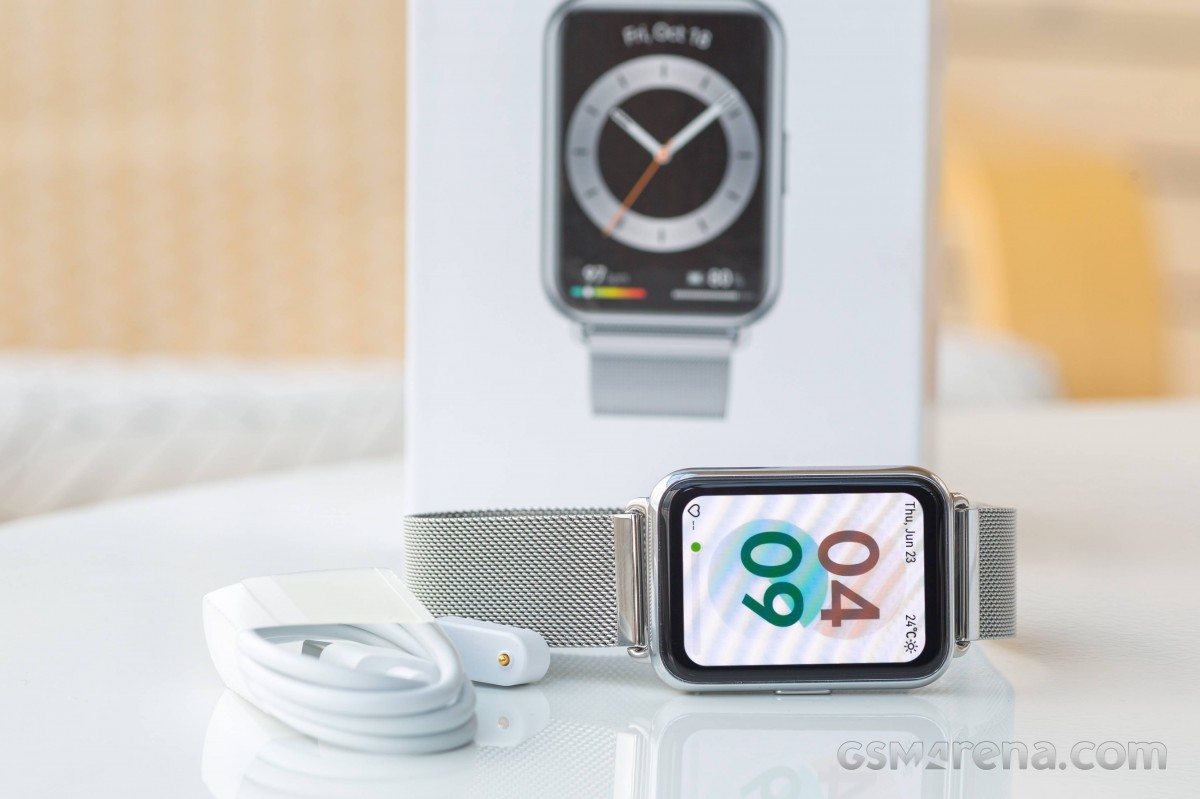 It has a 1.74" AMOLED display, heart rate, SpO2 and stress tracking as well as support for 97 different sports modes. Huawei offers it in three styles, with our being an Elegant solution in Silver Frost color with a magnetic metal band. The 20mm band itself is standard and easily replaceable, but we loved the overall look, so we found no reason to look for alternatives.
Design and build
The Huawei Watch Fit 2 has a rectangular body and an impressively thin bezel on all four sides. It is quite compact, fitting half way between smartwatches and smart bands. The maker equipped it with a single flat button on the side and a touchscreen, which is the only way to navigate - you cannot scroll with any rotating button.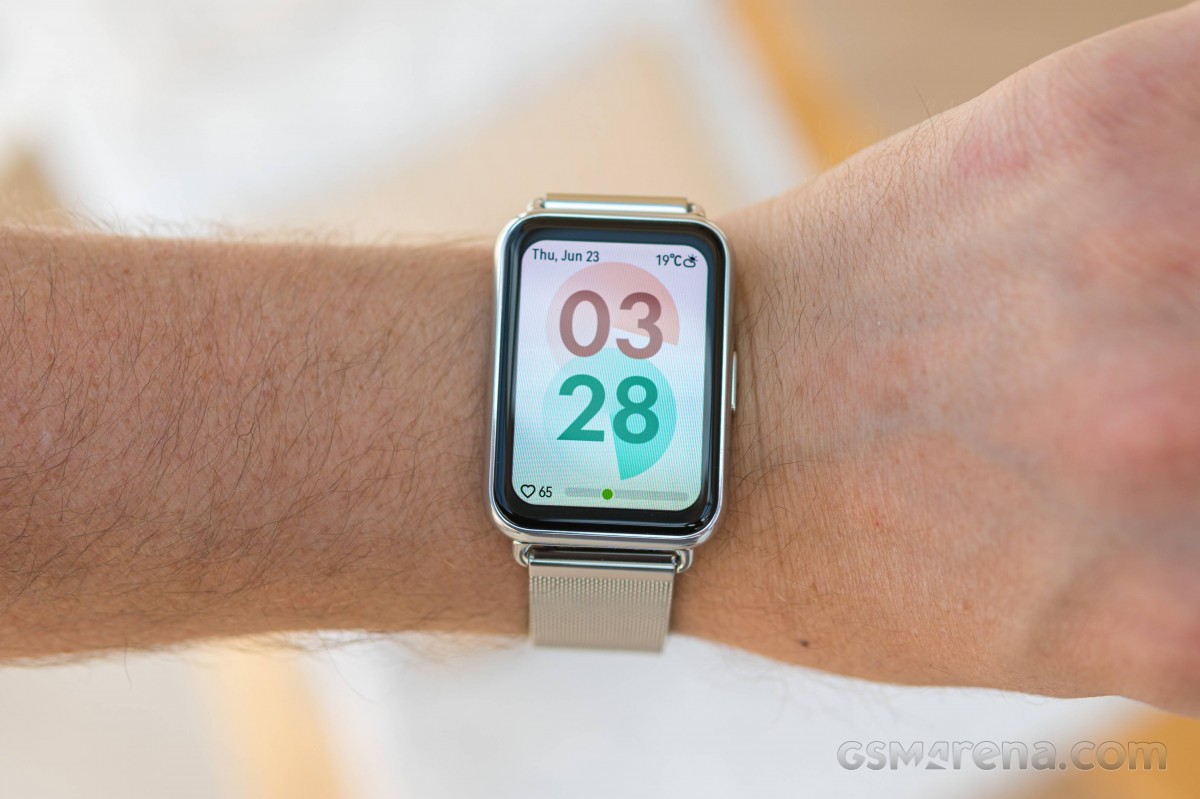 The watch is extremely light - around 30 grams without the metallic band. But even that included it is still barely felt on your wrist. However, people who are not into removing their arm hair might have slight issues with the strap that borrows the design from medieval chainmail with tiny circular elements weaved into each other.
The back side has the health sensors and the big disappointment - two pogo pins for the proprietary charger. That's right, the Watch Fit 2 does not support wireless charging, so you have to carry yet another cable. Huawei decided to go for a magnetic option which can be a hassle due at time as the magnet attaches to the metal frame and strap instead of the actual pogo pins.
Software
The user interface is Harmony OS 2.0, essentially what Huawei has been using in its wearables for the past couple of years. The OS is adapted for the rectangular screen, meaning the menu is only in a list - there is no option to have all the apps and features on a single screen, floating next to each other like the GT 3 devices.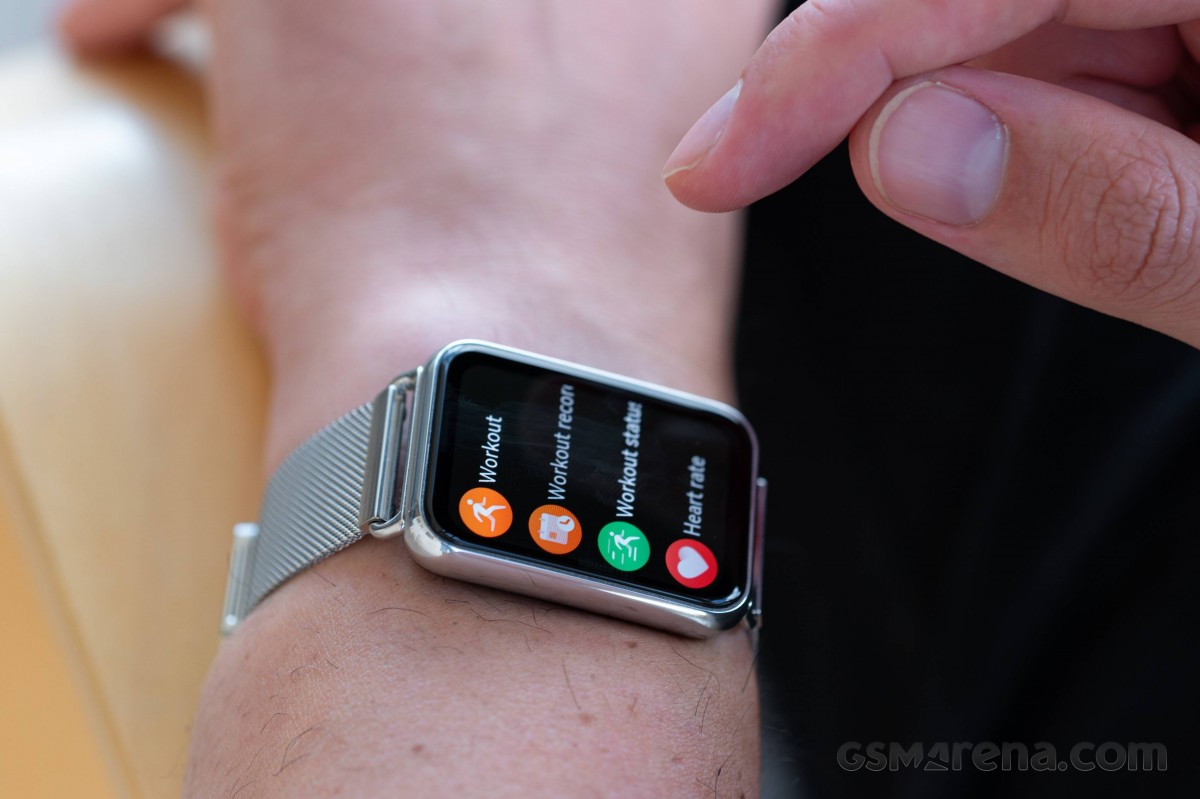 Downloading Huawei Health is essential for the proper functioning of the Watch Fit 2. Thankfully, we had no issues connecting the wearable to any of the phones we tried and the app can be downloaded even from a browser. We should mention that while Huawei Health is available on Google Play, the company recommends getting it from its AppGallery repository as it has a more up to date version. In fact the version currently available in the Play store doesn't yet support the Watch Fit 2.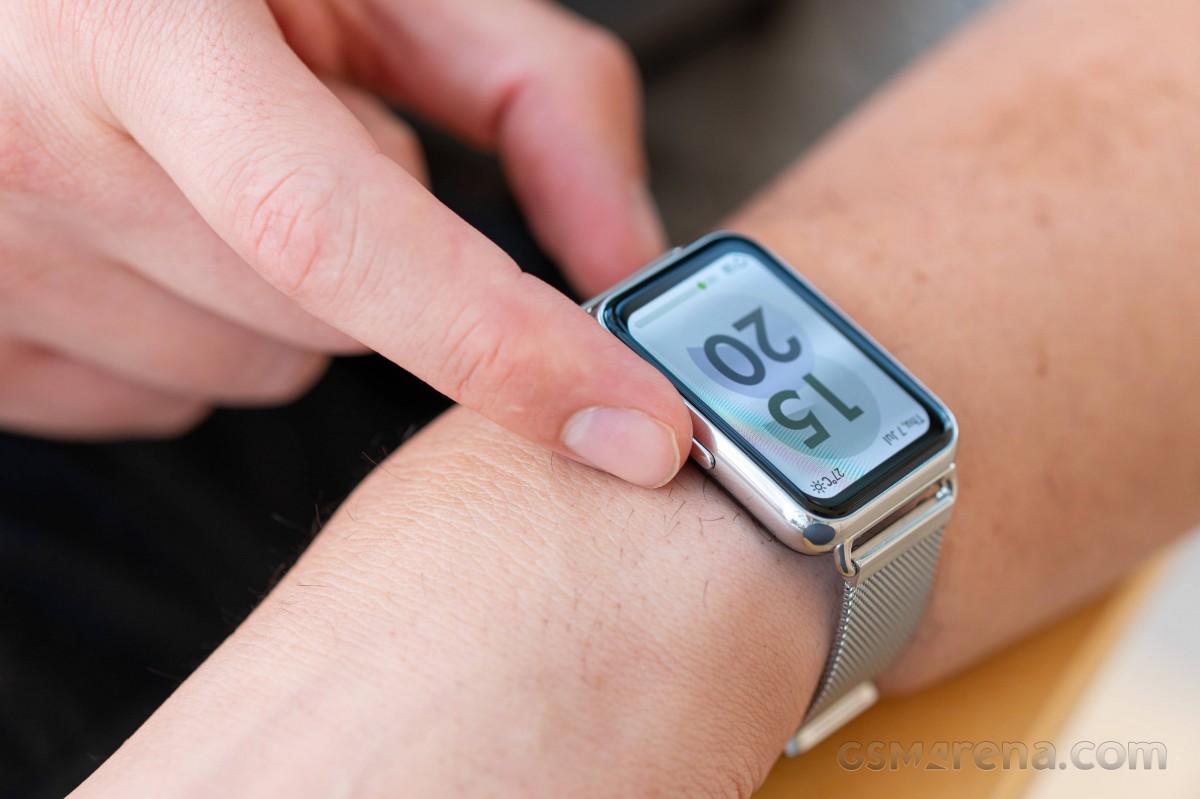 The Huawei Watch Fit 2 supports 97 sports modes, one more than the Huawei Band 7. We specifically asked company executives about the difference between the band and the watch because both segments have fluctuating boundaries. The Fit 2 comes with GPS, unlike the band, meaning it can track a run or a swim or a bike ride on its own and does not need smartphone assistance for that.
Notifications delivery is reliable, although Huawei has issues displaying emojis, and they come out as an asterisk, especially if someone reacted on an Instagram story. Still, they are easy to manage and navigate. Also, the Watch Fit 2 comes with weather updates (which are pulled from the phone), sunrise and sunset times and moon phases.
Battery life
The Huawei Watch Fit 2 has a 292 mAh battery. It can go up to 10 days on a single charge with AOD off and some health monitoring features turned off.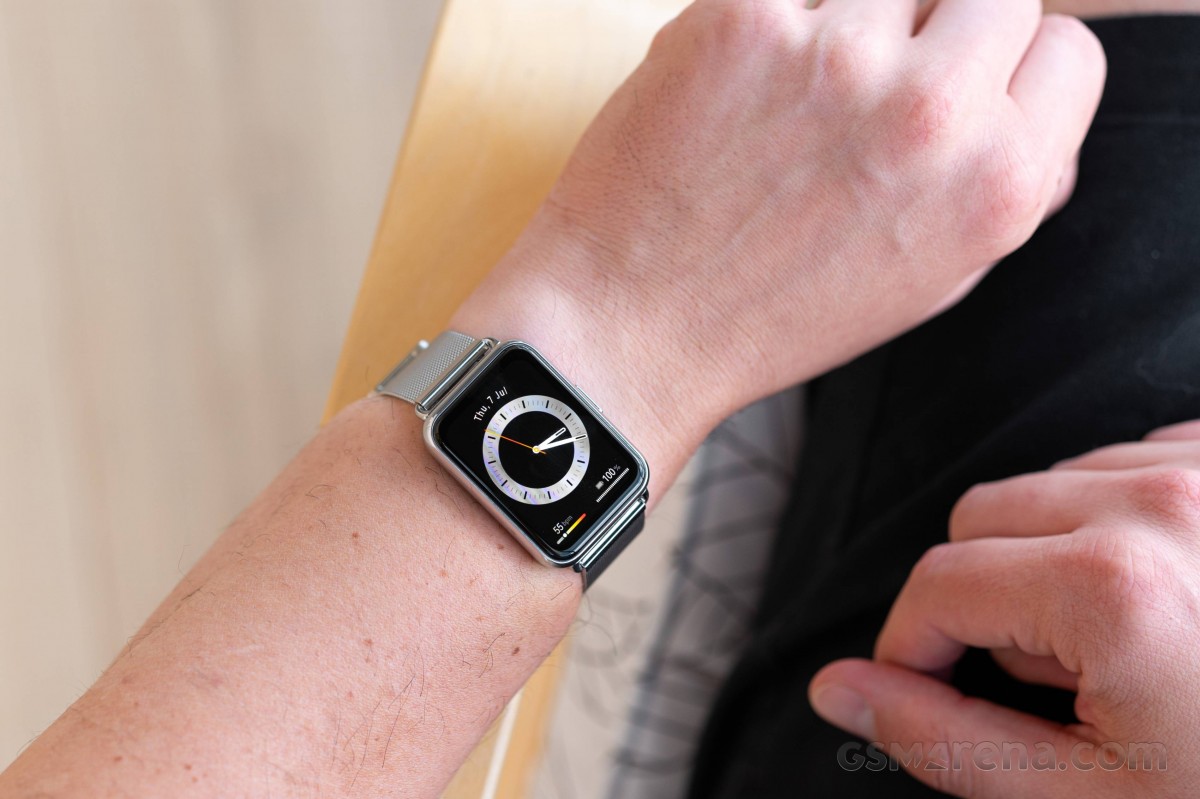 In real-life scenarios, the Watch Fit 2 lasted us for eight days, especially if everyday activities are involved. Turning the AOD halves that. On the upside every pre-loaded watch face comes with its AOD design, so at least you are getting some extra style to make up for the lost endurance.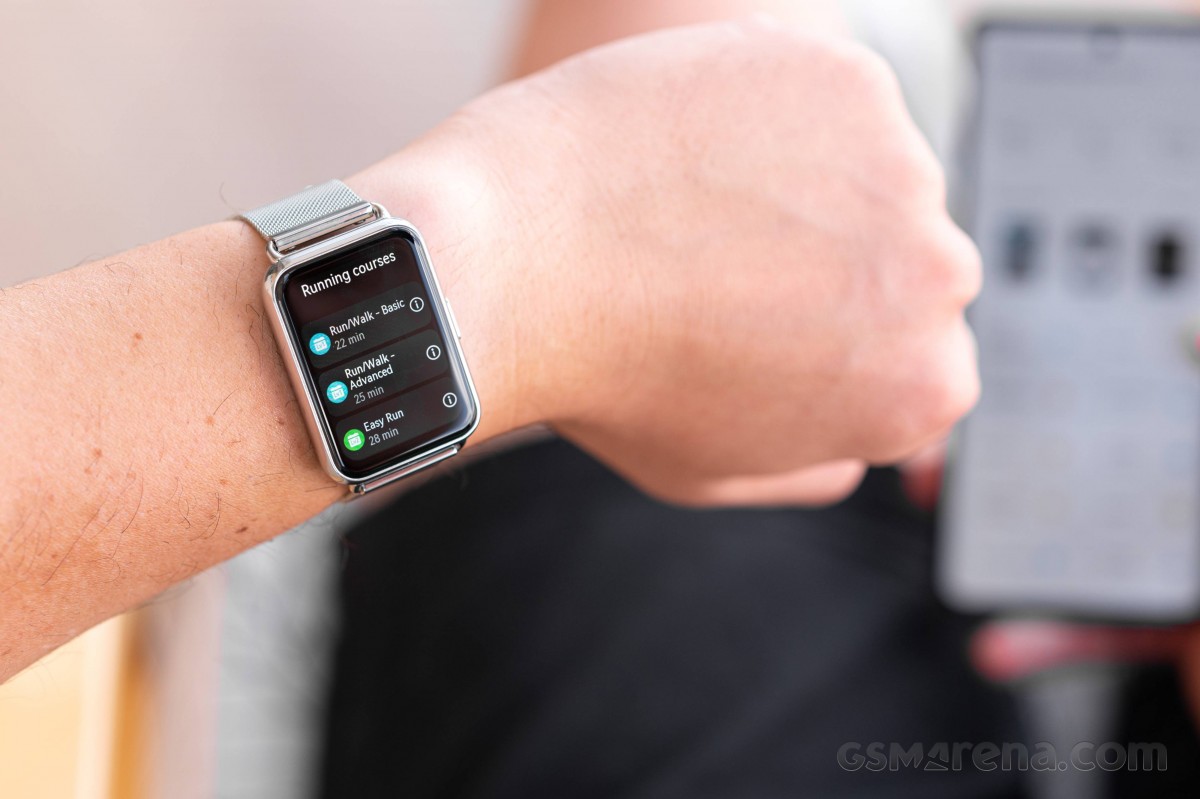 The already mentioned proprietary charger comes in the retail box, and at the other end has a USB. A 50% charge takes 30 minutes, while 0-100% takes about 80 minutes.
Verdict
Huawei offers the Watch Fit 2 as a stylish solution for urbanites who want a fashion accessory that can also display notifications and some health tracking. We loved the available strap selection and the quick connectivity and communication with the smartphone.
We also enjoyed the audible fitness animations for those who prefer exercising while staring at their wearable. The GPS is reliable enough for any casual jogger and their weekly 5k run.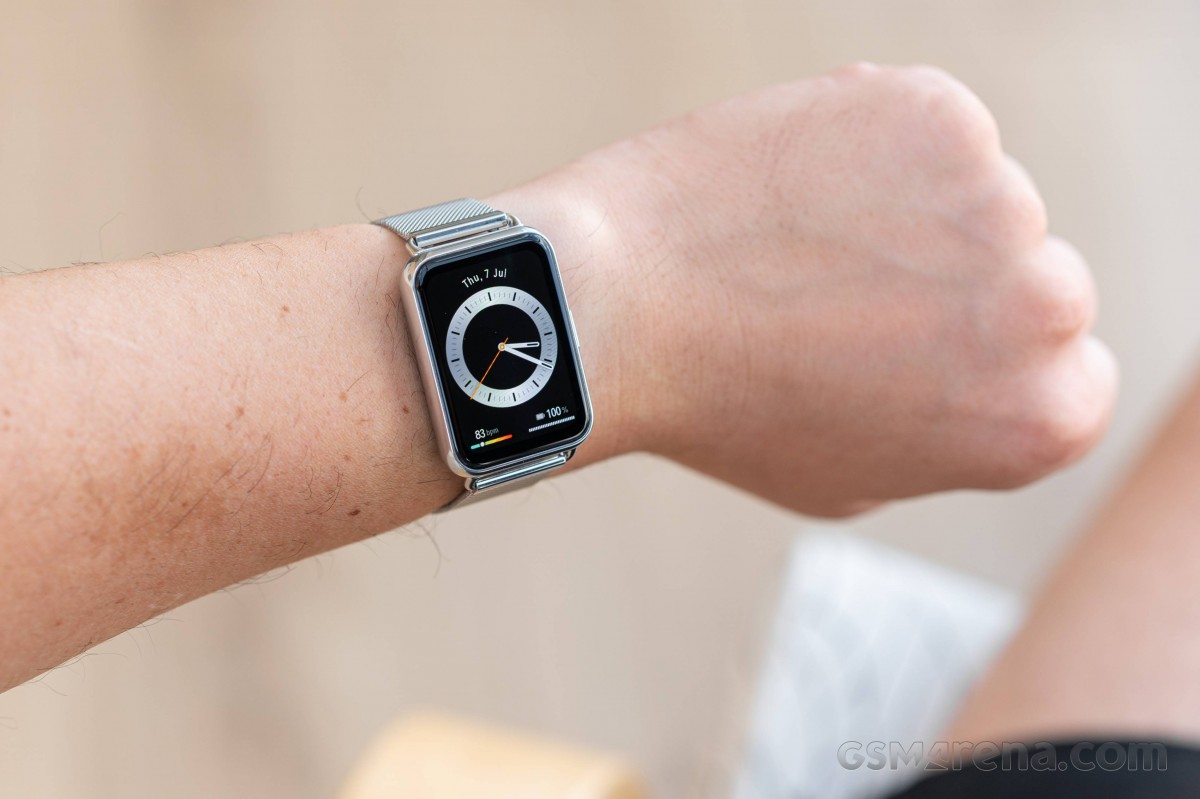 Prices of the Watch Fit 2 are €150/€180/€230, depending on whether the user picks a fluoroelastomer band, a classic leather band, or the stylish choice we tested. As always, Huawei offers plenty of freebies and other discounts so that the price can get you not just a pretty wearable but a scale or a portable speaker in most markets. It seems like a solid deal to us!
Related
You forgot to mention that bluetooth calling and sms reply along withbsocial media integretion
my FIT 2 watch doesn't have skin temperature option and nfc, why?
Guys, you forgot one of its device's crucial features, 32 GB internal memory for music. For me, going for a walk listening to music without carrying the smartphone is a huge advantage.
Popular articles
Popular devices
Electric Vehicles