Infinix Zero 5G review
GSMArena Team, 11 February 2022.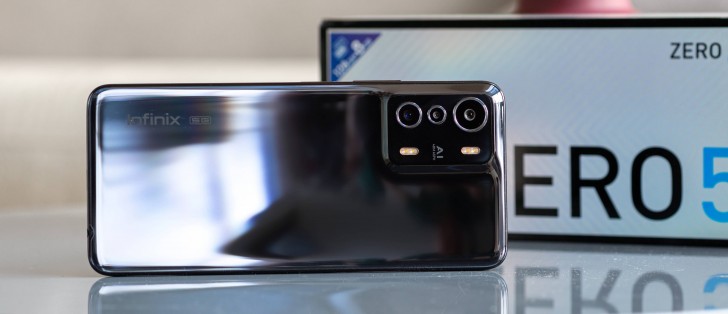 Design
The Infinix Zero 5G has an interesting design, particularly around the camera island. It is immediately reminiscent of the Oppo Find X3 in the way that it curves and slopes the back surface onto the camera assembly. And while Infinix was able to imitate the design of the far more premium Oppo quite well it couldn't quite match the Find X3 build quality as it's made of plastic.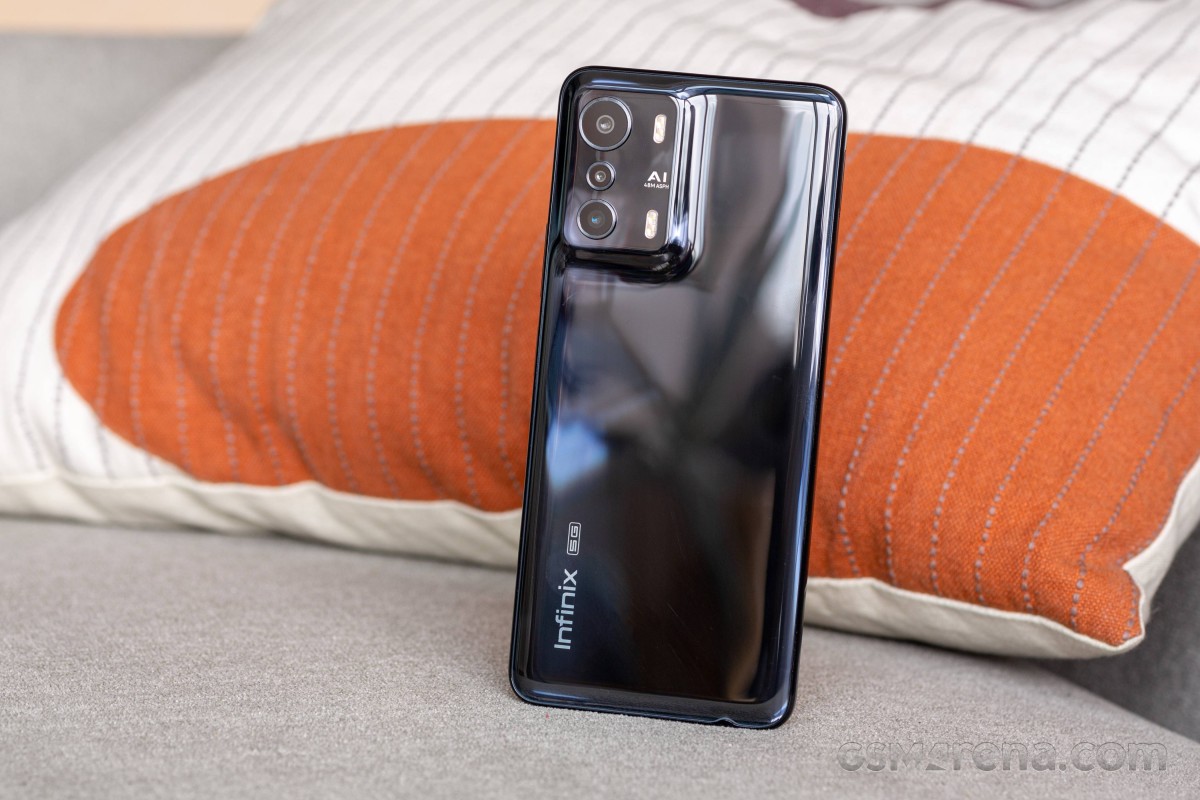 As a whole, the Zero 5G uses a more retro two-piece design, with a unibody shell on the back and a front display assembly slotted into that. The sides are smooth and curvy. So much so, that the Zero 5G is incredibly slippery. We would recommend using a case for grip alone.
Beyond that, the particular shiny surface Infinix has managed to achieve is a fingerprint magnet. It feels like it is constantly greasy and dirty when in use.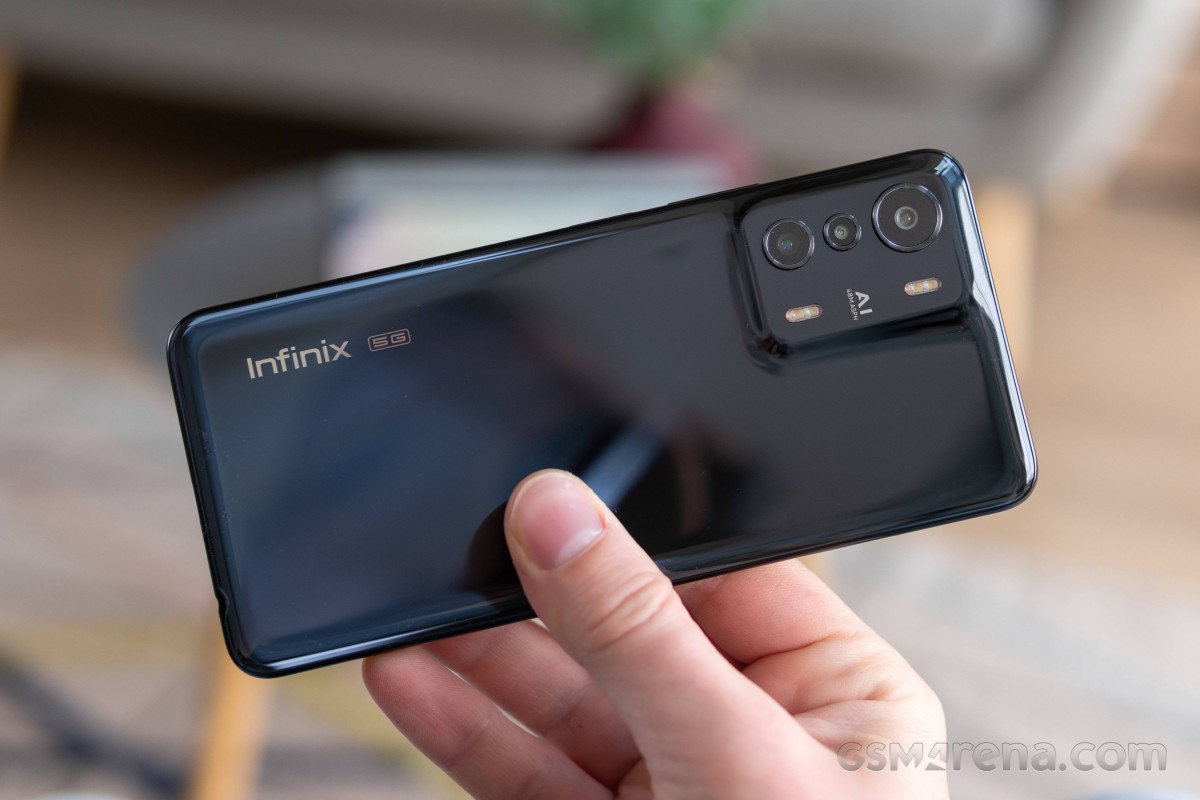 Speaking of ergonomics, the camera hump on the Zero 5G is so big and oddly shaped that it wobbles quite a bit on a flat surface. So while what Infinix calls uni-curve design fares decently in terms of looks it's not doing well in terms of ergonomics.
We do like the selection of colors, though. These include Cosmic Black, Skylight Orange, and Horizon Blue, apparently inspired by: "far away galaxies", "the bright and energizing sun," and "mesmerizing sky," respectively. Skylight Orange seems to feature some sort of textured finish on the back, which probably mitigates our unit's dirt and grease issues. Though, we haven't seen that one in person, so we can't say for sure.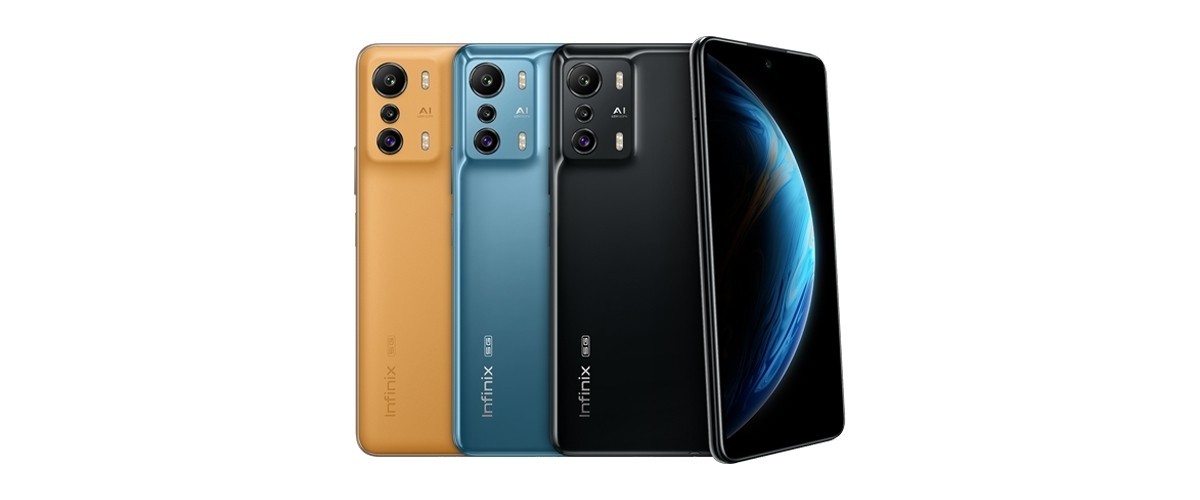 Also, on the plus side, the Zero 5G is reasonably light at 199 grams, partially because of its bill of materials. 8.77mm of thickness is also reasonable when considering the 5,000 mAh battery inside.
Build quality and materials
The Zero 5G is a budget device and, as such its body is plastic. Infinix calls it a "composite material that mimics the look and feel of glass creating an elegant device that feels premium to the touch", but that's just plastic with extra words.
We do agree that the material itself does a good job at imitating glass, though. We would have personally preferred a matte finish that does not gather as many prints and grease, but we are inclined to agree that the Zero 5G has a premium look and appears quite elegant from afar. In-hand, however, its mid-range standing is immediately obvious.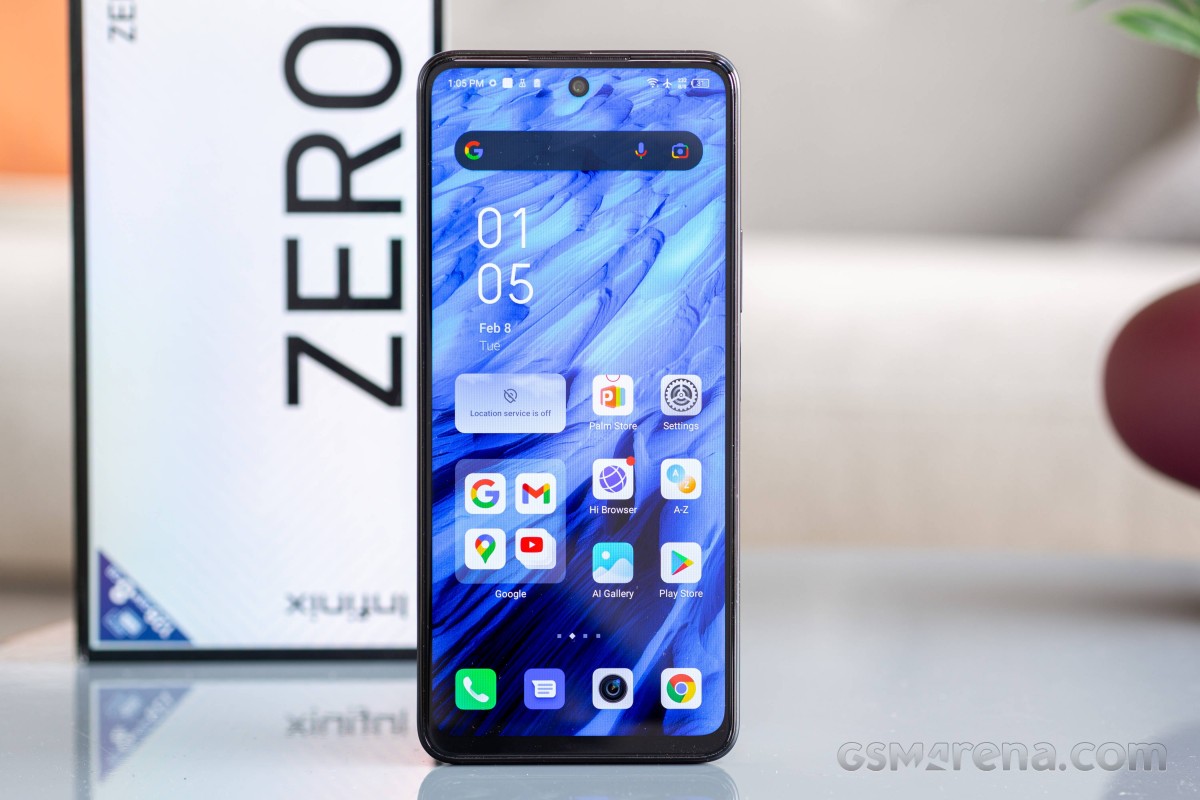 There is a bit of a hollow feel to the back of the Zero 5G, but overall the phone feels sturdy enough, with little to no flex. There's no ingress protection rating though, nor a more durable sheet of glass in front of the display.
Controls
The Zero 5G has a pretty standard control layout. That is to say, aside from the front-facing LED flash positioned in the top right corner, above the display. While definitely a rarity on mobile phones as a whole, selfie flashes are present on a number of Infinix phones.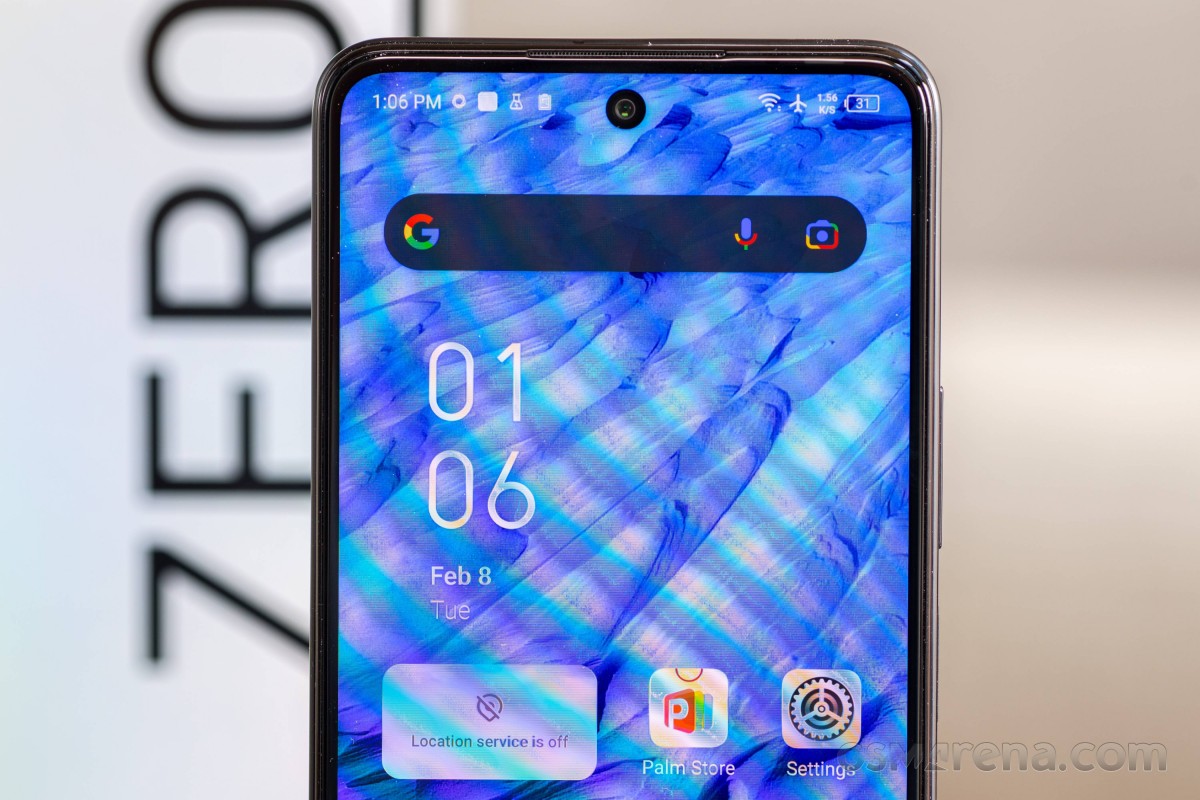 Alongside it are the light sensor and a proximity sensor. Particularly for a budget device. The earpiece is also tucked away nicely in the top bezel, which makes for a clean look. There is no notification LED there, in case you were wondering. Speaking of sensors, the Zero 5G also has a g-sensor, e-compass and a gyroscope. Pretty well equipped overall, with no significant omissions.
On a less positive note, the Zero 5G lacks a stereo speaker setup, not even a hybrid one with an amplified earpiece. The sole speaker on the Zero 5G is bottom-firing and is next to the Type-C port, wired for USB 2.0 data speeds and 33W of charging. Also on the bottom side - the primary microphone and a trusty old 3.5mm audio jack. The included FM radio receiver also leverages the latter in the Zero 5G.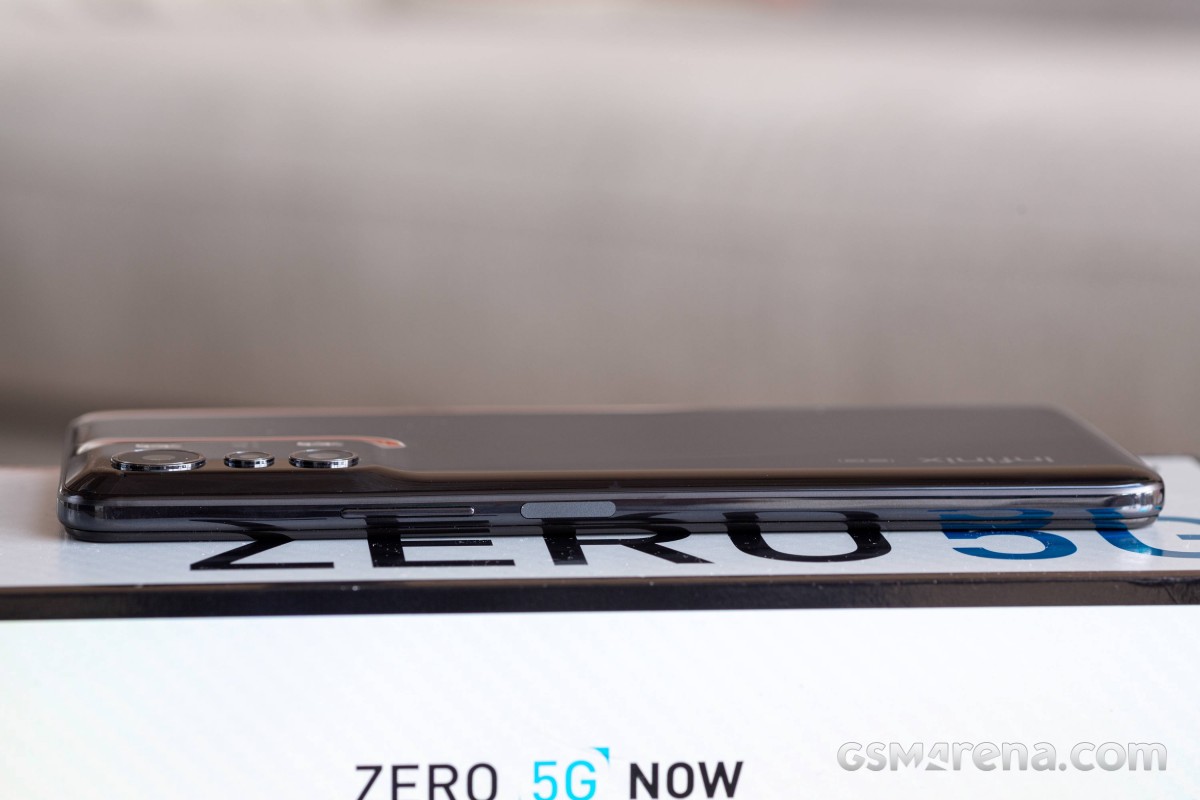 The right side of the Zero 5G houses the volume rocker, which feels rather horrible. The keys are mushy and soft, with practically no travel or tactile feedback. At least they are positioned well-enough vertically.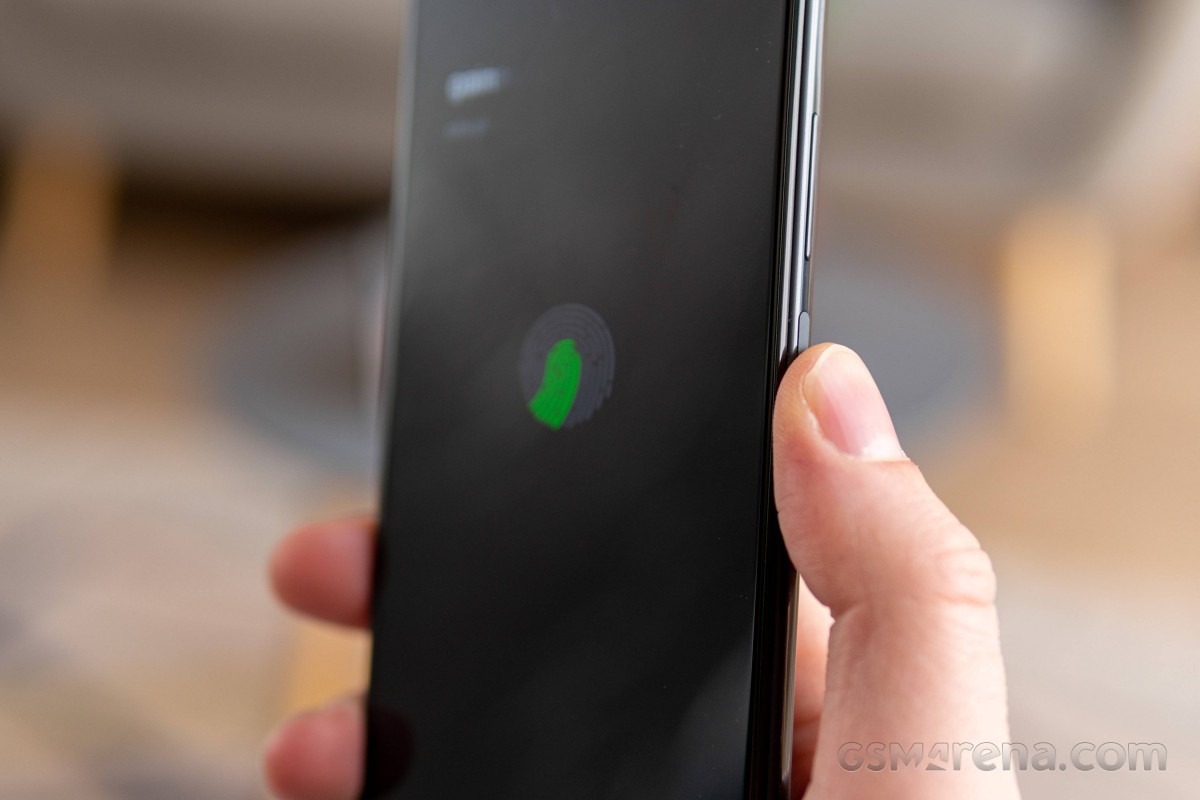 On the other hand, the power button/fingerprint reader combo feels great. It is nice and "clicky," and the fingerprint reader is fast and accurate. No complaints there.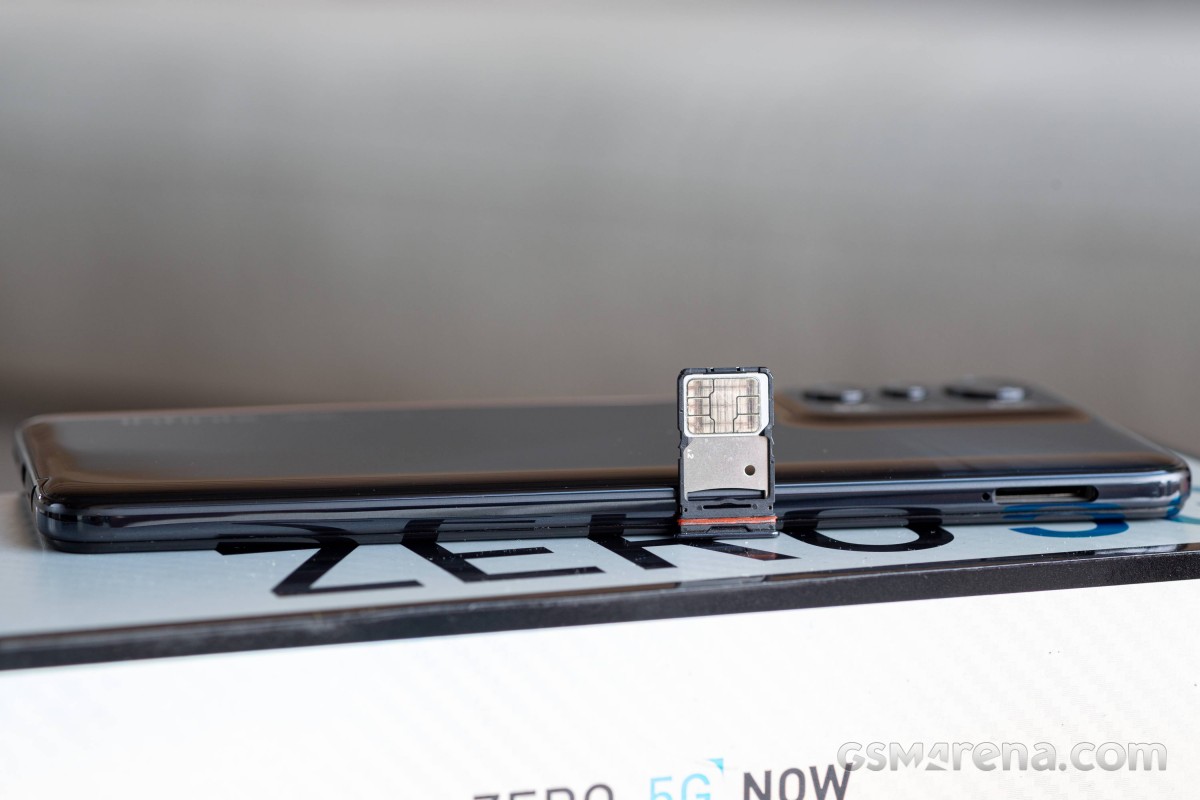 The left bezel on the Zero 5G only houses the card tray. It is fully featured and takes two nano-SIM slots on one side and a microSD slot on the other. No picking and choosing necessary.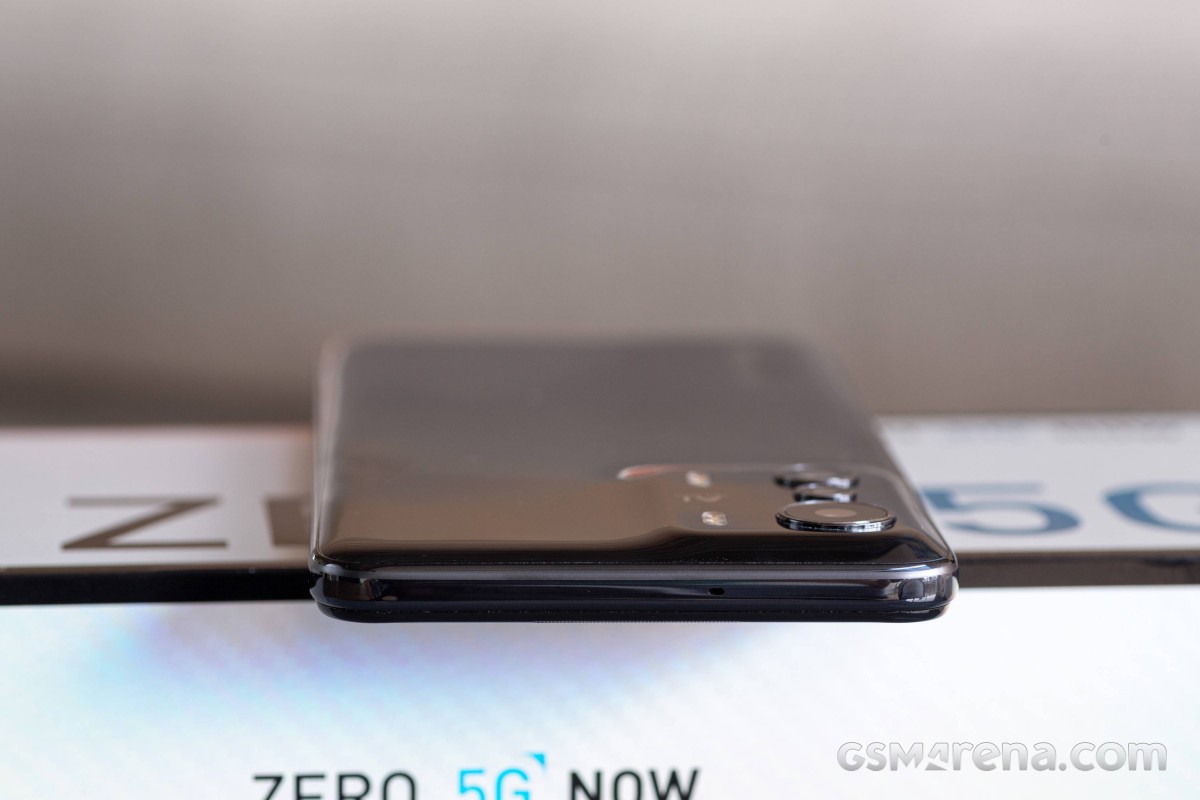 The top bezel on the Zero 5G is basically empty, sans for the secondary noise-canceling microphone.
Connectivity
We tend to skip this section on most of our reviews these days, but we go over things for the Zero 5G since Infinix is putting a big emphasis on its connectivity. Particularly its 5G modem, with support for 13 bands. The full list is: n38, n40, n41, n77, n78, n79 Sub6 TDD and n1, n3, n5, n7, n8, n20 and n28 Sub6 FDD. The official Infinix website mentions an X6715 device variant with all of the aforementioned bands and an X6715B one that lacks a few of the FDD bands.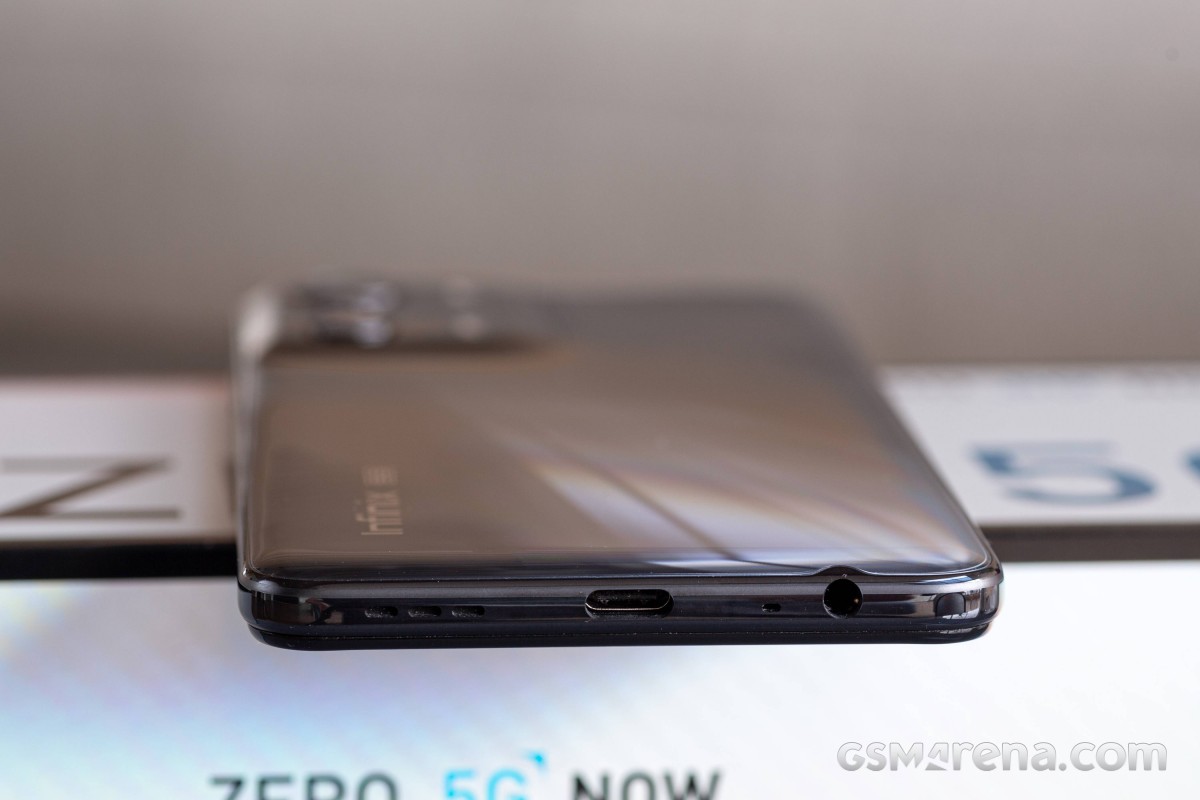 As we mentioned, the Zero 5G has Dual-SIM support and True Dual 5G SIM (5G SA + 5G SA) standby and VoNR, all courtesy of the MediaTek Dimensity 900 5G. As for local connectivity, the Dimensity 900 offers 2x2 M-MIMO Wi-Fi 5 and Bluetooth 5.2. You also get an FM radio receiver and OTG support. No NFC, though.
No, buy a Samsung or something
WiFi and Software issues... BLU phones are better than this... Really
Too much bad phone Speaker issue