Infinix Zero X Pro review
GSMArena Team, 8 November 2021.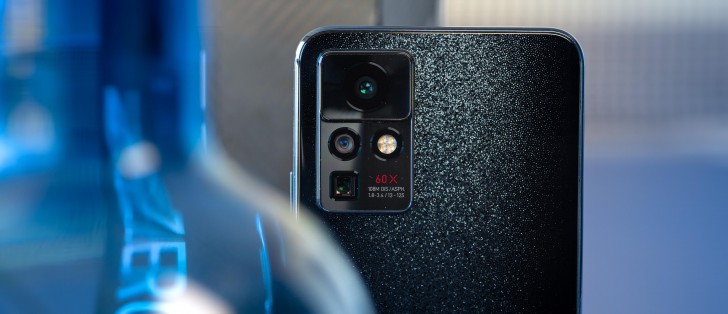 XOS 7.6 on top of Android 11
Infinix has its own XOS Android skin and has been iterating on it for quite a few versions now. The Infinix Note 11 Pro we recently reviewed was running the company's latest XOS 10 and Android 11 combo, which had its fair share of bugs. In contrast, as of writing this review, the older Note 10 Pro is still rocking XOS 7.6. In a somewhat odd twist, the same is also true for the new Zero X Pro. Our review unit also has an XOS 7.6 skin on top of Android 11.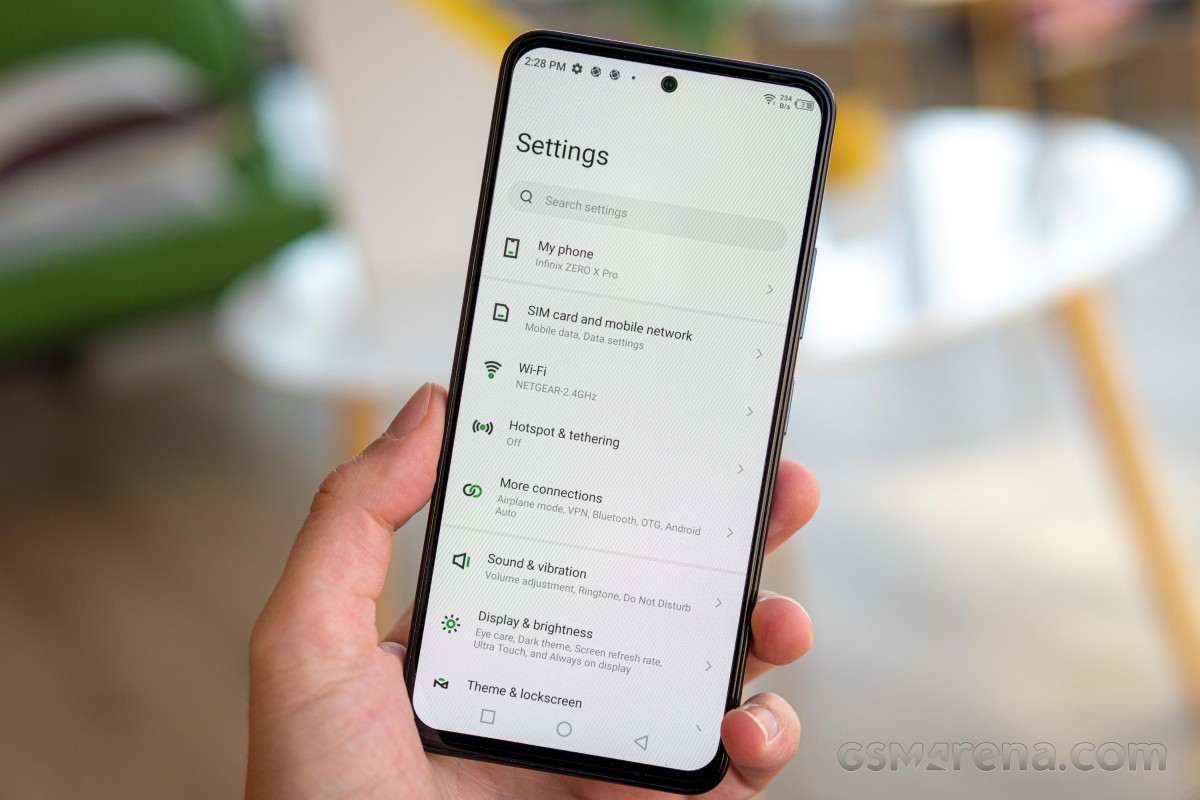 While XOS 10 does offer a few new features and some UI changes here and there, which we will mention as we go along, in essence, XOS 7.6 is quite close to its successors, and you won't be missing too many things.
In fact, if we had to make a quick list in order of significance, some of the XOS 10 features absent in XOS 7.6 include - Ai assistant for smart automation, MOL (a system-wide multi-language translator), no separate notification shade and control center and no big folders on the home screen.
Unfortunately, one bit that is consistent across both of these XOS versions is a large number of pre-loaded apps. Many of the included apps could also be considered bloatware since Infinix has included quite a few of its own first-party apps, as well as third-party ones, oftentimes with overlapping feature sets.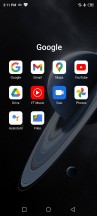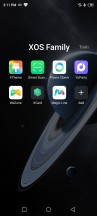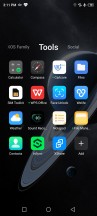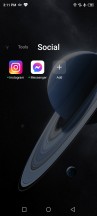 A large number of pre-loaded apps
The important thing to note is that XOS 7.6 works smoothly, with no hiccups or stutters despite the influx of apps. So Infinix has done its job pretty well in the custom UI department. And when we say custom, we mean custom. In no particular order, starting from the lock screen, you get an optional Magazine service. Beyond that, the clock screen is also affected by the powerful Theme support, which includes things like video slide shows, custom fonts, as well as an online Theme repository in the shape of a separate XTheme app.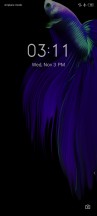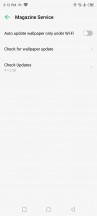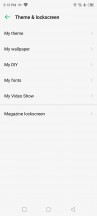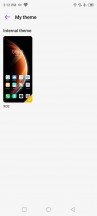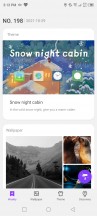 Lock screen • Magazine service • Extensive themes support
The home screen includes a custom feed as the leftmost desktop pane, as well as folders to organize and categorize your shortcuts by default. These are not the "big folders", like on XOS 10, but rather have a more conventional size.
Of course, if this is not to your liking, you can revert back to just having a list of shortcuts on the home screens, sans folders. And that's just the tip of the iceberg when it comes to customization. You can tweak things like grid size, gestures, notification badges and even text color. XOS 10 can also have its home screens scroll either vertically or horizontally, which does not appear to be an option in XOS 7.6. Overall, these options are almost on par with the customization we expect from a third-party launcher.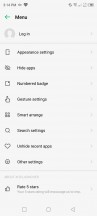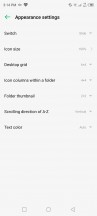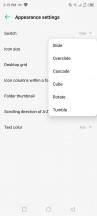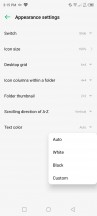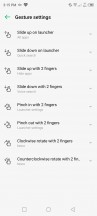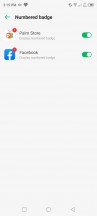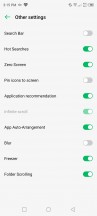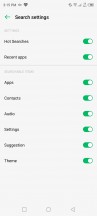 Launcher options and customization
XOS 7.6 still uses one unified, traditional notification shade, mixed with the quick toggles.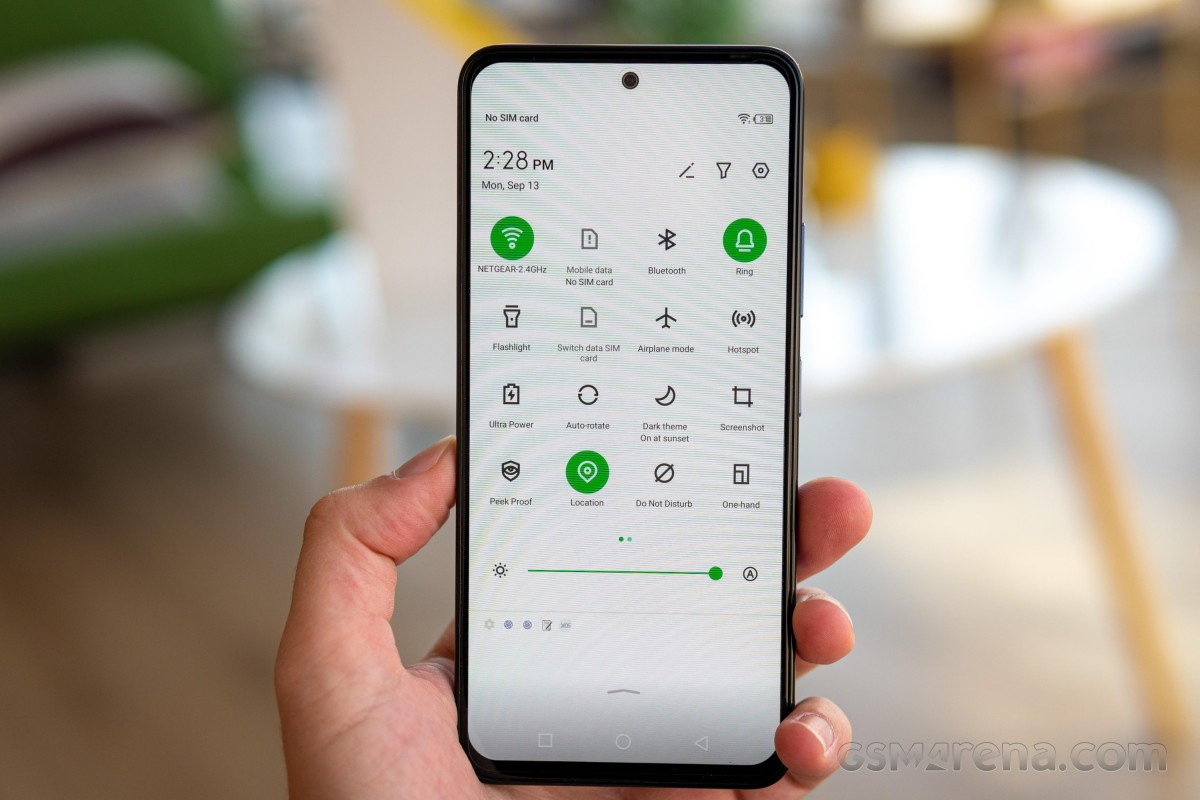 In contrast, XOS 10 has a separate control center and then a separate notification shade.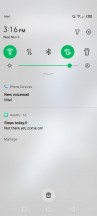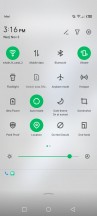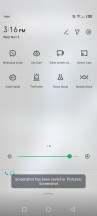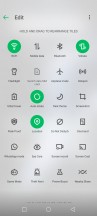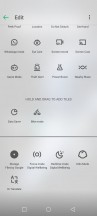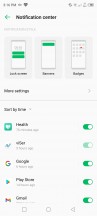 Notifications and quick toggles
We won't be going through every feature and app available in XOS 7.6, but there are some noteworthy highlights. There is actually a dedicated Special function menu that houses many of these. As we said, there are a few features missing from this section as well, compared to XOS 10. Notably, MOL, which is a nifty system-wide translation utility and face-to-face translator and also Smart Scenes and its Ai component for automatically triggering things and monitoring for conditions. Most other features are shared between the two XOS versions, though.
Lightning Multi-Window has a self-explanatory title. It is a floating window implementation. Far from the best we've seen, but still functional.
The same goes for Smart Panel. It's among the more customizable implementations of this feature that we have seen.
Social Turbo houses a whole slew of powerful features meant to work on top of WhatsApp and enhance its factory experience.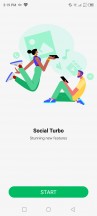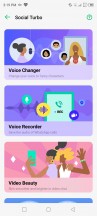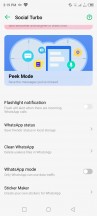 Social Turbo features to enhance WhatsApp
Naturally, you get other things like extensive gestures and app cloning, known as XClone. XOS 10 does add a Peak Proof feature to this menu as well, absent here, but it's quite a gimmick.
You get in-depth control over battery endurance and power-saving too through the Power Marathon app, including some interesting "smart" Ai features.
Power Marathon does include something called "Smart Scenes", which basically boils down to battery usage optimization while the phone is sleeping or playing back video in particular. Both are nifty, but XOS 10 notably has some significantly more powerful Smart Scenes that are not present on XOS 7.6. It can monitor certain conditions and trigger things accordingly. Perhaps it can be brought over with a future update since it is really powerful.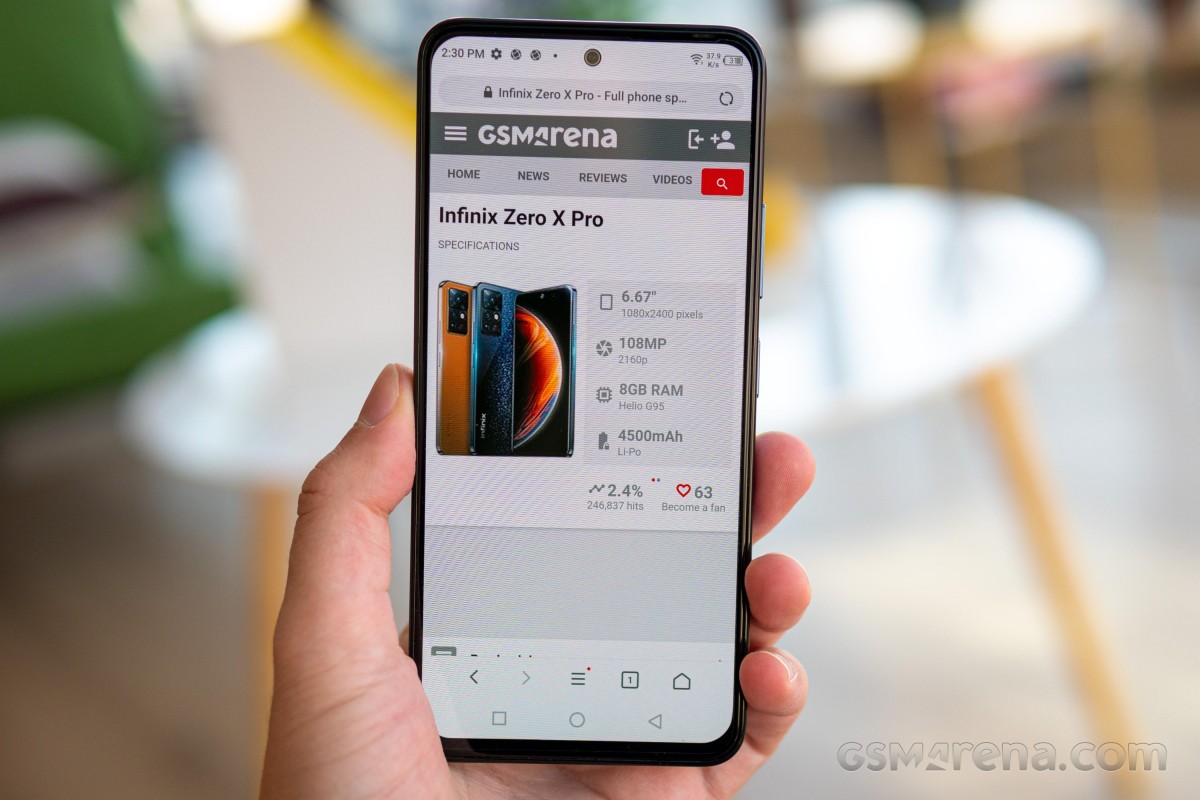 XOS 7.6 does have a few dedicated gaming features, just like XOS 10. Like we already noted, the Infinix Zero X Pro does an excellent job of utilizing its high refresh rate for high frame rate gaming. Perhaps part of that is down to a set of features called Monster Game Kit. It has to do with game optimization. Infinix has a baked-in Dar-Link 2.0 software, which promises Ai-driven, on the fly, automatic optimization of games, including frame rate stability, decreasing touch latency and managing hardware performance and temperature. There is a system-wide Game Mode toggle, as well as a Game Mode setting menu to tweak most of the behavior.
On the more tangible side of things, you also get the Game Zone app, which is your standard game launcher, complete with various tweaks, like notification suppression. Once you add an app to Game Zone and start it from there, you also get an in-game toolbar with plenty of convenient shortcuts, including floating app support.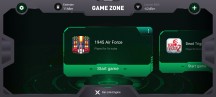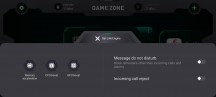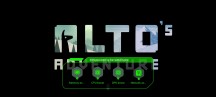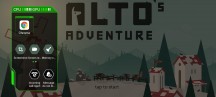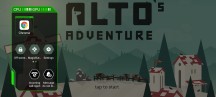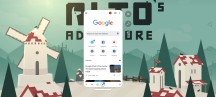 Game Zone app and in-game toolbar
This is similar in functionality and even UI to XOS 10 and its XArena app. Far from the most cohesive or feature-complete gaming suite, we have seen. An fps counter, finer performance controls and some capture/streaming options are notable omissions. XOS doesn't address these issues either. Even so, Infinix goes far and beyond most of its Android UI rivals in the gaming department.
In fact, there is no denying that Infinix clearly has an ambitious software effort, bordering on a whole dedicated ecosystem of its own. In case you need any proof of that, consider the Folax voice assistant, which appears to be a totally unique Infinix entry into the niche. A fairly-capable one at that, which doesn't even require a network connection to function.
And then there are also apps like InSync and Welife, which are meant to manage IoT ecosystems. The first appears to be a first-party Infinix one, with support for a range of Infinix smart TVs and an Infinix laptop. Impressively ambitious stuff.
Circling back to our original point about XOS 7.6, there is truly a lot to cover here, and we barely scratched the surface. If we had to sum up the experience, we would say it is fluent and pleasant from a performance standpoint and quite feature-rich, but also quite chaotic. XOS is still in desperate need of some debloating and organization. And there is no point in hoping that a potential future XOS 10 update will fix that since the two versions are comparably chaotic. Thankfully, for the most part, you can do that yourself with a bit of time and tweaking, and the end result could be a powerful and versatile Android 11 experience.
Performance and benchmarks
One notable way Infinix continues to keep costs down is by going for more mid-range and less flashy chipsets on its phones. The Infinix Zero X pro is no exception with its MediaTek Helio G95 chipset. Let's go through the basics first - the G95 is a 12nm, octa-core chip with a 2x2.05 GHz Cortex-A76 & 6x2.0 GHz Cortex-A55 CPU configuration. For GPU, you get four Mali-G76 cores, which, as we noted in the Infinix Note 11 Pro review, is actually better than the two Bali-G57 cores available on the MediaTek Helio G96.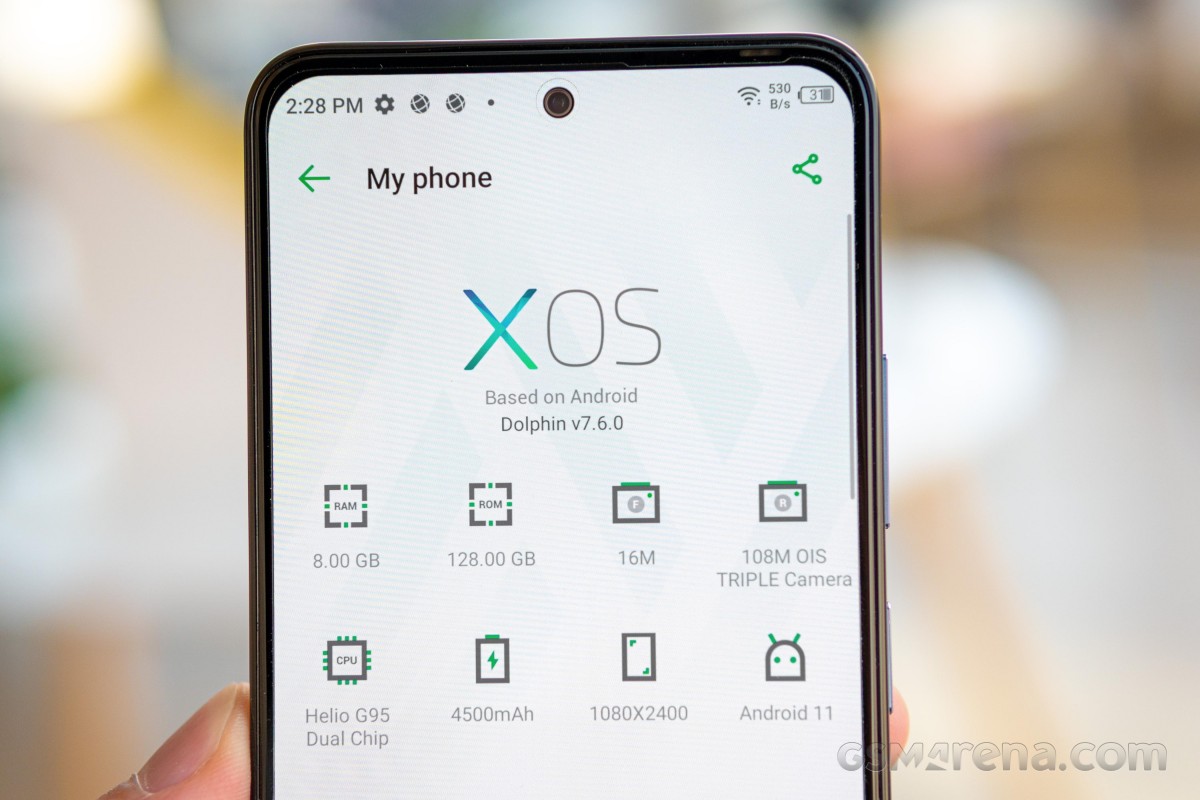 There are a few things about the chipset setup on the Zero X Pro that don't quite add up, though. For one, the official MediaTek Helio G95 specs sheet claims that the built-in ISP can handle up to a 64MP camera, whereas the Infinix Zero X Pro is rocking a 108MP main unit. Another oddity is that the same specs sheet claims that the chip can only go up to UFS 2.1 storage speeds, whereas Infinix advertises UFS 2.2 on the Zero X Pro, with up to 20% faster speeds.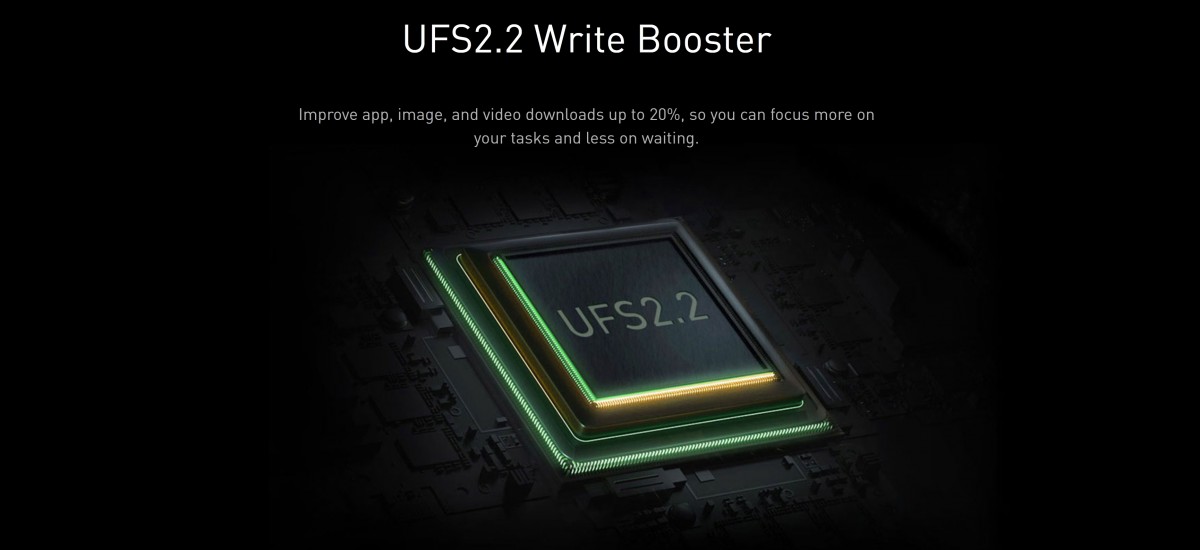 That's rather odd, to say the least. Still, there are possible explanations for both discrepancies. The binning process on most smartphone Quad-Bayer cameras is typically done on the camera module itself, which does, however, raise some questions regarding how "real" the 108MP full-res camera mode is. And the UFS 2.2 storage bit might be more of a software layer improvement than a hardware one. Still, as we said, weirdness all around.
Moving on to some actual benchmarks, though, we thankfully find perfectly normal and expected behavior out of a Helio G95 chip. Our Zero X Pro review unit has 8GB of RAM and 128GB of storage. Infinix is promising Memory Fusion Technology Extended RAM technology in a future software update, which will bring 3GB of extra virtual RAM to the table. But for now, that's not a thing.
Starting with some pure CPU loads and GeekBench, we can see the Zero X Pro and its Helio G95 chip perform as expected and pretty much in line with other results.
GeekBench 5 (multi-core)
Higher is better
Realme GT Master
2917
Poco X3 Pro
2574
OnePlus Nord CE 5G
1812
Infinix Note 11 Pro
1800
Xiaomi Redmi Note 10 Pro
1780
Realme 8
1690
Realme 8 Pro
1678
Infinix Zero X Pro
1674
Samsung Galaxy A32 5G
1673
Tecno Phantom X
1670
Tecno Camon 17 Pro
1668
Infinix Note 10 Pro
1644
Xiaomi Redmi Note 10
1599
Xiaomi Redmi Note 10S
1576
Xiaomi Redmi 9T
1400
Poco M3
1398
Xiaomi Redmi 10
1294
Samsung Galaxy A32
1277
Samsung Galaxy A12
1034
GeekBench 5 (single-core)
Higher is better
Realme GT Master
785
Poco X3 Pro
735
OnePlus Nord CE 5G
641
Xiaomi Redmi Note 10 Pro
569
Realme 8 Pro
566
Xiaomi Redmi Note 10
534
Realme 8
533
Infinix Note 11 Pro
520
Tecno Phantom X
512
Tecno Camon 17 Pro
511
Infinix Note 10 Pro
510
Infinix Zero X Pro
506
Samsung Galaxy A32 5G
505
Xiaomi Redmi Note 10S
502
Samsung Galaxy A32
361
Xiaomi Redmi 10
361
Poco M3
308
Xiaomi Redmi 9T
307
Samsung Galaxy A12
169
In fact, most current market competitors of the Zero X Pro appear to offer comparable levels of performance. The Poco F2 and X3 Pro, with their Snapdragon 870 and 860 chipsets, as well as the Realme GT master, with its Snapdragon 778G are clear outliers in this department and notably superior, though. The Helio G95 does, however offer about as much raw CPU performance as the Dimensity 720 5G and also beats out chips like the popular Snapdragon 662.
AnTuTu is pretty kind to the Infinix Zero X Pro and sees it beat out most of the Helio G95 competition. Perhaps there is something to those UFS 2.2 claims since AnTuTu considers things like memory and storage speeds and has graphics tests.
AnTuTu 8
Higher is better
Poco F3
631850
Poco X3 Pro
453223
OnePlus Nord CE 5G
318672
Infinix Zero X Pro
313652
Infinix Note 10 Pro
310342
Tecno Camon 17 Pro
309107
Tecno Phantom X
309055
Realme 8
298328
Xiaomi Redmi Note 10 Pro
295442
Infinix Note 11 Pro
290797
Realme 8 Pro
286666
Samsung Galaxy A32 5G
226561
Xiaomi Redmi Note 10
218788
Xiaomi Redmi 9T
177917
Poco M3
177904
Samsung Galaxy A32
174332
Samsung Galaxy A12
107189
AnTuTu 9
Higher is better
Realme GT Master
529263
OnePlus Nord CE 5G
391770
Infinix Note 10 Pro
365490
Infinix Zero X Pro
363939
Realme 8
357488
Infinix Note 11 Pro
343527
Xiaomi Redmi Note 10S
330909
Samsung Galaxy A32 5G
222125
Speaking of graphics, the Zero X Pro is a high-achiever in this department as well, consistently scoring at or near the top of the Helio G95 pack.
GFX Manhattan ES 3.0 (offscreen 1080p)
Higher is better
Poco X3 Pro
102
Realme GT Master
77
Infinix Note 10 Pro
54
Infinix Zero X Pro
54
Tecno Camon 17 Pro
54
Tecno Phantom X
54
Realme 8
53
OnePlus Nord CE 5G
46
Realme 8 Pro
43
Infinix Note 11 Pro
37
Xiaomi Redmi Note 10
24
Samsung Galaxy A32
24
Poco M3
19
Xiaomi Redmi 9T
19
Samsung Galaxy A12
12
GFX Manhattan ES 3.0 (onscreen)
Higher is better
Poco X3 Pro
93
Realme GT Master
57
Infinix Zero X Pro
49
Infinix Note 10 Pro
48
Realme 8
48
Tecno Camon 17 Pro
47
Tecno Phantom X
47
OnePlus Nord CE 5G
40
Realme 8 Pro
38
Infinix Note 11 Pro
31
Xiaomi Redmi Note 10
21
Samsung Galaxy A32
21
Samsung Galaxy A12
19
Poco M3
17
Xiaomi Redmi 9T
17
In absolute terms, it even manages to pull some respectable FPS figures. And off-screen rendering tests prove its not just an on-screen smore and mirror show. Whatever Dar-Link 2.0 is, it seems to be working.
GFX Manhattan ES 3.1 (offscreen 1080p)
Higher is better
Poco X3 Pro
75
Realme GT Master
56
Infinix Zero X Pro
34
OnePlus Nord CE 5G
34
Infinix Note 10 Pro
33
Realme 8
33
Tecno Camon 17 Pro
33
Tecno Phantom X
33
Realme 8 Pro
28
Infinix Note 11 Pro
24
Xiaomi Redmi Note 10
17
Samsung Galaxy A32
15
Poco M3
13
Xiaomi Redmi 9T
13
Samsung Galaxy A12
7.7
GFX Manhattan ES 3.1 (onscreen)
Higher is better
Poco X3 Pro
67
Realme GT Master
46
Realme 8 Pro
31
OnePlus Nord CE 5G
30
Infinix Zero X Pro
29
Realme 8
29
Infinix Note 10 Pro
28
Tecno Camon 17 Pro
28
Tecno Phantom X
28
Infinix Note 11 Pro
20
Xiaomi Redmi Note 10
15
Samsung Galaxy A12
13
Samsung Galaxy A32
13
Poco M3
11
Xiaomi Redmi 9T
10
GFX Car Chase ES 3.1 (offscreen 1080p)
Higher is better
Poco X3 Pro
45
Realme GT Master
33
Infinix Note 10 Pro
20
Infinix Zero X Pro
20
Realme 8
20
Tecno Camon 17 Pro
20
Tecno Phantom X
20
Xiaomi Redmi Note 10 Pro
19
OnePlus Nord CE 5G
19
Realme 8 Pro
18
Infinix Note 11 Pro
14
Xiaomi Redmi Note 10
9.3
Samsung Galaxy A32
9.3
Xiaomi Redmi 9T
7.5
Poco M3
7.2
Samsung Galaxy A12
3.3
GFX Car Chase ES 3.1 (onscreen)
Higher is better
Poco X3 Pro
38
Realme GT Master
27
Infinix Zero X Pro
18
Realme 8
18
Infinix Note 10 Pro
17
Tecno Camon 17 Pro
17
Tecno Phantom X
17
OnePlus Nord CE 5G
17
Xiaomi Redmi Note 10 Pro
16
Realme 8 Pro
16
Infinix Note 11 Pro
11
Samsung Galaxy A32
8.1
Xiaomi Redmi Note 10
7.9
Poco M3
5.9
Xiaomi Redmi 9T
5.8
Samsung Galaxy A12
5
Performance numbers continue to hold strong with Vulkan, which is also great to see. Its GPU drivers are far from new at this point, but there is always room for error, especially when there are custom gaming enhancement efforts in play. Seems like Infinix know what they are going in that department.
GFX Aztek Vulkan High (onscreen)
Higher is better
Poco X3 Pro
27
Realme GT Master
19
OnePlus Nord CE 5G
13
Infinix Note 10 Pro
11
Infinix Zero X Pro
11
Realme 8
11
Tecno Camon 17 Pro
11
Tecno Phantom X
11
Realme 8 Pro
11
Infinix Note 11 Pro
7.3
Xiaomi Redmi Note 10
5.3
Samsung Galaxy A32
4.4
Poco M3
4.1
Xiaomi Redmi 9T
4.1
Samsung Galaxy A12
3.8
GFX Aztek ES 3.1 High (onscreen)
Higher is better
Poco X3 Pro
26
Realme GT Master
18
Infinix Note 10 Pro
12
Infinix Zero X Pro
12
Realme 8
12
Tecno Camon 17 Pro
12
Tecno Phantom X
12
OnePlus Nord CE 5G
11
Realme 8 Pro
11
Infinix Note 11 Pro
7.9
Xiaomi Redmi Note 10
5.6
Samsung Galaxy A32
5
Samsung Galaxy A12
4.6
Poco M3
2.8
Xiaomi Redmi 9T
2.7
GFX Aztek Vulkan High (offscreen 1440p)
Higher is better
Poco X3 Pro
18
Realme GT Master
14
OnePlus Nord CE 5G
7.6
Infinix Note 10 Pro
7.5
Infinix Zero X Pro
7.5
Realme 8
7.5
Tecno Camon 17 Pro
7.5
Tecno Phantom X
7.4
Realme 8 Pro
7.2
Infinix Note 11 Pro
5.1
Poco M3
4.2
Xiaomi Redmi 9T
4.2
Xiaomi Redmi Note 10
3.5
Samsung Galaxy A32
2.9
Samsung Galaxy A12
1.2
GFX Aztek ES 3.1 High (offscreen 1440p)
Higher is better
Poco X3 Pro
17
Realme GT Master
13
Tecno Phantom X
7.8
Infinix Note 10 Pro
7.7
Realme 8
7.7
Tecno Camon 17 Pro
7.7
Infinix Zero X Pro
7.6
OnePlus Nord CE 5G
7.5
Realme 8 Pro
7
Infinix Note 11 Pro
5.6
Xiaomi Redmi Note 10
3.7
Samsung Galaxy A32
3.3
Poco M3
2.8
Xiaomi Redmi 9T
2.8
Samsung Galaxy A12
1.5
3D Mark corroborates the excellent GPU performance results as well. In fact, we can clearly see that this is an Infinix trend, rather than a fluke, since the Infinix Note 10 Pro, equipped with the same Helio G95 chipset as the Zero X Pro is consistently up there on the charts, alongside its sibling, beating out other G95-equipped phones.
3DMark SSE ES 3.1 (offscreen 1440p)
Higher is better
Realme GT Master
4988
OnePlus Nord CE 5G
2801
Infinix Zero X Pro
2778
Infinix Note 10 Pro
2748
Tecno Phantom X
2733
Tecno Camon 17 Pro
2719
Samsung Galaxy A32 5G
2638
Realme 8
2610
Infinix Note 11 Pro
2431
Xiaomi Redmi Note 10
1471
Samsung Galaxy A32
1323
Xiaomi Redmi 9T
1181
Poco M3
1175
Samsung Galaxy A12
365
3DMark SSE Vulkan 1.0 (offscreen 1440p)
Higher is better
Realme GT Master
4020
Infinix Zero X Pro
2860
Infinix Note 10 Pro
2854
Realme 8
2639
OnePlus Nord CE 5G
2617
Tecno Camon 17 Pro
2593
Tecno Phantom X
2587
Samsung Galaxy A32 5G
2509
Infinix Note 11 Pro
2256
Xiaomi Redmi Note 10
1372
Samsung Galaxy A32
1371
Xiaomi Redmi 9T
1107
Poco M3
1106
Samsung Galaxy A12
612
3DMark Wild Life Vulkan 1.1 (offscreen 1440p)
Higher is better
Poco X3 Pro
3401
Realme GT Master
2481
Infinix Zero X Pro
1509
Infinix Note 10 Pro
1506
Tecno Phantom X
1501
Tecno Camon 17 Pro
1498
Realme 8
1486
Samsung Galaxy A32 5G
1185
OnePlus Nord CE 5G
1103
Infinix Note 11 Pro
1100
Realme 8 Pro
1051
Samsung Galaxy A32
686
Xiaomi Redmi Note 10
482
Poco M3
368
Xiaomi Redmi 9T
365
The Infinix Zero X Pro manages heat surprisingly well too. Its body can get a bit warm with intense loads, but never actually unpleasant, and the chipset doesn't suffer from any severe thermal-throttling, out of the expected either. This is most likely due to the fairly-advanced passive cooling system inside the phone. It is called Heat Pipe Thermal Module 2.0 3-D Cooling Master and includes separate sheets of material, like "Aerospace-grade Hexagonal Boron Nitride" and a "Graphite Sheet with Conductive Fabric". Lofty and lengthy names aside, it definitely gets the job done.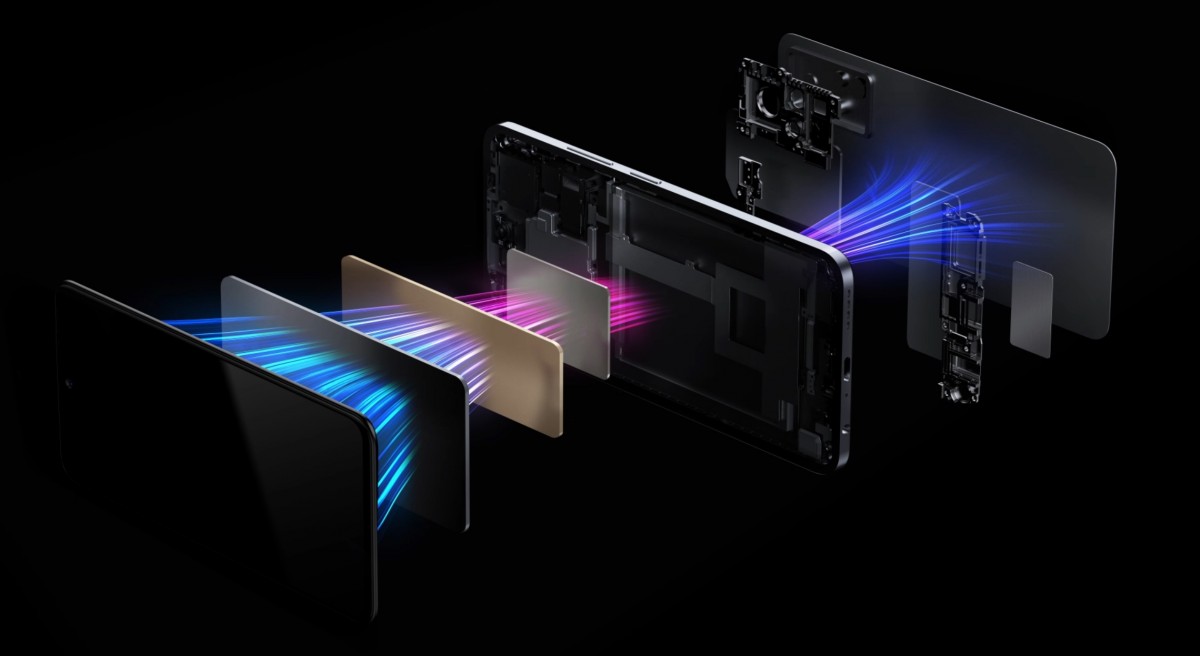 In fact, that's a good way to describe the performance of the Infinix Zero X Pro overall. It gets the job done and surprisingly well at that, by squeezing every extra bit of performance out of seemingly mundane hardware on paper. XOS runs perfectly smoothly with no hiccups. The 120Hz display refresh rate is also utilized splendidly for a snappy and fluid experience in apps and games, where Infinix seems to somehow offer beyond 60fps experiences in more games than some of its more popular brand competitors. Impressive stuff all-around. Definitely not chart-topping or necessarily the best raw performance in its price segment, but impressive non the less, even bordering on unexplainable at times, like supporting that 108MP camera.
Anonymous
02 Jan 2023
Nu7
Sorry about your phone getting stolen
Please why do Infinix phones no longer have options for British English? How do I set my phone to British English, rather than American English?
Realme 6 Pro has better 64mp samsung sensor with mpre clarirt and vibrant photos plus 60fps@1080 recording. The telephoto on 6 pro take impressi s 10x zoom photos even in night (low light). Unfortunately my R6 Pro was snatched on a gun point. So i wo...