Intel announces Arc A-series of discrete graphics for laptops
Prasad, 30 March 2022
Intel today announced details of its new Arc series of discrete graphics processors based on its new Xe HPG architecture. This first batch of GPU is dedicated for laptops, with desktop and workstation versions arriving later this year.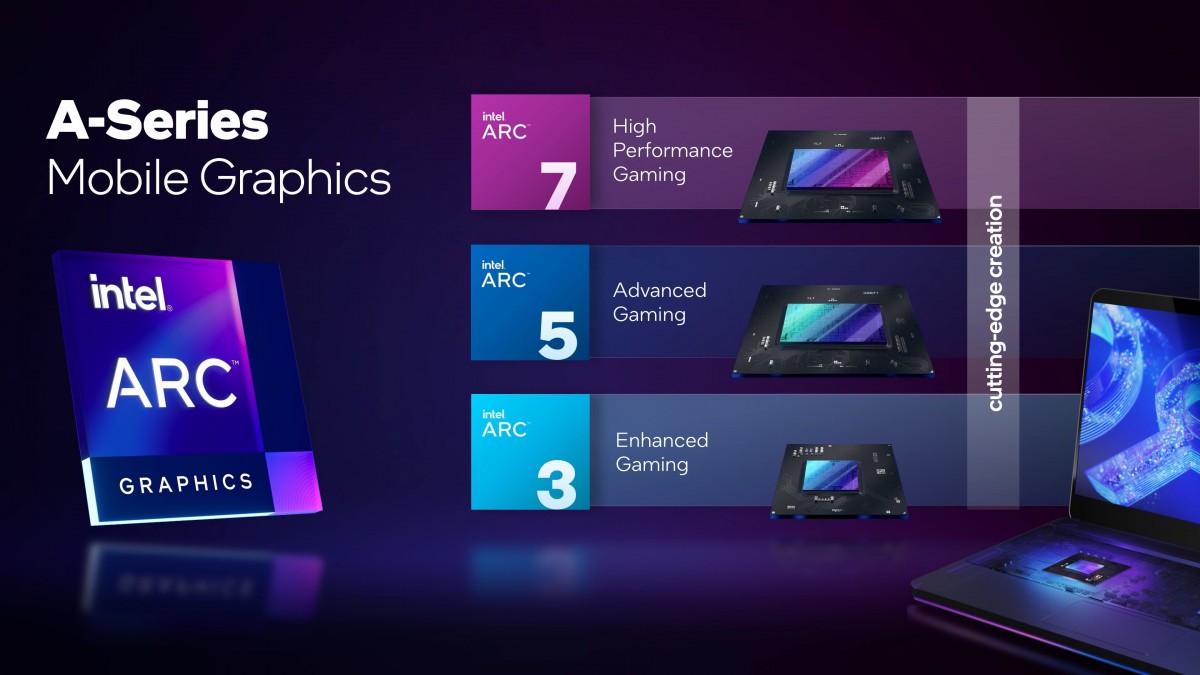 Announced today were the Intel Arc 3, Arc 5, and Arc 7 series of GPU. Arc 3 is the entry-level series and is based on the smaller ACM-G11 die while the Arc 5 and Arc 7 will be based on the larger ACM-G10 die.
The Arc 3 series currently includes two models, the A350M and the A370M. The A350M features 6 Xe-cores, 6 ray tracing cores, and 1150MHz graphics clock (which is the typical average clock speed and not peak clock speed), and a 25-35W power envelope. The A370M has 8 Xe-cores, 8 ray tracing units, and 1550MHz graphics clock and 35-50W power envelope. Both have 4GB GDDR6 memory, and 64-bit wide memory bus.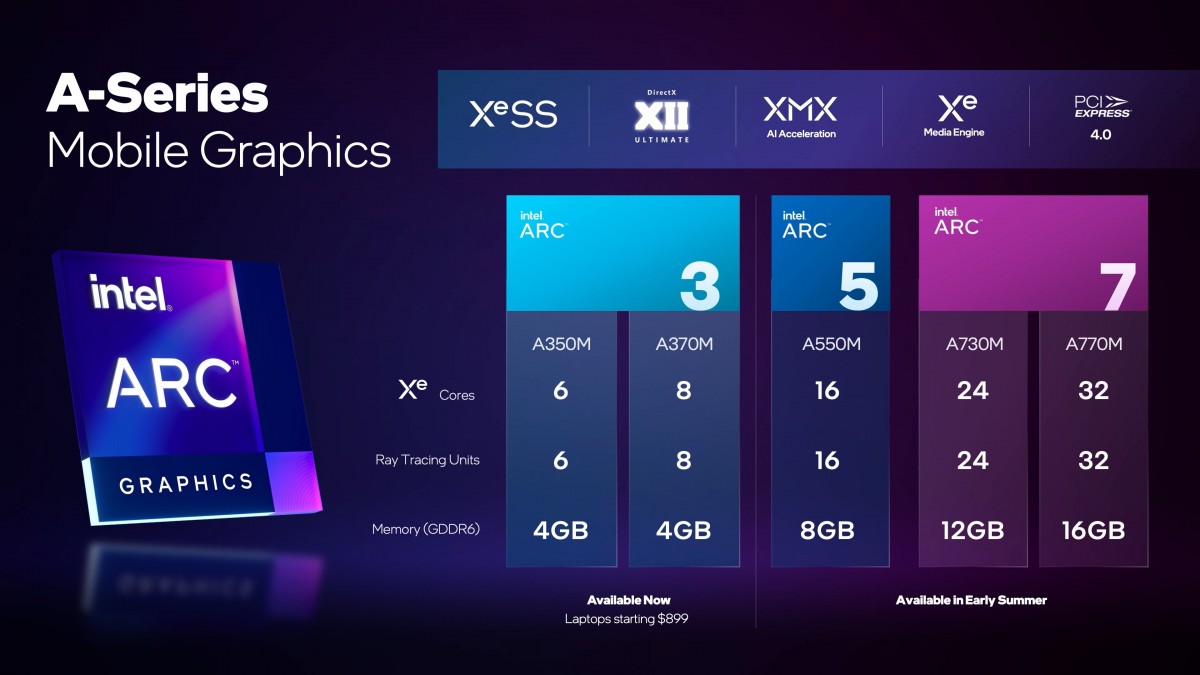 There will be A550M, A730M, and A770M later in the year with more cores, memory, and higher power envelops but the basic architecture and design will be the same.
In terms of gaming performance, Intel is marketing the Arc 3 series as targeting 1080p 60fps gaming. According to the company's slide, the Arc A370M with the Core i7-12700H achieves over 60fps in several AAA titles at medium settings, and over 90fps in esports titles.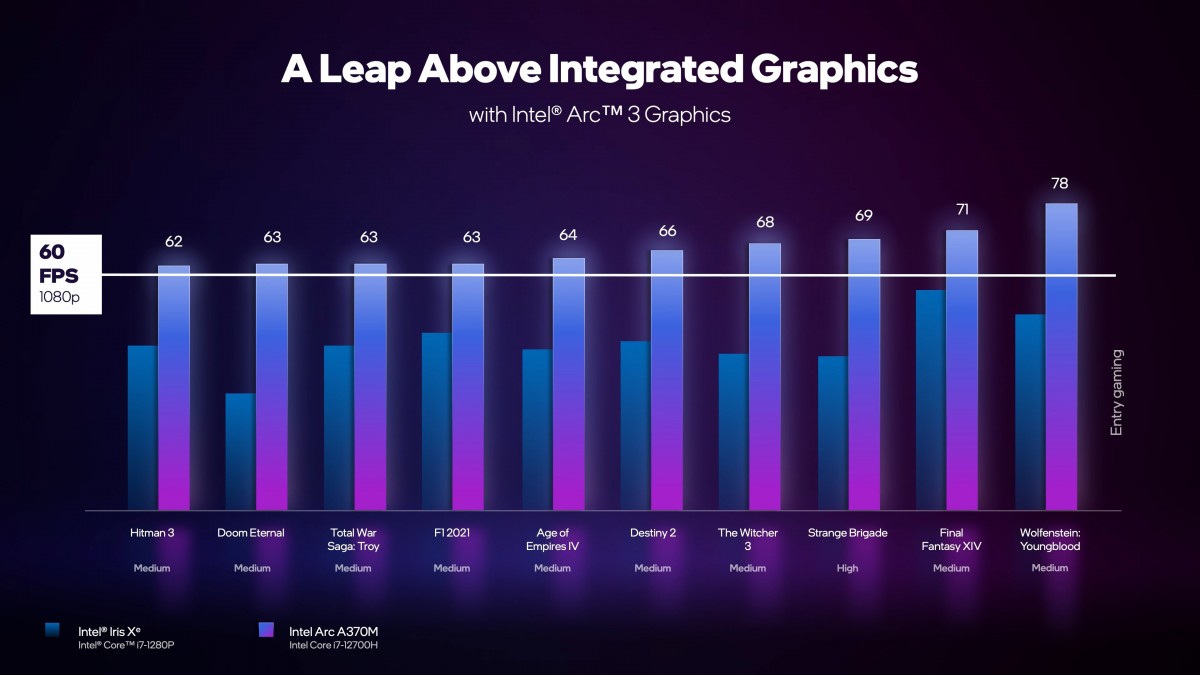 The GPU includes XMX AI engine, which can be seen as the equivalent to Nvidia's Tensor cores. This enables machine learning and AI-acceleration, which powers features such as XeSS, which is Intel's version of DLSS.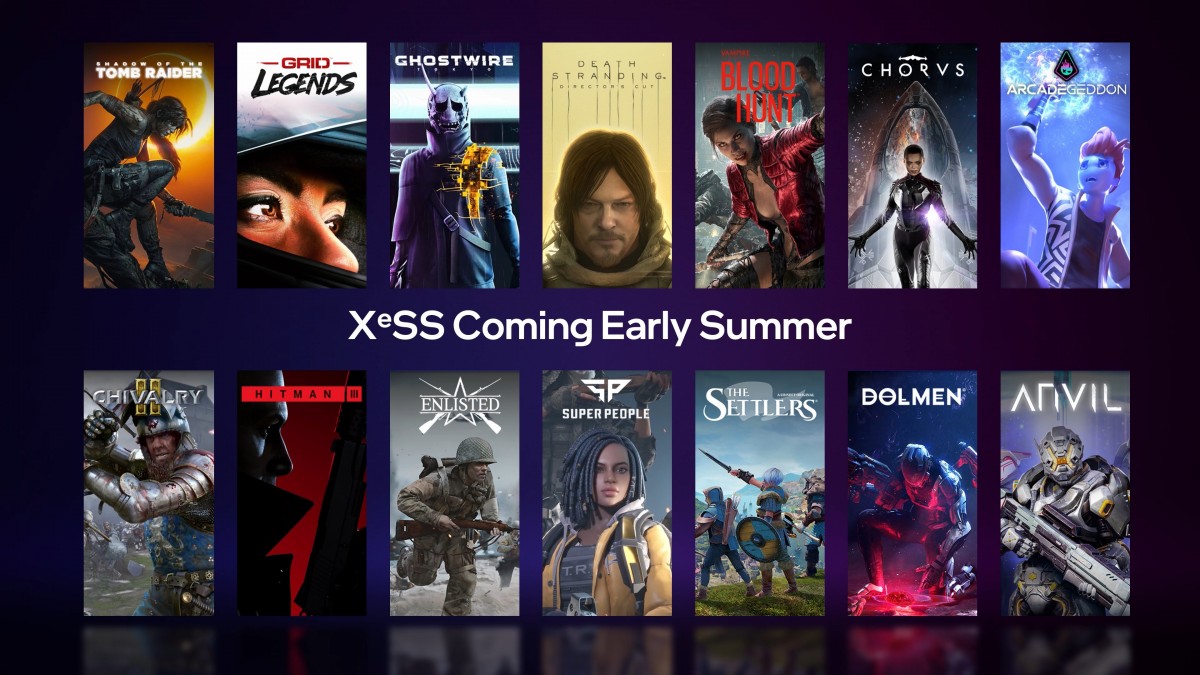 More impressive perhaps is the new media engine. The Arc A-series GPU are the first in the industry to support hardware accelerated AV1 encoding, making it possible to not just consume but also create content in this modern, efficient codec that rapidly being adopted in the industry.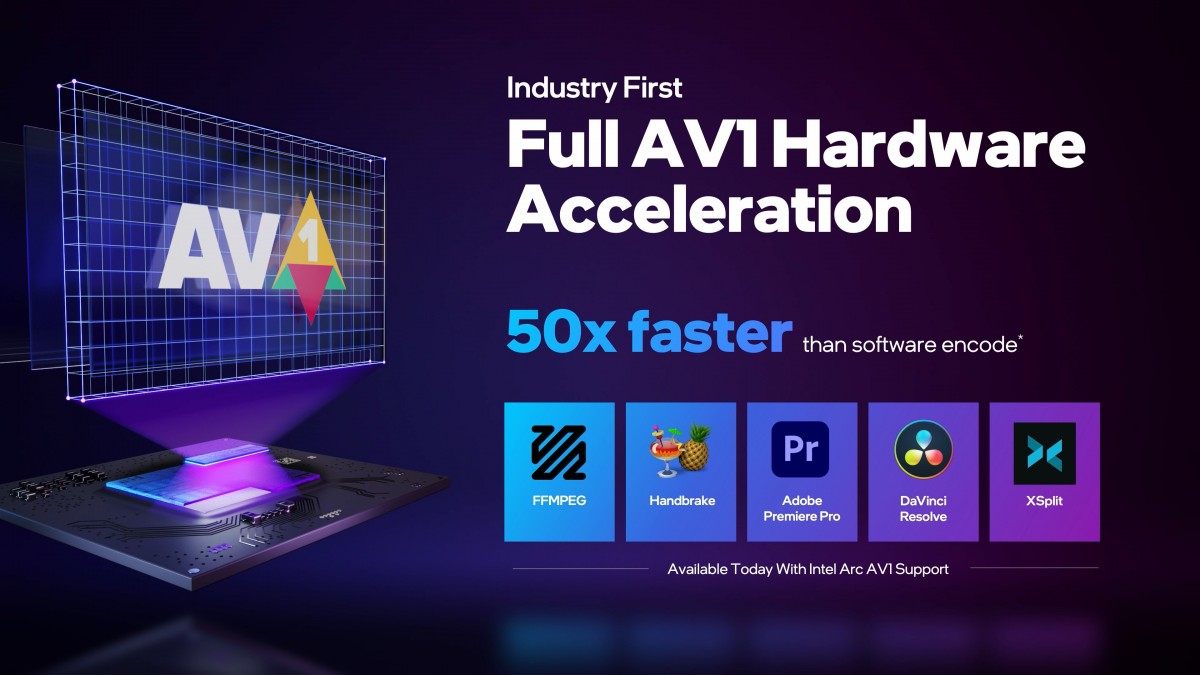 Intel has also included a feature called Deep Link, which shares resources between the Arc GPU and the Intel CPU to improve performance even further. Dynamic Power Share automatically adjusts power between the CPU and GPU and allocates it where it's more useful for 30% more performance. Hyper Compute uses the AI capabilities of the GPU and CPU to accelerate tasks by 24%. Hyper Encode utilizes both the GPU and CPU to speed up encoding tasks by up to 60%.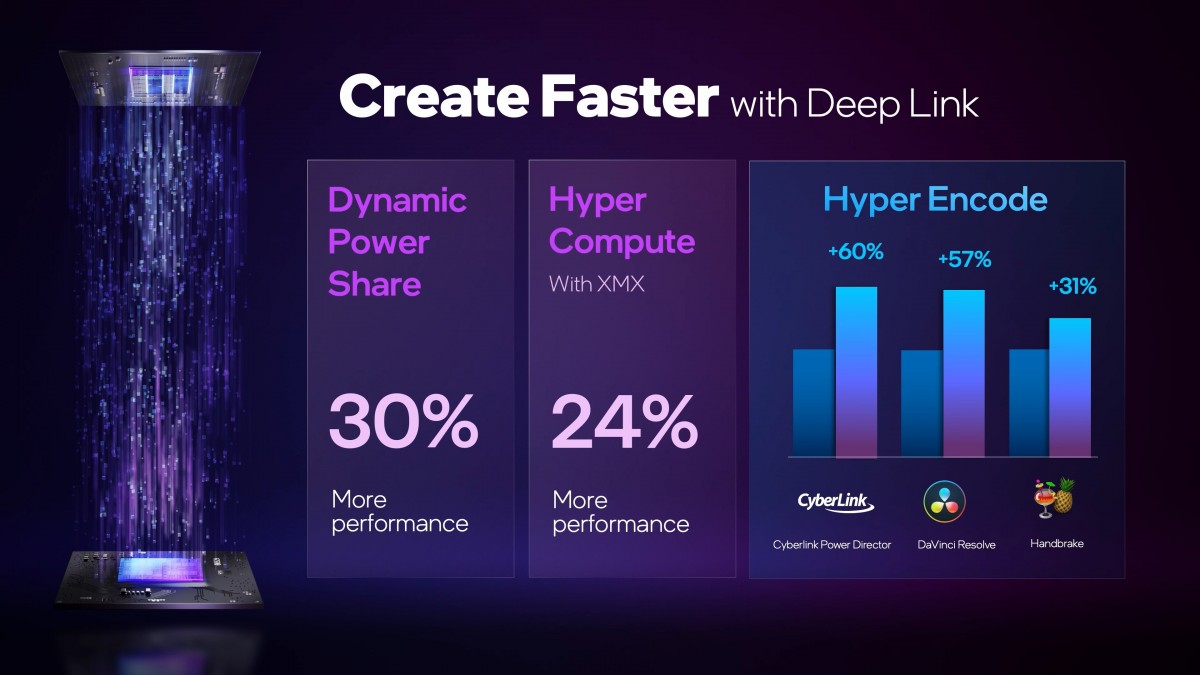 Intel also showed off its new Arc Control software, where users can track new game drivers, do performance tuning, access streaming related features, and access their game library. Arc Control will work for both, Arc as well as Iris GPU, and won't require a login to work unlike GeForce Experience.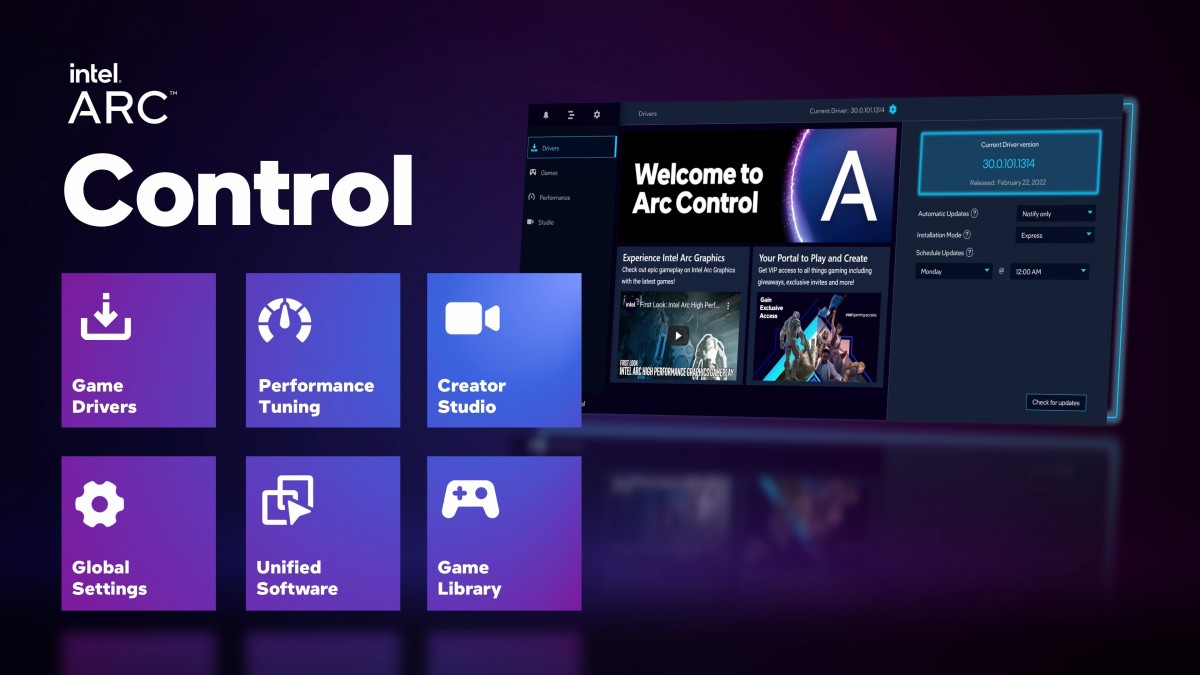 Intel Arc A3 GPU will be available today in models such as the Samsung Galaxy Book2 Pro, as well as models from other OEMs, including ASUS, Lenovo, HP, Acer, and more.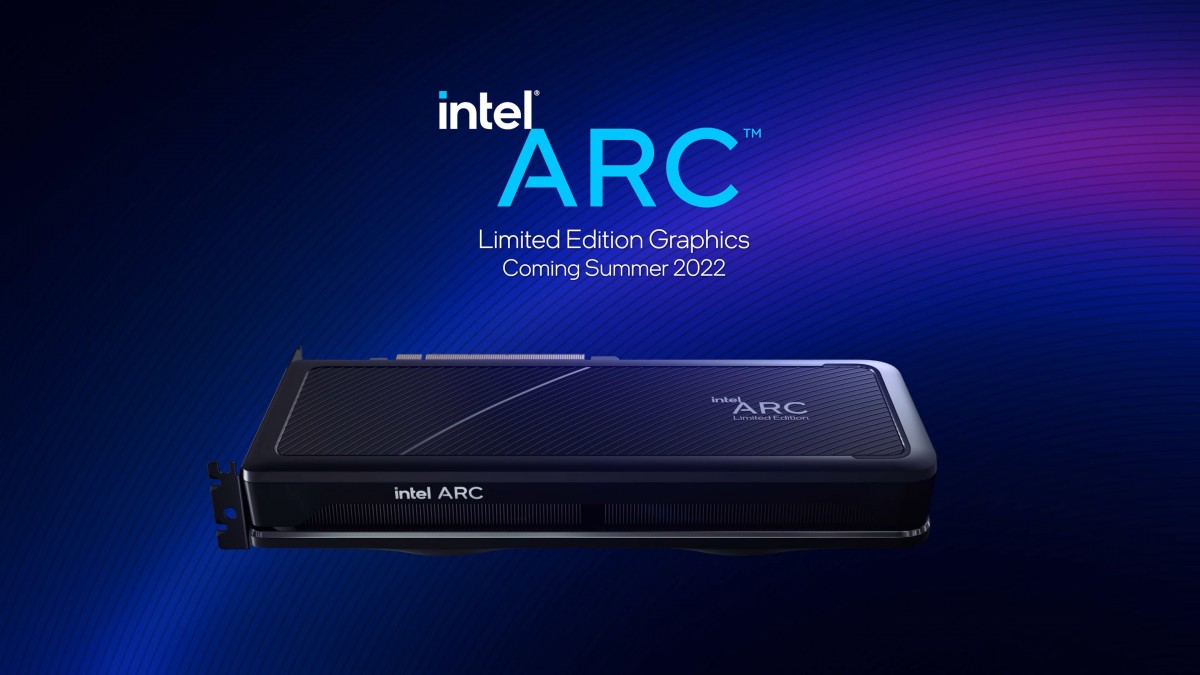 Intel also have a very brief look at its upcoming desktop graphics card. There was a short teaser video showing the form factor of the card, which is a limited edition Founders Edition sort of model from Intel, although there will likely be models available from AIB partners as well. No further details were provided regarding this product.
Related
Anonymous
01 Apr 2022
UG4
Google only work with software. They can and did push 64bit the moment Apple announce. They did nothing on the hardware end.
Anonymous
01 Apr 2022
nI8
Did someone say... weak ?
Popular articles
Popular devices
Electric Vehicles