Interview: Realme's Madhav Sheth talks Snapdragon 855, Realme XT and Realme OS
Sagar, 25 August 2019
After the launch of the Realme 5 and Realme 5 Pro last week, we sat down with Realme India CEO Madhav Sheth to learn more about the company's plans regarding the Snapdragon 855-powered smartphone, Realme OS, and Realme XT. You can check out the full interview below for all the details.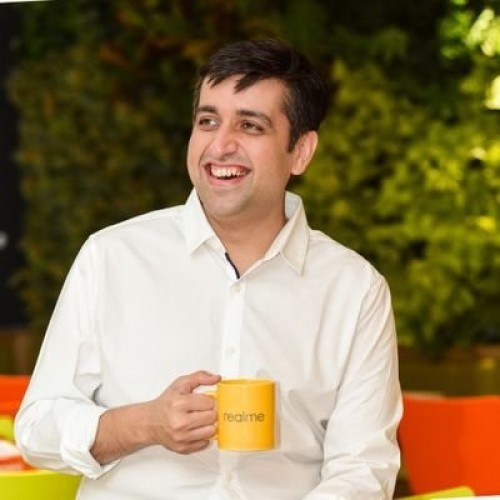 Realme India CEO Madhav Sheth
What's your opinion about the quick update cycle? Realme 3 Pro was launched four months back and now we have Realme 5 and 5 Pro.
If you take Realme 3 and 3 Pro, I'd say Realme 3 is still priced at INR8,999 ($128/€115) which is INR1,000 ($15/€13) cheaper than Realme 5 and is still the best proposition in that particular price segment.
Same for Realme 3 Pro, now it's priced at INR12,999 ($180/€165), and it was four and a half months back we launched this particular device. Technology is so fast, we've to upgrade the technology. We cannot wait for it. The innovation is so fast and so dynamic that people need... our users needs more and more. The lifecycle has gone shorter, hence they need more.
Now if I say for 3 Pro and between 5 Pro, what would be the difference, mainly? I'd say there are two differences: the performance doesn't compromise much because I don't play this game of this processor - the 710 and 712. There isn't much of a difference between your day-to-day usage. Even while you are gaming, there's not much of a difference. There is a difference, but not that drastic.
So what's the difference between the 3 Pro and 5 Pro I'd say is more on the camera side. So what we are offering is performance along with the camera. People who want performance, but they are also looking for a better camera. We've seen people struggling with the DSLR and buying expensive lenses, and the macro lens is one of the expensive lenses we've seen on DSLRs. You are zooming on a particular picture and you are trying to get the poses of the pictures. Why don't you have it on the device? That was our objective.
Speaking of zooming, when are you planning to bring a phone with a telephoto lens, with an actual optical zoom?
That's what I'm trying to say. The product team asked me what was important for you - telephoto or macro. I said I will go for macro, because telephoto they are already there in the market, whereas telephoto zoom, I'd say having a picture which is far off and having it closer but still not clear doesn't make sense.
But having a picture which is closer to you, and having a macro shot of that, makes more sense. So for me, I believe that user would love to have more of the macro rather than having the zoom one.
It doesn't mean that zoom is not the good one, but if given a choice I'd always go for macro.
Some users say that they should have waited for the 5 Pro instead of buying the X if they knew it was coming. There's a very little gap between the launches of both the devices.
There would be certain overlapping customers because it's all about the perception. But to be honest, X is a completely different series and Pro is a completely different series, so we don't see any overlapping between them. As a brand, what we think is Pro is always about the performance users, and X is more about the performance and flaunt users. We have a completely different segment.
Can we expect any future quad camera phones to come with a telephoto lens?
It depends. I've used phones with a single camera doing a wonderful job and being called the world's best camera smartphone. It's not about that, I always believe there's a combination of hardware and software. It's about how optimized is your software to support that camera. That's what is more important. If I'm able to do multiple tasks with a single camera, then why do I need that other particular camera?
That means you are very confident about the optimizations of the camera software.
Yes, I'm very confident, because I know my R&D team is constantly working on it. We've also never kept the camera features for higher-end phones, we've brought them down to lower segment phones - like Nightscape. We believe in massifying the technologies, and that's what we will keep on doing.
Do you plan on further expanding the current lineup in the future, like a selfie-centric series similar to the Redmi Y?
If we are able to deliver performance along with good selfies, then I don't need to have separate devices. It depends.
That's what I'm trying to say, performance is never compromised and not spoken up. How brands use that as a marketing language is different, because marketing performance is very difficult, but to market particular specs is very easy.
Number games are easy, designs are easy, cameras are easy - 100MP, 64MP, 48MP. It's not about that. Even if I'm doing 48MP, I made sure UFS 2.1 is there in all the variants of the 5 Pro, to back it up, because having 48MP with eMMC doesn't make any sense. We are just fooling the customers.
Back in April when we interviewed you, you said you are releasing a fitness band before Diwali. Is that still the plan?
Yes, we still have the plan, we are working on it. But we want to make sure that basically, it's not only about the wearable, it's also about the software which we are trying to utilize and what are the type of things that a user would like in those wearables. It's still in the initial stage and we are still working on it because we have to make sure every product matches the user expectations. Launching it just because your competition's having it doesn't make sense.
And when do you plan on bringing a flagship - one with a flagship chip like Snapdragon 855/855+ SoC?
What's the difference between Snapdragon 710 and 855 when we are talking about day-to-day usage? Do brands want to use the 855 as a marketing gimmick, or because it has any practical usage?
If I've something in the device which really needs the Snapdragon 855 capabilities - it may be AI or speed or imaging capabilities - then definitely I will think of it. If the same thing can be achieved by using Snapdragon 710 and massify the technology, then we don't need 855.
The Onion and Garlic versions will only be exclusive to the Realme X series?
Yes, that will be only exclusive to the Realme X series, but we are always trying to bring new, different designs to different series. Design is our key focus, because we know flaunt is something people in every price segment would love to have.
Can you tell us anything about the Realme OS?
It's still too early to comment, but it's in works. It's still in too early stages. It's also not about Realme OS or ColorOS, it's about an OS which the user wants.
And what do you aim to bring new with this OS?
Constantly optimize the software in a much better way and that the experience is closer to user expectations.
So it's not going to be something like OxygenOS which is closer to stock Android?
Between stock Android and ColorOS or any OS, which I'd say is a custom ROM or custom OS, stock Android is not a really good OS because it's not a stable OS.
If you just bring the stock Android and give it to the users, it's not a stable OS. You need to give them a platform and constant updates to make sure they are working and you've to make it stable. It's just a raw version and you have to make it stable.
What's the use of having stock Android with a very good chipset when you cannot bring the best out of that chipset? The chipset with a better OS can bring AI capabilities, camera capabilities, OS capabilities. You can make the day-to-day operations much better.
There are battery enhancements as well. There are lots of things that you can do with the AI capabilities of the chipset through the OS, so what's the use of having Snapdragon 855 chipset with stock Android? It's like I'm giving you a McLaren but not the road to drive it on. It's all about being able to utilize it.
Any plans on 5G phone?
We don't have 5G services here in India, but we will be ready when the operators launch it and we will be among the first ones to have 5G devices in India. We are constantly in touch with the operators and once we have a clear view, we will try to be at least six to seven months ahead of them.
So will you have a different series for that or it will be more like Realme XT and XT 5G?
There's not much to say about it. Too early to comment on that right now. We want to understand that should we only focus on the performance of 5G and bring out the chipset capabilities of the 5G in that device, or along with this thing we should throw in the flaunt factor.
We noticed that Realme phones don't support RAW image format. What about the Realme X and 5 Pro? Do you plan on bringing this via OTA to the devices in the future?
We will try and check if the users need it. We haven't received much feedback on this, but now we will start gathering it from our users. But definitely, we can bring it through an OTA in the future.
Any plans to bring in more accessories - like powerbanks or wireless earphones?
Let's wait till September end. There's much more to come.
Speaking of September end, you said the Realme XT will come out around that time, can you give us any more specifics on that?
We are ready with the software, but we don't want to rush with the release of the product to be the first to bring a 64MP smartphone to the market. We want to give the best experience.
You already have splash resistant phones now, do you plan on taking a leap to IP ratings?
Again, if it really makes sense for the users, then we will do it. Splash resistance is the maximum our users would need. No matter how old the device is or how much you hate it, you won't put it in a swimming pool.
The maximum that can happen is rains and spills, and our devices are capable of handling that even without splash resistance. In fact, our devices were always splash-proof, we just didn't advertise it before.
Do you plan on ditching the 3.5 mm headphone jack in the future? Will the XT have it?
Indian users want the 3.5 mm headphone jack and we will continue to have it on our devices. Same goes for the triple slot. With the Realme X, it was difficult for us to include the memory slot because of the pop-up camera, and we had to choose between the memory card slot and a pop-up camera. X is more about the flashiness, so we went with the elevating camera.
Disclaimer: We have included questions from other medias in this interview.
Related
i want realme with snapdragon 855 with display 6,5 inch in cheap price
i have nokia 5.1 plus and it don't need factory reset to get update every month.
Anonymous
28 Aug 2019
NL{
Every ROM has its share of lovers an haters. But if companies listen to opinions of minority community while ignoring mass market, they will submerge. It only works in politics, not business
Popular articles
Popular devices
Electric Vehicles