iPhone 6s vs. Galaxy S6 vs. Xperia Z5: Monster Brawl
Monster Brawl
GSMArena team, 23 October, 2015.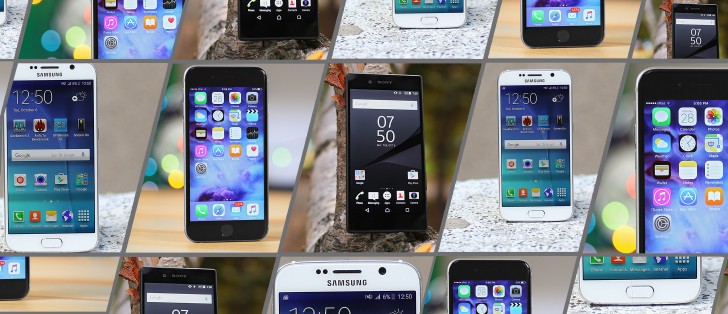 Hardware
We have a mix of metal and glass for the exterior of the three. The Apple iPhone 6s is mostly metal (the sides and the whole back), using glass only for the front. Apple dropped Gorilla Glass (even though the Cupertino company is responsible for popularizing it) and went with Ion-strengthened glass.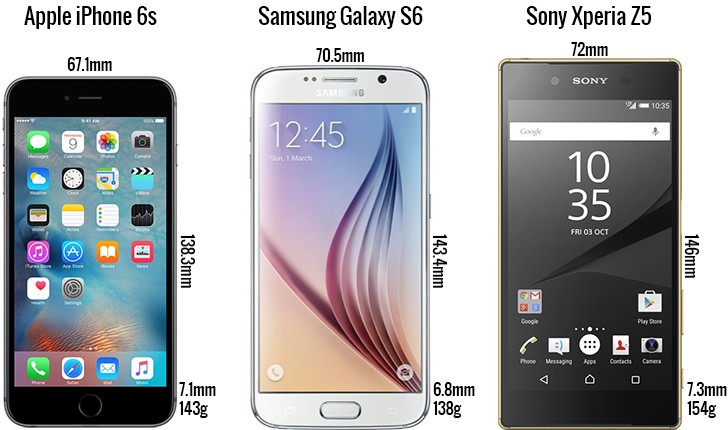 The metal is 7000-series aluminum and has smooth, round sides and corners. The new material is slightly denser though the majority of the added weight seems to come from the 3D Touch display. Its glass has beveled edges, creating one smooth curve that goes from glass to metal.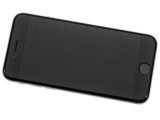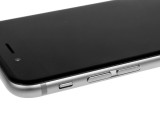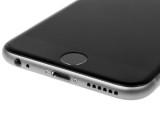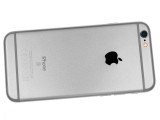 The Apple iPhone 6s is shrouded entirely in aluminum and glass
The Samsung Galaxy S6 has a metal frame, which is exposed on the sides, and Gorilla Glass 4 on the front and back. The two glass panels have a slight bevel on their side, but the transition isn't as smooth as on the iPhone. The metal sides are squared off too so that the side buttons do not sink into the body of the phone.
The Galaxy S6 is the thinnest and lightest of the bunch - 6.9mm and 138g. The camera module sticks out the back though. It doesn't affect handling and it's centered, so it doesn't cause the phone to wobble like the iPhone's camera.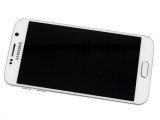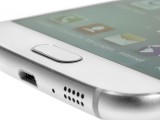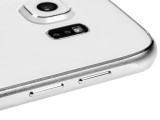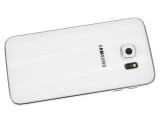 The Galaxy S6 is more glass than metal
The Sony Xperia Z5 is all 90°. The metal frame makes up the sides of the handset while scratch-resistant glass covers the front and a unique matte glass covers the back. Both panes of glass sink into the metal frame, so you feel a sharp metal edge as you swipe from the side. This will keep the glass a hair off the surface the phone is lying on though, which will reduce the scratches a bit.
The Xperia Z5 is the thickest and heaviest of the three - 7.3mm and 154g. It has the biggest battery and features waterproofing, which is more than a fair trade off for the bigger digits. Also, the camera is flush with the back.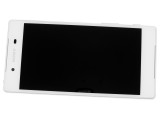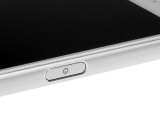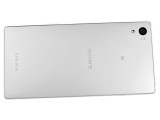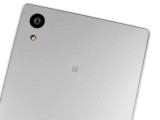 The Xperia Z5 also has glass on the back, but the frosting effect is unique
The three phones project a different image. The iPhone 6s is smooth and inviting, the Xperia Z5 has an aggressive, angular look, while the Galaxy S6 sits somewhere in between.
Angles aside, the Sony Xperia Z5 has the most extensive tooling. It starts with the stereo speakers on the front (the other two have just one speaker), an easily accessible card slot, then there's a dedicated shutter key and a lanyard eyelet (which most other phones have abandoned).
It's subtle but you can feel Xperia's adventurous nature. You can secure the phone with a strap, take photos even when the screen is wet, store plenty of photos and videos on the microSD card, even the battery will last a long, long while. And if you're starting a campfire party, you have a couple of good speakers available.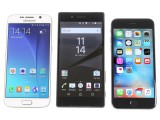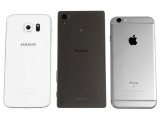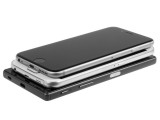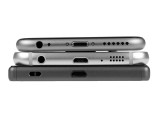 The Galaxy S6, Xperia Z5 and iPhone 6s side by side
The Samsung Galaxy S6 is a jetsetter. Gone is the rugged exterior of the S5, the S6 is all business on the outside. It matches your office building with a metal and glass exterior, the glass requires upkeep (wiping the fingerprints) like your tie requires straightening. The heart rate and blood oxygen sensors give you a read on your health, since diet and exercise is such a hot topic. If only the IR blaster could advance the slides of your PowerPoint presentation.
The Apple iPhone 6s is more solitary. It has a hardware Mute switch, so you can always make sure you're not disturbed. It's also the only one of the three that doesn't have a dual-SIM version. It lives up to its household name with a masterful build, without being flashy.
The iPhone and the Galaxy share a number of design decisions like putting both the USB port and the audio jack on the bottom, the loudspeaker too. The Xperia stands apart and puts its speakers up front, the audio jack on top.
Winner: Sony Xperia Z5. We can't judge aesthetics since those are purely subjective. In objective terms, the Xperia Z5 is the most practical with a waterproof body and expandable storage (we'll look at the screen and battery separately). A camera that doesn't protrude helps too.
Runner-up: Apple iPhone 6s. The only phone with an all-metal unibody here, indeed one of the few such smartphones in general.
While it may be one of Samsung's most beautiful devices, the Galaxy S6 has a couple of rough edges - the glass on the back gets smudgy quickly (Xperia's frosted glass handles it better) and the camera sticks out a good deal out the back. The Galaxy S6 edge has a lot more wow factor and would have topped the iPhone.
Screen
There's been plenty of debate about the ideal screen size and resolution and even Apple changed its mind, despite having the strongest convictions on the matter. The iPhone 6s is below the average size for an Android at 4.7" and the resolution is a result of a fixed pixel density (Retina's 326ppi).
Samsung and Sony settled on almost the same screen size, 5.1" and 5.2" respectively, but you need to keep in mind that the Xperia uses part of its screen for on-screen buttons. Android is a lot more flexible about resolution than iOS, so each maker has their own considerations about the resolution they picked.
Samsung uses its in-house Super AMOLED, which was perfected over several generations. It has market-leading color accuracy and perfect black levels for a high-contrast image that pops. These displays use a different matrix arrangement though, which benefits from a higher pixel density. Then there are the bragging rights, of course.
Both Apple and Sony use IPS LCDs, the standard if you want good viewing angles, though both have additional features to improve the image quality.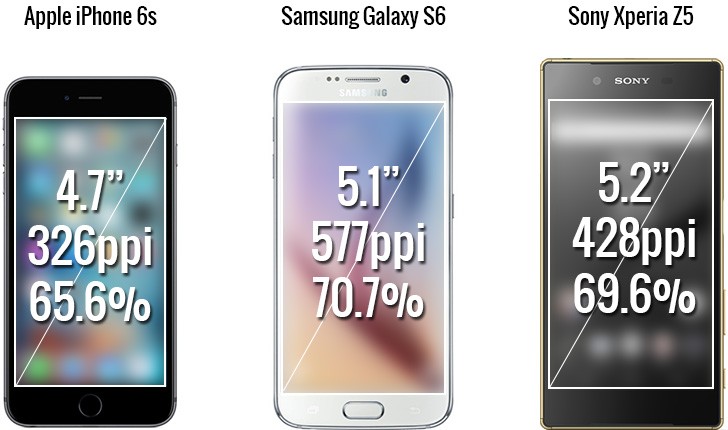 The Samsung Galaxy S6 screen is both the dimmest and brightest of the three here. The difference comes from the setting - manual control gives you a maximum of around 470 nits, but if you leave the phone to manage the brightness it can go as high as 750 nits when needed.
The Sony Xperia Z5 and Apple iPhone 6s have roughly similar max brightness (the Z5 is mildly brighter on auto, 600nits). The Xperia, however, disappoints with its poor contrast, under 1,000:1, which is common among mid-range phones but not okay for a flagship. Sony's improved Contrast filter that's part of the display assembly is responsible for deeper blacks than before but it didn't improve much about the contrast ratio.
The Apple iPhone 6 goes up to nearly 1,500:1. You need to be in a dark room to really see the higher contrast (theoretically infinite, but limited by reflections) of the Galaxy S6.
Display test
50% brightness
100% brightness
Black, cd/m2
White, cd/m2
Contrast ratio
Black, cd/m2
White, cd/m2
Contrast ratio
Apple iPhone 6s
0.10
148
1542
0.36
536
1481
Samsung Galaxy S6
0
208
∞
0
363
∞
Samsung Galaxy S6 max auto
-
-
∞
0
619
∞
Sony Xperia Z5
0.10
90
900
0.59
583
986
The Galaxy S6 brightness slider is fairly honest, but the other two do not affect brightness linearly. The Xperia is the worst offender here, giving you just 90nits out of a maximum of close to 600nits at mid position. This may sound like nitpicking, but it means you don't have fine control over brightness - the first half of the slider handles a 90nit range, the second half handles nearly a 500nit range.
Samsung's Super AMOLED displays are built to keep reflectivity low. Even on a bright sunny day the Galaxy S6 screen remains legible, it's one of the very best we've seen in this category. And that's on manual! The Apple iPhone 6s also is a great performer, but Xperia Z5's poor contrast makes it pretty average.
Sunlight contrast ratio
Nokia 808 PureView
4.698
Samsung Galaxy S6 edge+
4.615
Samsung Galaxy E7
4.485
Samsung Galaxy A3
4.241
Samsung Galaxy S6
4.124
Samsung Galaxy S6 edge
4.124
Samsung Galaxy Note5
4.09
Samsung Galaxy Note 4
4.033
Apple iPhone 5
3.997
Samsung Galaxy Note 3
3.997
Samsung Galaxy A5
3.895
Samsung Galaxy J7 outdoor
3.879
Samsung Galaxy A8
3.859
Apple iPhone 6
3.838
Motorola Moto X (2014)
3.816
Samsung Galaxy Note Edge
3.799
Apple iPhone 6s
3.783
Vivo X5Pro
3.706
Samsung Galaxy A7
3.679
Oppo R5
3.678
Samsung Galaxy K zoom
3.675
Nokia Lumia 930
3.567
Apple iPhone 5s
3.565
Samsung Galaxy S5
3.549
Nokia Lumia 735
3.547
Motorola Nexus 6
3.543
Apple iPhone 6s Plus
3.53
Alcatel Idol X+
3.527
Apple iPhone 5c
3.512
Samsung Galaxy Alpha
3.509
Oppo R7 Plus
3.499
Samsung Galaxy Note 3 Neo
3.487
vivo X5Max
3.472
LG G Flex2
3.465
YotaPhone 2
3.453
Samsung Galaxy J7
3.422
Motorola RAZR MAXX
3.42
Samsung I9300 Galaxy S III
3.419
Meizu MX5
3.416
Samsung Galaxy S5 Active
3.406
Nokia Lumia 925
3.402
Gionee Elife S5.5
3.386
Samsung I9505 Galaxy S4
3.352
Oppo R7
3.32
Samsung Omnia W
3.301
Motorola Moto X Play
3.222
Samsung Galaxy S5 mini
3.174
Samsung I9000 Galaxy S
3.155
Samsung Ativ S
3.129
Samsung I9190 Galaxy S4 mini
3.127
Samsung Galaxy S4 zoom
3.118
Nokia N9
3.069
Microsoft Lumia 640 XL
3.065
Apple iPhone 6 Plus
3.023
Samsung Galaxy Note
2.97
Samsung Galaxy Premier
2.958
Sony Xperia Z1
2.95
HTC One S
2.901
Lenovo S90 Sisley
2.892
Sony Xperia Z5
2.876
Samsung I8730 Galaxy Express
2.861
BlackBerry Q10
2.856
Samsung I9100 Galaxy S II
2.832
Sony Xperia Z3+
2.824
HTC Desire Eye
2.815
Gionee Elife S5.1
2.812
Samsung Galaxy S II Plus
2.801
BlackBerry Z30
2.79
Sony Xperia Z5 compact
2.784
Meizu MX4 Pro
2.765
Sony Xperia M5
2.69
Sony Xperia ZR
2.672
Huawei Ascend P1
2.655
Xiaomi Mi 4i
2.641
Sony Xperia Z3
2.618
Sony Xperia Z3 Compact
2.616
Sony Xperia T3
2.609
BlackBerry Passport
2.595
Microsoft Lumia 640
2.563
Nokia Lumia 900
2.562
Motorola Moto G 4G
2.546
HTC One Max
2.537
Nokia Lumia 720
2.512
HTC One
2.504
Sony Xperia M4 Aqua
2.503
Motorola Moto G
2.477
vivo Xshot
2.465
Sony Xperia Z
2.462
Xiaomi Mi 4
2.424
Samsung Galaxy S III mini
2.422
Lenovo Vibe Z2 Pro
2.416
LG G Flex
2.407
Huawei Honor 7
2.406
ZUK Z1 by Lenovo
2.382
HTC Desire 820
2.372
HTC One (M8)
2.371
Motorola RAZR i
2.366
Meizu MX4
2.366
Meizu m1 note
2.362
Sony Xperia ZL
2.352
HTC One M9
2.334
LG G4
2.317
Samsung Galaxy Note II
2.307
HTC One E9+
2.305
HTC One (M8) for Windows
2.291
Oppo R1x
2.281
Oppo Find 7a
2.279
Alcatel One Touch Hero
2.272
Apple iPhone 4S
2.269
HTC Desire 600 dual sim
2.262
Sony Xperia C5 Ultra
2.253
Nokia Asha 311
2.25
Sony Xperia C4 Dual
2.235
Xiaomi Mi Note
2.234
Motorola Moto G (2014)
2.233
LG Nexus 5
2.228
Huawei P8
2.196
Nokia Lumia 820
2.193
HTC One (E8)
2.185
Oppo N3
2.181
Nokia Lumia 920
2.17
Huawei Honor 6
2.169
Xiaomi Redmi Note 2
2.166
OnePlus Two
2.165
HTC One X
2.158
Asus Zenfone 2 ZE551ML
2.149
LG Aka
2.145
Nokia N8
2.144
Nokia Lumia 620
2.142
Archos 50 Diamond
2.134
Nokia 515
2.134
HTC Desire 500
2.129
Sony Xperia C3 Dual
2.12
Xiaomi Redmi Note
2.119
Sony Xperia acro S
2.119
Nokia Lumia 1020
2.103
Oppo Find 5
2.088
Huawei P8lite
2.078
Sony Xperia SL
2.078
Nokia Lumia 630
2.056
BlackBerry Z10
2.051
Moto G 3rd gen max manual
2.026
Huawei Ascend Mate7
2.024
Samsung I9295 Galaxy S4 Active
2.022
Apple iPhone 4
2.016
HTC One mini
2.003
Xiaomi Mi 3
2.001
Huawei Ascend P7
1.992
LG G2
1.976
Sony Xperia E4g
1.972
OnePlus One
1.961
Oppo R819
1.957
Sony Ericsson Xperia ray
1.955
Lenovo Vibe X2
1.952
Sony Xperia Z2
1.944
Sony Xperia E3
1.943
Nokia Lumia 1320
1.941
HTC One mini 2
1.94
Samsung Galaxy Camera
1.938
Samsung Galaxy Grand Prime
1.935
Sony Xperia J
1.932
Acer CloudMobile S500
1.931
ZTE Blade S6
1.927
LG Nexus 4
1.926
LG G Pro 2
1.922
Samsung Galaxy Mega 6.3
1.913
Nokia Asha 308
1.911
HTC Butterfly 2
1.905
Sony Xperia T
1.894
Meizu m2 note
1.892
BlackBerry Leap
1.892
Nokia Lumia 830
1.887
HTC Desire X
1.878
HTC Windows Phone 8X
1.873
HTC Butterfly
1.873
HTC Butterfly S
1.867
Huawei Ascend P6
1.865
Huawei Ascend Mate
1.845
LG G2 mini
1.838
LG G3
1.82
Nokia Lumia 1520
1.813
HTC Desire 616 dual sim
1.797
Sony Xperia V
1.792
HTC Desire 816
1.783
Sony Xperia Z1 Compact
1.772
HTC Desire 700 dual sim
1.769
ZTE Nubia Z9 mini
1.759
Sony Xperia U
1.758
Meizu MX3
1.754
LG Optimus G
1.753
Sony Xperia T2 Ultra
1.74
Sony Xperia Z3 Tablet Compact
1.735
Acer Liquid Jade S
1.734
Sony Xperia SP
1.733
Oppo Find 7
1.691
LG Optimus 4X HD
1.691
HTC One V
1.685
BlackBerry Q5
1.682
LG Optimus Vu
1.68
Motorola Moto E (2nd Gen)
1.675
Xiaomi Mi Pad 7.9
1.672
LG Optimus GJ
1.666
ZTE Nubia Z9
1.659
LG Optimus 3D Max
1.658
HTC Desire V
1.646
Samsung Galaxy Xcover 2
1.632
Samsung Galaxy Ace 3
1.622
Microsoft Lumia 532
1.615
Jolla Jolla
1.605
Microsoft Lumia 435
1.598
Sony Xperia Z Ultra
1.578
Sony Xperia go
1.577
Samsung Galaxy Ace 2 I8160
1.566
Samsung Galaxy Core
1.563
LG Optimus G Pro
1.552
Motorola Moto E
1.545
LG Optimus 3D
1.542
Nokia Asha 302
1.537
Samsung Galaxy Core Prime
1.507
BlackBerry Curve 9320
1.488
Sony Xperia M
1.473
Oppo N1
1.47
Sony Xperia E4
1.467
Meizu MX 4-core
1.462
Nokia Lumia 610
1.432
Samsung Galaxy S Duos
1.4
Sony Xperia M2
1.393
Samsung Galaxy Grand Neo
1.393
Microsoft Lumia 535
1.393
Samsung Galaxy Grand 2
1.38
Sony Xperia E1
1.372
Nokia Lumia 625
1.371
Gigabyte GSmart G1355
1.361
Sony Xperia L
1.351
Xiaomi Redmi 1S
1.35
Samsung Galaxy Mega 5.8
1.35
HTC Desire 510
1.34
Sony Xperia M2 Aqua
1.331
Sony Xperia miro
1.324
Samsung I9082 Galaxy Grand
1.321
Samsung I8530 Galaxy Beam
1.315
Xiaomi Redmi 2
1.311
HTC Desire C
1.3
Nokia X
1.291
Sony Xperia C
1.283
Nokia Asha 503
1.281
Nokia Asha 501
1.27
LG Optimus L7
1.269
Nokia Lumia 510
1.268
Samsung Galaxy Fame
1.245
LG Optimus L9
1.227
Meizu MX
1.221
Samsung Galaxy Young
1.22
Sony Xperia E
1.215
Nokia XL
1.204
Sony Xperia E dual
1.203
Asus Memo Pad 7 ME176C
1.198
Samsung Galaxy Pocket
1.18
Nokia Asha 305
1.178
Nokia Asha 306
1.175
Sony Xperia neo L
1.169
Sony Xperia tipo
1.166
Nokia Lumia 520
1.161
Samsung S6802 Galaxy Ace Duos
1.148
Samsung Galaxy mini 2
1.114
The Samsung Galaxy S6 has several screen modes - one that aims for perfect accuracy and others that create a punchier image to various degrees. They boost saturation and contrast, which can look great for photos and in the general UI, but can annoy purists. Luckily, everyone can pick the mode they like best.
The Xperia Z5 screen scores above average in color accuracy, however the white balance is off with a purplish tint. Turning on X Reality and other image enhancement options makes the color accuracy a bit worse and reduces the max brightness slightly. You can fine tune the color rendering using the Red, Green and Blue sliders, but it's not an easy thing to do and the UI does little to help.
The Apple iPhone 6s has more accurate colors than the Z5, average deltaE of 3.6 compared to 6.6. The white has a slight blue tint, also the red channel deviates more notably, but either way, it's one impressively tuned screen out of the gate.
Winner: Samsung Galaxy S6. It's the sharpest screen with the best contrast and sunlight legibility on the market, it's got perfect color rendering as well. And in Auto mode it can be brighter than the other two when needed.
Runner-up: Apple iPhone 6s. We wish Apple would offer more screen size variety than just 4.7" and 5.5", but in terms of image quality the iPhone 6s display is more accurate and with better contrast than the Xperia. Outside it's almost as legible as the Galaxy too.
Sony actually took a step back in contrast, the Z3+ did better than the Xperia Z5. Sure, the 5.2" 1080p screen is bigger and sharper than the iPhone, but it's not on par with it in the other tested areas.
I've been using iPhone since 2014 and I've no regret using it . I bought S6 sometimes ago and sold it back because †ђξ screen replacement it on †ђξ high side compare to iPhone . S6 Ȋ̝̊̅ڪ great when it come to camera and speed . And iPhone 6S is goo...
Nicki naym
13 Jul 2022
rZu
Yes iphone is one of the best phone but Samsung is more better than iphone
Miles Jordan
03 Jun 2022
NsE
Yes I believe iPhone is the best