iPhone 7 Plus vs. Pixel XL: Heavyweight title fight
Heavyweight title fight
GSMArena team, 28 October 2016.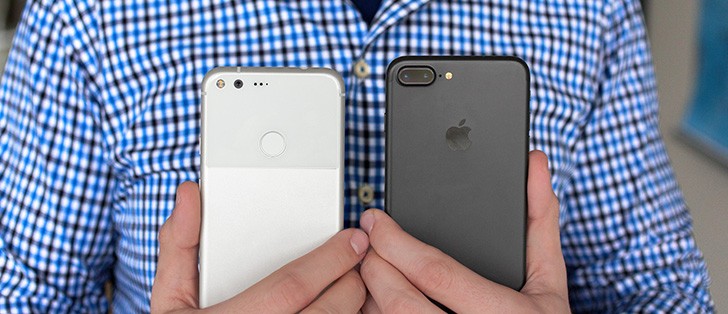 'Hey, check out the new Pixel I just got!'
The new what?
Replace Pixel with iPhone though, and the number of blank stares will be zero. Brand recognition is a big part of a smartphone's appeal and the 10 years of iPhones have built up a brand of colossal proportions.
Not so with the Pixel, which breaks all ties with the established Nexus name and starts from scratch. Everyone knows Google though, and the search giant is smartly playing Phone by Google marketing card. So, really, that initial puzzled reaction will be a thing of the past before we know it.
The iPhone 7 is a textbook case of iterative design - it's the third year in a row that Apple's smartphone looks that way with the major overhaul perhaps planned for the 10-year anniversary edition in 2017 - generation 11. Third time's the charm though - better masked antenna lines and the return of the color Black (plus a brand new Jet Black finish) make this easily the best-looking of the large screened iPhone generations.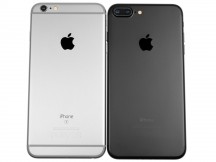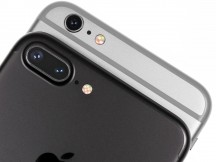 iPhone 7 Plus vs. iPhone 6s Plus - spot the differences
How about that Pixel though? Well... In light of recent info that it was developed in a total of 9 months and uses a recycled HTC design, we can probably cut it some slack. But just because we understand, doesn't mean we're letting it get away easily.
The overdesigned back panel strikes us as pretty odd. While the glass top third unquestionably adds personality to an otherwise pretty generic slab, we can't help but wonder if a similar effect could have been achieved in a more appealing way. Apparently not in time to meet the deadline.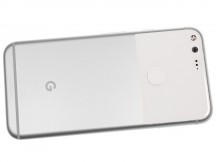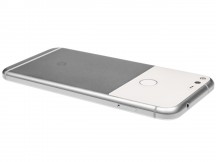 Google Pixel XL's back isn't exactly a head turner
The front isn't exactly a stunner either. Jay Leno's chin may have become the comedian's trademark, but we don't see the same happening to the Pixel's bottom bezel. Symmetry, they say, is why the device has been graced with it, and that's perhaps the reason why the proximity/ambient sensor assembly has been located under the earpiece. The front camera didn't submit to such considerations, though.
That's not to say that the iPhone 7 Plus or any of its two predecessors are leading in any screen-to-body ratio charts. On the contrary, it's a prime example of a device whose overall dimensions make a promise its display size can't keep. The 6.4-inch recent dream-come-true of a phone Xiaomi Mi Mix is only marginally larger than the iPhone 7 Plus (we are talking less than a millimeter of height and 4mm on the sides). Just saying.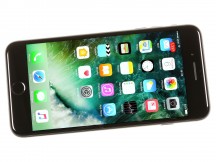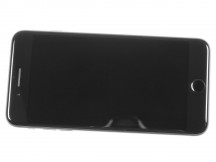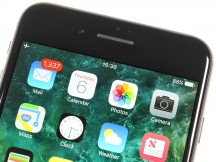 iPhone 7 Plus isn't very slim either
All in all, the Pixel is 3.5mm shorter than the iPhone and 2.4mm narrower - arguably a lot more important to usability. The Pixel is 1.2mm thicker, though, and it is a tangible difference for those that leave their phones without cases. Protection or not, the iPhone 7 Plus' 188g feel like a ton more than the Pixel's 168g.
Where the Phone by Google falls short is ingress protection. The Pixel is certified to an IP53 rating and spraying water (IPx3) is not quite the same as immersion up to a meter (IPx7), which the iPhone is capable of withstanding. 'Dust-protected' (IP5x Pixel XL) is also one level down from 'dust-tight' (IP6x iPhone 7 Plus). We always like to reiterate that such protection is meant to provide peace of mind and should not be tested to the limits.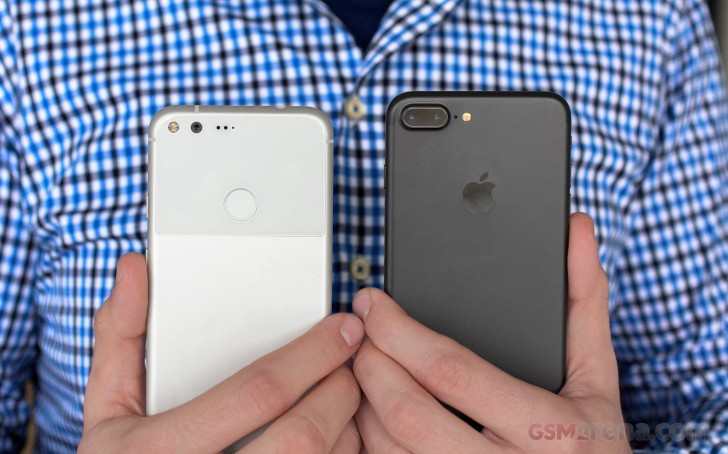 On to the niggles. On the iPhone 7 Plus, the power button is positioned too high, and not in immediate reach of either the right thumb or the left forefinger. Just because it's been so for three generations doesn't make it any more comfortable.
Not much better on the Pixel XL - the power button sits above the volume rocker, and it's the volume rocker that your digits fall onto naturally. You could argue all day that you don't need the power button for unlocking as you'd be using the fingerprint sensor on either device. How about locking them, though?
Both phones are slippery on their own - the price to pay for the premium aluminum body, apparently. However, that should go to the list of non-issues for the majority of users slapping cases on.
The vast majority of flagship users are probably used to a mechanical home button with a fingerprint sensor embedded in it - both Apple and Samsung do it that way. So the Pixel with its rear mounted sensor might require some getting used to for those folks. On the other hand, if you're coming from last year's Nexuses, you'd feel right at home. Not to mention that the Pixel's sensor has a neat trick up its sleeve - it can pull that notification shade for you, which is otherwise pretty hard to reach, particularly on the XL.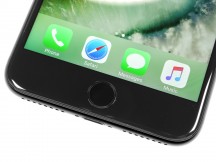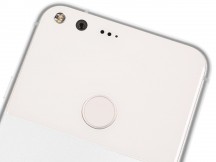 Home button, sort of • Rear-mounted fingerprint reader
In any case, switching sides will require adjustment and compromise. Which is why the number of defectors is unlikely to be huge. We can't help but feel that the iPhone 7 Plus will remain the choice for anyone who wants to project status (unless you're in the States, where virtually anyone has one). The Pixel may look and feel as premium (former is debatable), it may cost as much and be worth every penny, but it'll have a hard time matching the iPhone's brand. If not now, maybe next year?
Design winner: iPhone 7 Plus. The third take on the same basic design is undoubtedly the most refined, and the name alone scores major points in the bragging rights department. The ugly Pixel duckling has every chance of maturing into a beautiful swan, hopefully, perhaps as soon as next generation.
The phone helper
14 Mar 2022
4xk
Then get one from apple or Google
Pixel xl are ugly.. But i still buy it (used actually).. Its camera hard to beat for midship class.. Even par on cheap flagship class.. But my main concern are old chipset.. Hot like can boiled egg..
Please can someone help me get one