iQOO 11 review
GSMArena Team, 10 December 2022.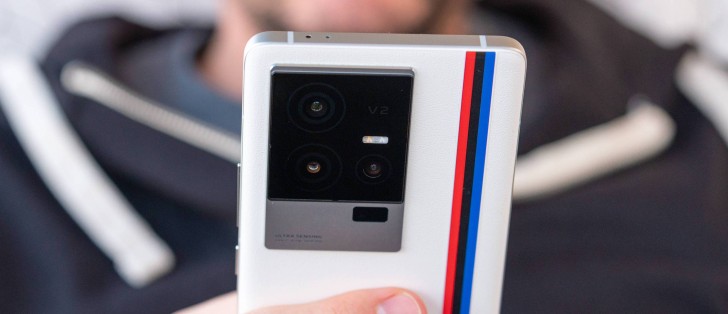 Android 13 and Funtouch 13 on our international unit
The iQOO 11 runs Android 13 with a proprietary layer on top, which varies depending on where you are in the world. The China-bound version is called Origin OS, while we get the 'international' Funtouch OS - v13, to be specific.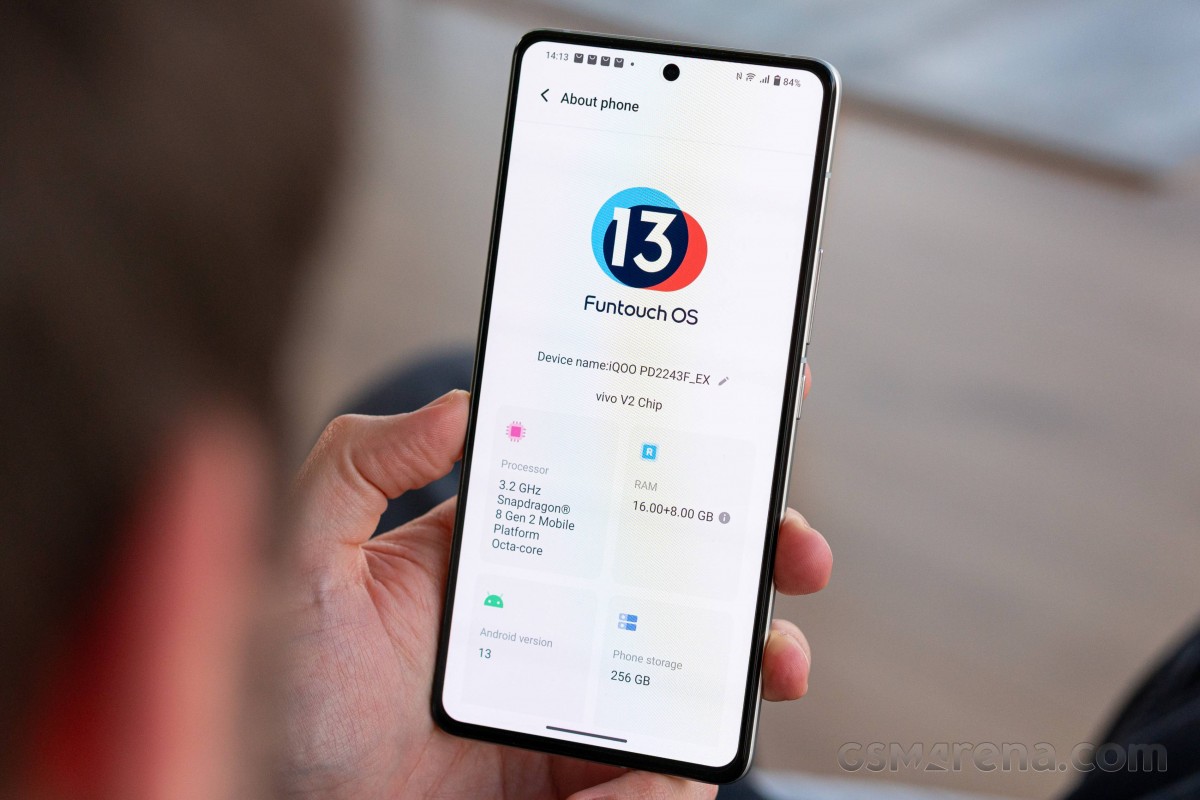 Our latest run-ins with Funtouch were with the 12 version on the vivo V25/X80 Lite and the iQOO 9T, and this new iteration isn't at all different in look and feel. And it's a pretty customized and customizable experience.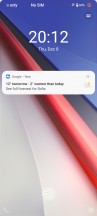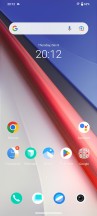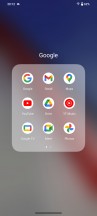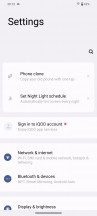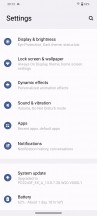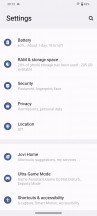 Lockscreen • Homescreen • Folder view • Settings menu
One of the useful proprietary features can be found in the recent apps menu. You can choose between the standard carousel formation and a horizontal tiles layout - sort of like MIUI, only scrollable horizontally. The setting is available right then and there - you don't need to look for it in the menus.
The notification shade is pretty familiar, and Funtouch is staying away from Google's large bubble-style quick toggles - it's simple circular buttons here. The default accent color here is blue and can be controlled via the Android 12 AOSP color palette interface. A powerful theming engine is still present.
The app drawer has an expandable recommended apps category on the top (most commonly used ones), whereas using the vertical scroller on the right would highlight the apps beginning with the selected letter.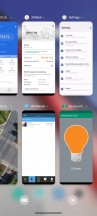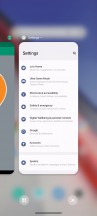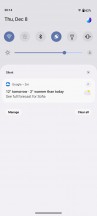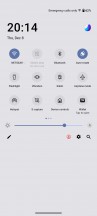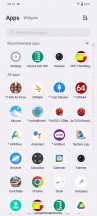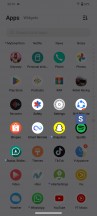 Recent apps • Recent apps • Notification shade • Quick toggles • App drawer
The rest of the UI has plenty of non-stock bits. In the Dynamic effects sub-menu, vivo has grouped a bunch of customization options for the home screen, lock screen and animation effects. There are even various charging and facial recognition animations.
The always-on display settings are in a different sub-menu, but the phone still gives you plenty of options to tinker with - a wide selection of animations, clock styles, colors, backgrounds.
The Sound menu holds a few pleasant surprises. Just like Samsung and its OneUI, Funtouch takes care of people with hearing problems, and you can calibrate the sound to be heard by elderly people or those with impaired hearing. Additionally, notifications and calls get separate volume sliders. The vibration intensity can be adjusted for calls and notifications independently. No system-wide equalizer is available for the loudspeaker, though, which could be either a negative or a positive, depending on how you look at it. An Audio Super Resolution toggle is thrown into the mix.
The Smart motion menu holds a handful of familiar screen-on and screen-off gestures along with some new additions. One of those requires you to wave in front of the screen during an incoming call to answer hands-free - useful if you're cooking, for example.
Holding the volume down key can be used to launch an app or do a certain task, although the list is limited to the camera app, turning on/off the torch or starting recording audio and opening Facebook for some odd reason. The so-called Quick action feature doesn't work when playing music for obvious reasons. Why isn't there a double-press option for Quick action, though?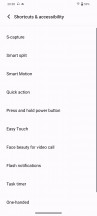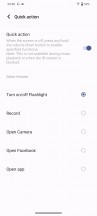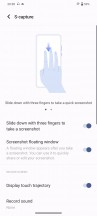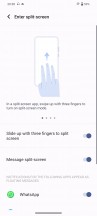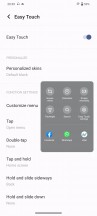 Shortcuts and accessibility • Quick action • S-capture • Screen-split • Easy Touch
A dedicated Ultra Game Mode is available, and it has it all. Most of the features are about mitigating disturbance during gameplay or preventing certain apps from displaying notifications. One of the most intriguing features that have been around on vivo phones for a while is the ability to turn off the screen and keep the game running in the background. Especially useful for turn-based games or those requiring some sort of "farming" and "grinding".
Having all of these customizable gestures, actions and additional features around is cool, but we can't help but wish that Funtouch would have done a better job of organizing them - and that's been a recurring complaint. As things currently stand, it is hard to find certain options, even when you know for a fact that they exist and consequently, discovering new things is even harder.
Performance and benchmarks
The iQOO 11 is the first handset to come into our office with a Snapdragon 8 Gen 2 - what's going to be the definitive chipset for high-end Android smartphones for at least the next six months. We went into more detail on the generational improvements on the announcement date, but the key takeaways are 35% higher performance and 40% improved efficiency of the CPU thanks in no small part to a reworked core configuration (1+2+2+3 in place of the 1+3+4 of before), 25% and 45% performance and efficiency bumps on the GPU side, and support for new, faster memory technologies (LPDDR5X and UFS 4.0).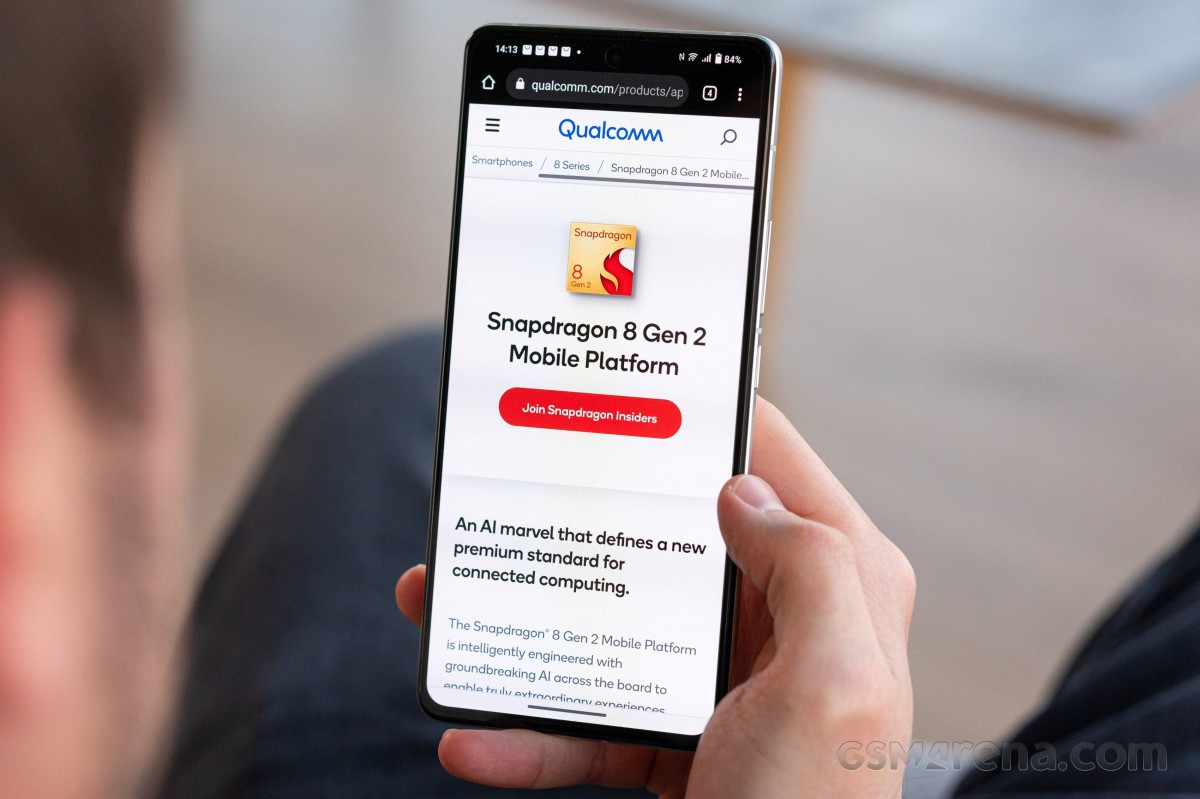 There's also the in-house V2 chip, developed by iQOO's parent company vivo, which kicks in for night-time photos and video, but is also at play in gaming applications.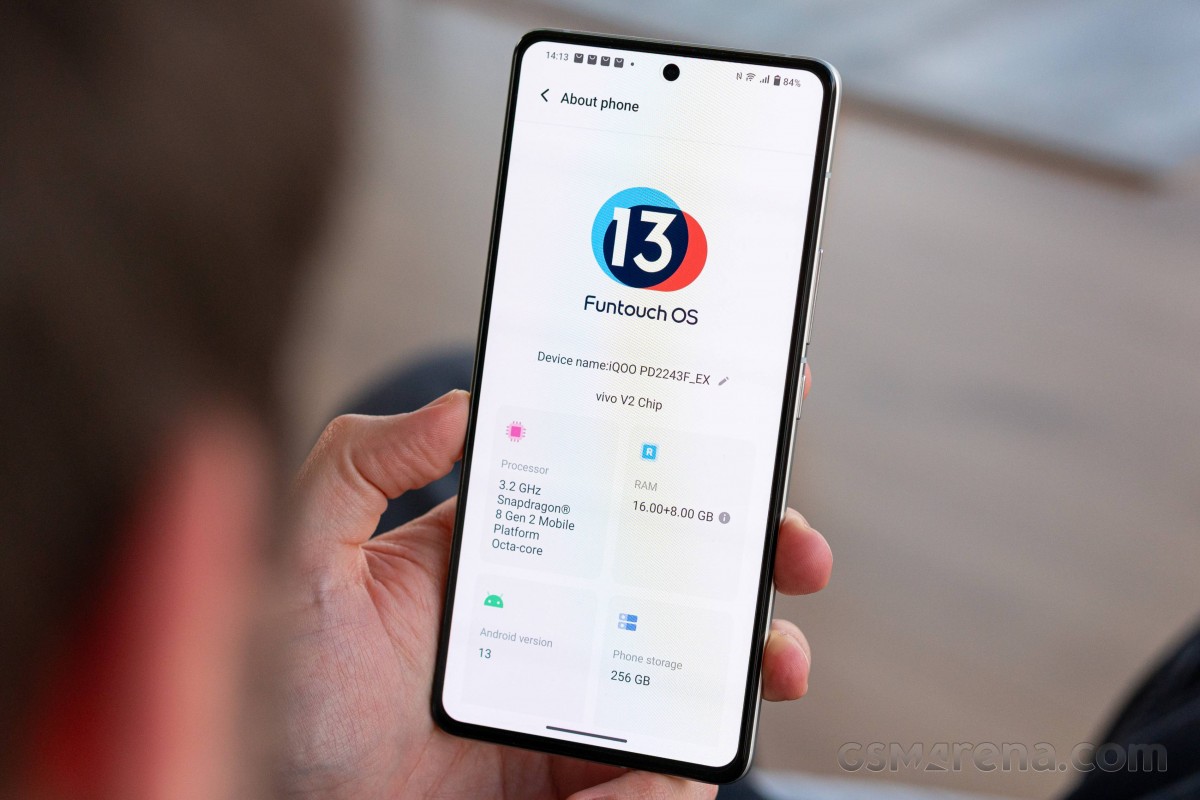 We decided to start things off in the benchmark section with some storage speed testing to check out how that UFS 4.0 standard compares to the UFS 3.1 of yesteryear's flagships. So, the numbers show that if you do a lot of sequential read or write tasks on your phone (everyone is a content creator in 2022), you'll see massive benefits from the new type of storage indeed. Random write speeds also get a noticeable bump, and that should be felt across more types of use cases than just moving large video files.
Androbench, Sequential Read, MB/s
Higher is better
iQOO 11
3469
vivo X80 Pro
1779
Samsung Galaxy S22 Ultra
1753
Google Pixel 7 Pro
1358
Androbench, Sequential Write, MB/s
Higher is better
iQOO 11
2680
vivo X80 Pro
1405
Samsung Galaxy S22 Ultra
1323
Google Pixel 7 Pro
754
Androbench, Random Read, MB/s
Higher is better
iQOO 11
330
Samsung Galaxy S22 Ultra
320
vivo X80 Pro
312
Google Pixel 7 Pro
182
Androbench, Random Write, MB/s
Higher is better
iQOO 11
466
vivo X80 Pro
370
Samsung Galaxy S22 Ultra
270
Google Pixel 7 Pro
222
And now, back to our regular scheduled programming. Or, rather, the standard set of benchmarks. The SD 8 Gen 2's advantage over the previous gen is already evident in the CPU-only Geekbench, where even the overachieving Zenfone 9 (SD 8+ Gen 1) is a good 10% behind, while other SD 8+ Gen devices are typically scoring 15-20% below the iQOO.
GeekBench 5 (single-core)
Higher is better
iQOO 11
1479
Realme GT2 Explorer Master
1336
Xiaomi 12S Ultra
1324
Asus Zenfone 9
1313
Huawei Mate 50 Pro
1277
iQOO 9T
1276
Motorola Edge 30 Ultra
1276
Tecno Pahntom X2 Pro
1248
Xiaomi 12T Pro
1238
Realme GT2 Pro
1238
vivo X80 Pro
1184
Galaxy S22+
1165
OnePlus 10T
1043
ROG Phone 6D
1015
OnePlus 10 Pro
975
Xiaomi 12T
925
GeekBench 5 (multi-core)
Higher is better
iQOO 11
4803
Asus Zenfone 9
4338
Xiaomi 12S Ultra
4300
Motorola Edge 30 Ultra
4265
Xiaomi 12T Pro
4081
iQOO 9T
4059
Realme GT2 Explorer Master
4021
Tecno Pahntom X2 Pro
3984
Huawei Mate 50 Pro
3839
Xiaomi 12T
3756
ROG Phone 6D
3531
Galaxy S22+
3528
vivo X80 Pro
3505
Realme GT2 Pro
3501
OnePlus 10 Pro
3447
OnePlus 10T
3401
The margins in Antutu, in turn, are 18-25% in favor of the newer chip.
AnTuTu 9
Higher is better
iQOO 11
1281665
Asus Zenfone 9
1083092
Motorola Edge 30 Ultra
1074722
iQOO 9T
1045901
Realme GT2 Explorer Master
1045876
Xiaomi 12S Ultra
1039412
Xiaomi 12T Pro
1032185
vivo X80 Pro
1002570
Huawei Mate 50 Pro
979921
Realme GT2 Pro
966251
Tecno Pahntom X2 Pro
961576
ROG Phone 6D
948594
Galaxy S22+
886916
OnePlus 10 Pro
886248
OnePlus 10T
786238
Xiaomi 12T
780204
In onscreen graphics benchmarks, the iQOO 11's fps numbers are hampered by its 1440p resolution if you compare it against 1080p-screened rivals with the old silicon. Comparisons against 1440p models with the previous-gen chip, on the other hand, do reveal a significant improvement - to the tune of a 40% higher fps count. Should you choose to run the iQOO 11 at the 1080p display setting, you'll be getting substantial gains in performance.
GFX Aztek ES 3.1 High (onscreen)
Higher is better
iQOO 11 (1080p)
89
Asus Zenfone 9
67
iQOO 9T
65
Motorola Edge 30 Ultra
65
ROG Phone 6D
61
OnePlus 10T
60
Realme GT2 Explorer Master
59
Tecno Pahntom X2 Pro
59
iQOO 11
54
Huawei Mate 50 Pro
52
Xiaomi 12T Pro
50
Galaxy S22+
50
Xiaomi 12S Ultra
38
OnePlus 10 Pro
37
Realme GT2 Pro
36
vivo X80 Pro
34
GFX Aztek Vulkan High (onscreen)
Higher is better
iQOO 11 (1080p)
91
Asus Zenfone 9
69
iQOO 9T
67
ROG Phone 6D
64
Motorola Edge 30 Ultra
62
Tecno Pahntom X2 Pro
62
OnePlus 10T
60
Realme GT2 Explorer Master
59
Xiaomi 12T Pro
58
iQOO 11
55
Huawei Mate 50 Pro
55
Galaxy S22+
51
OnePlus 10 Pro
41
Xiaomi 12S Ultra
39
Realme GT2 Pro
39
vivo X80 Pro
34
GFX Car Chase ES 3.1 (onscreen)
Higher is better
iQOO 11 (1080p)
110
Asus Zenfone 9
89
iQOO 9T
87
Motorola Edge 30 Ultra
73
Tecno Pahntom X2 Pro
71
ROG Phone 6D
71
Huawei Mate 50 Pro
68
Galaxy S22+
68
iQOO 11
67
Xiaomi 12T Pro
65
OnePlus 10T
60
Realme GT2 Explorer Master
60
Xiaomi 12S Ultra
51
OnePlus 10 Pro
48
Realme GT2 Pro
48
vivo X80 Pro
44
Turning to the offscreen tests for the raw performance comparisons, we're seeing the iQOO 11 back to its position in a league of its own. Well, at least until the rest of the SD 8 Gen 2s start pouring in.
GFX Aztek ES 3.1 High (offscreen 1440p)
Higher is better
iQOO 11
62
iQOO 9T
46
OnePlus 10T
46
Realme GT2 Explorer Master
46
Asus Zenfone 9
46
Xiaomi 12S Ultra
46
Huawei Mate 50 Pro
45
Xiaomi 12T Pro
45
Motorola Edge 30 Ultra
43
ROG Phone 6D
43
OnePlus 10 Pro
43
Tecno Pahntom X2 Pro
42
Realme GT2 Pro
42
vivo X80 Pro
41
Galaxy S22+
31
GFX Aztek Vulkan High (offscreen 1440p)
Higher is better
iQOO 11
69
iQOO 9T
52
Asus Zenfone 9
52
Huawei Mate 50 Pro
51
OnePlus 10T
51
Xiaomi 12S Ultra
51
Xiaomi 12T Pro
50
Realme GT2 Explorer Master
50
OnePlus 10 Pro
48
ROG Phone 6D
46
Realme GT2 Pro
46
Tecno Pahntom X2 Pro
44
Motorola Edge 30 Ultra
43
vivo X80 Pro
37
Galaxy S22+
34
GFX Car Chase ES 3.1 (offscreen 1080p)
Higher is better
iQOO 11
128
Asus Zenfone 9
104
Xiaomi 12S Ultra
104
iQOO 9T
103
OnePlus 10T
103
Realme GT2 Explorer Master
103
Huawei Mate 50 Pro
101
Xiaomi 12T Pro
100
OnePlus 10 Pro
97
Realme GT2 Pro
95
Motorola Edge 30 Ultra
93
vivo X80 Pro
90
ROG Phone 6D
84
Tecno Pahntom X2 Pro
82
Galaxy S22+
76
3DMark Wild Life Vulkan 1.1 (offscreen 1440p)
Higher is better
iQOO 11
12738
Xiaomi 12S Ultra
10533
Asus Zenfone 9
10469
Huawei Mate 50 Pro
10468
Motorola Edge 30 Ultra
10248
vivo X80 Pro
9778
OnePlus 10 Pro
9610
Realme GT2 Pro
9487
ROG Phone 6D
8666
Tecno Pahntom X2 Pro
7499
Galaxy S22+
7405
3DMark Wild Life Extreme (offscreen 1440p)
Higher is better
iQOO 11
3514
Huawei Mate 50 Pro
2753
Xiaomi 12T Pro
2740
ROG Phone 6D
2555
Tecno Pahntom X2 Pro
2393
Naturally, sustained performance isn't amazing on these top-end chips, but the iQOO 11 still manages a very respectable showing in the CPU throttling test, where it ramps down gradually and settles around the 80% mark. Continued GPU load does have a more dramatic effect on the numbers, however - again, nothing out of the ordinary.
RAKESH ASWANI
07 Feb 2023
fCB
but i think its not for value for money, its over price and ip68 not available
Oh and it's QHD screen is 144hz vs 120hz on other mainstream phones. It's a beast of a chip!
The 8 gen 2 has a 35% performance uplift and 40% power efficiency improvement over the gen 1 in cpu and 25% faster graphics rendering and 45% more power efficient on the gpu. Gen 1 gets 2.2 teraflops of performance with the gpu, gen 2 gets 3.4 teraf...