Lenovo K6 Note review: Noteworthy
Noteworthy
GSMArena team, 11 January 2017.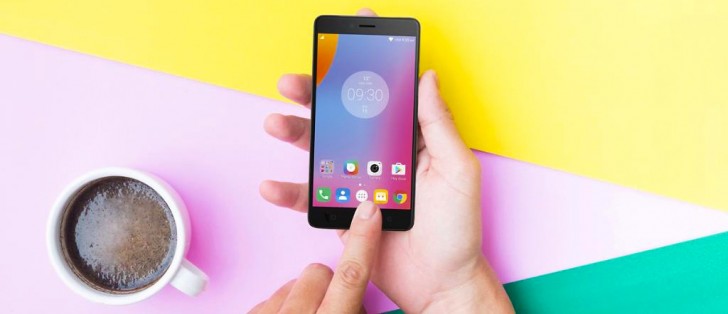 Display
The Lenovo K6 Note doesn't really offer anything special in the display department. The Chinese manufacturer has stuck with a 5.5-inch LCD panel for some time now. It is of the IPS variety and with a resolution of 1080p. That works out to 401 ppi, which is still perfectly sharp.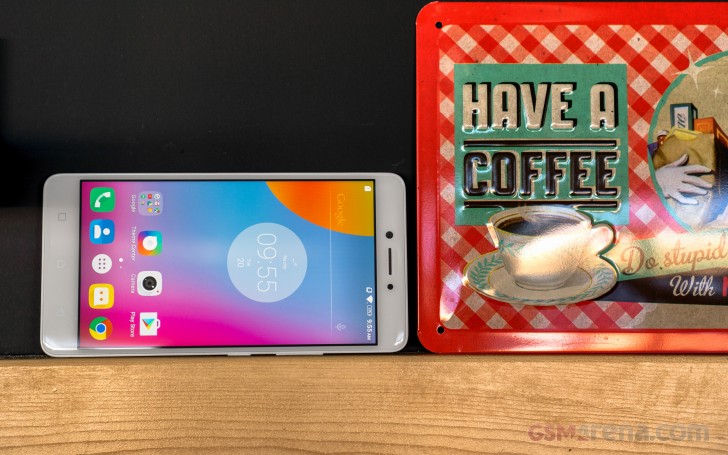 There are two display modes to choose from for the panel. Neither is really what we would consider truly color accurate, but the Normal preset definitely comes closer. The average DeltaE here is 4.8 - not too bad, with the Orange and Yellow being the most inaccurate at 7.2.
The Vibrant mode offers a little more "pop" and it is what most users are likely to find more appealing. Interestingly enough, Lenovo has decided to enhance both the greens and the blues, but the red is almost unchanged. The DeltaE in this mode is 5.8 on average and goes as high as 10.4 in Magenta.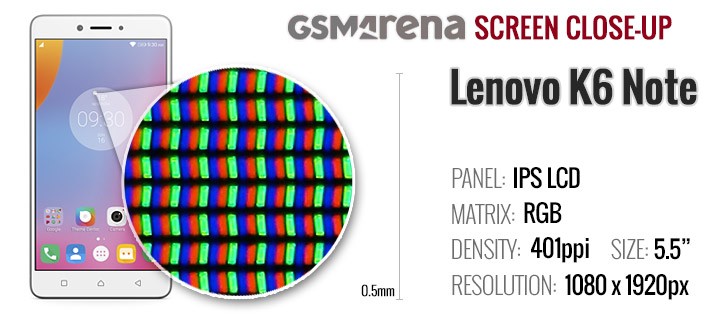 Contrast levels turned out quite decent for an LCD. With a maximum brightness of 521 nits and almost no noticeable light in the blacks, there is plenty of contrast to go around.
Display test
100% brightness
Black, cd/m2
White, cd/m2
Contrast ratio
Lenovo K6 Note
0.383
521
1360
Lenovo Vibe K4 Note
0.47
442
940
Lenovo K3 Note
0.24
432
1793
Xiaomi Redmi Note 3 (MediaTek)
0.42
403
953
Xiaomi Redmi Note 4
0.38
439
1158
Xiaomi Redmi 3S
0.45
489
1087
Xiaomi Redmi 3s Prime
0.43
518
1205
Xiaomi Redmi Pro
0.00
408
∞
Xiaomi Mi 5
0.51
628
1227
Xiaomi Mi Max
0.46
424
922
LeEco Le Max 2
0.30
426
1444
Meizu m3 note
0.52
425
816
Meizu MX6
0.34
457
1344
Lenovo Moto G4
0.32
495
1560
Motorola Moto G4 Plus
0.33
478
1448
Huawei P8lite
0.45
362
802
Huawei Honor 7 Lite / Honor 5c
0.58
416
717
Asus Zenfone Max ZC550KL auto brightness on both plans
0.61
668
1093
Samsung Galaxy J5 (2016)
0.00
338
∞
While decent, sunlight legibility of the Lenovo K6 Note is nothing to rave about. Plus, the front panel is a bit more reflective than we would have liked and viewing angles could use some improvement as well.
Sunlight contrast ratio
Samsung Galaxy S6 edge+
4.615
Samsung Galaxy S7 edge
4.439
OnePlus 3
4.424
Samsung Galaxy S7
4.376
HTC One A9
4.274
Samsung Galaxy Note7
4.247
Samsung Galaxy A3
4.241
OnePlus 3T
4.232
Google Pixel XL
4.164
ZTE Axon 7
4.154
Samsung Galaxy S6 edge
4.124
Samsung Galaxy Note5
4.09
Huawei Nexus 6P
4.019
OnePlus X
3.983
Vivo Xplay5 Elite
3.983
Oppo R7s
3.964
Apple iPhone 7
3.964
Huawei P9 Plus
3.956
Samsung Galaxy A7 (2016)
3.918
Samsung Galaxy C5
3.911
Samsung Galaxy C7
3.896
Samsung Galaxy A5
3.895
Samsung Galaxy J7 outdoor
3.879
Samsung Galaxy J2 outdoor
3.873
Samsung Galaxy A8
3.859
Samsung Galaxy A9 (2016)
3.817
Motorola Moto X (2014)
3.816
Samsung Galaxy J7 (2016) outdoor mode
3.802
Xiaomi Redmi Pro
3.798
LG V20 Max auto
3.798
Sony Xperia XZ
3.795
Samsung Galaxy A5 (2016)
3.789
Apple iPhone 6s
3.783
Meizu Pro 5
3.781
Microsoft Lumia 650
3.772
Samsung Galaxy J7 (2016)
3.756
Oppo F1 Plus
3.709
Vivo X5Pro
3.706
Sony Xperia X Compact
3.694
Apple iPhone SE
3.681
Huawei Mate 9
3.68
Samsung Galaxy A7
3.679
Meizu PRO 6
3.659
BlackBerry Priv
3.645
Apple iPhone 7 Plus
3.588
Apple iPhone 6s Plus
3.53
Motorola Moto Z Play
3.526
Samsung Galaxy J3 (2016)
3.523
Samsung Galaxy J3 (2016) outdoor mode
3.523
Acer Jade Primo
3.521
Microsoft Lumia 950
3.512
Oppo R7 Plus
3.499
nubia Z11
3.466
Samsung Galaxy J7
3.422
Meizu MX5
3.416
LG V20
3.402
Oppo R9s
3.352
Oppo R7
3.32
Xiaomi Mi 5s
3.276
Xiaomi Mi 5
3.24
Samsung Galaxy J2
3.235
Sony Xperia X Performance
3.234
Xiaomi Mi Note 2
3.228
Motorola Moto X Play
3.222
Huawei P9
3.195
Lenovo Vibe Shot
3.113
Motorola Moto X Force
3.105
LG Nexus 5X
3.092
Huawei Mate S
3.073
Microsoft Lumia 640 XL
3.065
Sony Xperia X
2.989
Huawei Mate 8
2.949
Xiaomi Redmi 3S
2.913
Sony Xperia XA Ultra
2.906
LG G5
2.905
HTC One S
2.901
Xiaomi Redmi 3s Prime
2.893
Xiaomi Mi 5s Plus
2.884
Sony Xperia Z5
2.876
Microsoft Lumia 550
2.851
Xiaomi Redmi 3 Pro
2.803
Sony Xperia Z5 compact
2.784
Meizu MX6
2.751
LG V10
2.744
Xiaomi Redmi 3
2.735
Sony Xperia M5
2.69
Huawei P9 Lite
2.679
Xiaomi Redmi 4 Prime
2.679
Vivo V3Max
2.659
Xiaomi Mi Mix
2.658
Xiaomi Mi 4i
2.641
Sony Xperia XA
2.609
Motorola Moto G4 Plus
2.582
Motorola Moto G4 Plus (max auto)
2.582
Xiaomi Mi 4c
2.574
LeEco Le Max 2
2.567
Microsoft Lumia 640
2.563
Asus Zenfone 3 ZE552KL
2.563
Lenovo Moto G4
2.544
Lenovo K6 Note
2.544
Oppo F1
2.528
Sony Xperia Z5 Premium
2.525
Huawei Honor 7 Lite / Honor 5c
2.506
Sony Xperia M4 Aqua
2.503
Oppo F1s
2.481
Motorola Moto G
2.477
Lenovo Vibe K5 Plus
2.473
Huawei G8
2.471
Huawei nova
2.467
Sony Xperia Z
2.462
Lenovo Vibe K5
2.459
Meizu m3 max
2.447
Huawei Honor 7
2.406
Sony Xperia E5
2.386
ZUK Z1 by Lenovo
2.382
HTC 10
2.378
Samsung Galaxy J5 (2016)
2.378
Meizu m1 note
2.362
Huawei nova plus
2.329
HTC One E9+
2.305
Alcatel One Touch Hero
2.272
Apple iPhone 4S
2.269
Lenovo Vibe K4 Note
2.254
Sony Xperia C5 Ultra
2.253
Xiaomi Redmi Note 3 (MediaTek)
2.249
Sony Xperia C4 Dual
2.235
Xiaomi Mi Note
2.234
Motorola Moto G (2014)
2.233
LG Nexus 5
2.228
Huawei P8
2.196
Huawei Honor 6
2.169
Xiaomi Redmi Note 2
2.166
OnePlus Two
2.165
HTC One X
2.158
LG Aka
2.145
Xiaomi Redmi Note 4
2.145
Archos 50 Diamond
2.134
Xiaomi Redmi Note
2.119
Acer Liquid X2
2.084
Huawei P8lite
2.078
Moto G 3rd gen max manual
2.026
Xiaomi Mi Max
1.996
Sony Xperia E4g
1.972
OnePlus One
1.961
Meizu m3 note
1.923
BlackBerry Leap
1.892
Meizu m2 note
1.892
ZTE Nubia Z9 mini
1.759
Sony Xperia U
1.758
Asus Zenfone Selfie
1.68
Motorola Moto E (2nd Gen)
1.675
ZTE Nubia Z9
1.659
Jolla Jolla
1.605
Motorola Moto E
1.545
Sony Xperia M
1.473
HTC Desire C
1.3
Sony Xperia C
1.283
Meizu MX
1.221
Sony Xperia E
1.215
Connectivity
The Lenovo K6 Note is available in a Dual-SIM configuration in certain markets. As already mentioned, the downside is that it uses a hybrid tray, so you have to sacrifice one of the SIM cards to get some extra storage. LTE is also on-board with a speed cap set at Cat.4 or 150 Mbps downstream and 50 Mbps up.
Wi-Fi is fairly basic, but we can't really ask for more on a budget device. There is only 2.4 GHz available and b/g/n standards. On the flip side, however, Bluetooth is a modern 4.2. Sadly, NFC is missing, but, as a consolation, there is an FM radio on board.
The microUSB 2.0 port supports OTG so that you can hook up flash drives and other USB accessories to it. It cannot output video, as there's no MHL or SlimPort functionality.
Battery
As previously mentioned, the Lenovo K6 Note offers a tangible battery upgrade over its predecessors. At least on paper, that is. It packs a 4,000 mAh battery, sealed-in under the non-removable metal back.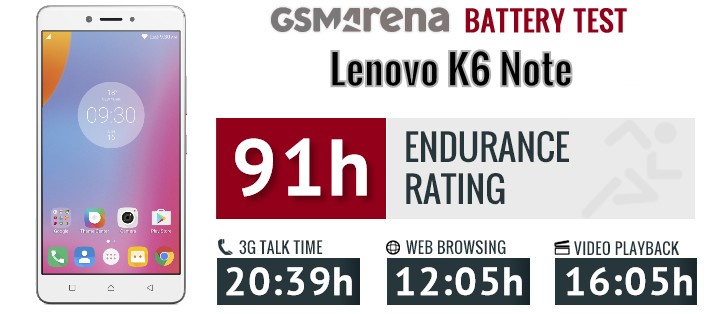 Thanks to that, the Lenovo K6 Note managed a solid 91hours in our proprietary battery endurance test. That is a very respectable result, indeed. The increased battery capacity definitely helps a lot in this respect, but so do various other software optimization, both on Lenovo's end and Android in general.
The lack of any form of quick charging on the Lenovo K6 Note is really frustrating, especially nowadays. What is even more annoying, is the fact that the Snapdragon 430 does officially support Qualcomm's Quick Charge 3.0 technology. Perhaps Lenovo has a valid reason for leaving it out, but the end result is a handset that still requires overnight charging. Our review unit managed to draw a maximum of 2A and an average of around 1.6A from the wall. This left it with 15% of extra charge after 30 minutes and 35%, after an hour.
The battery testing procedure is described in detail in case you're interested in the nitty-gritties. You can also check out our complete battery test table, where you can see how all of the smartphones we've tested will compare under your own typical use.
Anonymous
22 Mar 2021
akp
Install volume booster goodev
Switch the Dolby atmos toggle to on. Select match volume/ level volume to "on" in the Dolby atmos application (preferably, in the custom mode). Your problem of loudness in headphones will be solved to some extent.
I have Lenovo k6 note. But this mobile volume is very low. So, please help me for increase volume.