Lenovo K6 Note review: Noteworthy
Noteworthy
GSMArena team, 11 January 2017.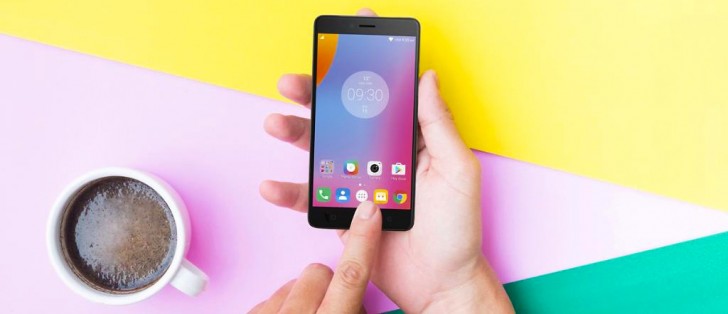 Gallery
As already mentioned, Lenovo is no longer relying on custom app solutions for the better part of its multimedia needs. That being said, the default gallery is Google Photos. The latter has really come a long way, not just as an access point to your online albums.
Pinch zoom changes the size of thumbnails, but the search field is pure sci-fi - type in the name of a place, person or just name an object (e.g. 'swimming pool', or 'note', or 'bottle') and it sifts through years of photos in a moment. That is some next level neural network computational power right in your hands and free of charge. Better yet, the more photos you accumulate over time, the smarter Google's search gets. Searching by location and date is also available but that goes without saying.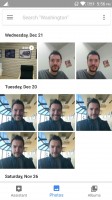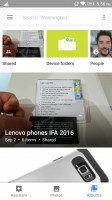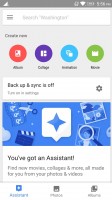 Google Photos • Amazing search • The assistant
The assistant continues the AI tricks by automatically creating panoramas and slideshows (complete with maps of your travels), it even processes certain photos with more skill than your average Joe - it straightens them, adjusts levels, it may decide to make them black & white and so on.
All of these auto features can be triggered manually, of course. From the editing you can hit Auto to fix the colors and contrast, you can auto-level a photo or just add filters.
The default file manager can also do some picture viewing.
Video player
Interestingly enough, Lenovo has bundled its own video player with the K6 Note. However, it doesn't have a shortcut in the app locker. You have to attempt to open a video to see it suggested in the supported apps list. In terms of functionality, it is really basic, but it does seem to offer better video decoder support than Google Photos.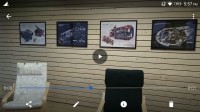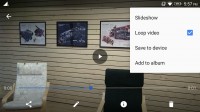 Basic video player from Google Photos
Despite that, the video player isn't really any better than Google Photos in the features department, so a third-party solution is probably a good idea if you would like to watch a lot of video.
Theatermax is still a buzzword on the K6 Note, just like it was on its predecessor. Lenovo is still putting a lot of marketing effort towards the technology. To take advantage of it, you do have to buy the company's own ANT VR headset. It is a rather simple plastic headset, mostly based on the original Google Cardboard principle and technology. However, it does cost a pretty penny at around $100.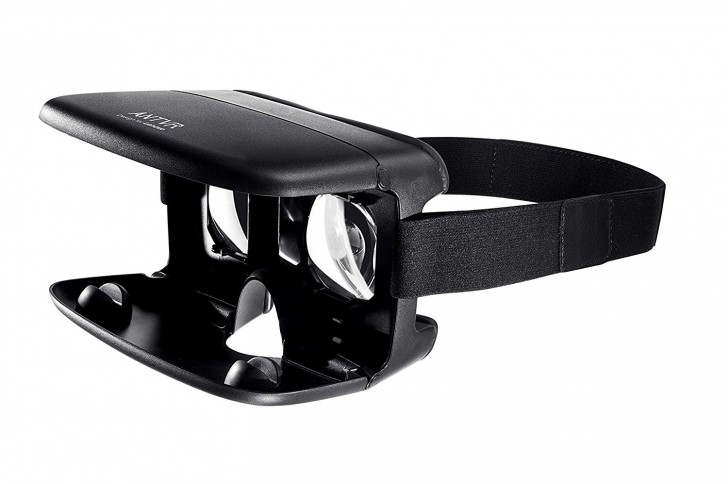 Lenovo hasn't really managed to avoid confusion when it comes to VR and Theatermax. The latter actually boils down to providing a cinematic-style, simulated big-screen viewing experience and works across the entire phone UI, including any multimedia content. It can be enabled by long-pressing the power button and then clicking the VR Mode toggle.
If a true VR experience, complete with the likes of motion tracking, is what you are after, ANT VR offers support for that as well. However, you do have to get specific VR apps, games and multimedia to use it - no centralized toggle.
Google Play Music and FM Radio
Play Music works as a generic music player, but it's also a streaming app. Google boasts 50,000 tracks and if you're worried about data usage, you can just make your favorite albums available offline. Still, if you prefer your own music library, then Play Music will assist you in loading tracks from your computer or a USB drive if you happen to have one.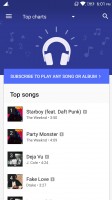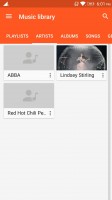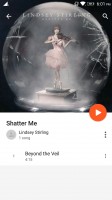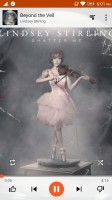 Google Play Music is built around music streaming
Anyway, you will want to get into the settings menu where the Dolby Atmos screen holds the equalizer and other settings. You can change different modes (Movie, Music, Game, Voice, Custom), each getting its own 5-band equalizer setting. Additionally, you have automatic equalizers (Open, Rich, Focused) and things like surround virtualizer, dialogue enhancer and volume leveler.
It is a pretty in-depth interface, with a lot of potential, but we can't help but feel it is a little wasted on the single speaker setup of the K6 Note. Still, stereo speakers haven't been a thing on the Lenovo K Note family since the Vibe k4 Note, so we are an iteration too late to complain.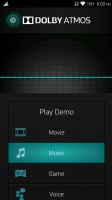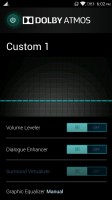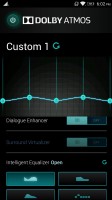 Detailed equalizer courtesy of Dolby
The FM radio is a nice touch. Sure, you can stream with Play Music, but FM broadcasting is free and available at places where there might not be data connection. The Radio app can record radio broadcasts, but lacks RDS (the feature that displays the station name and other info).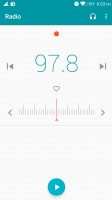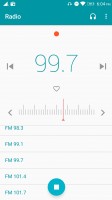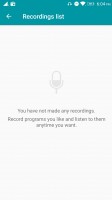 FM radio app with broadcast recording, without RDS
Audio output is very clean, but also very quiet
The Lenovo K6 Note showed some impressively clean output in our test. The smartphone had no weak points to its performance with an active external amplifier and even the introduction of headphones saw next to no degradation. Even a flagship would be proud of that kind of clarity.
However, volume levels were an entirely different story - the K6 Note was well below average in both parts of the test, so you might want to steer clear of big, high-impedance headphones for this one.
| | | | | | | |
| --- | --- | --- | --- | --- | --- | --- |
| Test | Frequency response | Noise level | Dynamic range | THD | IMD + Noise | Stereo crosstalk |
| Lenovo K6 Note | +0.04, -0.09 | -92.7 | 93.0 | 0.011 | 0.020 | -86.8 |
| Lenovo K6 Note (headphones) | +0.08, -0.10 | -92.3 | 93.1 | 0.012 | 0.086 | -75.2 |
| Xiaomi Redmi Note 4 | +0.02, -0.10 | -94.5 | 90.9 | 0.0019 | 0.0086 | -94.9 |
| Xiaomi Redmi Note 4 (headphones) | +0.37, -0.25 | -92.2 | 89.6 | 0.0087 | 0.274 | -53.6 |
| Meizu m2 note | +0.08, -0.05 | -93.1 | 92.7 | 0.0079 | 0.013 | -92.4 |
| Meizu m2 note (headphones) | +0.40, -0.62 | -86.9 | 88.0 | 0.145 | 0.529 | -50.8 |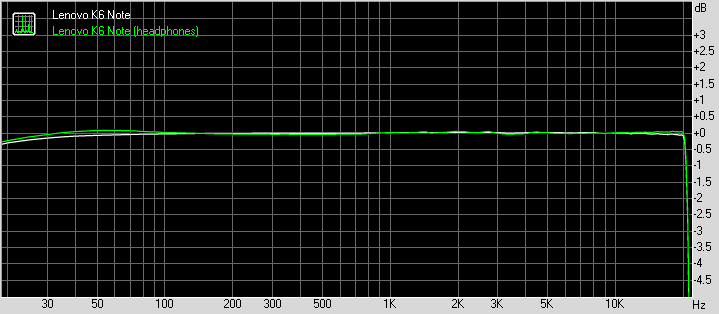 Lenovo K6 Note frequency response
You can learn more about the tested parameters and the whole testing process here.
Anonymous
22 Mar 2021
akp
Install volume booster goodev
Switch the Dolby atmos toggle to on. Select match volume/ level volume to "on" in the Dolby atmos application (preferably, in the custom mode). Your problem of loudness in headphones will be solved to some extent.
I have Lenovo k6 note. But this mobile volume is very low. So, please help me for increase volume.