Moto G4 review: Lenovated
Lenovated
GSMArena team, 01 July 2016.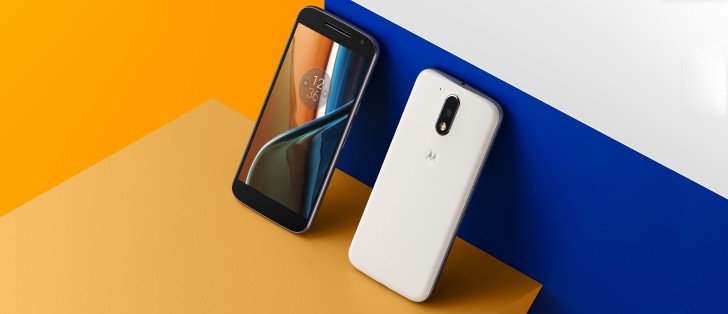 Telephony
It depends on the region, but the Moto G4 comes in single and dual-SIM versions. We have a single-SIM model for testing.
The dialer should be quite familiar. It's split into three tabs - favorites (with big thumbnails), call log and all contacts. There's no mention of Wi-Fi calling, however (even though previous Motos supported it), there's only SIP calling.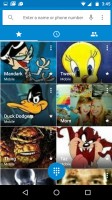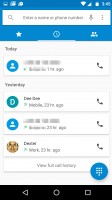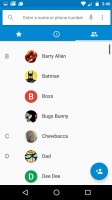 Favorite contacts • Call log • All contacts
The Moto G4 has a single speaker, but it's positioned on the front. That's almost as good as front facing speakers (sans the stereo), right? Well, the speaker is decently strong and got a Good mark. That's still below the Very Good that the 3rd generation Moto G got. While not the loudest, the G4 offers a strong and clean sound for listening to music.
| | | | | |
| --- | --- | --- | --- | --- |
| Speakerphone test | Voice, dB | Pink noise/ Music, dB | Ringing phone, dB | Overall score |
| Oppo F1 Plus | 66.3 | 66.2 | 65.9 | Below Average |
| Meizu m3 note | 66.5 | 64.6 | 71.7 | Average |
| Moto G4 | 64.7 | 70.8 | 72.8 | Good |
| Xiaomi Redmi Note 3 | 66.5 | 66.6 | 75.8 | Good |
| vivo V3Max | 74.7 | 75.8 | 68.0 | Good |
| Motorola Moto G 3rd Gen | 75.7 | 69.6 | 75.9 | Very Good |
| Meizu MX5 | 75.7 | 73.5 | 79.5 | Excellent |
Messaging and text input
The Moto G4 comes with Google Messenger pre-installed (it's the default SMS app) as well as Hangouts. Messenger is a relatively new app that handles SMS and MMS and it behaves a lot like a modern IM app. You can snap a photo and send it in seconds or send short audio recordings, emojis and so on.
However, unlike Hangouts it does not support Gmail chat or voice calling, video calling or anything that doesn't fit into MMS. Also, Google now has Allo and Duo for texting/video chats so figuring out which Google app you're supposed to use is a puzzle.
Text input, naturally, is handled by the Google keyboard. It's fast, it's accurate, it's reliable and it has plenty of configuration options. You can enable one-handed mode by long-pressing the comma key, adjust the keyboard height, the layout (e.g. you may want QWERTZ), enable additional symbols on long-press and change the theme. Typing, swiping and voice dictation are available.
How did you find the G9 Plus?
I purchased this phone in 2016 and still using it to this day, it works absolutely fineeven after falling hundreds of times from my hand, it has just simply given me the confidence to again purchase the Motorola phones and this time it will be the G9...