LG celebrate 5 million Viewty phones sold around the world
05 Jan, 2009
Today LG announced that their successful 5 megapixel cameraphone Viewty has hit the 5 million units mark. Now, 14 months after its market release, the full touch-based Viewty has conquered some 350,000 pockets in its home country, while the rest 4,650,000 devices have spread over Europe and the rest of Asia.
LG seem to be proud of the success of their first widely available cameraphone - the LG KU990 Viewty.
The 5 megapixel device features 3-inch TFT touch display, xenon flash, VGA@30fps and high-speed QVGA video recording. Despite some camera and flash issues the gadget has obviously earned enough fans to hit the 5 million mark.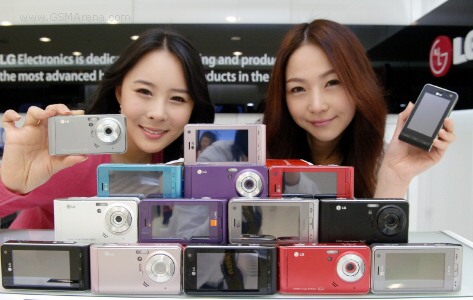 It has been 14 months since the LG Viewty premiere. The handset price today (a tad over 200 euro) is rather reasonable and that may be one of the reasons for its continuing success. The more affordable price has moved the Viewty to a lower market segment where its specs still seem rather attractive.
To celebrate the event LG will start two new color lines of Viewty. Besides the well known black, dark silver, purple, red and pink versions, the market will also enjoy the new light blue and light silver alternatives. It seems LG may as well be aiming for another million or two.
Related
this phone is too many bugs..... I think I'll change to use Omnia. My frenz feedback n shown me his Omnia, it's so powerful n useful.... I love u Omnia
the viewty is the best phone ive had i ve left it out in so many storms droped it countless times and its always survied the hardeiest touchscreeen around suck on that blackberry haha
I've been using my Viewty about a year and I am happy I've made the right choice! Thank you, LG!
Popular articles
Popular devices
Electric Vehicles