LG K10 and LG K7 hands-on: LG at CES 2016
LG at CES 2016
GSMArena team, 7 January, 2015.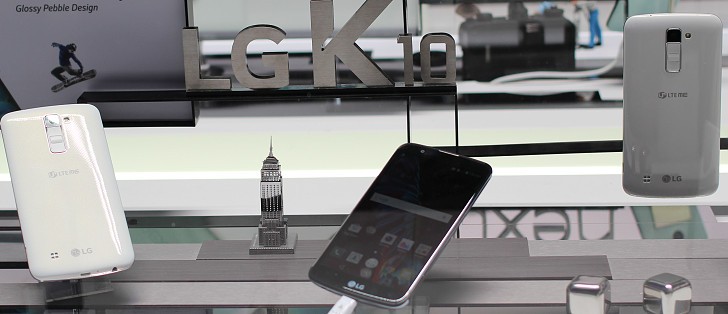 LG K7 hands-on
The LG K7 isn't as complicated as its K10 sibling. It's a 5" smartphone with similar design relying on a rear control deck.
The K7 offers a FWVGA IPS display (480x854px) and will be available in two models.
The LTE flavor of the K7 runs on a quad-core 1.1GHz processor while the 3G flavor will have a quad-core CPU ticking at 1.3GHz. The models with 8GB storage will be packing 1GB of RAM while those with 16GB internal memory are complimented with 1.5GB of RAM.
Finally, the main camera of the K7 will be 8MP or 5MP, depending on the market and carrier. The selfie snapper is fixed at 5MP as is the 2,125 mAh battery.
The LG K7 has a clean matte back, unlike the textured glossy one on the LG K10. It was the better one to handle, partly due to the lack of all that glossiness, and also because of the more compact size.
The K7 didn't have any special flip case at CES, but maybe LG will be selling cases similar to the K10's later on.
In the US, the LG K7 will be sold as LG Tribute 5 on Boost Mobile. Once again - pricing and availability are yet to be detailed, but the phone is expected to hit the shelves in Q1 this year.
I reset my phone and it is now asking for a pin to unlock it can anyone help me please
Verry poor data connection
This phone is basically a piece of poop. The keyboard is made for girls, kids and 85 pound person skinny fingers. It has relatively very little space. The rear camera seems like 5 megapixels and the front is like 1 megapixel and warps how images l...