LG G3 review: Dream catcher
Dream catcher
GSMArena team, 06 June 2014.
Phonebook and dialer combined
Like most other launchers these days, the LG has integrated the phonebook and dialer in one interface. Tapping the dedicated Phone and Dialer shortcuts merely take you to different tabs of the Phone app.
Selecting a contact displays the basic details: name and photo, numbers, emails and such. The dialer has smart dial, which searches for both digits and letters.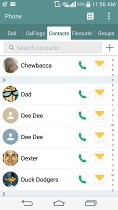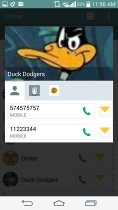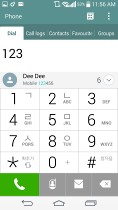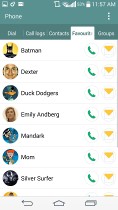 Phonebook and dialer interface
You have the option of removing the Favorites and Groups tabs, leaving you just the Dial, Call logs, and Contacts interface. This is great for simplifying what is oftentimes a crowded interface.
The smartphone packs a neat set of call-related tricks such as automatically silencing the ring of an incoming call just by putting the phone face down or automatically answering an incoming call by raising it to your ear.
The quality of the loudspeaker is good, despite being directed outward from the rear panel, rather than towards you from the front panel like on the HTC One, for example.
Loudness was also good, beating out the previous G2 flagship. In our dedicated loudspeaker test, it earned a score of Good, as measured by our digital loudness meter. This means you should have no problem hearing the G3 in all but the loudest of environments. Check out more about our tests and our loudness test in particular.
| | | | | |
| --- | --- | --- | --- | --- |
| Speakerphone test | Voice, dB | Pink noise/ Music, dB | Ringing phone, dB | Overall score |
| LG G2 | 65.7 | 62.2 | 66.2 | Below Average |
| Sony Xperia Z1 (xLOUD) | 65.5 | 62.0 | 65.8 | Below average |
| Sony Xperia Z2 | 66.7 | 64.6 | 75.7 | Average |
| Apple iPhone 5s | 68.7 | 66.3 | 69.2 | Average |
| Nokia Lumia 1020 | 69.8 | 66.6 | 72.5 | Good |
| Samsung Galaxy S5 | 66.9 | 66.6 | 75.7 | Good |
| HTC One | 69.3 | 66.6 | 75.9 | Good |
| Samsung Galaxy S4 | 70.6 | 66.2 | 77.3 | Good |
| Samsung Galaxy Note 3 | 70.5 | 66.6 | 78.0 | Good |
| LG G3 | 70.2 | 66.6 | 80.2 | Good |
| Oppo Find 7a | 71.3 | 72.5 | 75.7 | Very Good |
| Oppo N1 | 73.7 | 67.7 | 78.7 | Very Good |
| LG Optimus G | 74.6 | 71.3 | 82.7 | Excellent |
Messaging, email and text input
In addition to the usual SMS, MMS, email capabilities, the LG G3 can also connect to Google contacts via either texts or video calls by use of the Hangouts app.
SMS and MMS messages are displayed in threads - you see a list of all conversations, each listed with the contact's photo, name and the subject of the last message, as well as a part of the actual message. Tapping a conversation brings up the entire message history with that contact.
LG lets you customize the look of the messaging app by assigning custom backgrounds and message bubbles.
The G3 comes with two email apps - the traditional Gmail app and the LG Mail app. The latter has the added benefit of merging all your email accounts into a single interface with a unified inbox.
LG offers a wide array of typing methods, including split keyboard, voice recognition, handwriting recognition, and Path input, LG's take on Swype.
Even in portrait mode, the keys are amply-spaced on the 5.5-inch screen, and you have the added ability to raise and lower the keyboard to get more or less gaps between the keys. There's also a boatload of customization options, including a dark-toned keyboard, vibration when pressing a key, character bubbles on keypress, to name a few. LG can even update its word suggestion library, if you have the option enabled.
I bought lg3 in dxb but then the year after it suddenly corrupted and can't even do the hard reset.but now it totally can't be open..r.I.p to my lg mobile
I am having it for 6 years and he is still rocking it. Except night mode camera, but hey, 6 years old.
I bought my LG G3 in 2014. It has served me well until recently. It began with random shut downs. I was able to restart the phone and recharging the battery sometimes helped even though it was still above 50%. But last week it began shutting down...