LG G4 review: Sharp and shooter
Sharp and shooter
GSMArena team, 22 May 2015.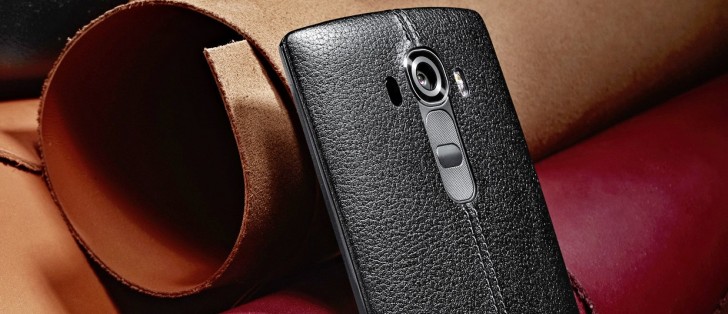 Performance
LG made a somewhat controversial decision to not use the top chipset for its flagship, going for the Snapdragon 808 over the 810 found in the LG G Flex2.
One major difference is in the big cluster of the processor - it uses two Cortex-A57 cores instead of four. It still has four Cortex-A53 cores in the LITTLE cluster. The other is in the GPU, the 808 has Adreno 418, which will have a tougher time rendering at QHD.
Still, as we saw with the Snapdragon 810 achieving maximum performance is a matter of temperature. For short, bursty jobs the 810 will be faster, but sustained usage quickly degrades performance.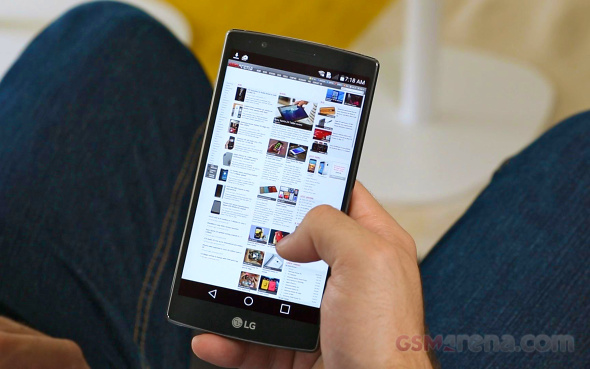 Let's start with the processor. Basemark OS 2.0 shows little difference in single-threaded performance, modern flagships just let the Cortex-A57 do its job.
Basemark OS 2.0 (single-core)
Higher is better
Samsung Galaxy S6
6306
LG G4
5871
LG G Flex2
5597
LG G3
5396
HTC One M9
4688
Going to multiple cores, shows that the Snapdragon 808 is very competitive with the 810 and Geekbench 3 confirms it. Unfortunately, this has more to do with how inefficient Snapdragon 810 is. The Galaxy S6 chipset is built on a smaller process, which produces less heat and the performance advantage is there for everyone to see.
Basemark OS 2.0 (multi-core)
Higher is better
Samsung Galaxy S6
26799
LG G Flex2
18856
HTC One M9
18047
LG G4
17739
LG G3
16485
GeekBench 3
Higher is better
Samsung Galaxy S6
5215
HTC One M9
3761
LG G Flex2
3604
LG G4
3509
Sony Xperia Z3
2860
LG G3
2370
Overall performance measured by AnTuTu again shows a fairly even performance between both Qualcomm chipsets. Basemark OS 2.0 even puts the LG G4 and Galaxy S6 on fairly even ground, though AnTuTu 5 strongly disagrees.
AnTuTu 5
Higher is better
Samsung Galaxy S6
69396
HTC One M9
51427
LG G4
49295
LG G Flex2
47680
LG G3
42038
Sony Xperia Z3
40393
Basemark OS 2.0
Higher is better
LG G Flex2
1726
Samsung Galaxy S6
1674
LG G4
1584
HTC One M9
1365
LG G3
1189
When it comes to graphics, the simpler GFX Benchmark 2.7 shows a sizeable disadvantage compared to the Adreno 430 found in the higher-up Snapdragon. Which is especially visible in the on-screen test - Adreno 418 is faster than the 330 used in the LG G3, but not by much.
GFX 2.7 T-Rex (1080p offscreen)
Higher is better
Samsung Galaxy S6
59
HTC One M9
49
LG G Flex2
49
LG G4
34.5
Sony Xperia Z3
27.7
LG G3
26
GFX 2.7 T-Rex (onscreen)
Higher is better
HTC One M9
50
LG G Flex2
48
Samsung Galaxy S6
38
Sony Xperia Z3
29.3
LG G4
24.7
LG G3
20
The more complicated GFX 3.0 test shows an even smaller difference between the LG G4 and the G3. A phone with a QHD screen really needed a bigger GPU update. Here the Galaxy S6 has a noticeable lead. When looking at on-screen results keep in mind the difference in resolution - the G Flex2, One M9 and Xperia Z3 render at only 1080p.
GFX 3.0 Manhattan (1080p offscreen)
Higher is better
Samsung Galaxy S6
24
HTC One M9
23
LG G Flex2
22
LG G4
14.8
Sony Xperia Z3
12
LG G3
11
GFX 3.0 Manhattan (onscreen)
Higher is better
HTC One M9
24
LG G Flex2
22
Samsung Galaxy S6
14
Sony Xperia Z3
12.7
LG G4
9.4
LG G3
7.7
Basemark X shows a healthy improvement over the G3, though the LG G4 is still well behind the other QHD phone in the mix, the Galaxy S6.
Basemark X
Higher is better
Samsung Galaxy S6
27169
HTC One M9
19848
LG G Flex2
19360
LG G4
15040
Sony Xperia Z3
12637
LG G3
10580
LG dropped their customized browser and rely on Chrome, which proves to be a wise decision as far as JavaScript performance is concerned - you get close to double the performance of a Lollipop-running LG G3, even the Galaxy S6 can't get ahead.
Kraken 1.1
Lower is better
LG G4
4085
Samsung Galaxy S6
4154
LG G Flex2
4621
HTC One M9
5500
Sony Xperia Z3
6355
LG G3
7632
When it comes to rendering a page at QHD resolution things aren't as fast though. The LG G4 still handily beats its predecessor, but the Samsung pulls ahead.
BrowserMark 2.1
Higher is better
Samsung Galaxy S6
2718
LG G Flex2
2086
LG G4
1990
HTC One M9
1681
Sony Xperia Z3
1533
LG G3
1453
LG made the right call using the Snapdragon 808 over the 810 as far as general performance and web browsing are concerned. Both chipsets are essentially equals for sustained performance. The one problem - and it's a big one - is that the GPU just doesn't have enough oomph for QHD gaming. It's an improvement over the previous phone, but not a very big one and certainly not one worthy of a 2015 flagship.
Hopefully my used LG G4 H815 will last longer ever since I bought it on July 15 to replace/substitute my used Nokia N86 white, and also to be fitted companion for my LG V30+ ThinQ Raspberry Rose!! That's why I put this word on my LG G4 locked scree...
Maybe you have bootloop problem?
Pls my husband send me LG G4 H812 phone I only use it for only 2days and ever since then it will just put on the screen LG as if is booting and it will not display anything.please what should I do with it